2021: IRIS CRM Top 22 Features Recap
The team at IRIS CRM is always focused on one thing more than any other: consistently providing more value and a better user experience for our clients. That's why we are excited to share twenty-two of our favorite features that drive a lot of value for IRIS CRM users today.
The following features will help you to grow your business faster and generate better results with streamlined workflows, seamless integrations, and more.
IRIS CRM's new NMI boarding integration allows ISOs to seamlessly onboard merchants using their own NMI Reseller API credentials. During the onboarding process, ISOs can set up pricing for the NMI gateway account as well as enable powerful value-added services to help merchants gain access to new features while helping ISOs grow.
Direct boarding to NMI's payment gateway is a new feature that is available to all IRIS CRM clients as part of their existing subscription, and it is simple to set up in just a few steps.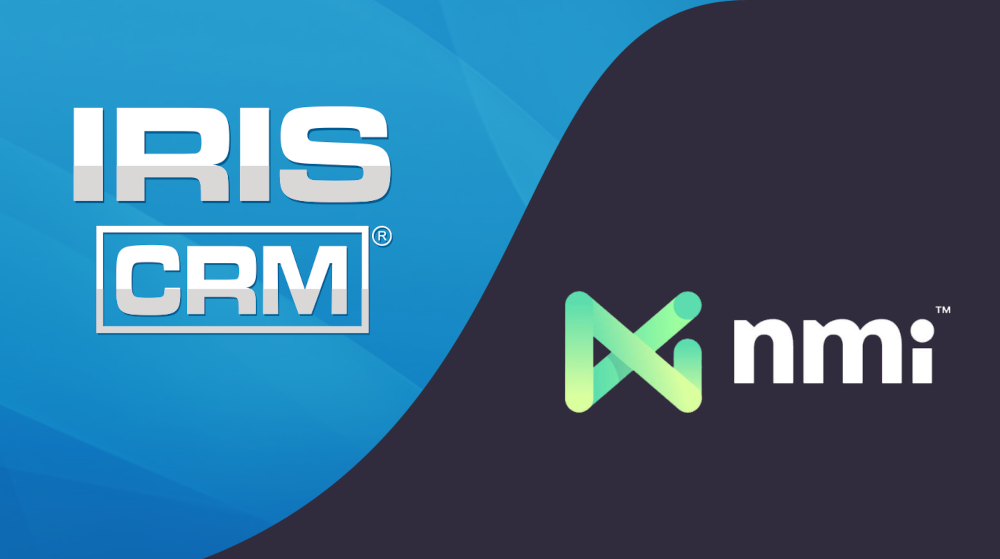 Payment facilitators can now view Fiserv merchant account information, deposits, adjustments, retrievals, and chargebacks right from within IRIS CRM.
By incorporating Fiserv Payment Facilitator reporting into IRIS CRM's advanced merchant reporting tools, ISOs can get the full view of their overall portfolio's performance. Learn more: Fiserv Reporting for Payment Facilitators Integration.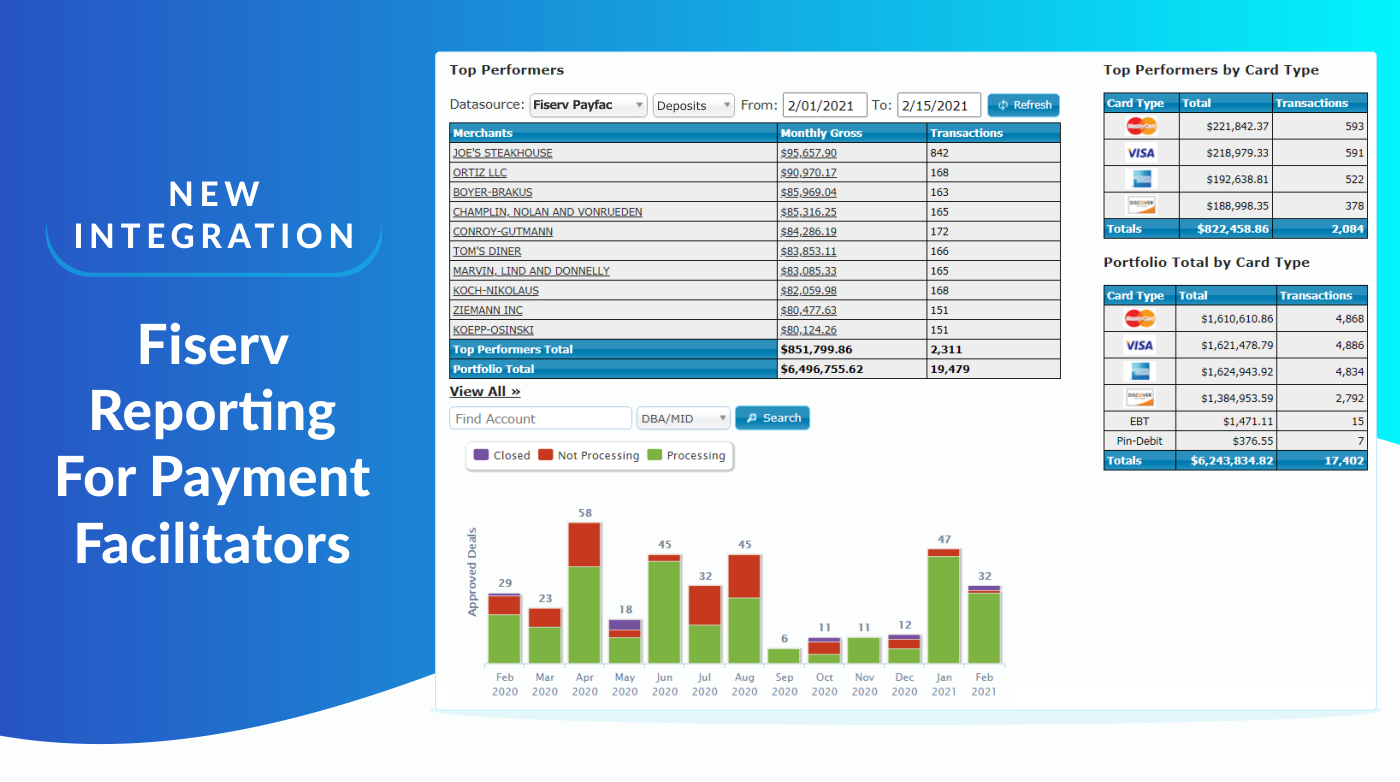 IRIS CRM's Merchant Reporting Through SAM by Netevia for SignaPay Integration brings Netevia SignaPay reporting into IRIS CRM's advanced merchant reporting suite. 
ISOs can now analyze their Netevia SignaPay reporting alongside the portfolio-wide metrics in a single place. Learn more about IRIS CRM's Merchant Reporting Through SAM by Netevia for SignaPay Integration.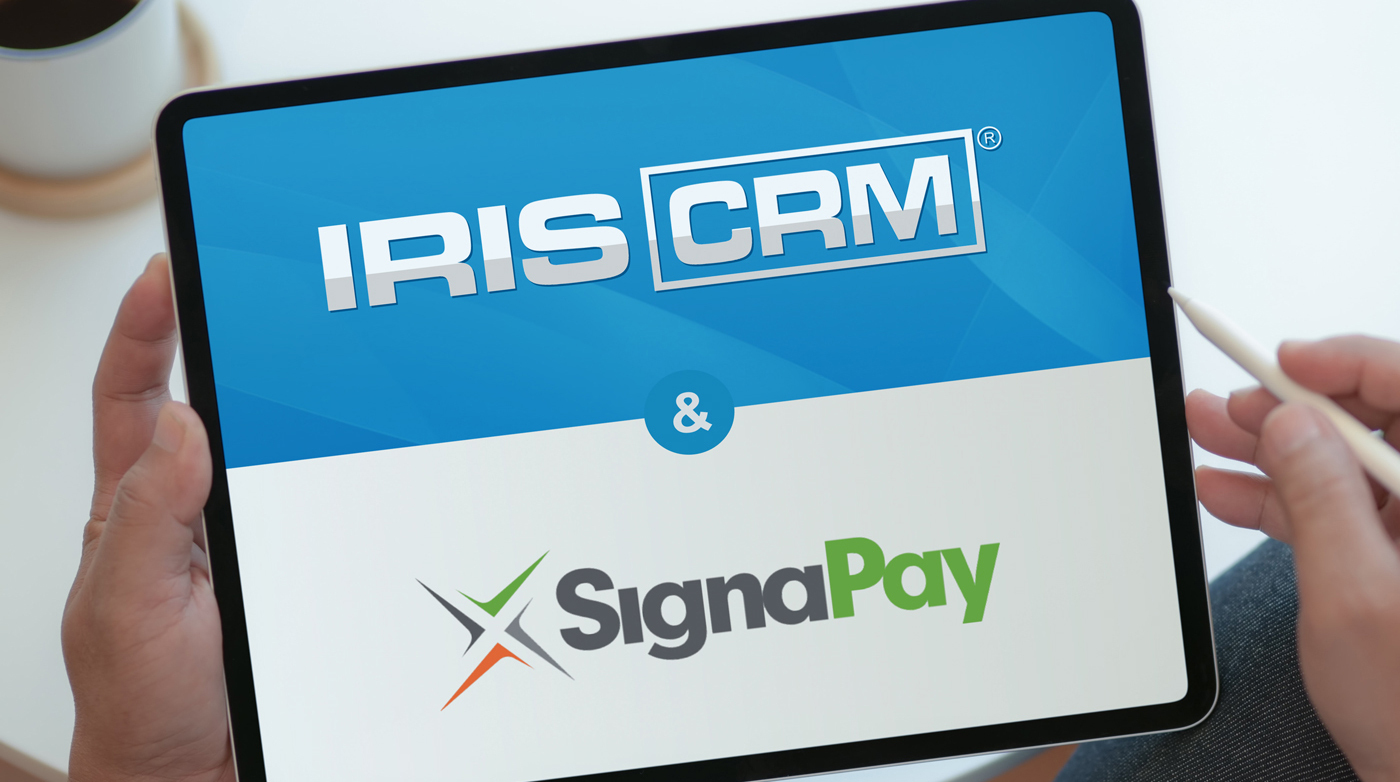 TSYS ISOs can now submit a merchant from their CRM site without having to log into the different processor tools and re-key the data that has already collected.
IRIS CRM enables automatic boarding of TSYS ELAPP merchants and other IRIS-compatible processing networks through the TurboApp boarding module.
ISOs also have the ability to view residuals, batches, deposits, transactions, statements, disputes, and other account information. Learn more about the TSYS Retail ISO ELAPP Boarding Integration.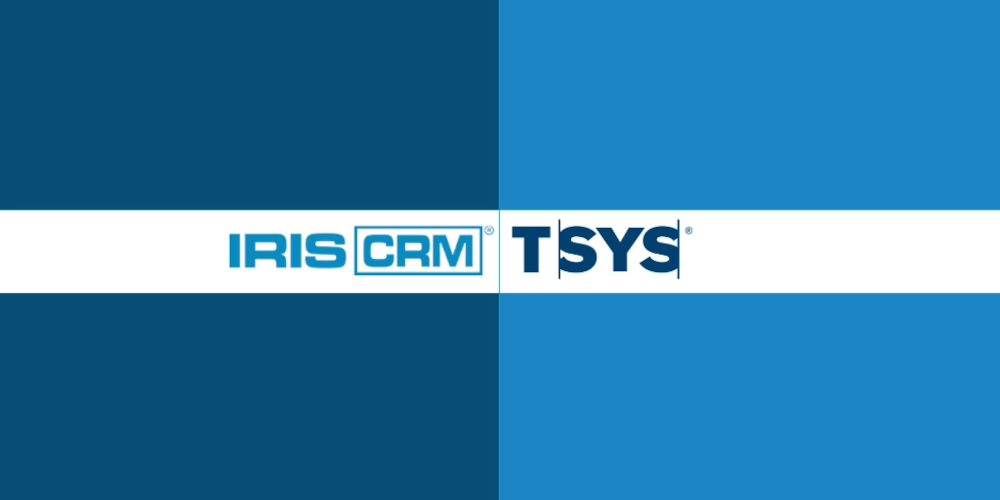 TSYS Wholesale ISOs can now view up-to-date information on merchants' TSYS terminals and software, as well as add new equipment as required. You can find the list of the existing TSYS Equipment associated with a merchant on the Merchant Details page, under the Account Status tab (in the Equipment accordion).
Check out the IRIS CRM blog for more information about how to set up and use TSYS Wholesale ISO Equipment Management.
We've also enhanced TSYS Equipment Management to give ISOs the ability to update and copy TSYS equipment. For merchants with multiple locations and a large number of terminals, managing multiple V-numbers has traditionally been an enormous headache, particularly when configuration changes have to be made for each individual terminal – a repetitive and error-prone process. 
With the new TSYS Equipment Management enhancements– designed specifically to make V-number management easier for TSYS Wholesale ISOs – those headaches are now a thing of the past. Learn more about Updating and Copying TSYS Equipment for Wholesale ISOs.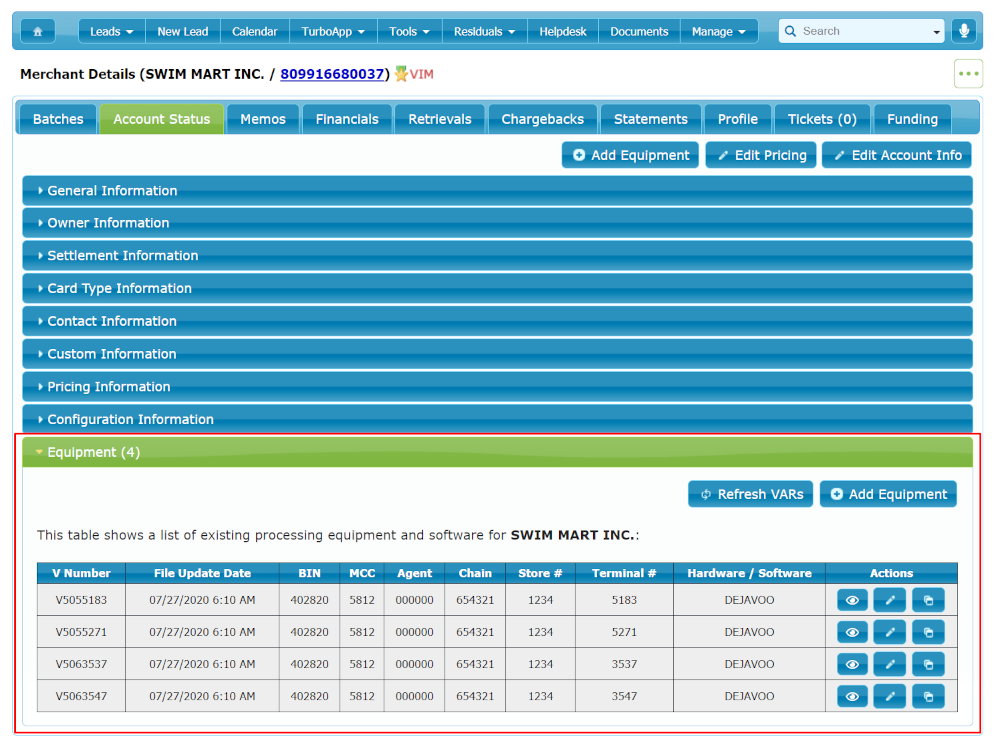 ISOs can now view MX Connect merchant information, chargebacks, and daily batches with transactions right inside their Merchant Services CRM.
The integration is easy to set up in just a few easy steps, which you can read about in our Priority Payments MX Connect Reporting integration article.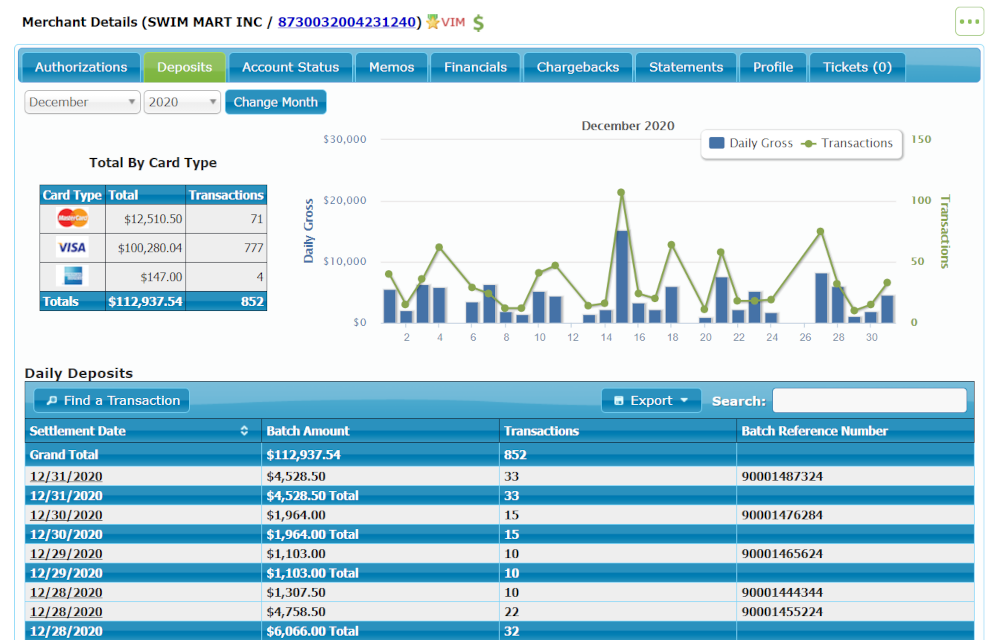 With IRIS CRM's Aurora Payments integration, ISOs can now add a new Aurora Payments data source in the CRM and use it for retrieving transaction reporting data for accounts that are processing through the Fiserv (First Data) and TSYS networks.
Learn how to set up and start using IRIS CRM's Aurora integration today!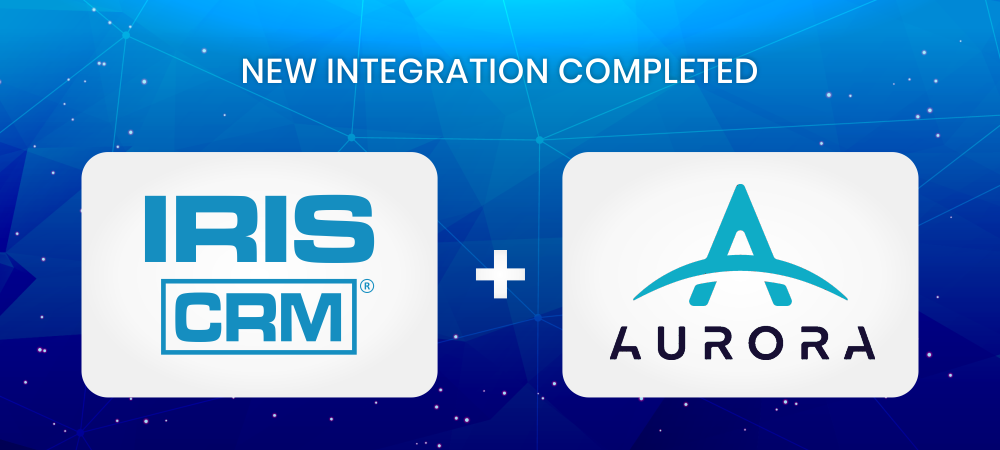 ISOs can now enable the Vantiv IQ Portal integration to automatically retrieve Worldpay merchants' account information, retrievals, chargebacks, and statements on a daily basis.
In addition to the Vantiv IQ Portal data source, your CRM also retrieves the merchants' deposits automatically from the eMAF feeds. Check out the Worldpay Vantiv IQ ISO Reporting Integration announcement for more information on how to set up and use the Vantiv IQ integration.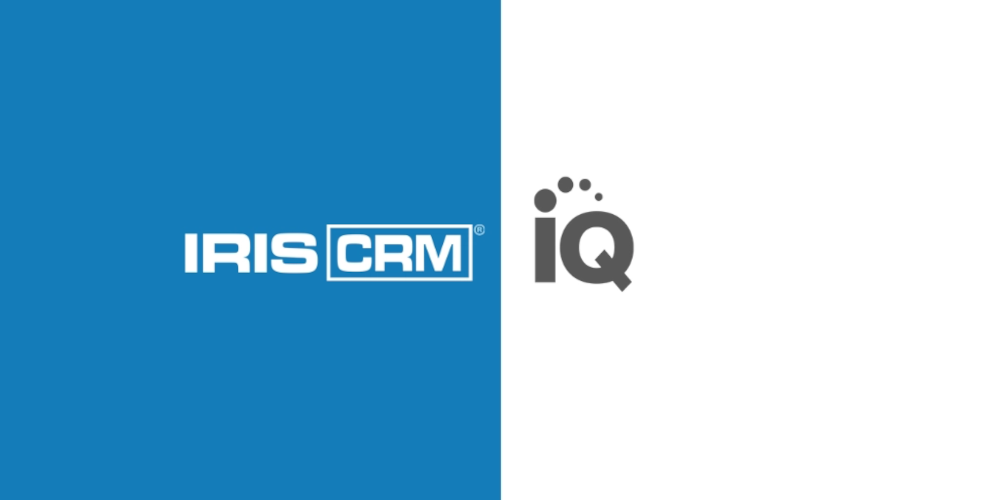 ISOs with merchants distributed across multiple CRM clients of IRIS CRM have long needed a way to easily share their merchant data between sites.
The Merchant Data Sharing update addresses the need for sharing merchant data by providing an easy way for clients to set up data-sharing connections between their CRM sites.
ISOs can now instruct IRIS CRM to quickly and securely transfer selected merchant data from one CRM site to another, based on easily configurable data-sharing rules. Learn more about Merchant Data Sharing.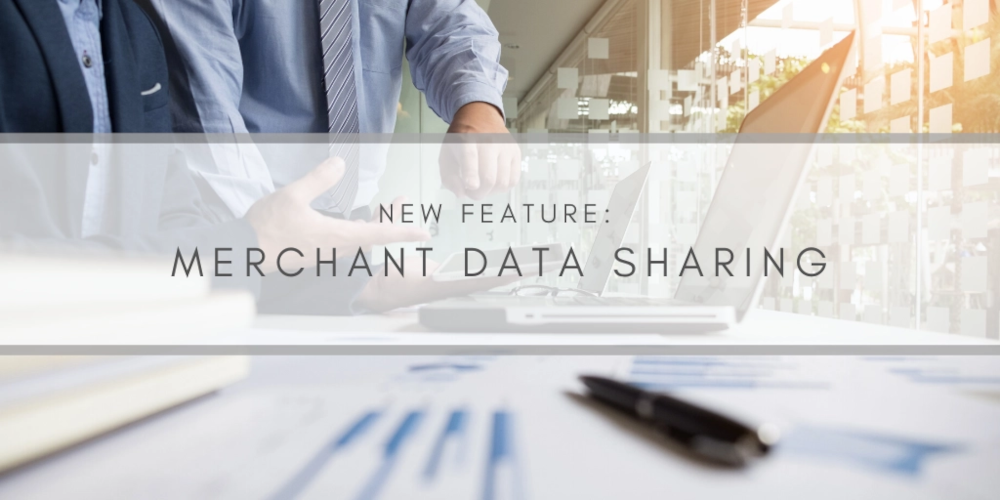 The Helpdesk API now enables you to manage and update your IRIS CRM Helpdesk from an existing ticketing system. No need to work with two separate systems for managing tickets – we make it easy to integrate with existing processes thanks to the IRIS CRM's Merchant Services Helpdesk API.
Access the API documentation hosted in your site by going to https://yoursitedomain.iriscrm.com/api
Additionally, when merchants create tickets in the IRIS CRM Helpdesk it is now also possible to send the information on the ticket to an external system. The Helpdesk API makes it easier than ever to keep track of and manage tickets.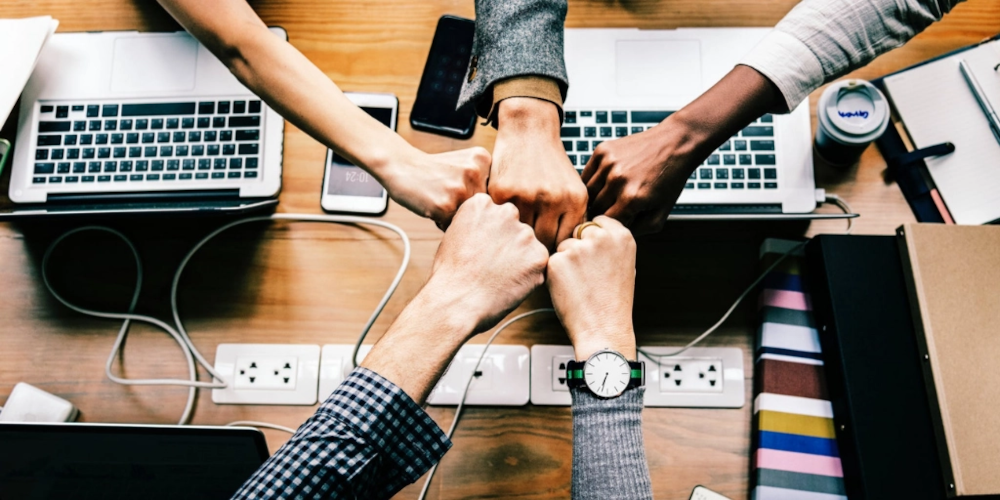 The Merchant Services Residuals API is the latest of the Open API extensions added over the last 12 months, which also include the Lead, Merchant, and Helpdesk APIs.
Access the API documentation hosted in your site by going to https://yoursitedomain.iriscrm.com/api
IRIS CRM Residuals API opens the door to endless possibilities to integrate your residual reports data with other systems. For example, you may want to download specific fields from your monthly residuals reports into an external data warehouse, accounting system, or business intelligence tool. IRIS CRM gives your developers access and flexibility to calculate residuals income like never before.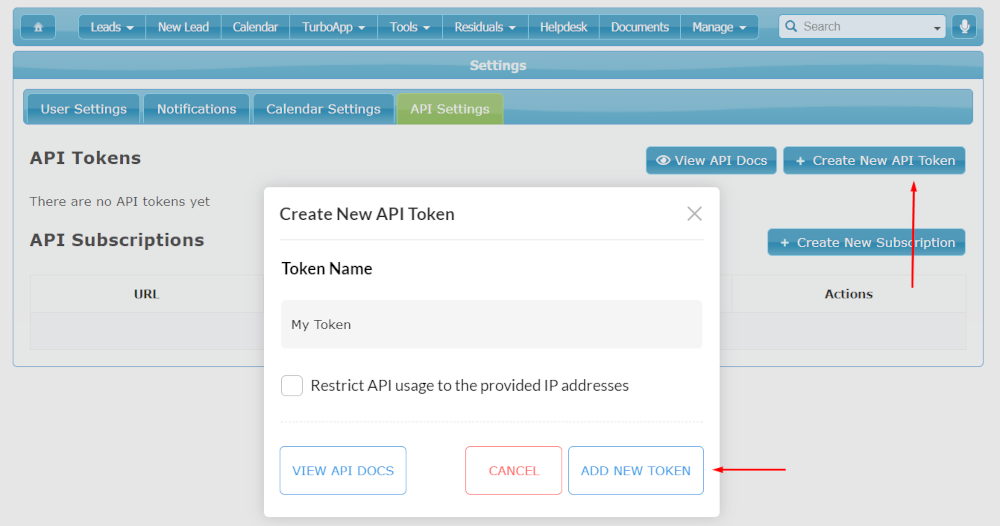 ISOs who normally manage a large number of users and user groups frequently find that adding a new user can turn into a labor-intensive task.
To help streamline the process and reduce the amount of effort needed to add a new user, we have added the ability to Copy User Profiles in your favorite Merchant Services CRM. You can now simply copy the settings from an existing user profile to the new user being added, and create your new user in seconds.
Check out the Copy User Profiles article to learn more about how to set up and use the Copy User Profiles feature.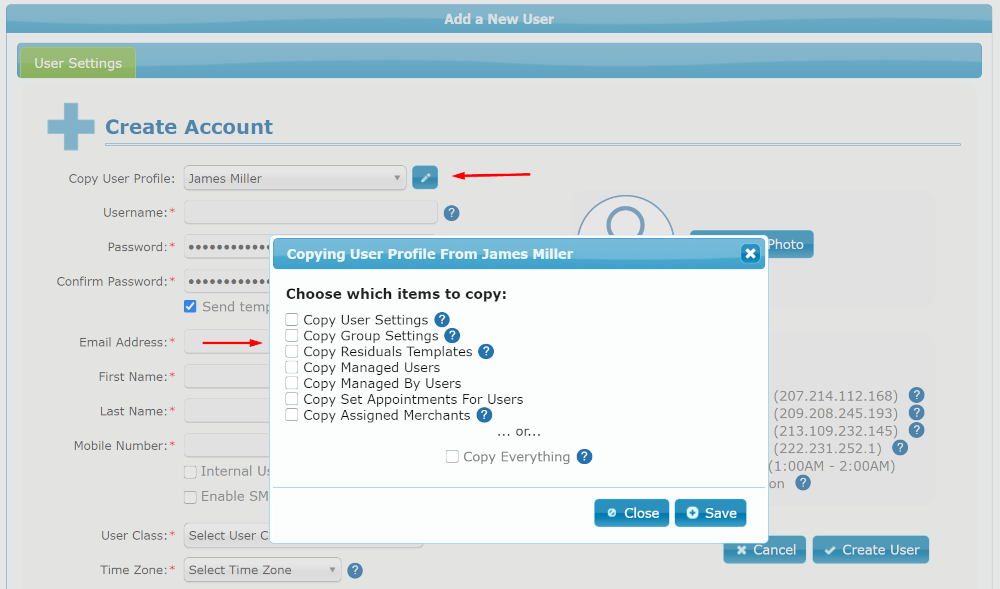 The Dispute Responder ensures that your merchants will always be alerted the instant a new dispute is entered with Fiserv.  Never again will a merchant lose a case because they failed to receive the notification, or received it so late there wasn't time to put together a compelling response. 
Dispute Responder also makes filing response significantly faster and easier, providing both the ISO and the merchant with all of the information necessary to compile evidence and begin a response on day zero, from a single dashboard, in a matter of a few clicks. Learn more about IRIS CRM's Dispute Responder.

Your favorite Merchant Services CRM comes with the ability to perform Merchant Mass Actions.
With Merchant Mass Actions, you can now update groups, processors, data sources, assigned users, as well as perform many other actions on selected merchants.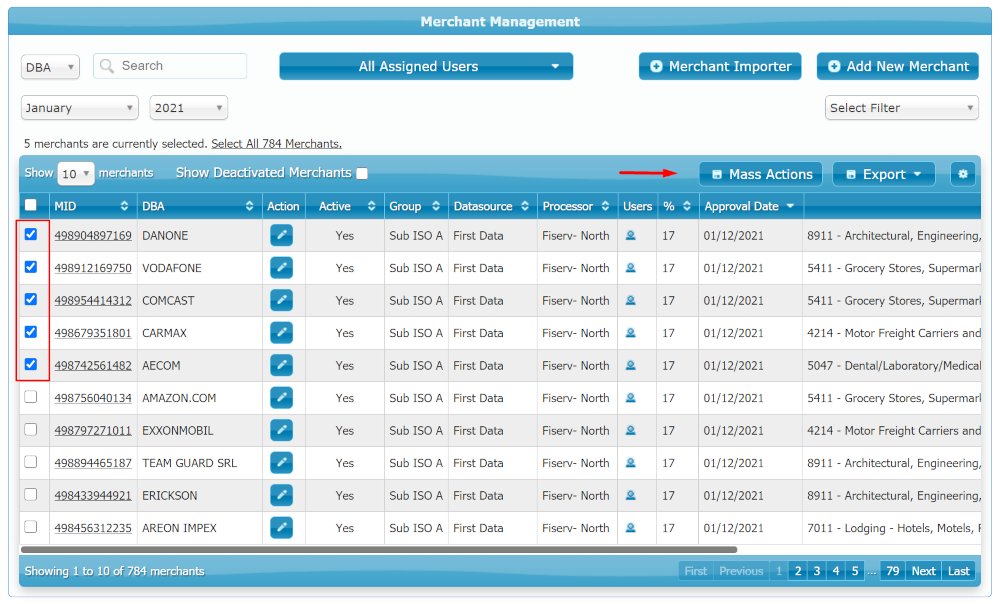 Every ISO owner needs to be able to quickly and accurately see how their business is performing. IRIS CRM understands how important it is to have access to these key analytics, and IRIS has an advanced reporting suite to provide key merchant volume and transaction data for all clients. 
In the past, data for non-integrated processors was limited and difficult to analyze in IRIS CRM. Now, ISOs have a centralized reporting center that includes key merchant transaction and volume data for merchants using both integrated or non-integrated processors. Learn more about Non-Integrated Processor Reporting.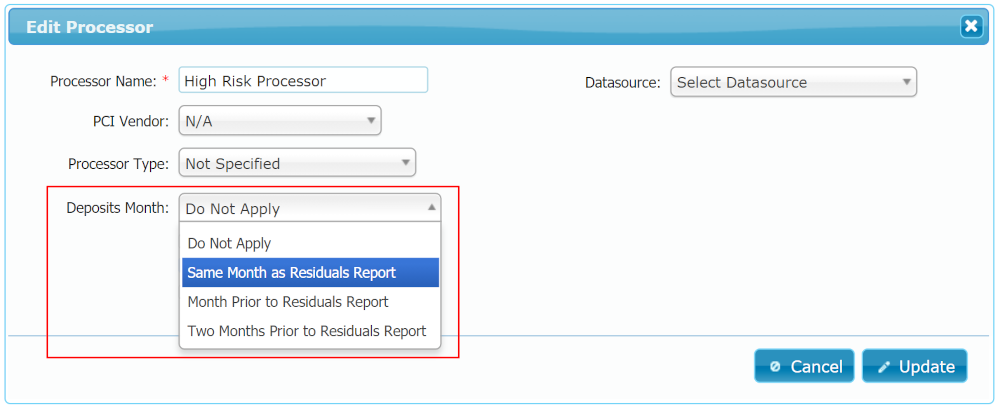 Deposits tab in IRIS CRM with data from a non-integrated processor:

Financials Tab with monthly residuals data from a non-integrated processor: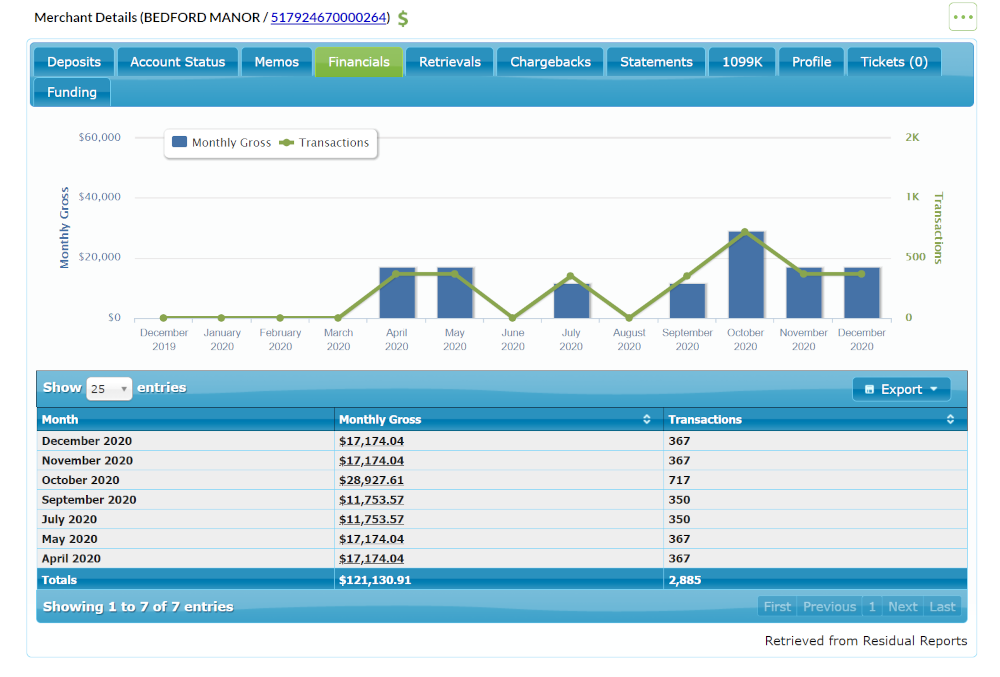 Manually updating lead data in your CRM takes up your administrative team's time and attention. IRIS CRM's E-Sign Status Update Automation feature was developed to streamline the experience, reducing the amount of time and effort it takes to maintain accurate, up-to-date lead data in IRIS CRM.
Leads can now be automatically updated to a specified Signed Lead Status after a merchant signs and submits an agreement. Now, ISOs are no longer required to perform time-intensive manual data entry to ensure that lead data is accurate and up-to-date. Learn more about IRIS CRM E-Sign Status Update Automation.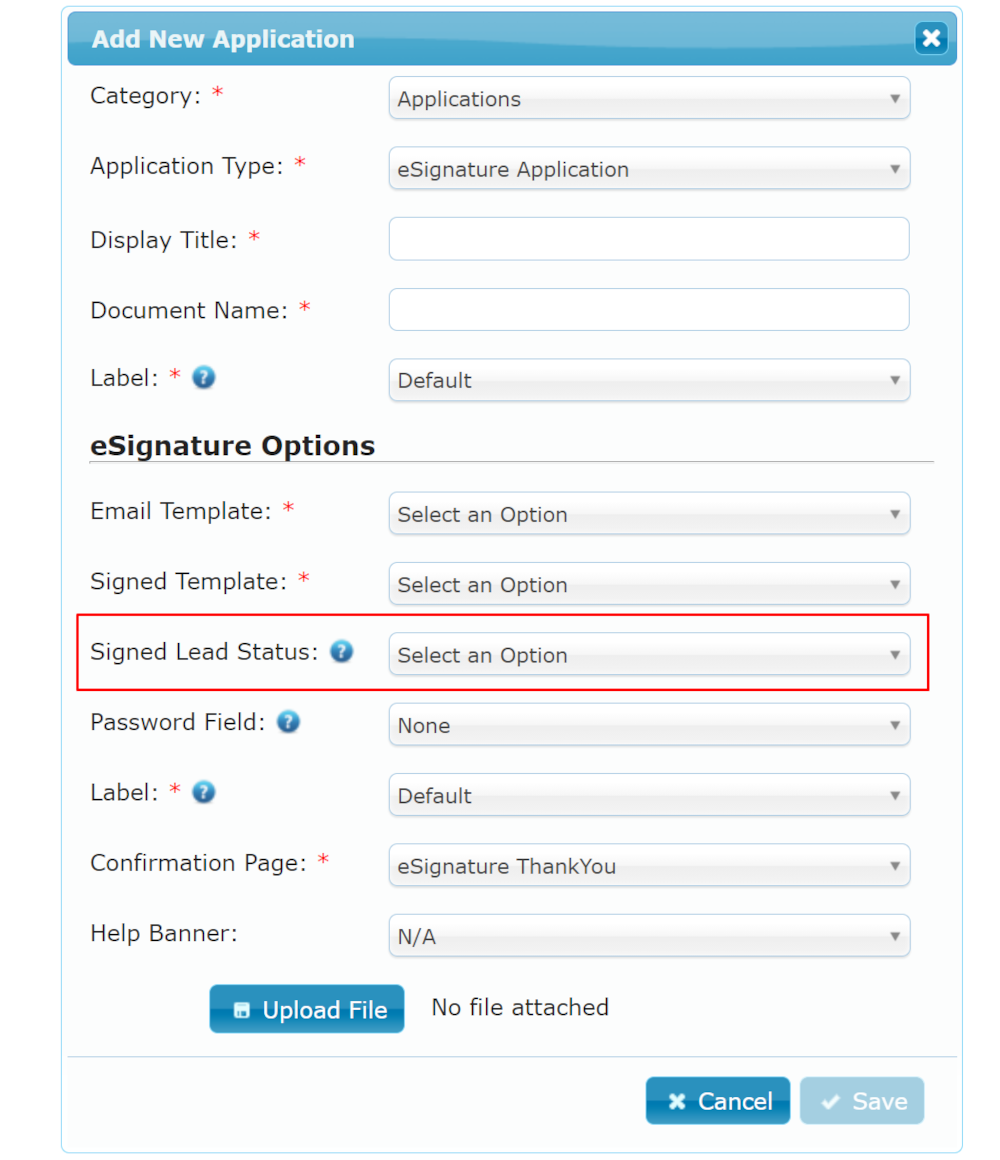 IRIS CRM's recently updated mobile app is a powerful on-the-go solution for ISO administrators, sales agents, and merchants. 
We have now developed 3 powerful new features to make IRIS CRM's app even more effective, including mobile app notifications, e-signature on mobile, and more! Learn more about the enhancements to the IRIS CRM mobile app.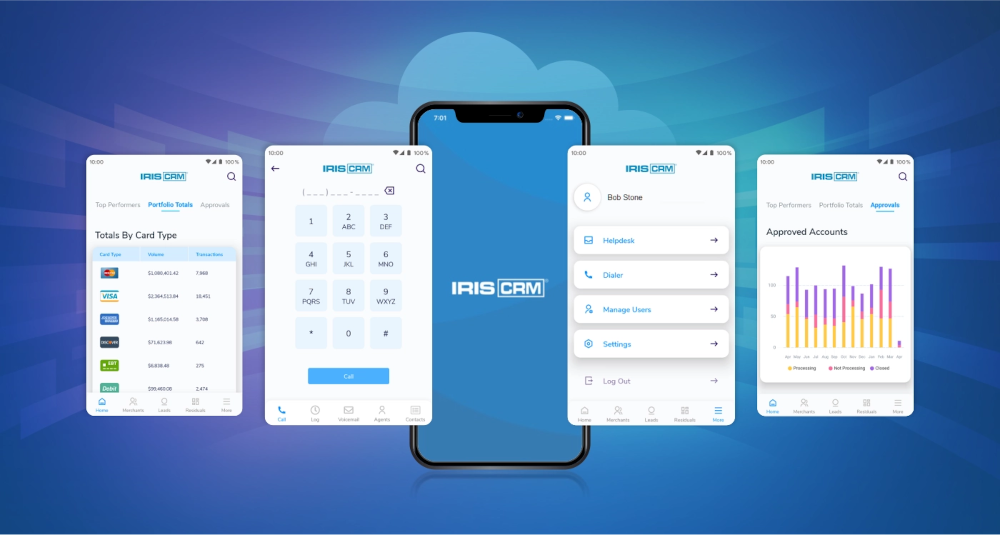 In the past, adjustments to residual reports could only be made one line at a time. With the Import Residuals Line Items by Spreadsheet feature in IRIS CRM, ISOs can make adjustments by adding multiple line items at once.
ISOs upload a simple Excel template and they can make far more efficient adjustments, like adding income or expense line items to users or merchants. You can directly download the Line Item Import Template now, and if you'd like to learn more check out the Import Residuals Line Items by Spreadsheet article. 
IRIS CRM Visitor Tracking empowers ISOs to gain detailed insight into prospects' business needs by providing real-time updates as prospects click through their websites — and now their marketing emails as well!
Once a site/sites are set up with tracking, ISOs can enable email visitor tracking by clicking the "Track Visitors" checkbox when sending out an email. Learn more about IRIS CRM's Visitor Tracking feature.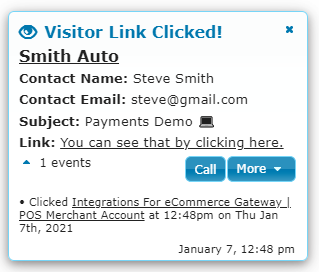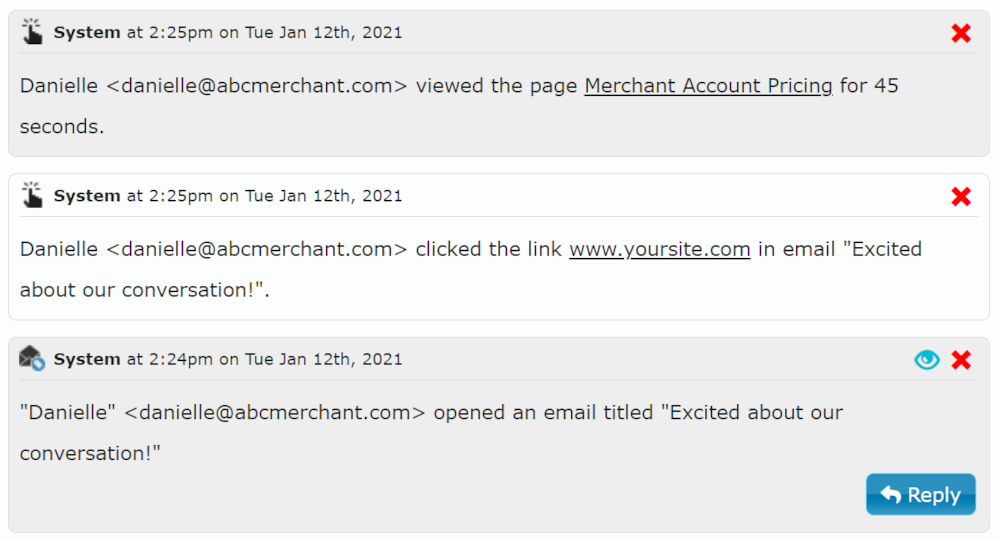 IRIS CRM's TurboApp received a significant boost in value with the Upload Lead Files to TurboApp feature, which allows ISOs to upload lead files in new applications. Now it is easier than ever to add supporting files to TurboApp applications, which can accelerate the merchant onboarding process to leading processors including TSYS, Worldpay, First Data Omaha, First Data North, Priority Payment Systems, and Paysafe. 
Learn how you can begin using the Upload Lead Files to TurboApp enhancement to onboard more merchants in less time.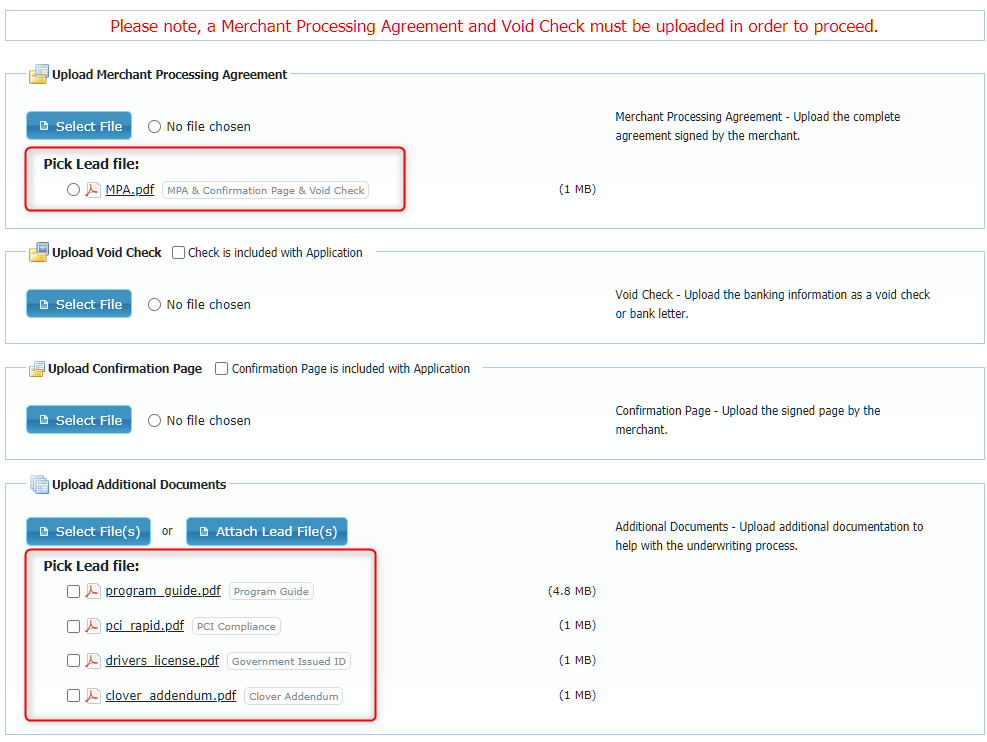 IRIS CRM released a Google Maps integration, enabling users to automatically fill in address fields by selecting matching search results through Google Maps!
Entering a client's information is easier than ever thanks to the Google Maps integration and, together with IRIS CRM's leading suite of ISO productivity tools, ISOs can now be more efficient and accelerate growth. Learn more about IRIS CRM's Google Maps integration.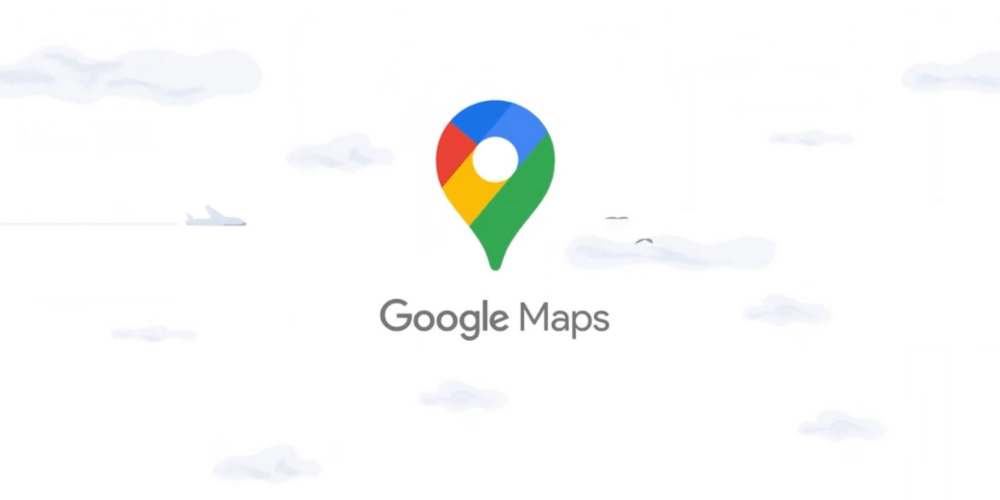 IRIS CRM improved the Helpdesk with the Set Helpdesk Ticket SLAs in Business Days enhancement. Now, ISOs have more flexibility in their Helpdesk and can manage customer support far more efficiently.
IRIS CRM Helpdesk Ticket Types are custom ticket types that ISOs can organize with various workflows to provide solutions for specific issues their teams are facing.
 SLAs for Helpdesk Tickets can now be set to business days to ensure that everyone is aware of the timeframe and on the same page. Learn more about the value of setting Helpdesk ticket SLAs in business days.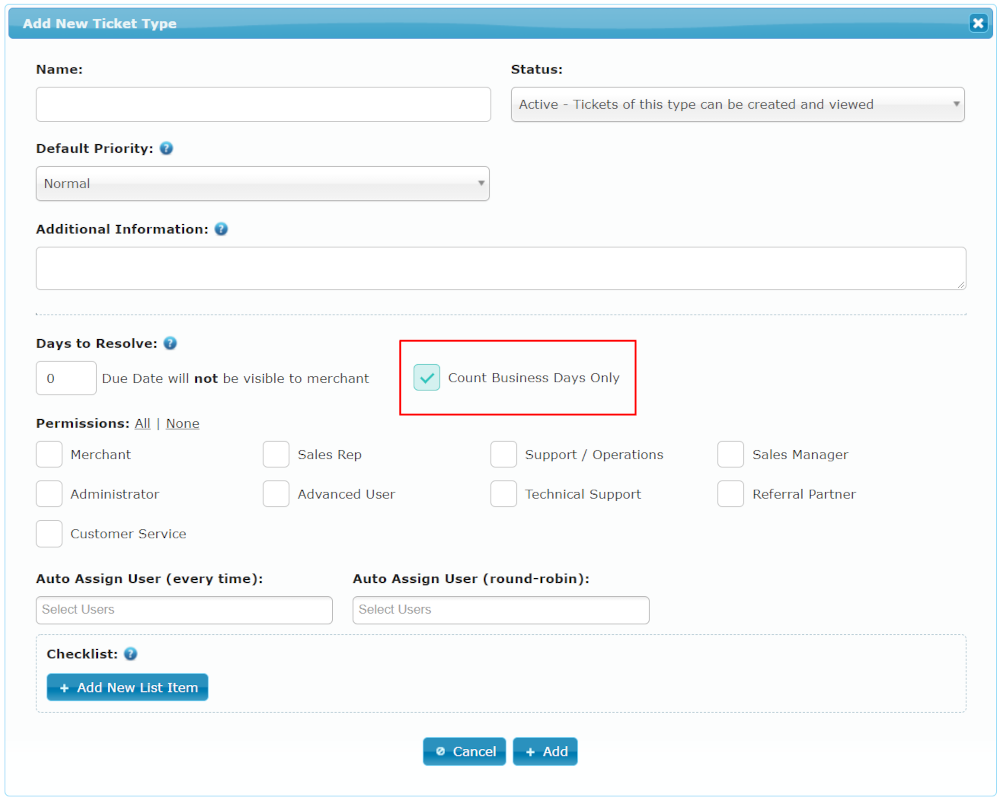 Interested in learning how IRIS CRM can supercharge your ISO? Sign up for a free guided demo today!