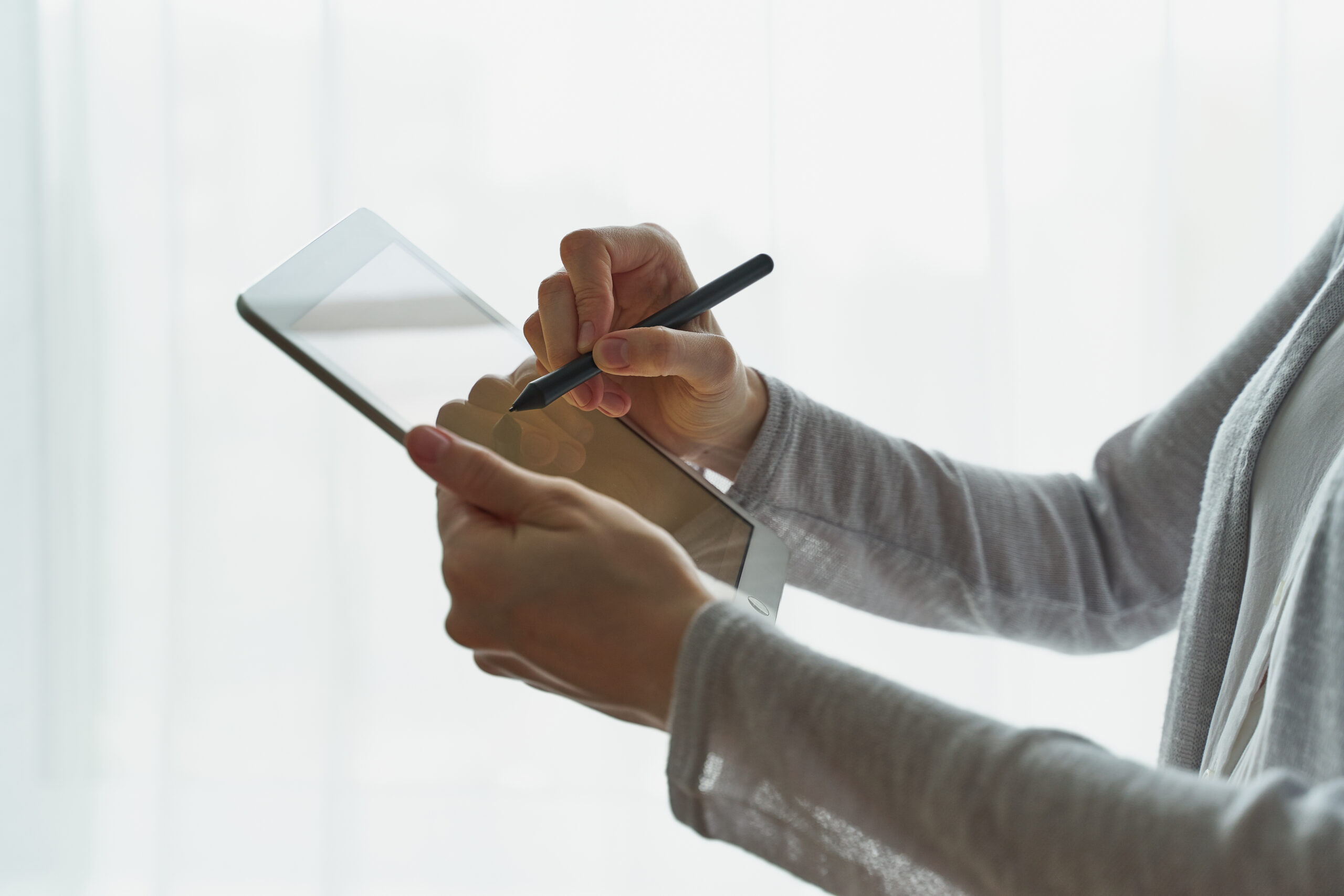 5 Reasons Your ISO Needs E-Signature
It is more important now than ever for businesses to provide clients and customers with convenient, efficient solutions. The world grows more digital by the day and every business needs to keep up to thrive. For an ISO, it's especially important to be able to close and onboard new merchants efficiently and to ensure their satisfaction with convenient digital solutions like e-signature. 
With IRIS CRM's e-signature capabilities, powered by Adobe Sign, your merchants can receive, sign, and submit their Merchant Processing Agreements (MPAs) from anywhere in the world, straight from their devices instead of waiting for a paper contract to arrive by mail. But e-signature isn't just convenient for clients – it has huge benefits for you as well. 
Why Should My ISO Implement E-Signature?
Whether you are a retail ISO, wholesale ISO, or a Financial Services Provider (FSP), you need to be using e-signature. The global digital signature market is booming, growing 27.69% from 2019 to 2020 alone and it's not slowing down any time soon. 
The benefits of IRIS CRM's e-signature are powered by Adobe Sign. Users can sign and send documents from any device, no matter their location. Automate document workflows, reduce fraud, and feel confident that Adobe Sign e-signatures are fully legal, secure, and 100% compliant. Here are a few more reasons why your ISO should implement e-signature.
1) E-Signature is Fast
The most obvious benefit of e-signature is speed. According to Jotform.com, the Vermont state government reduced contract approval times by 75% after switching to electronic signatures. With e-signature, your agents can close new merchants faster than ever before and your boarding team can submit accurate, trusted applications in minutes. Save significant time and effort spent on administrative tasks and paperwork to give your team more time to do what they do best – generate revenue. 
Sometimes you need multiple people to sign a document and that can really slow things down. IRIS CRM offers sequential multi-signer support, giving you the ability to quickly and conveniently deliver PDFs to everyone who needs to sign. Once the first person has signed, the PDF is automatically forwarded along to the next. Learn more about our sequential multi-signer support here.
2) E-Signature is Convenient
Implementing e-signature makes life more convenient for merchants, financial institutions, and your ISO. Thanks to e-signature, each relevant party can access, sign, and/or send important documents securely and conveniently from anywhere. Your agents can recruit and close new merchants faster and your onboarding team can sign them up in minutes instead of hours with unparalleled accuracy.
Electronic signature contracts generated through IRIS CRM are accepted by leading payment networks Fiserv, TSYS, and Worldpay.
Every successful ISO has a streamlined process for driving the journey of a new merchant from prospect to signed partner. IRIS CRM gives you all the tools you need to onboard merchants more conveniently than ever with best-in-class speed and accuracy so you never miss a beat.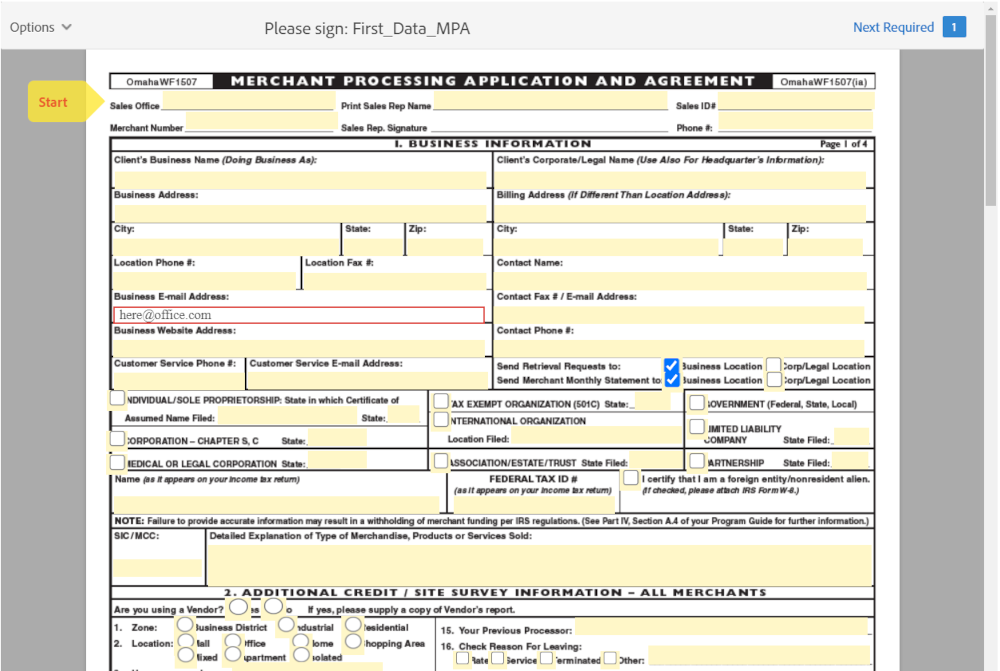 3) E-Signature is Cost-Effective
At the end of the day, it all comes down to the bottom line. If it's not generating revenue or saving you money, it's probably not worth the effort. E-signature is so valuable because of the significant savings that it provides for ISOs just like yours. No more printing, faxing, or mailing your important documents – netting significant savings from the moment you implement it. Data entry errors can be costly and no one wants to see a failed application submission. Take advantage of the benefits that e-signature provides to not only save money, but to generate more revenue as well.
Don't take our word for it. According to Bank Systems & Technology, "Manual and paper-based processes during a typical customer onboarding process can cost up to 20 times more than electronic document processing."
4) E-Signature is Accurate
The merchant onboarding process can be incredibly error-prone if you rely on manual data entry. There are too many opportunities for human error, and that's just another reason why e-signature is so crucial to your ISO's short- and long-term success. In fact, e-signature reduces scanning errors by 92% and reduces missing files by 66% among financial institutions according to FinancesOnline.
WIth IRIS CRM's industry-leading tools, your agents can easily map lead fields to documents and automatically generate pre-filled PDFs with the touch of a button. No more manual data entry, no more errors – just more revenue for your bottom line. By giving your team the tools to onboard new merchants in minutes instead of hours, the sky's the limit for your ISO when it comes to growing your monthly residuals and overall revenue. 
Map lead fields to a PDF document once and they are automatically filled in with lead information every time you generate a new contract in IRIS CRM:

Board merchants in one click once you've received the signed contract, with all lead information automatically importing to IRIS CRM:

5) E-Signature is Secure
Simply put, e-signature is more secure than using paper documents that can get lost, stolen, or simply disappear into the void. Beyond the security of not losing your most important documents, you can trust electronically signed documents more than hand-signed ones. Electronic documents are protected from tampering, contain more identifying information about the signer, and are time-stamped each time they are signed and submitted. The fraud prevention e-signature provides is incredibly important for driving success with your ISO.
We're excited to offer the ability to send secure PDFs with IRIS CRM and Adobe Sign, so you can automatically password protect your contracts and documents before they are sent back to the signing parties in a confirmation email. IRIS CRM also enables you to group application access, ensuring that your agents can work more efficiently by only seeing what matters to them.
Password protect your PDFs before sending confirmation emails with either a Social Security Number or a Federal Tax ID needed upon receipt: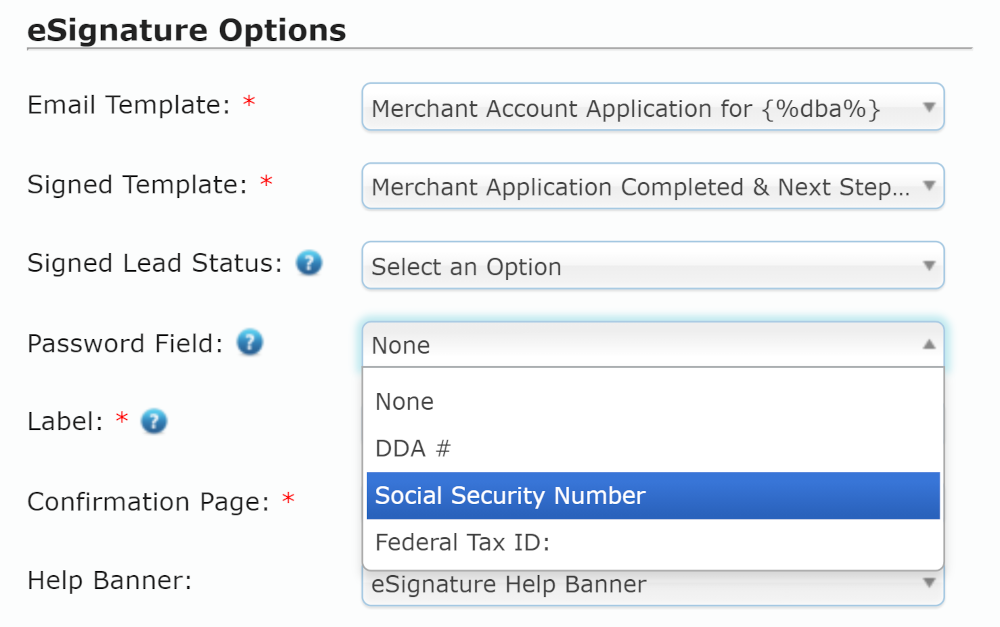 Easily segment access to leads, merchants, and more to specific groups, user classes, or even individual users using Application Permissions in IRIS CRM:
How E-Signature Works at IRIS CRM
IRIS CRM gives you the ability to accept legal, secure, digital signatures on any PDF, powered by Adobe Sign. We take things to the next level by giving ISOs the ability to map fields from a PDF form directly into IRIS CRM. Information your merchants add to their MPAs can be imported directly into the system for populating lead accounts, onboarding new accounts, and more. 
To make things even easier, we provide built-in, fully customizable email templates so your agents can customize their outgoing emails and send out MPAs in just a few clicks without leaving IRIS CRM. By minimizing or even eliminating the need for physical paperwork at your business, you'll gain all the benefits of e-signature – speed, convenience, savings, accuracy, and security. 
Let us show you just how easy it is to use e-signature by scheduling a guided demonstration today.