Agreement Express Integrates With IRIS CRM To Deliver Automated Underwriting
Agreement Express has recently announced a game-changing integration with IRIS CRM to its ScanXpress automated underwriting tool that will allow mutual customers of IRIS CRM and Agreement Express to significantly streamline and even fully automate their due diligence when onboarding new merchants, enabling unparalleled speed for underwriting and time-to-revenue.
In essence, the integration between Agreement Express and IRIS CRM creates a full-commerce enablement solution that allows clients to review, onboard, and serve new merchants with the efficiency and fast, frictionless customer experience previously only available from third-party processors like Stripe, while simultaneously maintaining the many cost and service benefits that merchant account providers such as ISOs and payment facilitators offer to their merchants.
IRIS CRM and Agreement Express Supercharge Speed to Processing
The key ingredient that makes the Agreement Express integration so powerful is the system's ability to eliminate the manual work involved in the underwriting process. Traditionally, the data from a merchant processing application would have to be keyed over manually or entered piece-by-piece into an ISO's underwriting system. Not only is that extremely time-consuming, but it also introduces the potential for human error that could result in false positives or – worse – red flags slipping through the cracks.
With IRIS CRM and Agreement Express, there is no manual data entry required and no need to extract information from an MPA line-by-line. The system pulls the merchant data already stored in IRIS CRM and passes it to Agreement Express, where Merchant ScanXpress checks everything against top third-party sources, aggregates all the relevant data, interprets it, and provides the user with an easy-to-understand score,  including a clear summary of any triggered risk flags. Underwriters can then make a decision manually in seconds or even let Merchant ScanXpress make the decision automatically. The result is then passed back to IRIS CRM instantly to allow the boarding process to continue with TurboApp. 
When combined with IRIS CRM's new one-click boarding tool, the result is effectively instantaneous onboarding, with the time from online MPA submission to completed merchant submission reduced to a matter of seconds.  
How the IRIS CRM & Agreement Express Integration Works
Using IRIS CRM with Agreement Express is exceptionally easy thanks to the frictionless synergy between the two platforms. The entire underwriting process can be completed in a matter of a few clicks, taking the user from initial submission to an accurate, reliable risk score in seconds. Because the user experience is so seamless, the entire four-step process seems like nothing on its face – but make no mistake, the magic happening behind the scenes is complex!
Automated Pre-Boarding Underwriting
When wholesale ISOs and payment facilitators sign new merchants, one of the most important steps prior to boarding and acceptance is thorough underwriting. IRIS CRM and Agreement Express make that initial due diligence more efficient and reliable than ever with the following four-step process. 
Step 1: Assign a Status in IRIS CRM
When a lead is ready to go to underwriting, all that has to be done in IRIS CRM is a quick status update assigning the lead to the relevant underwriting category.
Users can choose a standard risk review, customized partner-specific or sales-channel-specific reviews, or an enhanced review for higher-risk merchants. And because IRIS CRM's lead categorization can be updated using trigger events, users can set the underwriting status to change automatically based on actions like merchant form submissions. 
Step 2: Key Data is Automatically Passed to Agreement Express for Scoring
Once a lead has been marked as "ready for underwriting," IRIS CRM automatically and securely sends all the relevant data from the lead's profile to Merchant ScanXpress. With the data pulled, Agreement Express begins checks against the databases of all the top third-party underwriting data sources. The system then interprets and performs a thorough analysis of the results. Based on the outcome of the analysis, the system generates a numerical score on a scale of 0-100 along with a straightforward approval or denial recommendation. If any flags are triggered, Agreement Express explains exactly what was caught, why, and where that data lies in the merchant's application. The whole process happens in seconds, so that as soon as an underwriter pulls up Agreement Express, the completed risk assessment is already complete and ready for their review. 
Step 3: Use Agreement Express to Make an Underwriting Decision
The reports generated by Agreement Express can be used to make an underwriting decision in one of two ways. The first is a manual decision based on the risk assessment performed by ScanX. The second is fully automated underwriting in which the system's approve or decline decision is automatically accepted with no manual intervention involved. Manual user decisions allow underwriters to leverage the depth of analysis the ScanX system offers while still giving them the freedom to manually review triggered flags or to disagree with the system's assessment outright. Going fully automatic enables underwriters to allow the system to make rules-based decisions on their behalf, with the criteria for go-or-no-go fully configurable on the user end. 
Step 4: Key Data is Automatically Passed Back to IRIS CRM
Once an underwriter or ScanX has made a decision, it's instantly passed back to the CRM so that the merchant's onboarding can progress through IRIS CRM's TurboApp automated boarding tool. At that point, users can be confident that the information submitted to the payment processor is both accurate and thoroughly vetted, helping to ensure successful acceptance and a long, healthy processing relationship.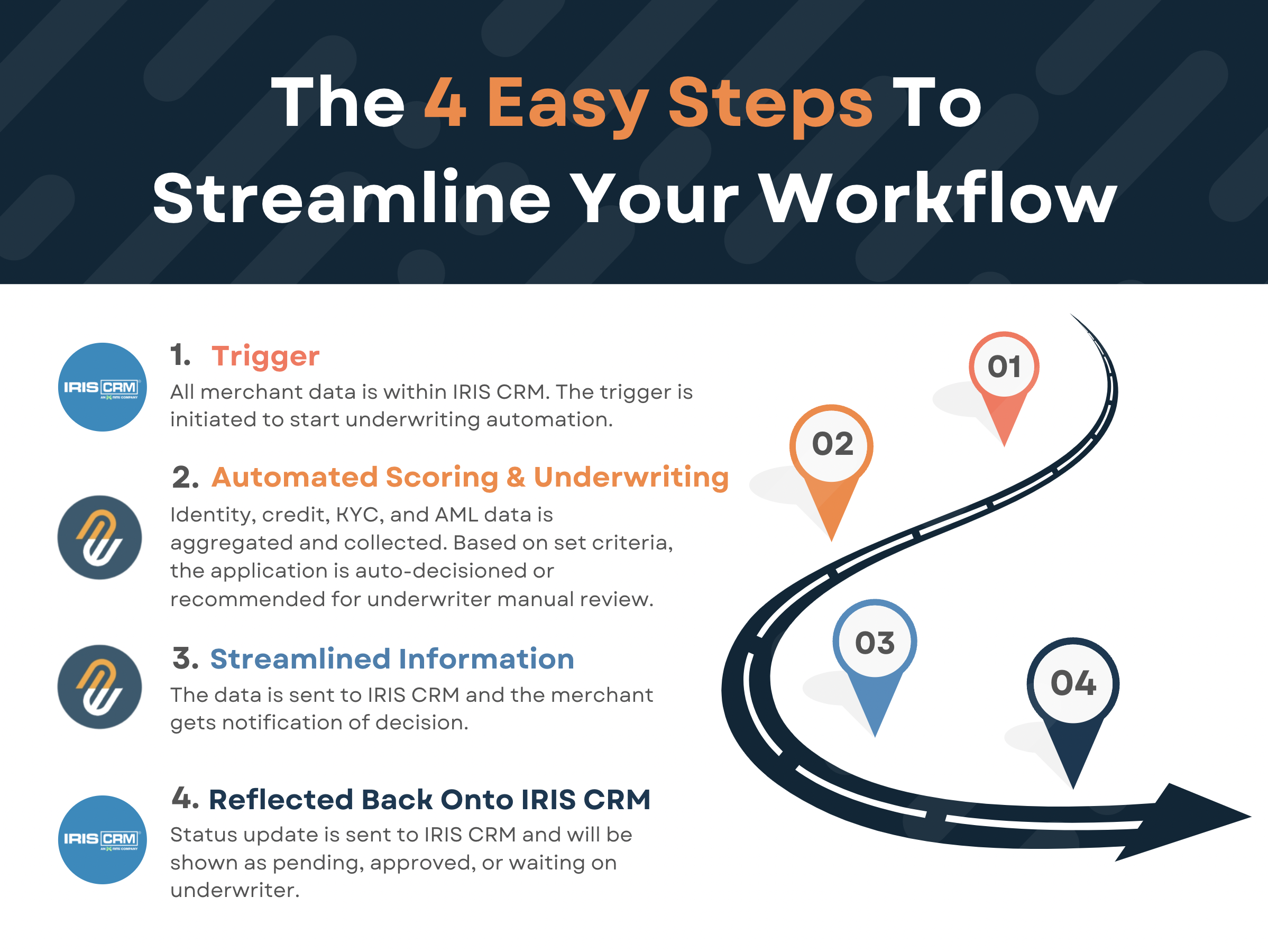 Ongoing Risk Assessment
As time passes and merchants grow and adapt their businesses, their risk profiles naturally change – sometimes in minor ways and sometimes in extremely significant ones. To ensure new risks are caught before they have a chance to cause a problem, wholesale ISOs and PayFacs can use IRIS CRM and Agreement Express to perform ongoing risk assessments on any of the merchants in their portfolios. Like the initial underwriting process, ongoing monitoring is applied using lead statuses within the CRM. Users can choose to assign merchants full risk monitoring, credit-only monitoring, OFAC-only monitoring, and more. Once a type of monitoring has been chosen, Agreement Express will keep a silent eye on all changes that pass through the CRM, ensuring nothing that could change a merchant's risk level ever slips through the cracks. 
Custom Fields for Seamless Two-Way Communication
To ensure the data passed back and forth between IRIS CRM and Agreement Express flows freely and accomplishes user goals on each side of the integration, users can create custom field maps using the Agreement Express Integration Manager. ISOs and PayFacs can easily customize what data is synced between the two systems, how fields are used, and how advanced logic will be applied to the underwriting process based on the data ScanX receives from IRIS CRM and vice versa. The custom field mapping is so easy to use that setting up the integration between IRIS CRM and Agreement Express can be done in as little as a few minutes. 
Together, IRIS CRM and Agreement Express have created the single best instant onboarding solution the payments industry has to offer. ISOs and PayFacs already familiar with the wealth of features built into IRIS CRM will love the speed and reliability of Agreement Express' automated underwriting. Agreement Express customers new to IRIS CRM will be able to tap into a platform with an unparalleled ability to improve all aspects of their operations, from more efficient merchant recruiting, to lightning-fast onboarding, to instant monthly residuals calculations, advanced reporting, a built-in enterprise call center, and much more. 
To find out more about how the IRIS CRM and Agreement Express can revolutionize your company's onboarding process, schedule a free guided demonstration today.