Automated Fiserv Payment Facilitator Residuals Calculations
IRIS CRM has further enhanced the Residuals module to include Automated Residuals Calculations for Fiserv Payment Facilitators. IRIS CRM combines PayFac's expense and revenue reports from Fiserv and automatically calculates their residuals so they don't have to. 
Payment Facilitators will now conveniently see both their PayFac and ISO portfolios in one, central location within IRIS, making reporting and analysis much more efficient. No more manual file combination, macros, or special accounting software — IRIS CRM's Residuals module can do it all for Fiserv Payment Facilitators. 
Residuals can be viewed at the portfolio and merchant levels to gain insight into the profitability of each. Once residuals are calculated, they can then easily be paid out while still in IRIS CRM using our Paya ACH integration so agents get paid in a timely manner. 
Automated Residuals Calculations for Fiserv Payment Facilitators provides a unique edge to PayFacs that will allow them to further grow their merchant portfolio by simplifying calculations and reporting. More time and energy saved means more revenue generated as PayFacs can focus on growing their portfolios instead of administrative work. 
Meet with the IRIS CRM team to learn how we make residuals simple. Not a PayFac? Check out the full list of supported residuals report mappings by processor. 
How it Works
IRIS CRM Setup for Residuals Imports
If you are a Fiserv Payment Facilitator, contact the IRIS CRM Support Team to configure your CRM to accept and automate PFAC residuals. Once our Support Team has configured your site, you'll be able to import residuals reports for automatic calculation.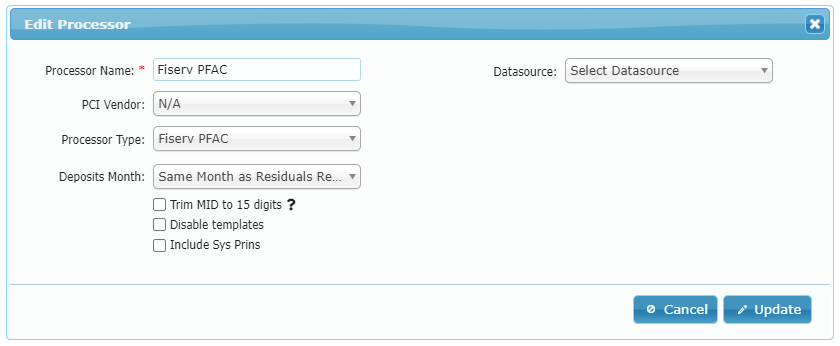 Import Residuals Files as a Zip to IRIS CRM
Once the IRIS CRM Support Team has configured your site, residuals reports can be imported into your CRM and automatically calculated. In order for IRIS CRM to calculate PFAC residuals, you'll need to combine your revenue and expense reports into one .zip file. 

To import a new residuals report in IRIS CRM, navigate to Residuals > Residuals Import. On the Add New Report tab, drag and drop the .zip file into the upload box or browse your local device for the .zip file you are importing. 

Once you've uploaded the .zip file, select Fiserv PFAC in the Processor field. This selection allows the income and expenses to automatically be mapped in order to calculate your PFAC residuals. 

You'll notice that IRIS CRM automatically populates the month and date of the report based on the file name. We recommend you include the month and date of the report in the file name to save time and ensure the report is associated with the correct month. Click Import below the file upload to complete the import of your PFAC residuals report.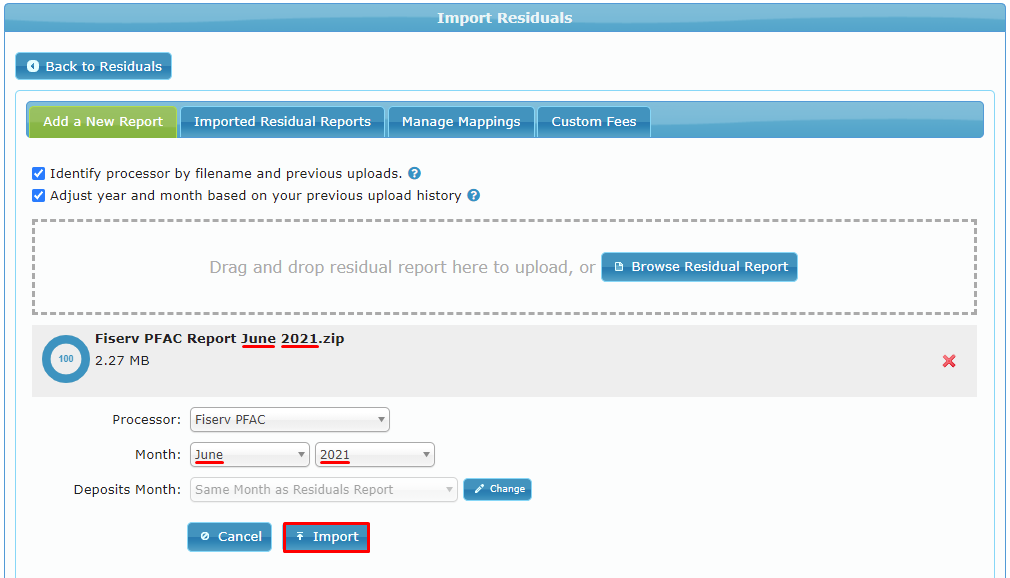 Once you've done the initial import, a pop-up will be displayed with the total # of rows and known merchants being imported. If the data is accurate, click Import to complete the importing process.

A success message will appear at the top of the page to indicate that your import was completed successfully. 

Directly from the successful import screen, you can Publish Report or Publish And Notify Users. Publishing the report will populate your My Residuals page with the PFAC data you uploaded so users can view that month's residuals and compare to the rest of your portfolio. 

PFAC Residuals Summary View
To view your PFAC residuals, go to the My Residuals page, enter the month and year of the report you uploaded and click Refresh. There will be a table titled Fiserv PFAC displaying the information from the reports you've uploaded.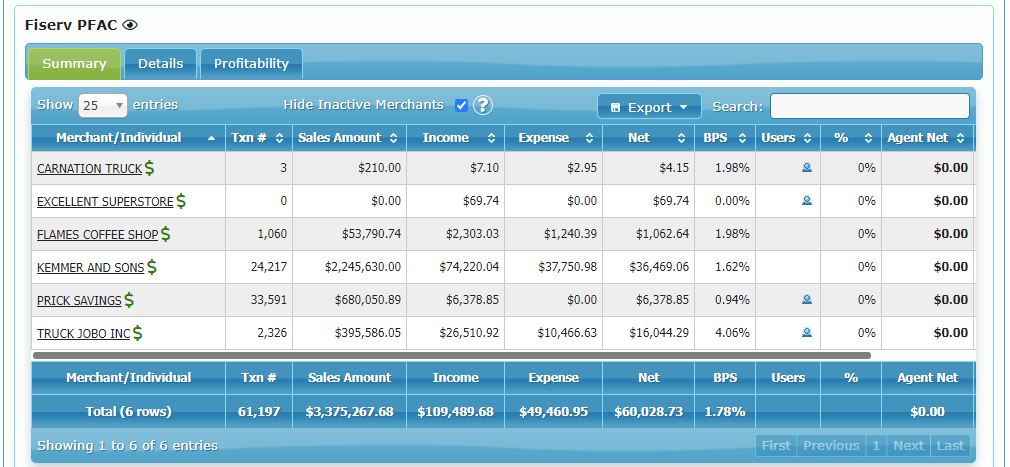 Switch to the Details tab to see the comprehensive list of columns from the original report import. Scroll the table horizontally to view all of these fields.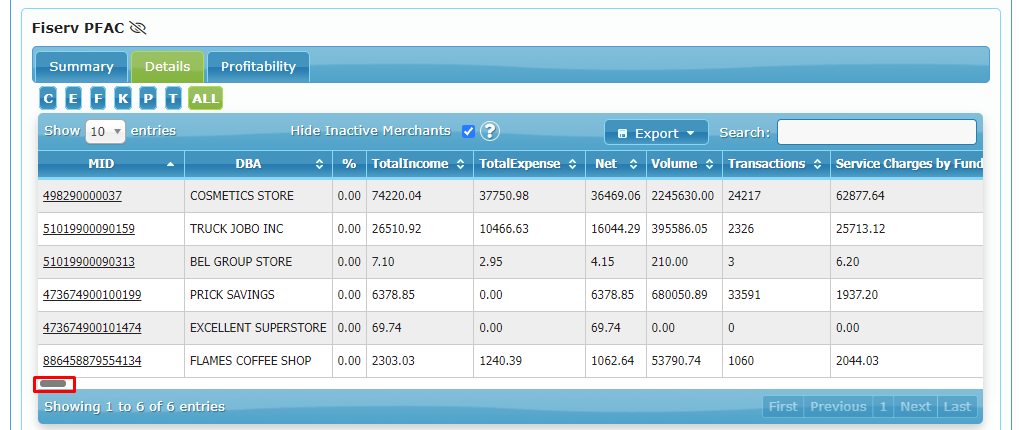 Upload the .zip file with your expense and revenue reports each month and enjoy the powerful new residuals automation for Fiserv Payment Facilitators in IRIS CRM.