Automated SMS Triggers For Easy Lead Follow Up
Get your message directly into the palm of your lead's hands at just the right time without manually typing or sending texts one-by-one using IRIS CRM's new Automated SMS Status Triggers. 
SMS is a great way to communicate with leads, as most people have their cell phone with them all of the time. Therefore, SMS presents the opportunity to increase the chances that a prospect actually sees your message and ends up responding to you. Keeping the conversation going is crucial to moving them through the sales funnel and making the sale. No response, no deal. 
Sending an effective, personalized message lead-by-lead can take up valuable time though. Thanks to IRIS CRM's SMS functionality and new Automated SMS Status Triggers, you are able to leverage your tried-and-true SMS templates with variables for personalizing the message and automate when the message goes out so that it has the most impact. 
Automated SMS Status Triggers come in addition to a long list of automated lead management features offered by IRIS CRM, including email triggers. With both SMS and email, you are able to utilize all of the communication tools at your disposal to most effectively interact with prospects and ultimately, close the deal. 
Automating SMS sending is just the latest of IRIS CRM's powerful SMS functionality that can help strengthen your sales process. Start with SMS templates to format highly effective, yet personalized messages. Then, send to individual contacts or use mass SMS to send a blast to a swath of prospects to drive specific campaigns and initiatives forward. Track all of your organizations SMS activity with SMS Metrics for detailed reporting on the message's status, when it was sent, content of the message, and the associated lead. 
To learn more about IRIS CRM and how our automated lead management tools can help you grow your merchant services business, schedule a demo with our team if you're not already a client. 
How to Configure Automated SMS Status Triggers
Setting up automatic SMS triggers is straightforward, especially if you're already familiar with our status triggers which are all configured in the same way. Watch the video below or follow the instructions to automate your first SMS workflow!
Configuration Tutorial
Step 1: Go to Lead Status States & Triggers
To start, navigate to Manage > Administration > Leads > Status States & Triggers: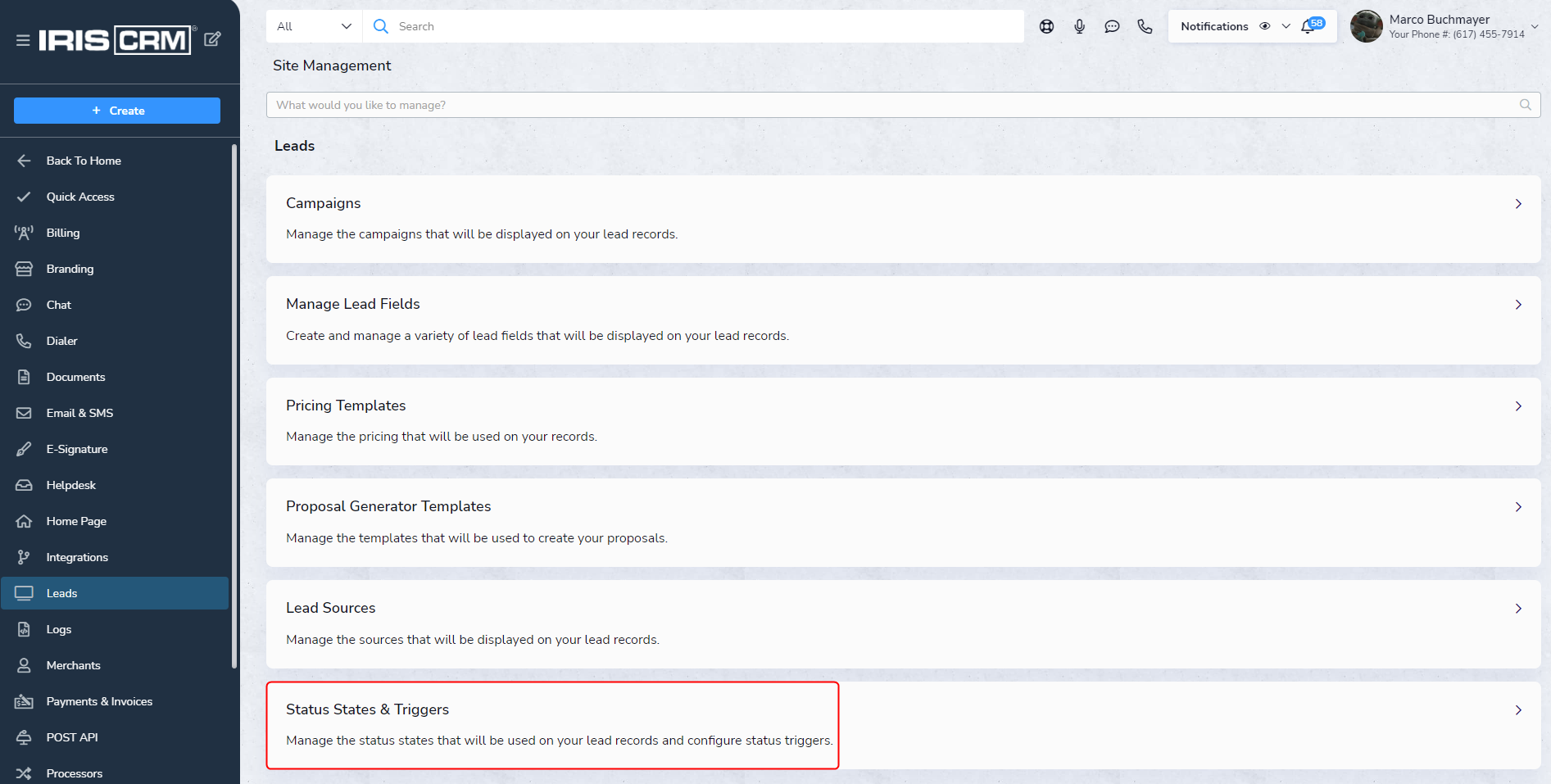 Step 2: Configure Status Trigger
Locate the lead category and subsequent lead status that you want to configure a trigger for. Click Add/Remove Status on your desired category, then Configure Status Triggers on the target lead status:


Then, at the top of the page, select either the Status Age or Status Change trigger type. Status Age will trigger after a lead has been in the status after the set amount of time. Status Change will trigger when a lead is moved into the selected status. 

Step 3: Create Automated SMS Trigger
Once you've select either status age or status change, click Add New Trigger in the top right:

After the trigger options appear, check Send SMS to Lead to configure your automated SMS trigger: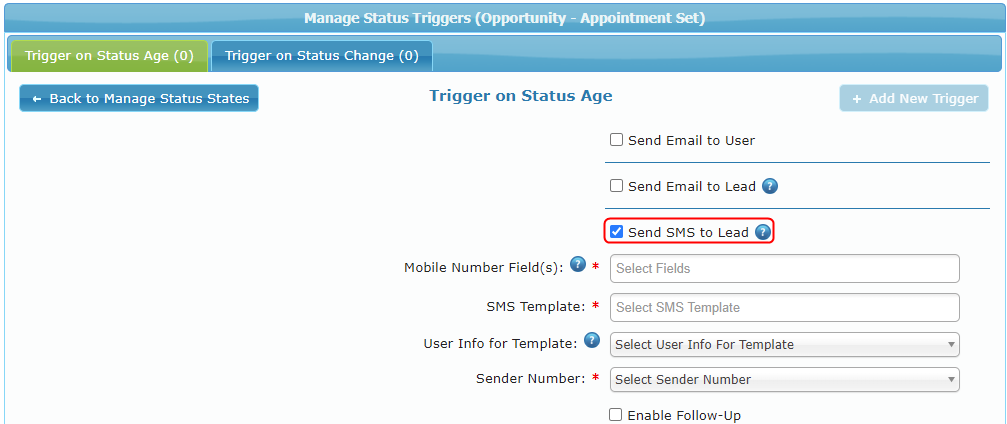 Mobile Number Field(s) is where you select which lead field(s) to find the phone number to send the SMS message to such as the owner, decision maker, business phone, etc. If you select multiple fields, then the message will be sent to all of the numbers from the selected fields.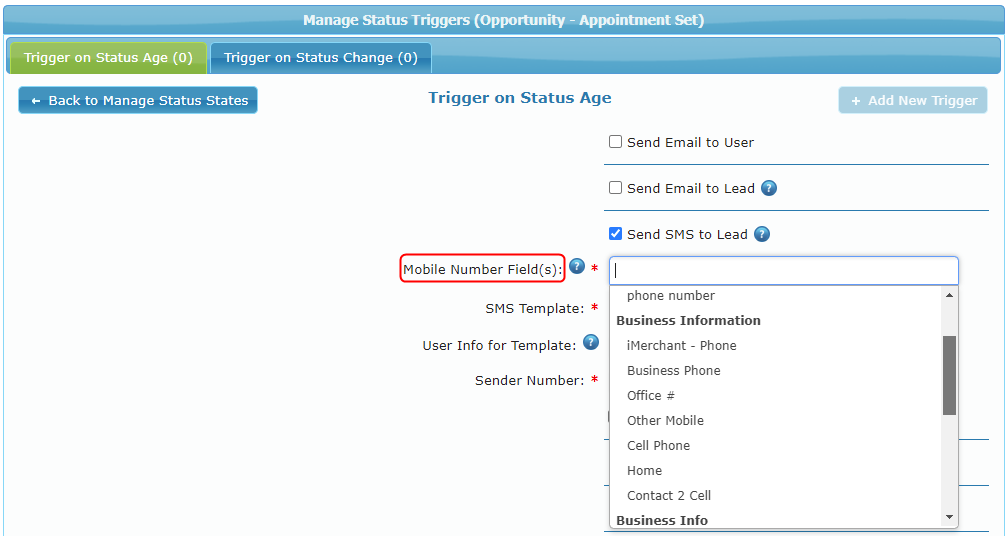 Next, select which SMS Template should be used when contacting the lead with this trigger: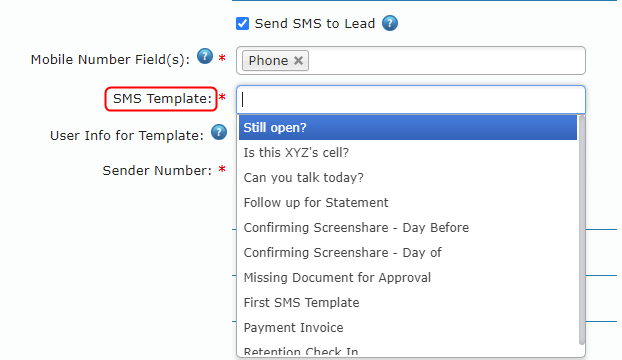 User Info for Template allows you to set which user's information will be used for the sender information. This is who the recipient will see as the person sending them the message, so they are unaware it's an automated message. The selected user's information will be populated into any applicable variables such as sender name.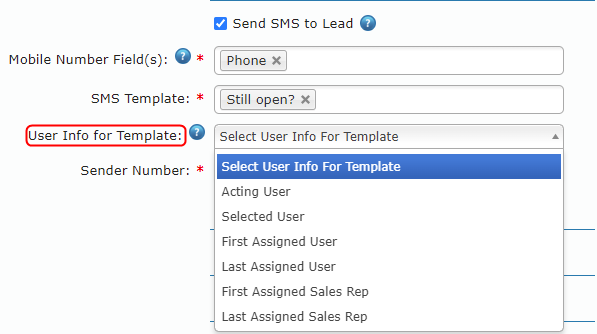 Finally, in the Sender Number field, select which of your dialer numbers to use as the number that the message is sent from.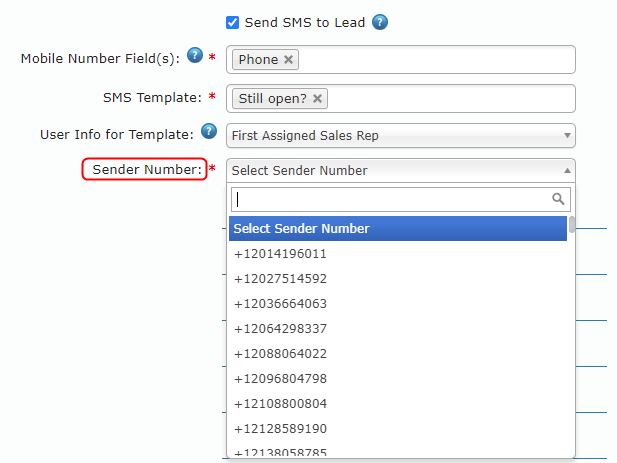 If you're doing a status age trigger, set the duration of time you want the lead to be in the status before sending the SMS.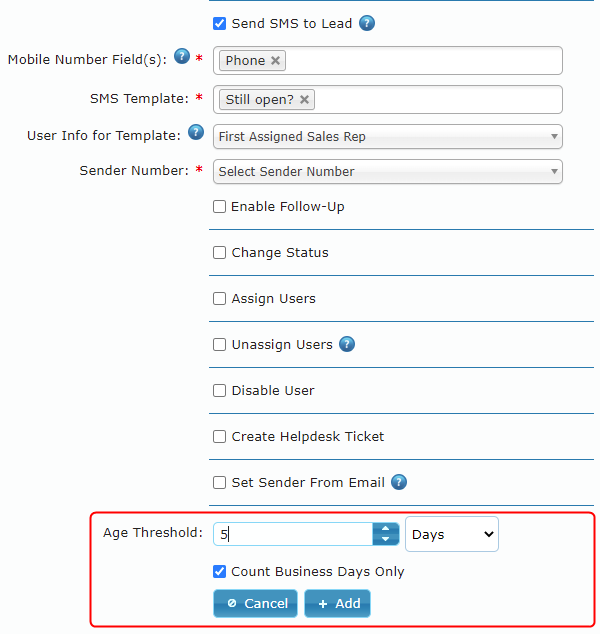 Click Add to finish adding your new Automated SMS Status Trigger. 
Now you've set up an SMS Status Trigger to automate your text communications with leads. Continue creating SMS triggers for various stages of your sales workflow to streamline communications with your prospects and close more deals.