IRIS CRM is happy to share our newest functionality for TSYS FSP ISOs to update your merchants' Daily Fee Indicator without having to switch platforms.
We have added a new ticket type – TSYS – Update Daily Fee Indicator (Auto) – that works like our other automated TSYS maintenance tickets. These ticket types allow TSYS FSP ISOs to perform maintenance on their merchants within their IRIS CRM site without having to switch to TSYS PPM and manually update individual fees there. 
Whether you're turning on daily discount for a merchant enabling cash discount, or a merchant's overall risk profile has improved and they're being moved to monthly discount, users can turn the daily fee indicator on or off for selected fees. TSYS PPM will automatically be updated by IRIS CRM once the ticket is submitted and the merchant will have a linked ticket with a record of the changes. 
Performing all TSYS PPM maintenance from IRIS CRM saves you and users time on both training and switching between platforms for more streamlined workflows. Continue reading to learn how to use the new Daily Fee Indicator ticket. 
How To Update TSYS Daily Fee Indicator
To update the Daily Fee Indicator for a merchant, start by going to the merchant record or Helpdesk and creating a new ticket with the ticket type TSYS – Update Daily Fee Indicator (Auto). 
Create the ticket and you'll be taken to the fee update page. Here you'll select whether to turn the Daily Fee Indicator On or Off and Net or Separate for the selected fees. Select the checkbox next to each individual fee to update the settings for them, then click Update. 

After selecting the fees and clicking Update, a confirmation screen with the fees being updated will be shown. Click Continue to proceed with the fee updates. 

After the ticket is created, it will automatically update TSYS PPM so your users don't have to log in to another system. The ticket will be marked as Resolved and a comment will be left by the system with a list of all the fees that were updated as a result of fee changes.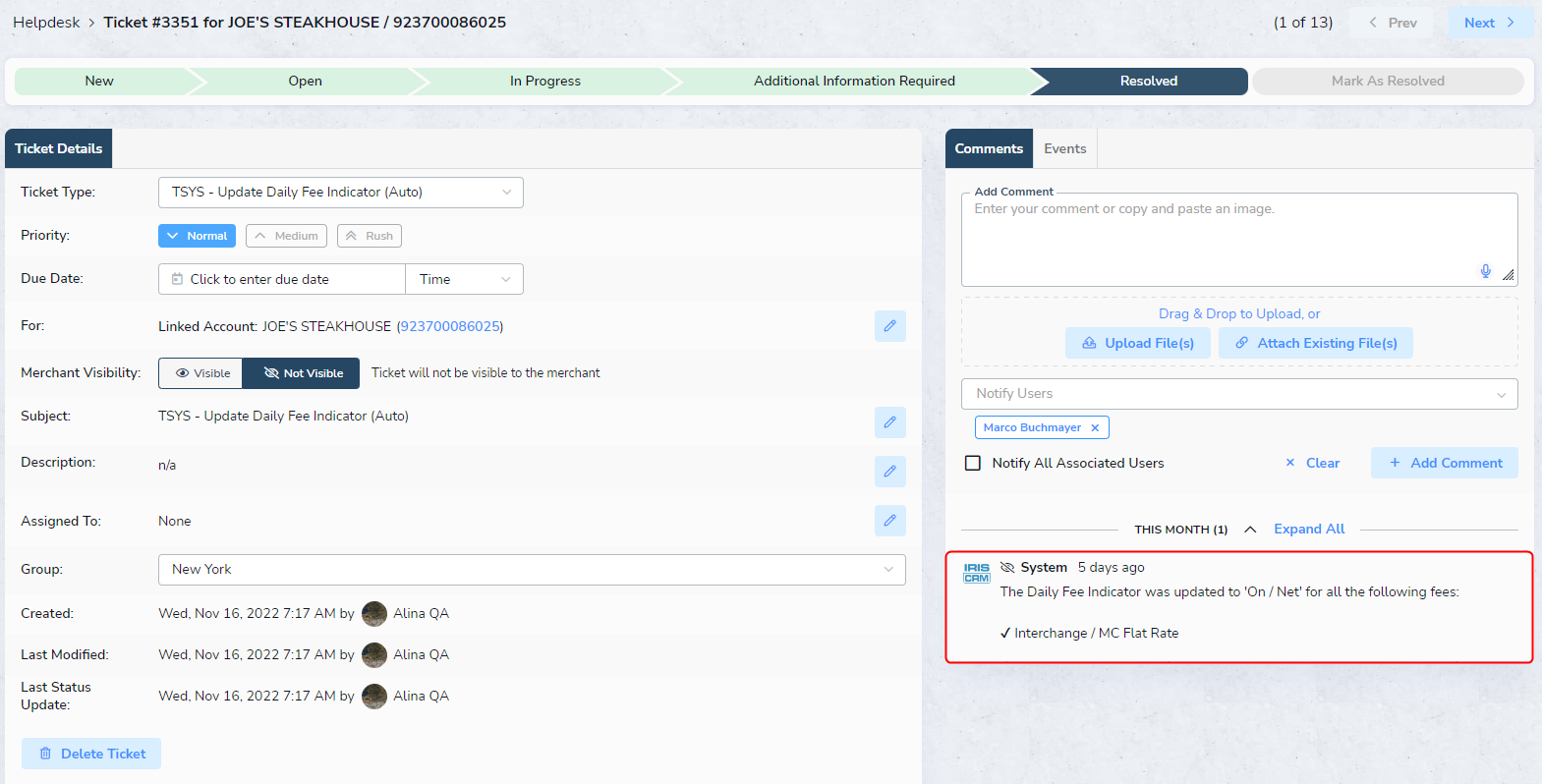 We hope this makes managing merchants even more convenient and streamlined for TSYS FSP ISOs by continuing to make IRIS CRM a one-stop shop for TSYS merchant maintenance. 
If you are an existing client and have any questions, please contact our Support Team for assistance. 
Are you a TSYS FSP ISO that's not already using IRIS CRM for boarding, maintenance, and reporting? Schedule a demo with us to learn how IRIS CRM can save your ISO even more time and simplify workflows like TSYS fee maintenance.