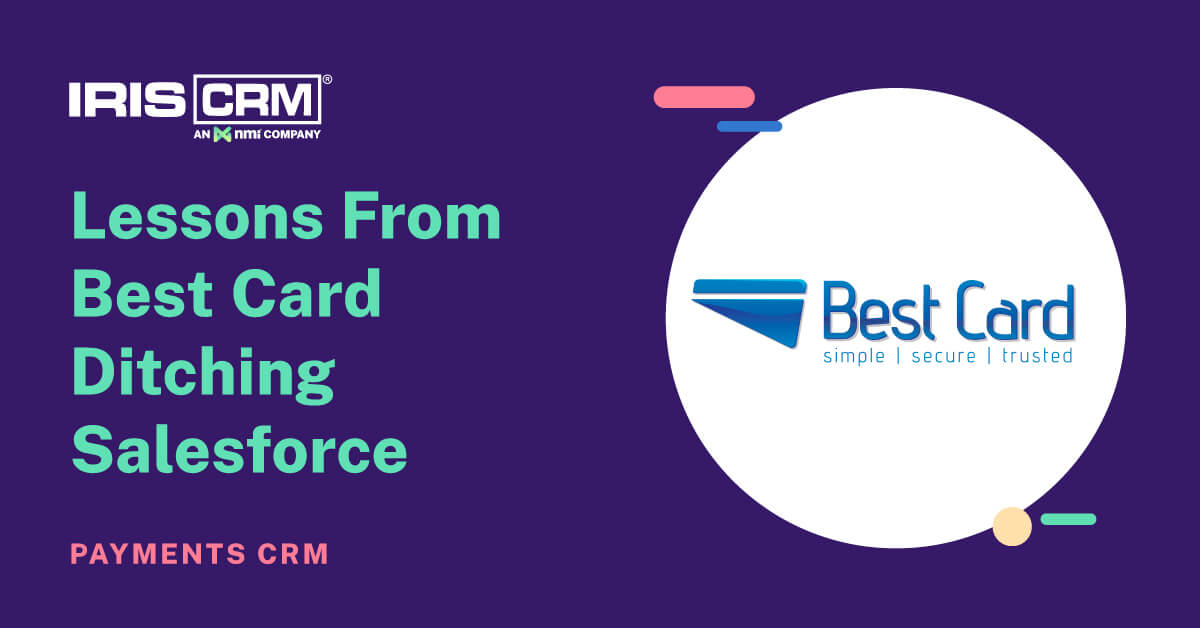 Best Card's Switch to IRIS CRM: Lessons from Swapping Out Salesforce
When independent sales organization Best Card realized it was time for a new CRM, it made the switch to IRIS CRM after being a Salesforce user for nearly a decade. By migrating from Salesforce to IRIS CRM, Best Card gained an entire suite of industry-specific payments features designed to solve the exact problems that were hindering the ISO's growth. The following is a brief overview of Best Card's journey from Salesforce to IRIS CRM, the benefits the company gained from a more powerful, industry-specific system, and the lessons other ISOs can take away from the transition. 
The Problem Facing Best Card and Countless Other ISOs
Best Card was a growing ISO looking to ratchet things up even further. It needed a CRM that could do two things: enable the accelerated growth it was looking to achieve and scale up easily and affordably at the same time. Salesforce, Best Card's CRM at the time, didn't really do either. 
Salesforce is a good CRM, but its lack of industry-specific features limited its ability to help Best Card grow in a space as specialized as payments. At the same time, the growth Best Card was already enjoying was creating bottlenecks in the company's workflows. As Best Card landed more and more new merchants, it started getting bogged down in processes like manual onboarding and residual calculations. Finally, because Salesforce bills on a per-user basis, staffing up and planning for future growth meant Best Card was faced with significant cost increases – costs that would be incurred well in advance of new revenue. 
Best Card's predicament was not in any way unique. Many growing ISOs find themselves caught in a difficult balancing act when trying to access the technology they need to grow efficiently without getting buried by unmanageable upfront costs. 
Best Card's Search for Something Better
Best Card co-founder Mike DiGiacomo knew the company had reached the limits of what it could do with Salesforce and needed something better. Best Card had been using Salesforce for nearly a decade, so Mike was very familiar with the value and function of CRM systems, and he knew exactly what additional functionality Best Card needed to pursue future growth goals in a cost-efficient and manageable way. 
Mike was shopping for a new CRM and had almost settled on one when he read about IRIS CRM. In IRIS CRM, Mike found a system that seemed purpose-built for the exact merchant services challenges Best Card was facing – because it was. IRIS CRM offered Best Card all the same sales and productivity features that make Salesforce so popular and useful. But, it also offered a full suite of payments tools designed to enable growth by automating the tasks that contribute the most to growing pains, like merchant onboarding and residual calculations.
Worry-Free Migration of Salesforce Data into IRIS CRM
IRIS CRM's feature set was a slam dunk, but Mike still had one worry: implementation. Best Card had been using Salesforce for eight years, which meant there was eight years of customer and lead data that would need to be ported to IRIS CRM in order to keep operations running interruption-free. Mike was worried the process of switching such a huge amount of data to a new CRM with such different architecture would result in problems like data loss or downtime. But IRIS CRM had a solution ready for that too: an industry-best implementation team. 
IRIS CRM's implementation team has performed so many transitions that the process has been nailed down to a science. In Best Card's case, Implementation Manager Viktoriya Bela worked with Mike's team to develop an air-tight transition plan. Viktoriya personally oversaw the entire implementation, keeping Mike and Best Card informed and ensuring every piece of data, every field, every note, and every attachment was successfully mapped to IRIS CRM. In the end, no data was lost and the Best Card team was able to start using IRIS CRM with their existing customers and leads immediately. 
The Lesson: 
Switching CRMs can seem like a daunting task, especially after years of using a single system. But, with the right implementation team and a good plan, the transition can happen headache-free, with little to no business interruption and zero data loss. 
What Best Card Gained by Swapping Salesforce for IRIS CRM
Mike DiGiacomo settled on IRIS CRM for three primary reasons: the innovative payments tools included with the CRM, the system's ability to scale easily and affordably as Best Card grew, and the industry-best support IRIS CRM offers to its partners. Those three factors not only ensured that Best Card would be ideally positioned to enjoy immediate growth and success, but also that the company would effectively "future proof" itself against explosive growth down the line, as well. Planning for changing needs as the company's business evolved over time helped Best Card ensure it would never run into a wall with its new CRM the way it did with Salesforce.  
Streamlined, Automated Merchant Onboarding to Key Partners
Best Card was looking to streamline merchant onboarding to its two key partners, TSYS and Fiserv. IRIS CRM's Turboapp automated onboarding tool provided direct-to-processor boarding integrations with both. TurboApp pulls all the relevant data from a merchant's electronically signed digital MPA and automatically transfers it into a boarding application perfectly matched to the selected processor's required fields. By eliminating manual data transfer, TurboApp significantly reduces the potential for human error and cuts boarding time from 30 minutes or more to five minutes or less. 
By switching to IRIS CRM from Salesforce, Best Card gained an enormous boost in onboarding efficiency. With TurboApp, Best Card's team could onboard merchants with a few clicks, and each account would only require data to be reviewed for accuracy before submission .Not only did the company enjoy an immediate increase in capacity, it also gained assurance that its existing boarding team would be ready and able to handle increased volume no matter how quickly growth occurred. 
The Lesson: 
The right onboarding tools set an ISO up not only for immediate success, but for future success, as well. Planning for future capacity needs ensures ISOs are ready to handle growth efficiently, even if it exceeds their most hopeful projections. 
Unified Residuals Reporting and Instantaneous Calculations
Like all growing ISOs, Best Card was buried under a mountain of residuals data each month. Each of its partners, including TSYS and Fiserv, provided a uniquely formatted monthly report that needed to be combined before meaningful portfolio-wide analysis could be done. Applying merchant splits across multiple partners was also a nightmare, creating an enormous amount of work and slowing down agent payouts. 
IRIS CRM's residuals module offered Best Card a number of significant improvements. It eliminated the need to manually comb over processor reports by automatically combining the data from all of their processors in a single, easy-to-use reporting dashboard. It even pulled the reports from top partners like TSYS and Fiserv into the CRM automatically, making the entire process effortless. The residuals reporting dashboard also automated Best Card's residuals calculations by applying agent splits across all merchants and providing an instantaneous calculation of what each agent is due. 
The Lesson: 
Residuals are only a monthly nightmare because ISOs insist on managing them manually. With tools like IRIS CRM's automated residuals module, calculating and managing monthly numbers can become a frictionless process that can be handled in a matter of a few hours, even for large, growing ISOs. 
Unparalleled Scalability with Unlimited Leads and Users
Salesforce wasn't providing the capabilities Best Card needed to thrive, but to make matters worse, it was also extremely expensive. The issue with Salesforce, and effectively all CRMs, is that, in many ways, their billing models actually punish growth. Per user monthly pricing with limits on storage and leads mean that companies looking to staff up in order to grow are faced with exploding CRM costs. Best Card was looking for a system that offered more growth-friendly pricing to ensure its new CRM would scale affordably. 
IRIS CRM's unique billing model is based on the number of MIDs. A growing ISO like Best Card can add as many internal users as needed, and unlimited lead accounts, without having to worry about price increases. By pegging price to total MIDs, pricing never rises unless an ISO is generating more and more revenue. That ensures IRIS CRM only succeeds when the ISOs using it succeed – the mark of a true partnership. 
The Lesson: 
High upfront CRM costs are not a foregone conclusion. With the right CRM, ISOs can gain the tools they need to thrive no matter where they are in their lifecycle – even as bootstrapped startups – without ever having to worry about the bill increasing before revenue does. 
Make the Change to the Ultimate Payments CRM
Adopting IRIS CRM provided Best Card with a system that was more capable of advancing the company's growth goals, offered significantly improved operational efficiency, and was far more affordable and scalable, even as the company prepared for rapid growth. If you're ready to find out more about how the payments industry's top CRM can offer the same benefits to your company, schedule a free guided demonstration of IRIS CRM today.