IRIS CRM Cloud Phone System
Help Your Agents Close More Leads and Provide Unmatched Merchant Support with an Advanced Power
Dialer and the Payments Industry's Leading CRM Platform.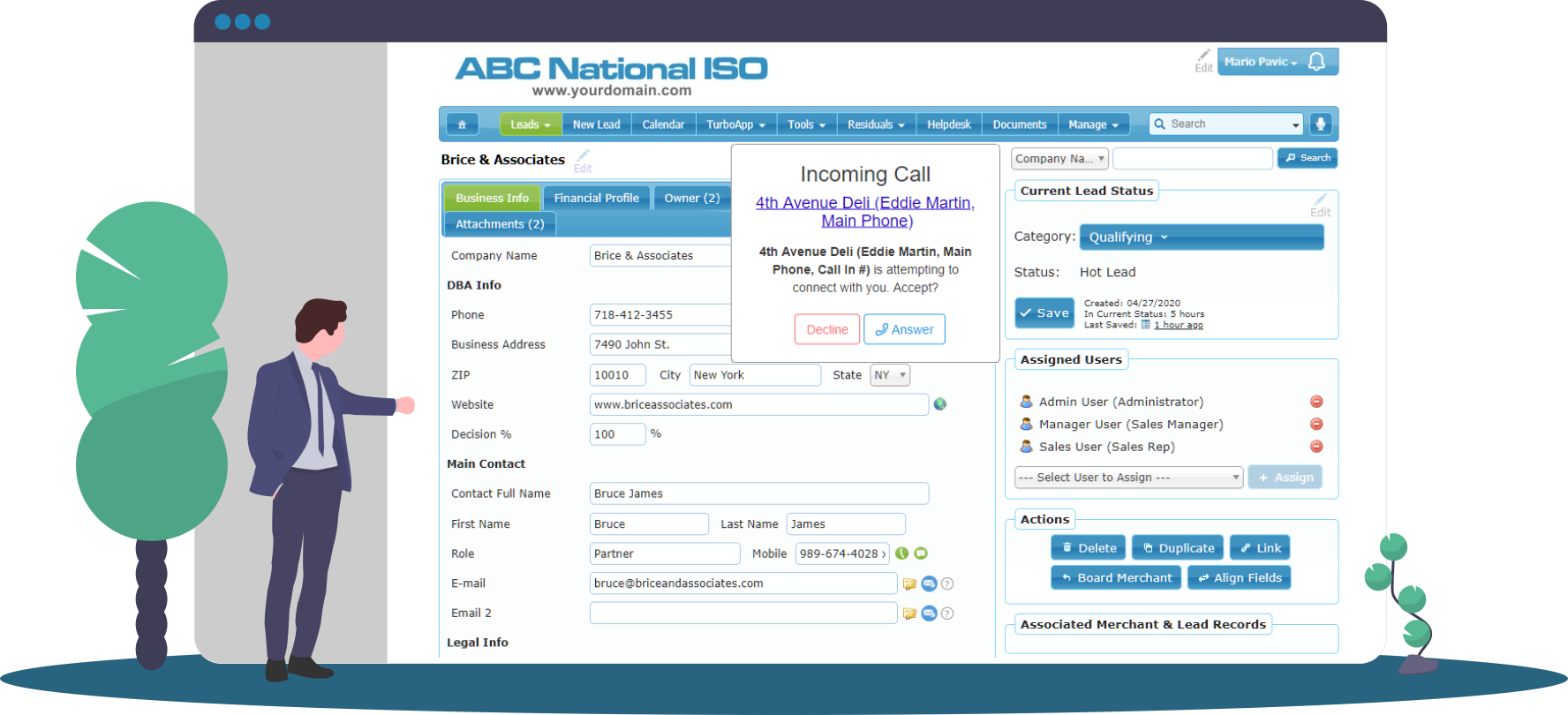 Schedule Demo
Efficient and effective calling is a fundamental driver of ISO success. IRIS CRM has designed the ultimate ISO call center to help your agents and support staff elevate their performance, provide a better sales process to your leads, and better support experience to your merchants, all while making their own jobs easier and less tiresome.
With the IRIS CRM call center, your team can automate most of the repetitive aspects of their daily calling, while taking advantage of the full power of integrated customer resource management to make every lead and every merchant feel like they're the company's sole focus. The result is happier agents, a faster sales process, better merchant retention, and, ultimately, fatter monthly residuals!
IRIS CRM Call Center Features
IRIS CRM Call Center is designed specifically to offer the tools independent sales organizations need for successful sales and support in the payments industry.
Just some of the features packed into the IRIS CRM power dialer include:
Cloud-Based Storage and Operation
With IRIS CRM, you'll never need to buy telephone hardware or worry about a phone bill again!
Call Queues
Use pre-built calling queues to automate dialing, eliminating one of the most repetitive tasks your team performs.
Interactive Voice Response
IRIS CRM comes with a full IVR system to ensure your inbound calls are properly and efficiently routed.
Local Presence
Quickly and easily choose an outbound phone number from your recipient's local area to maximize answer rates.
One-Click Voicemail Drop
Reclaim wasted time by eliminating the need to wait for the beep before leaving a voicemail.
Advanced Dialer Metrics
Enable managers to make better decisions through access to complete data on calling operations.
Agent Training and Quality Control
Use call recordings, listen-in, and whisper functions to help agents meet their full potential.
CRM Integration
Give your agents access to all the key information they need from anywhere in the CRM, right from the dialer.
Mobile Access from Anywhere
Use the dialer to elevate calling even from outside the office with the new IRIS CRM mobile app.
Phone System Plans
Included with
Subscription
5,000 minutes
per month
Unlimited Users
Includes
One Local
Phone Number
Not enough minutes?
Upgrade to a
larger plan
+ 10,000 minutes
per month
Unlimited Users
Includes
One Local
Phone Number
Each additional
thousand minute
block is $35
+ 25,000 minutes
per month
Unlimited Users
Includes
One Local
Phone Number
Each additional
thousand minute
block is $35
Toll free and local presence phone numbers are available at an additional cost.
Cloud Based Contact Center
Cloud Based Contact Center
Streamline Your System and Say Goodbye to Expensive Hardware and Add-Ons.
The call center is completely cloud-based, meaning all you need to get started using it is a USB headset! IRIS CRM completely replaces your traditional phone system, eliminating the need for dedicated hardware, expensive software, and, most importantly, your monthly bill!
By switching to IRIS CRM, your call center can be set up quickly and easily accessed using your ISO's existing computers, and your support team and agents can begin using it from the moment they first log in! Because the IRIS CRM call center is cloud-based, your system will be automatically updated and modernized as the IRIS CRM team expands the platform and adds new features, and you'll never have to worry about the costs associated with replacing an old, obsolete phone system as technological advancement marches on.
Your ISO will never have an easier, more feature-rich, more user-friendly, or more economical phone system than the one offered by IRIS CRM.
Increase Talk Time by 300%
Continuous Dialing with Call Queues
Supercharge Your Calling Efficiency and Make Your Team's Lives Easier.
Efficiency is everything in calling environments, but the strain of repetitive dialing takes a toll on your staff. But with IRIS CRM's automatic continuous dialing function, your team will be able to make more outgoing calls each day, without any of the mental, physical, or emotional wear and tear traditionally associated with high-volume manual calling.
IRIS CRM's call queuing enables your agents to quickly and easily create a list of their daily calls by using the call center's CRM integration to pull numbers from your stored leads and merchants. Once a call queue is built, your agents can simply sit back and let the system handle the dialing for them – completely hands-free! As each call ends, IRIS CRM will automatically launch the next. That means less wasted time between calls, more prospects reached each day, and more new merchants added to your client roster.
Your agents and support staff can also instantly launch calls by clicking on the telephone icon in any of the lead or merchant accounts stored within your CRM. With that single click, the dialer will launch automatically, connecting the agent's call and providing them with on-screen access to all of IRIS CRM's calling features.
Automated Local Presence Calling
Automated Local Presence Calling
Increase Out-of-Area Answer Rates by up to 400%.
The ability to recruit and serve merchants across the country – and even the world – is a huge part of maximizing your ISO's growth and residuals portfolio. But calling out-of-state prospects from an area code they don't recognize is a surefire way to destroy your answer rates. IRIS CRM's Local Presence feature eliminates that problem by enabling your agents to call prospects from a preselected list of local numbers, boosting answer rates, and keeping your leads moving through the sales process.
With IRIS CRM, your agents can quickly assign which number they want their outgoing calls to appear from in the "manage phone numbers" tab of the dialer settings. Your ISO can port in your existing telephone numbers, or you can quickly and conveniently purchase new numbers with area codes from all over the country right from within the "local presence" tab. That means that even if you've never done business in a specific state or area before, with IRIS CRM, you can have a new number up and running and your agents making local presence calls within a matter of minutes.
One-Click Voicemail Drop
One-Click Voicemail Drop
Stop Waiting for the Beep and Keep Your Agents Moving Through Their Call Sheets.
Inevitably, some of the numbers on your call sheet won't pick up. When that happens, waiting for the beep to leave a message takes up to 30 seconds on average – valuable time that your agents, and your ISO, simply can't afford to waste. IRIS CRM's one-click voicemail drop eliminates that wasted time by letting the system handle the voicemail so that your agents can move on to the next call.
Setting up voicemail drop is as simple as uploading one or more pre-recorded voicemail messages to an agent's user account. From there, any time a call goes to voicemail, agents can simply drop the selected voicemail with a single click and then hang-up. The system will ensure the message is delivered without the need for the agent to wait on the line.
Advanced Dialer Metrics
Advanced Dialer Metrics
Maintain a Clear Picture of Your ISO's and Individual Agents' Calling Operations.
IRIS CRM's call center enables managers and executives to make better decisions by providing a complete set of advanced dialer analytics through the IRIS CRM reporting dashboard. The dialer metrics dashboard can be reached from anywhere within the CRM and provides permission-based access to everything a manager needs to know about calling operations at all levels.
Tabs provide metrics on all live calls currently in progress, any live queues being run, as well as historical data on group, user-level, and dialer-wide activity. Data offered includes:
Dialer-Level: Caller, Receiver, Time of Call, Call Duration, Call Recordings, Leads, Call Direction, and Call Outcome
User/Group-Level: Dials, Voicemail Drops, Inbound/Outbound Connects, Inbound/Outbound Talk Time, Wait Time, Wait Time %
Custom date ranges enable historical numbers to be viewed for any time period, and reports can be quickly exported for external use in Excel or CSV format in just two clicks.
Agent Training and Quality Control Tools
Agent Training and Quality Control Tools
Identify Opportunities for Improvement and Create Better Training Programs.
Quality of service and adherence to regulations are crucial for successful telephone operations, and the IRIS CRM call center offers a number of tools designed to improve your team's performance in both areas through better training and quality control.
Call recordings enable management, human resources, and permitted agents to listen back on their calls to evaluate performance, identify strengths and weaknesses, and tailor training programs to individual agents' needs. Managers can also listen in on live calls and use the whisper feature to guide agents through an interaction without the customer hearing. If more direct intervention is required, managers can use the barge feature to enter a call and speak directly to the customer.
CRM Integration
CRM Integration
Unlock the Full Power of Customer Resource Management Right Through Your Call Center.
IRIS CRM is not just a call center or power dialer – it's also a complete, industry-leading customer resource management platform. The IRIS CRM call center is fully and seamlessly integrated with all other areas of the CRM system, giving your agents access to everything from lead management tools, to schedule management, to document storage and handling, to email, advanced analytics, a built-in helpdesk, live chat, and more – all just a few clicks away, right while they're live on calls.
The result is that your agents will have access to your ISO's complete organizational knowledge as well as all key members of your team to assist them with the sales process and merchant support – all without ever having to switch platforms or leave your call center. It can't be overstated how beneficial that kind of complete knowledge and internal support is to your sales process and the success of everyone on your team.
IRIS CRM Android and iOS Mobile App
New IRIS CRM Mobile Application
Enable Your Staff to Utilize Your Call Center from Anywhere at Anytime.
IRIS CRM has recently released our new mobile application, available now in the Google Play Store and Apple Store. The new mobile app enables your agents and support staff to access many of IRIS CRM's call center functions from their smartphones. With IRIS CRM, there is no longer any need for your team to be chained to their desks to get the most out of your power dialer.
Users can open the mobile dialer directly, providing access to calling, call recording, call log information, voicemail, their contact lists, and more. Agents can also dial out to any of your merchants or leads by opening their profile and tapping the phone icon, just like they can in the full web application.
The mobile app also provides access to merchant management, lead management tools, residuals data, helpdesk tickets, user management, and much more. It truly puts the full power of customer resource management directly in your agents' hands in a more convenient way than ever before.
Learn More >
IRIS CRM's power dialer enables your team to close more deals and provide better merchant support while simultaneously making their jobs easier and their days less tedious.
Book a free demonstration now or start your free trial to see exactly what the IRIS CRM call center can do for your ISO today!
Schedule Demo
Schedule Demo