Instant Merchant Onboarding With Zero-Code Web Forms!
Create a seamless account creation process using IRIS CRM's new Zero-Code Web Form Builder to instantly board merchants. 
Our new Web Form Builder allows any of your admins, with zero coding skills necessary, to build a fully functional web form that is mapped to your lead fields in minutes. The end result is a clean, user-friendly form that merchants can complete and automatically be submitted to underwriting and TurboApp. 
There is no limit to the type of form that can be created, including lead contact forms and merchant applications. Web forms allow data to be collected up front and never require your staff to rekey the data. Allow merchants to complete the full merchant application so they can be reviewed and boarded immediately, removing the hassle of going back and forth for more data and manually sending an e-Sign. 
After a merchant completes your merchant application web form, they can automatically be submitted to one of our integrated underwriting partners – Conformance Technologies or Agreement Express. Once a decision is received, status trigger automation can submit the merchant for boarding in TurboApp, limiting or removing any manual involvement from your team. 
IRIS CRM's Zero-Code Web Form Builder provides a variety of features that allow you to get the most out of your forms. You can Build sections in your web form using drag-and-drop components to capture business information, personal information, and supporting documents as well as display pricing. With these options you can be assured the data you are receiving is high quality and tailored to your lead data requirements while making it easy for merchants, referral partners, and staff to use. 
Once you've created your form you can generate multiple links in order to recycle the same form for different purposes with a custom URL. Place the link in emails, SMS, or your website so merchants and referral partners can quickly begin filling out the form. 
The new Web Form Builder is only available in IRIS CRM's new UI. If you do not have access to the new UI currently and would like to, please contact IRIS CRM's Support Team and they'll gladly assist you with the quick switch to the new UI. The standard view of IRIS CRM will still be the default if you want and you will be able to access the Web Form Builder as well as a host of other new features. 
How To Use IRIS CRM's Zero-Code Web Form Builder
Watch Our Feature Demonstration
There are a few ways to access the new Web Form Builder. First, expand the Manage section at the bottom of the main menu and click Web Forms, the second to last option. Web Forms is also listed on the left nav bar of the Site Management page. Finally, you could add "/manage/web-forms" to your URL. 
Web Form Groups
Your web forms can be grouped in order to help organize them by similar types of forms, such as processor applications, contact forms, referral partner forms, etc. To create a new group Click + New Form Group in the top right. 

Groups can be reordered using the drag-and-drop icon in the top left. They can also be expanded and collapsed for easier navigation using the arrow icon. 
Add New Web Form
To create a new web form click + New Web Form on the group that you want the form to be a part of. 

Enter a name for your form; the name will automatically be used to generate the public URL to access the form. If you want, you can also manually update the URL for the form.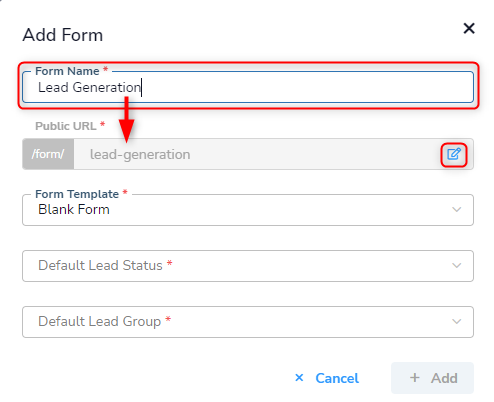 You can select either a blank template to start entirely from scratch, or use our Merchant Agreement Template which allows you to start with the core layout elements needed to create an MPA.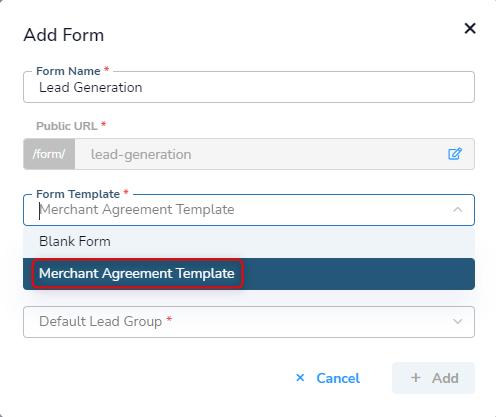 Finally, select the default lead status and group a lead created or updated by this form will be put in. Then, click + Add to start building your web form.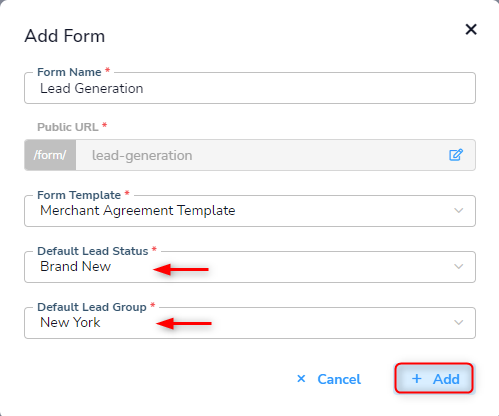 Build Your Web Form
To build your web form, you will use widgets from the left side of the editor to create the structure and lead fields from the right side as form fields for gathering data.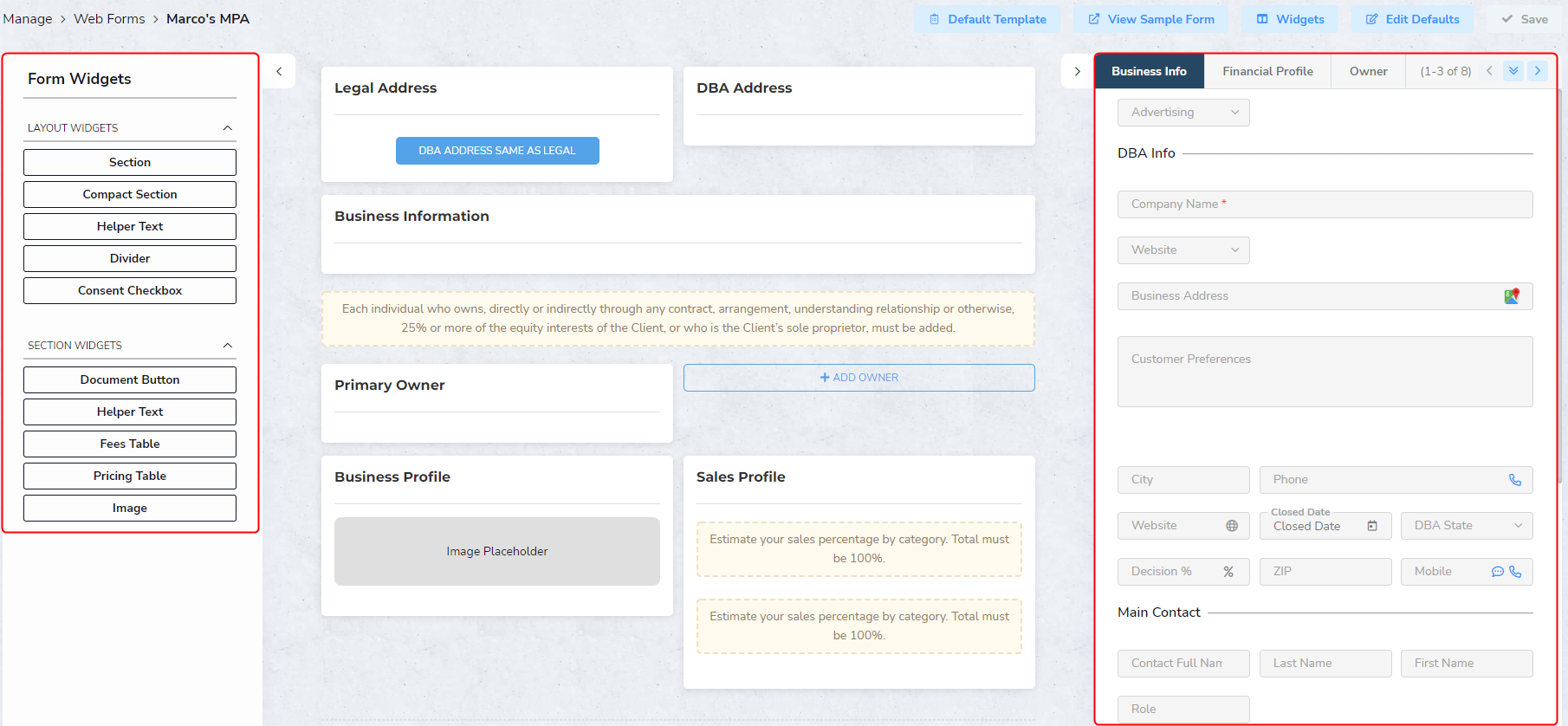 There are two types of widgets that you can use to build your web form. Layout widgets create the overall structure of the form, including sections, dividers, consent checkboxes, and helper text.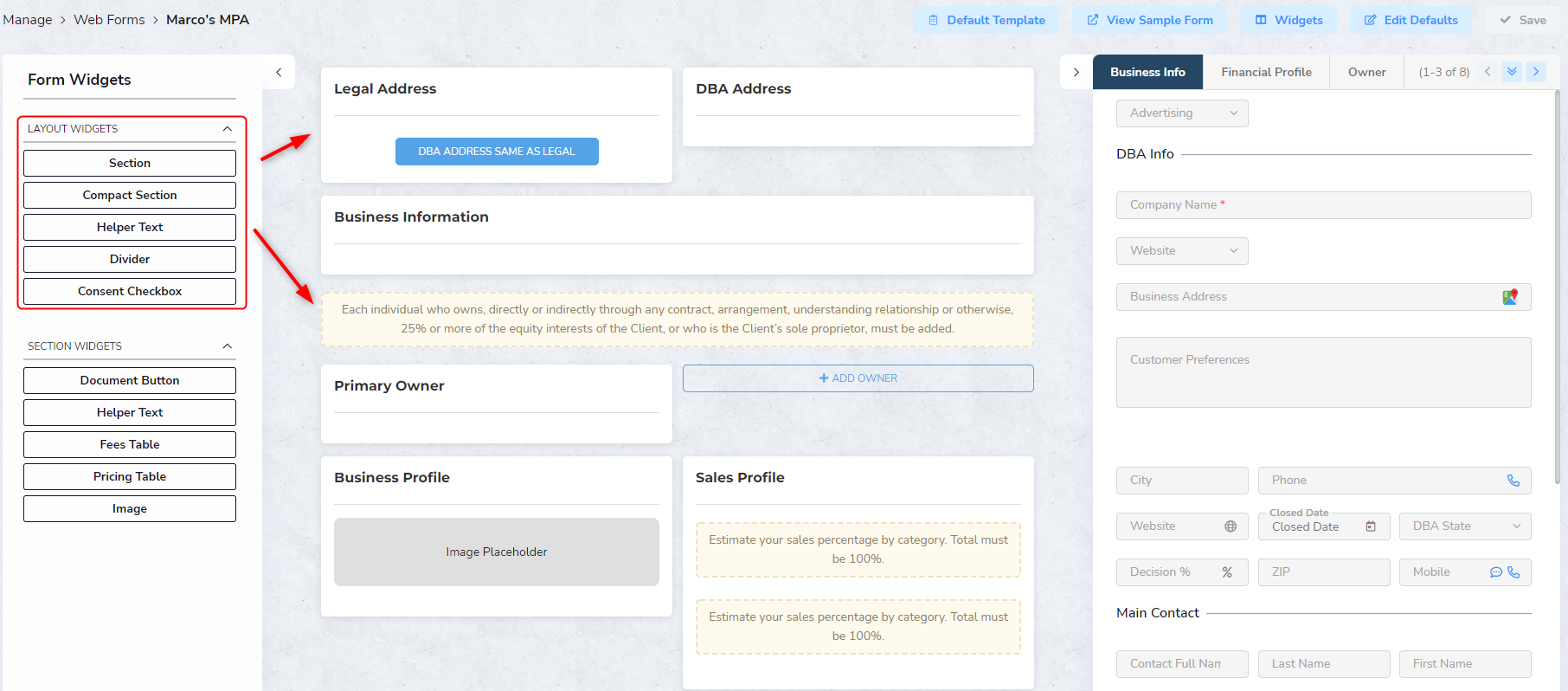 Section widgets allow you to further build structure within a specific section that you added with layout widgets. For example, adding an image or helper text to help guide the person filling out the form.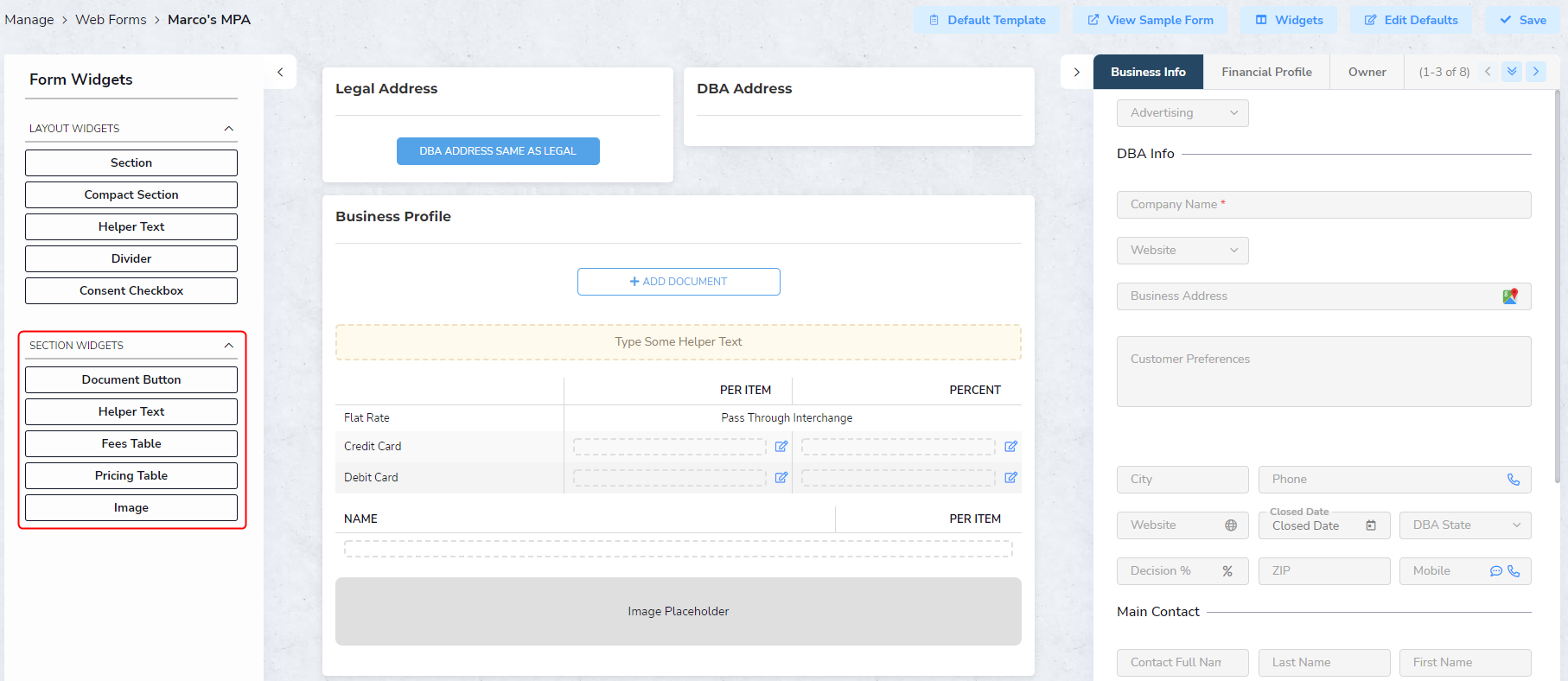 After you've structured your form with widgets, drag and drop lead fields from the right side into position within the sections. The right side is shown exactly as you would see your lead fields on a lead record in the new UI to make them easy to find. Fields that have been mapped will be highlighted in green to make it easy to distinguish. 

Click Save in the top right of the page to save the changes to your web form. 

For fields and tables, you can set default values in order to provide the viewer with information such as pricing or help speed up the process of filling out the form. You can have multiple default value profiles for the same form, this can be used in combination with different links for the same form (continue reading for more information about links) to tailor the form to the viewer or location of the form. 


Using Your Web Forms
After you have created your forms, you can immediately begin collecting data from merchants with them. You can use the public link that was generated when you first created your form or create alternate custom links for the same form if you wish, just go to Manage Links.

From here, you can add a new link, delete or edit existing links, and copy the URL. Add the links to your public website or your SMS and email templates to automatically send to merchants to fill out based on where they are in your lead funnel. 

Each link can have its own default value template to tailor the form experience precisely to the needs of your workflows.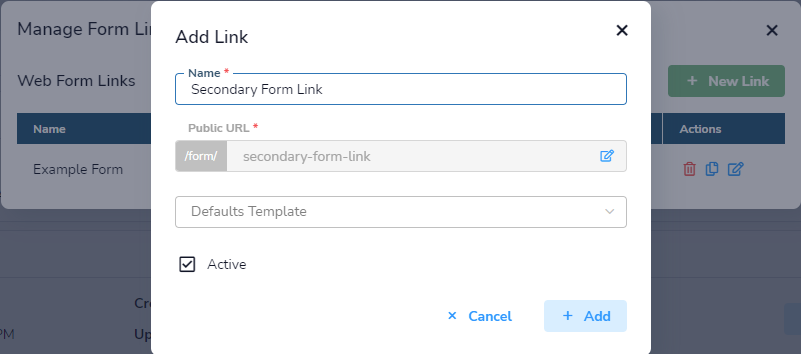 IRIS CRM's Zero-Code Web Form Builder will make life easier for your staff while also streamlining the merchant boarding process. Stay tuned in for further improvements to the Web Form Builder itself, as well as coming features that will allow for an instant, "Stripe-like" merchant onboarding experience that will help you scale your portfolio.
To learn more about web forms and onboarding as well as IRIS CRM's other industry-specific features that make it the payment industry's leading CRM solution, schedule a guided demonstration with our team today!