IRIS CRM Android And iOS Mobile Application
Download Now To Unlock The Full Power Of Your IRIS CRM Installation
Mobile Access Is Included In Your Subscription For Unlimited Users
Manage Leads | Merchants | Tickets | Residuals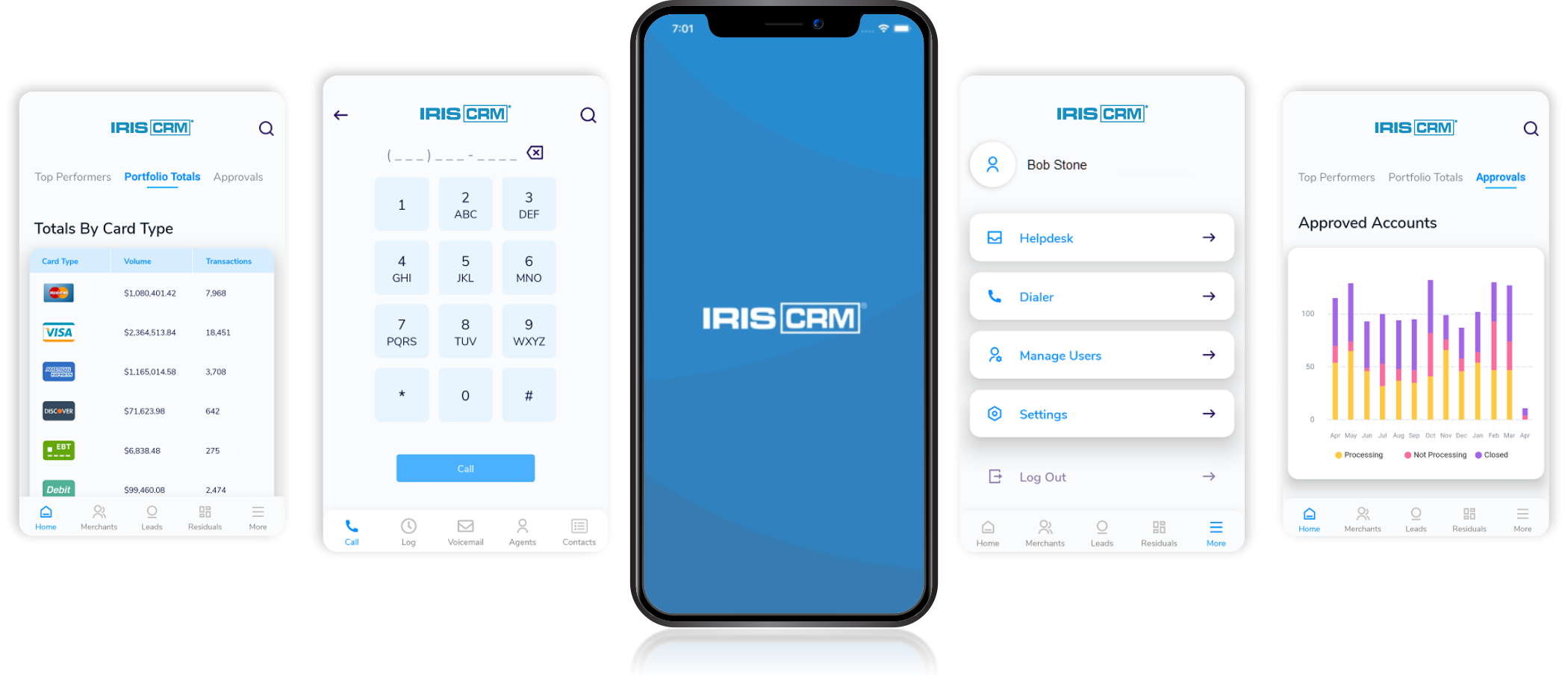 Our clients asked and, as always, we listened! IRIS CRM is proud to announce the release of the IRIS CRM mobile app for Android and iOS.
The new app is designed to automatically integrate directly with your ISO's existing web-based IRIS CRM installation, right from the very first login!
It's extremely intuitive and easy to use, and it gives your team the ability to handle all areas of operations – from sales to support to strategy and management – with ultimate convenience, whether they're in front of a computer or not. That makes your entire ISO more agile – one of the fundamental keys to success in any competitive, rapidly evolving industry.
IRIS CRM Mobile App Features:
IRIS CRM mobile app is packed with many of the same features you already love from the web application and effectively all of the data contained within your CRM is now only a few quick taps away.
Just some of the features in the new mobile app include:
A home screen designed to put your ISO's most important data in front of you the second you open the app.
Complete lead management functionality, including the ability to add new leads, edit existing ones, and access all your important lead data in seconds.
Full access to your helpdesk and all of your tickets, regardless of status, to ensure your team can respond to tasks and customer support requests with maximum efficiency.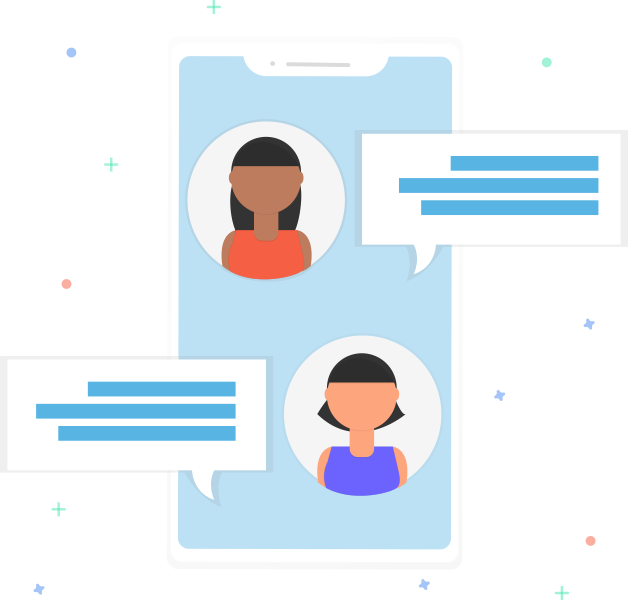 The ability to access the accounts of all your merchants in order to provide better service and support from anywhere.
In-depth residuals reporting to ensure you always have a clear picture of your ISO's long-term financial health, your monthly earnings, and your agents' splits.
Easy end-to-end sales management, merchant reporting, and accurate residual income calculations are accessible from any mobile device.
Read on for more details on each of the ways the IRIS CRM mobile app can help your entire team work smarter and provide a better experience to your merchants.
Mobile App Home Screen
Mobile App Home Screen
View All of Your ISO's Key Numbers at a Glance.
IRIS CRM mobile app's home screen is a one-stop source for all of your ISO's most important data.
The Top Performers tab enables you to quickly see your monthly revenues and transaction totals by card type, as well as your top ten merchants in order of total gross monthly sales. A single click on any of your top merchants brings up their complete account information, ensuring the data you need to serve your most valuable clients is never more than a few seconds away.
The Portfolio Totals tab displays your ISO's lifetime volume and transaction totals, broken down across the four major credit card types, EBT, and Debit, providing you with an at-a-glance picture of each payment type's long-term performance.
The Approved Accounts tab provides 12 months of data on how many of your accounts are currently processing transactions, how many aren't, and how many have been closed in a single, easy-to-read chart. That data ensures you'll always have complete situational awareness over the overall health and status of your merchant roster.
Complete Merchant Account Control
Complete Merchant Account Control
Support and Manage Your Clients from Anywhere.
Offering unmatched support to your merchants is the key to keeping them loyal and maximizing your success through facilitating theirs. The IRIS CRM app makes it easier than ever to provide complete merchant support from anywhere, at any time.
The app's merchant dashboard lays out each of your clients in a straightforward linear fashion. Each merchant widget displays vital information like their MID, monthly gross sales, total transactions, processor, industry, and activity status. You can even highlight "very important merchants," or VIMs, based on customizable criteria.
Clicking on any merchant's widget provides full merchant account data and management tools, including:
A summary of monthly totals by card type.
Complete data on daily deposits.
Complete account status information, including vitals, rates, settlement info, and more.
All memos attached to the merchant's account, including the ability to quickly add tickets, tasks, notes, file attachments, and more.
Complete monthly financials going back a full year, including day-by-day breakdowns.
A full list of retrievals and chargebacks.
One-click access to a full year of monthly merchant statements in PDF format, as well as prior 1099-K reporting forms, and;
Access to all open and resolved support tickets on the merchant's file.
By providing lightning-fast access to all relevant merchant data, the IRIS CRM app enables your entire team to provide better, more effective, more personalized support to each and every one of your clients, while making their own jobs easier and more convenient in the process.
Fully Mobile Lead Management
Fully Mobile Lead Management
Create New Leads and Access Sales Tools on the Go.
The IRIS CRM mobile app takes the web application's advanced lead management system and puts its full power at your fingertips, right on your smartphone. The mobile lead management dashboard lays out your company's custom lead status categories, with one-touch access to every single lead contained within each. Another tap on any given lead brings up complete data, including their business information, their financial profile, any pricing or equipment proposals that have been sent, all notes and attachments, and more.
From the category-level view, adding a new lead is as easy as tapping the plus sign and entering the new lead's vitals into the available, and fully customizable fields. From the lead-level view, you can add notes, tasks, appointments, change the lead's status, provide user access to other members of your organization, and upload new files, all within a matter of seconds.
The ability to quickly and easily add and manage leads from the mobile app offers two major benefits. First, it ensures your sales team can approach every lead interaction with the most complete knowledge possible, even when they're out of the office. The boost that provides to your sales process is immeasurable.
Second, it enables every member of your organization to capture lead data whenever it becomes available. That ensures your team gets the most out of your CRM, and that everyone from sales to support to the front desk can provide an elevated level of service to all of your leads.
Access to Full Residual Data
Access to Full Residual Data
Monitor Your Residuals at the Merchant, Processor, and Portfolio-Wide Levels.
Your residuals are the lifeblood of your ISO, and keeping a close eye on their health is paramount to successfully managing your company and nurturing constant growth. They're also the key to keeping your independent agents happy, loyal, and working hard to bring in new merchants.
Tapping on the mobile app's residuals dashboard displays lifetime sales volume, transaction totals, ISO net, and agent net data for each of the payment processors you work with. Clicking on each pulls up every merchant you currently have boarded to that processor, including each merchant's lifetime transactions, sales volume, ISO net, agent split percentage, and agent net. Clicking on an individual merchant then drills that data down to the monthly level.
In addition to providing fast and easy access to complete residuals data at the processor and merchant levels, having the IRIS CRM mobile app installed also offers the ability to receive alerts whenever your highly anticipated residuals numbers are published each month. That means you and your agents will never again have to spend another 20th sitting at your desks, clicking the refresh button over and over while waiting for the numbers to come in!
Built-in Helpdesk Access
Built-in Helpdesk Access
Quickly Create and Manage Client Support Tickets.
In an industry as competitive as merchant services and payment processing, offering better customer service and support than your competitors is an absolute must. The IRIS CRM mobile app makes it easier than ever for your support agents, sales team, and managers to provide elevated service by providing complete access to all support tickets in your system on a permission-based basis.
Accessing the helpdesk through the mobile app opens a universal ticket view that provides an overview of each support ticket, including the customer, the type of request, creation and update dates, priority level, and user comments. You can also sort your tickets by progress status, and by date, ranging from the current day all the way back to the beginning of your IRIS CRM installation.
Adding a new ticket from the helpdesk screen is as simple as clicking the plus sign, and tickets can also be entered from within the merchant and lead areas of the app as well. Once in the system, tickets can be easily edited and updated through the app as agents complete tasks and resolve issues. The web app also fully supports IRIS CRM's support-checklist functionality, ensuring that checklist-enabled support actions can't be marked complete until agents have checked off every item on the list.
The app's helpdesk integration ensures that your team can offer seamless continuity of service, no matter how many support agents touch a ticket. That ensures that tasks like new merchant creation and gateway setups happen faster, and client tech support issues are dealt with more effectively.
Schedule Demo