IRIS CRM Adds Merlink Integration to Dispute Responder for TSYS FSP ISOs
After several months of work and much anticipation, IRIS CRM is thrilled to announce the latest enhancement to our Dispute Responder — Support For TSYS FSP ISOs! From new and updated dispute notifications to electronic replies and response reminders, Dispute Responder now has everything TSYS FSP merchants need to win more of their disputes to retain their hard-earned revenue. 
The enhanced Dispute Responder enables TSYS FSP ISOs , agents, and their merchants to see incoming chargeback documents, submit replies, and view all of the key chargeback details. By enabling dispute notifications, users will be alerted when a new dispute is submitted or an existing dispute is updated. Response reminders will also be sent to users 7 days, 3 days, and 1 day ahead of the response due date to help ensure a response is submitted on time.  
Merchants and ISOs will receive notifications of new chargebacks and retrievals within 24 hours of a dispute being filed. Once notified, merchants can easily reply with their supporting documentation directly from IRIS CRM. Dispute statuses are automatically updated in IRIS CRM so merchants and ISOs can stay on top of the dispute process. 
TSYS FSP ISOs can leverage IRIS CRM to attract more merchants by giving them the ability to electronically respond to disputes through their custom-branded merchant portal. Dispute Responder in addition to our existing reporting and boarding integrations provide a powerful, fully-integrated solution for TSYS FSP ISOs and their merchants. 
To learn more about the benefits of using IRIS CRM to help grow your portfolio, schedule a demo with our team today!
How to Set Up TSYS Dispute Responder
Step 1: Submit a New Project to TSYS
In order to enable TSYS Dispute Responder functionality within IRIS CRM, you need to first reach out to your TSYS relationship manager to submit a new project. In your request, note that the project is for Merlink file transmission to IRIS CRM.
Once TSYS has completed their portion of the setup, they will provide SFTP credentials that IRIS CRM Support will need to configure the datasource in IRIS CRM as described in the next step.
Step 2: Add TSYS Dispute Responder Datasource
Once you have the SFTP credentials from TSYS, the TSYS Dispute Responder datasource will need to be configured in IRIS CRM. Contact our support team who will gladly assist you with setup. 

Step 3: Enable Chargeback Reply Permissions
In order for users, including merchants, to reply to disputes, their user class needs to have chargeback reply permissions enabled. To configure user class permissions, navigate to Manage > Administration > Users & Groups > User Classes or access User Classes from the Quick Access menu: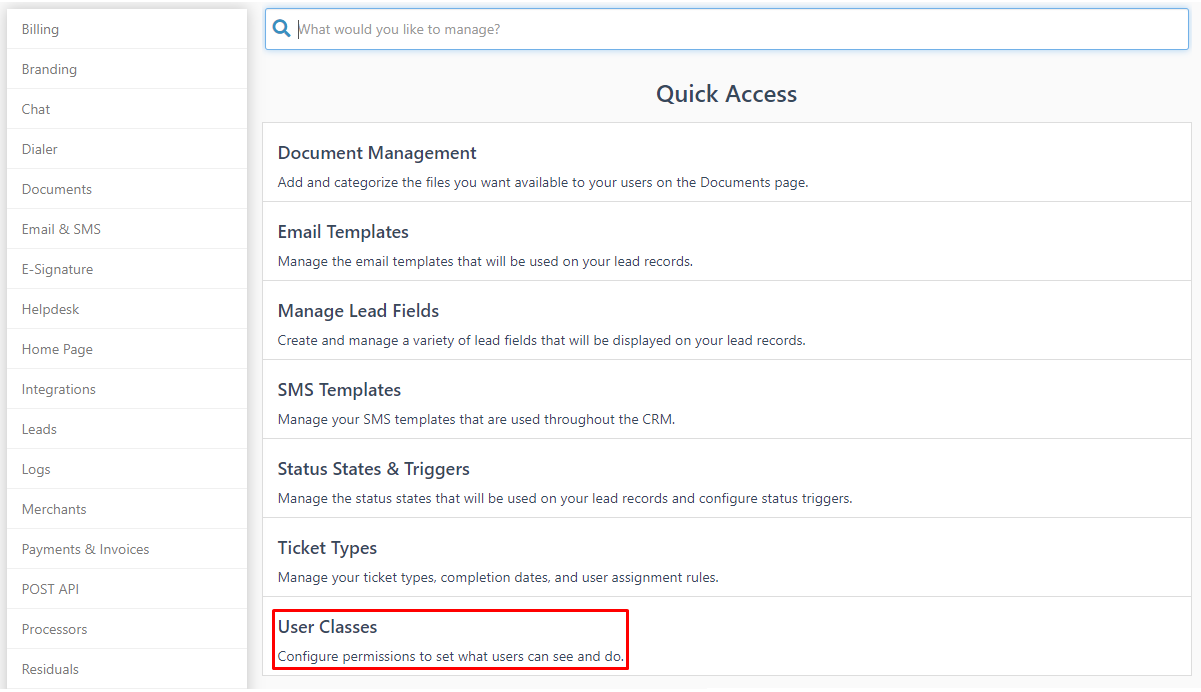 Click Permissions on the user class that you want to enable chargeback reply permissions for:

Expand the Merchant Info section and find the Dispute Reporting and Post Chargeback Reply permissions. Click the respective checkboxes to enable these permissions for the user class: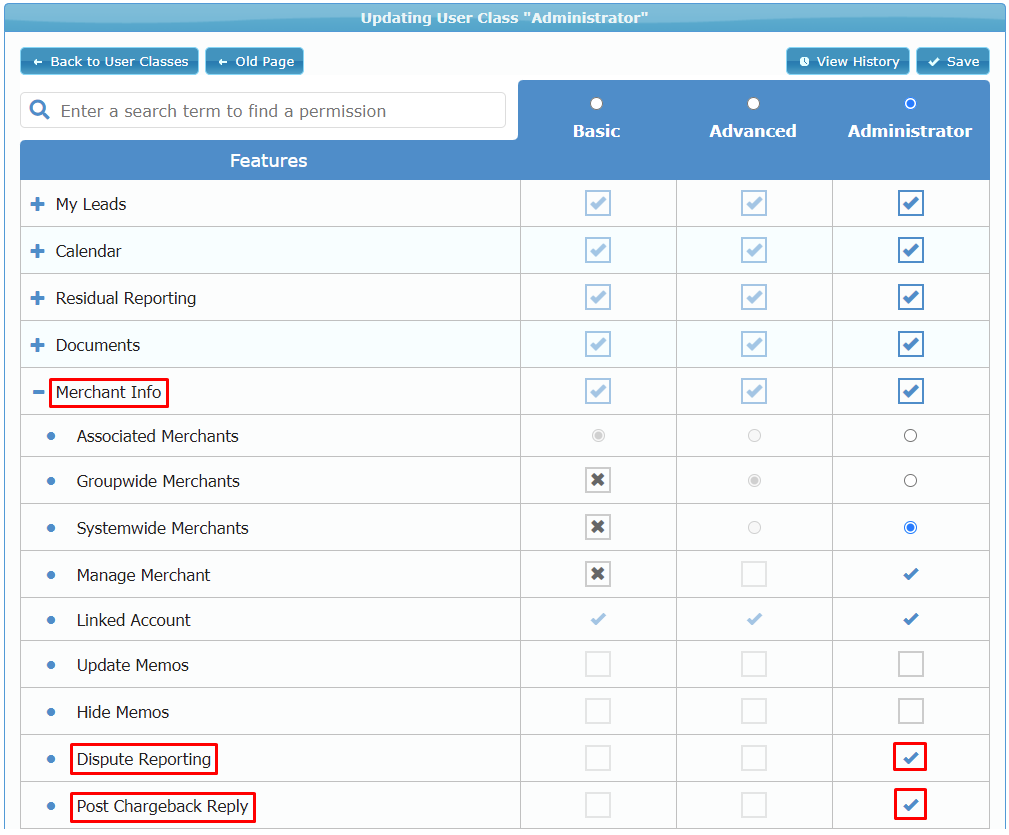 For Merchant users, you'll need to enable the Dispute Responder permission:

TSYS Dispute Responder Features
Dispute Reporting Details
Users with the Dispute Reporting permissions can view chargebacks and retrievals for all merchants by going to Dispute Reporting under Tools in the navigation menu. To look at just TSYS disputes, select TSYS as the processor and refresh the results by clicking Search. Click on a dispute to open the merchant's Chargebacks tab in a new browser tab. 

On the merchant details Chargebacks tab, users can see all chargebacks associated with that merchant and key information about each case such as Response Due, Transaction Date, Reason, Case Number, ARN, Document Status, and Family ID. Click Details in the Action column to view more information about the specific case:

When a user clicks Details they will see incoming chargeback documents as well as the chargeback details specific to that dispute: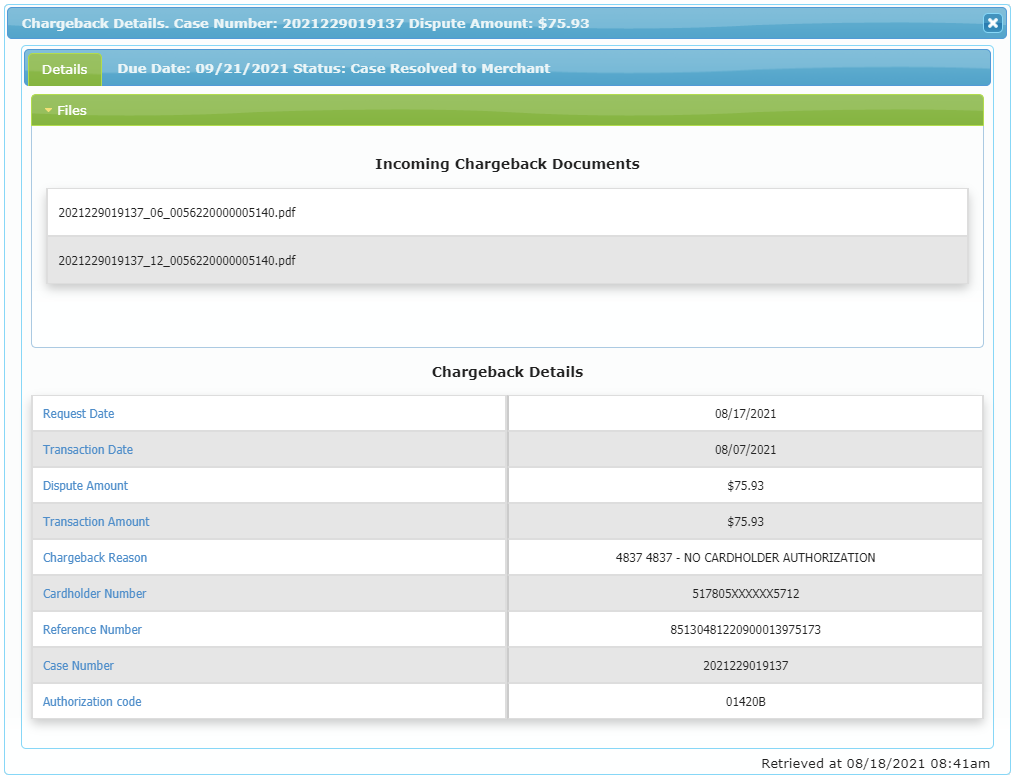 Dispute Responses
When a response is due from the merchant, Reply will be shown in the Action column. Merchants simply need to click Reply in order to submit their response directly through IRIS CRM. 

In Reply To Chargeback, merchants can upload supporting documents up to 10MB in size. They can also add additional notes in the comment section. By default, IRIS CRM includes the comment, "Please see the attached documentation for response to Case # XXXXXX":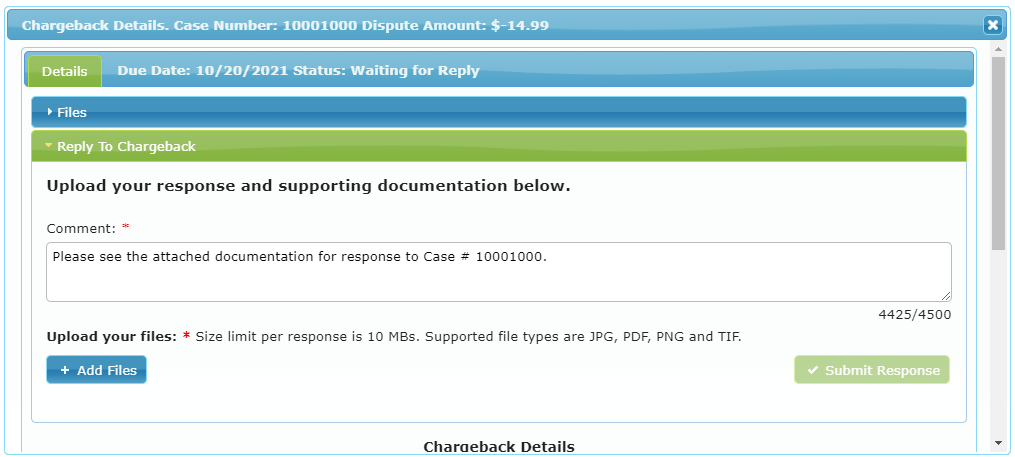 Responses must be submitted by 12:00 PM Eastern in order to be considered for the current day. Any responses submitted after this time will be considered as responded to on the following day. 
Dispute Notifications
Users can enable notifications to alert them when a new dispute is submitted, or an update is made to an existing dispute. To enable these notifications, users can navigate to their personal settings by clicking the user dropdown menu in the top-right corner of the site and selecting Settings:

Switch to the Notifications tab and click the Dispute Case Updated checkboxes for the notification types you'd like to receive – mobile app push notification, email, or pop-up within the desktop app: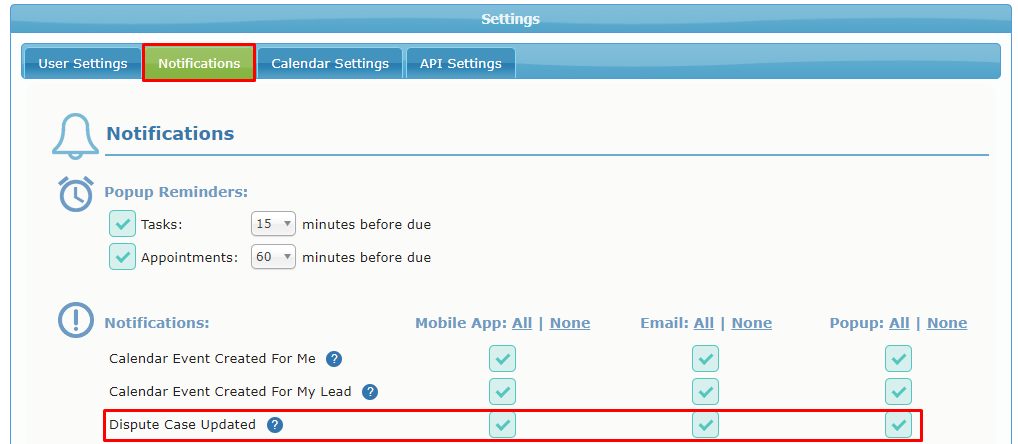 Note: In order to enable this notification, the user's user class needs to have Dispute Reporting permission as described in Step 3 of How to Set Up TSYS Dispute Responder. 
Administrators can also enable dispute notifications for users by navigating to Manage > User Accounts, selecting the user, clicking Edit User, switching to the Notifications tab, and clicking the relevant notification type checkboxes for Dispute Case Updated in the same manner shown above.