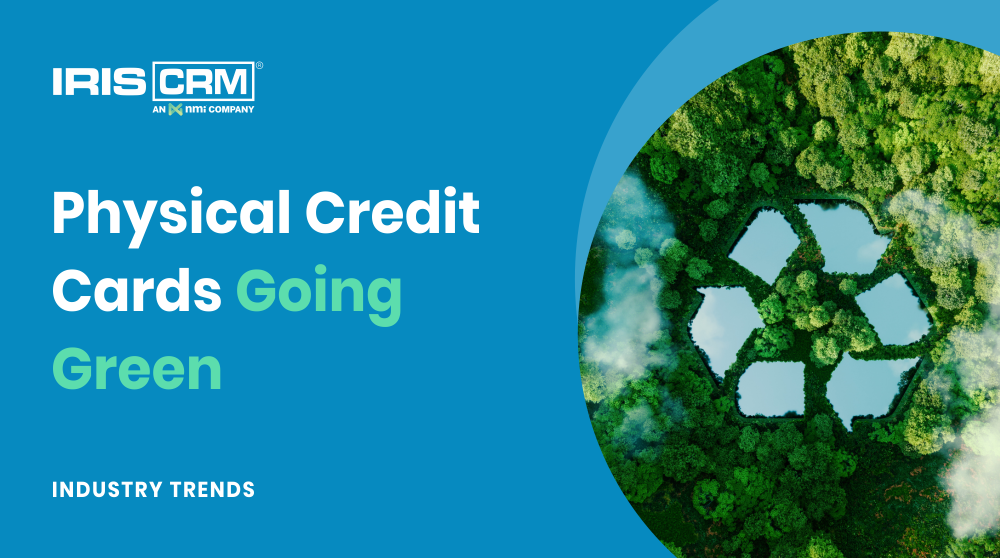 Eco-friendly Trends See Physical Credit Cards Going Green
According to Statista, there will be almost 30 billion physical payment cards in circulation around the globe by 2023. That's a lot of debit and credit cards and, in turn, a lot of plastic! To date, the payments industry has not been doing a great job at mitigating the potential damage all that plastic – which can take 400 years or more to break down – does to the environment. But that's slowly changing. 
With environmental stewardship becoming a hotter topic by the year and a majority of consumers now expecting the brands they interact with to help combat climate change, credit card manufacturers and banks are taking steps to make the payments space greener. Some of those initiatives include eliminating newly manufactured plastics and looking to alternative materials like metal and, amazingly, even corn starch.
Recycled Plastics are Becoming the Norm
CPI Card Group, which manufactures over a billion cards per year, and Giesecke + Devrient, which puts out 500 million cards per year, have committed to working to eliminate the single-use, non recycled plastics used in their cards. 
In response to a survey that showed over three-quarters of consumers would prefer an upcycled credit card as long as it came with the same rates and features, CPI introduced a number of eco-friendly plastic card products. Its upcycled Earthwise line of cards contains up to 85% recycled PVC and the Second Wave line is made entirely of waste plastic that has been redirected from entering the oceans. G+D has gone even further, committing to eliminating 100% of virgin plastics from its card manufacturing through its Pledge 2030 program. 
Using recycled plastics has the potential to reduce the CO2 emissions resulting from card manufacturing by up to 75%. But, while recycled plastic is unquestionably better than freshly manufactured plastic, even recycled credit cards are problematic when they inevitably end up in landfills in large numbers. To mitigate that damage, some companies are looking to replace plastic altogether. 
Metal Cards Offer Aesthetics and High Recyclability
Metal credit cards aren't new. The first metal card was the American Express Centurion Card in 1999 – the sleek, black, titanium card was an ultra-high-end invite-only product and immediately became a highly recognizable status symbol. Today, dozens of metal credit cards are available from all the major card companies, and while they're still generally limited to higher-end credit products due to their cost to manufacture, they're far more accessible than ever before.
Unlike the titanium Centurion card, metal credit cards today are made of a variety of more affordable materials, including stainless steel and aluminum. Despite the higher cost, manufacturing more cards out of metal offers a couple of significant environmental benefits. First, metal cards don't leach chemicals into the environment the way plastic cards do, both during manufacturing and as they break down. Second, moving to metal opens up an entirely new opportunity to recycle card materials. 
In a partnership between Delta Airlines and American Express, Delta Skymiles cardholders had the opportunity to order cards manufactured with aircraft aluminum repurposed from mothballed 747s that had been sitting in an aircraft graveyard in the Arizona desert. In addition to such novel examples, there are countless opportunities for card manufacturers to recycle metals in more mundane ways.
Biodegradable Cards Speed up Breakdown by Hundreds of Years
While metal credit cards represent an opportunity to use more recycled materials, after well over 20 years since their introduction, they can hardly be considered cutting-edge innovation. But some companies looking to push eco-friendly credit cards to the next level with new materials are looking at much more surprising options – including corn starch. 
Polylactic acid, or PLA, is a compostable, biodegradable plastic substitute derived from corn that has been used in a variety of applications like packing peanuts and containers. Today, a number of banks like UBS, Gateway, and Bank of New Hampshire are offering biodegradable PLA cards to their customers. PLA cards are still tough, and require commercial-grade composting to break down, but, in the right facility, PLA can be completely broken down in 12 weeks, compared with the 400 years an average PVC product takes to biodegrade. That's a stunning difference. And with PLA now a tiny fraction of the cost it once was, more and more banks and card manufacturers may look to it as a way to meet consumer expectations for environmentally responsible cards. 
Physical Credit Cards May Eventually Be Obsolete Altogether
While finding ways to reduce new plastics entering landfills and speed up the decomposition process are admirable and worthwhile efforts, the reality is that as long as there are plastic cards, there will always be at least some negative environmental impacts. However, the days of physical credit cards may very well be numbered, as more and more consumers adopt not just contactless, but cardless payment methods like digital wallets, mobile payments, P2P, and more. With our personal devices increasingly also becoming our payment solutions, we may be headed for a future where companies move on from cards entirely, eliminating the industry's plastics problem altogether.  
About IRIS CRM:
IRIS CRM is the payments industry's leading customer resource management platform. It includes a full suite of sales and productivity tools designed to help ISOs and PayFacs do more with less, outcompete larger companies, and get leads signed and generating residuals faster. 
IRIS CRM uses customer data, task centralization, and advanced automation to:
Streamline lead management and speed up the sales process

Significantly reduce merchant time-to-processing

Fully automated residuals reporting and calculations

Improve merchant service and support

Identify pricing inefficiencies
…and much more. 
To find out more about everything customer resource management can offer your ISO or PayFac, schedule a free guided demonstration of IRIS CRM today.