IRIS CRM Email Integrations
Save time and improve your email ROI by bringing all your Gmail and Outlook activity into IRIS CRM!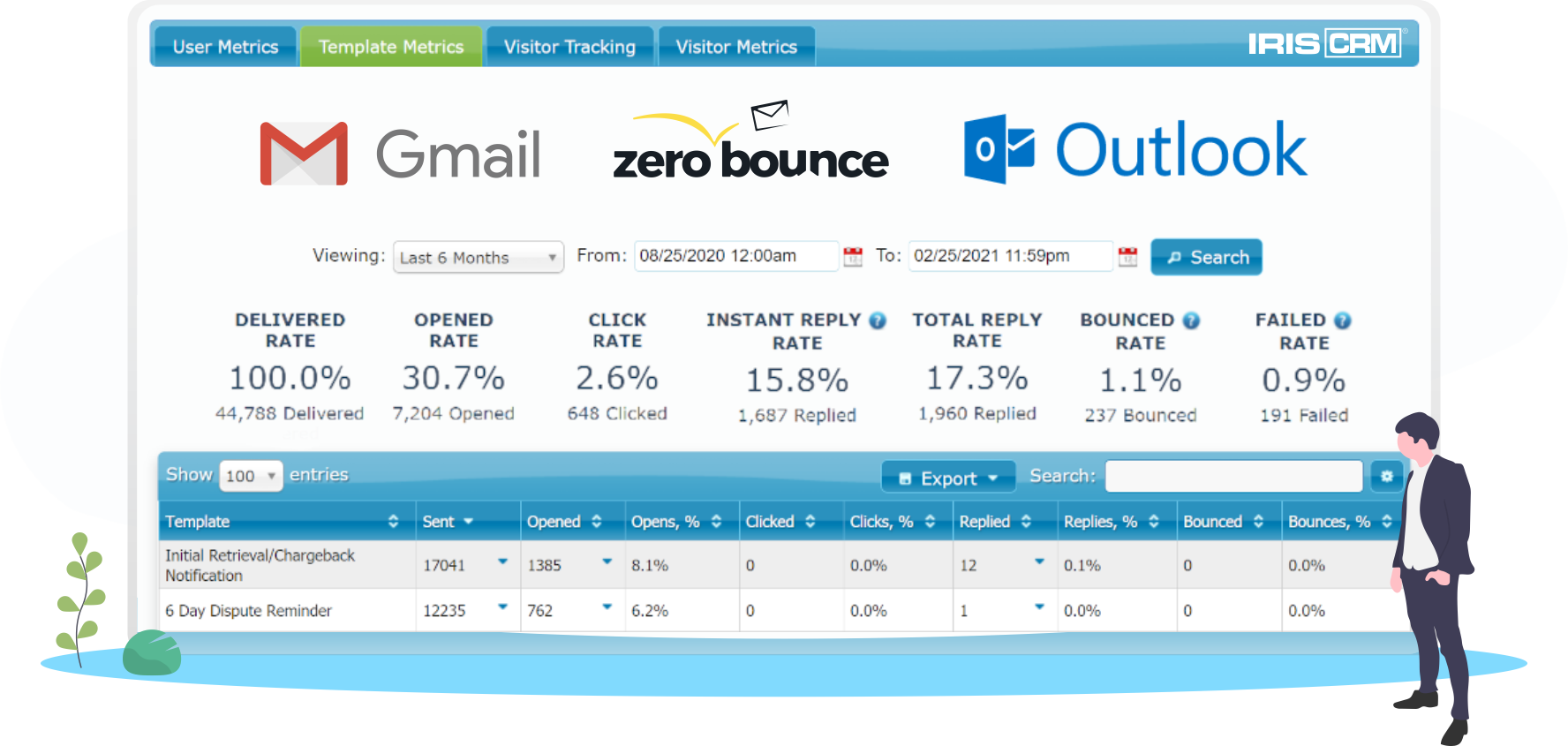 IRIS CRM is all about saving your ISO time and helping your team recruit and serve merchants more efficiently and effectively. The platform's Gmail, Outlook, and ZeroBounce integrations help you do both by bringing all of your email communications into the same centralized point of control you use for your lead management, sales, service, administration, and more. The result is less time fumbling between logins and moving data from one place to another, and more time closing deals, serving your merchants, and boosting your revenues.
Why You Need Email and CRM Integrations
Email is an incredibly important part of not only your ISO's operations, but all modern business. First and foremost, it is probably your ISO's primary communication tool. Email is also one of the highest ROI marketing tools available to you, with average returns exceeding 4,000%!
As powerful as email is as a communication and marketing medium, you will never be able to unlock its full potential if your email is not integrated with your CRM. You could be leaving money on the table without realizing it.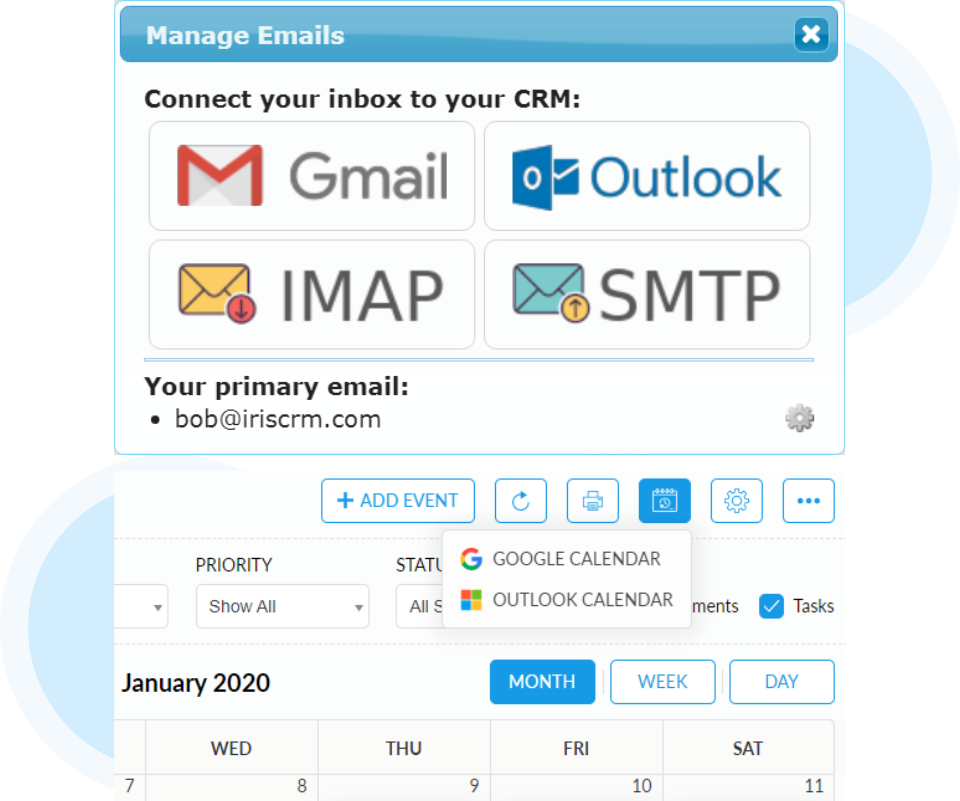 Email and CRM Integrations Save You Time
Email is a convenient, flexible, and effective way to communicate, but it can slow down your team at times and become a problematic information bottleneck. If you are like most businesses, your email is a discrete online platform, effectively walled off from the rest of your systems. That means two things:
Your team has to jump back and forth between their email accounts and anything else they are doing. That is extremely inefficient, and you would be shocked how much time gets wasted simply through juggling multiple logins and platforms.
Every time your team needs data from an email to complete a task, they have to find and transfer it manually – a time-consuming and potentially error-prone process.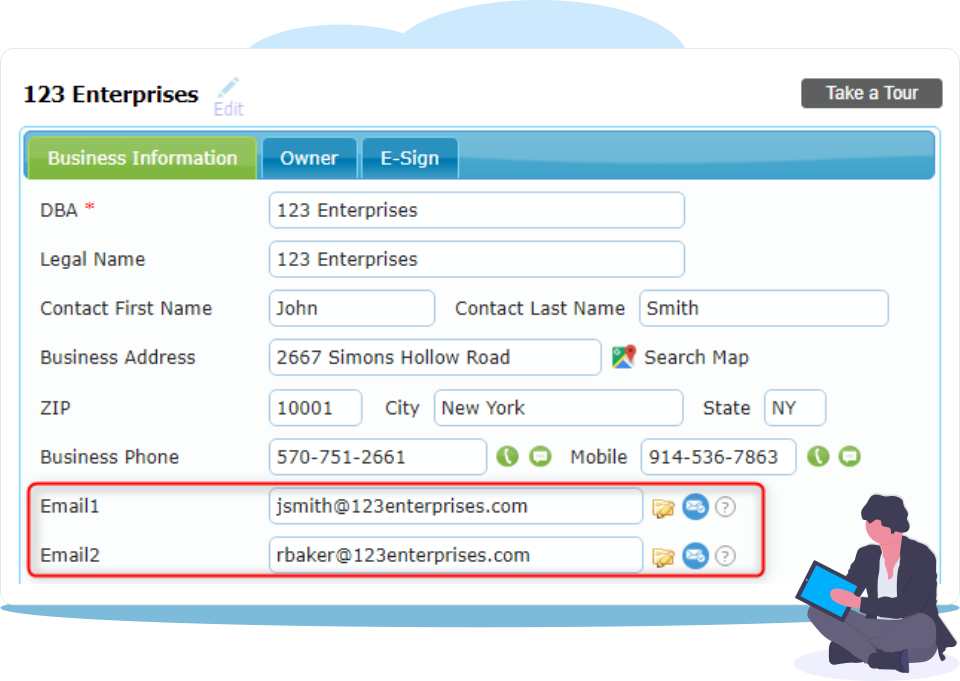 Integrating your email directly into your CRM eliminates both problems. By accessing their email directly from within IRIS CRM, your team can access all of their communications from the same central location they use for lead management, sales, calling, marketing, billing and payments, and more.
Rather than spending minutes looking up contact information in an address book and jumping back and forth between systems while they draft an email, your team can access everything they need from one place. They can launch new emails from any lead's account with a single click, load up templates in seconds, quickly access all stored lead information and documentation, and more.
The time your ISO saves by supercharging the efficiency of the dozens of emails your team and system send each day is time that can be dedicated to revenue-generating activities, making email integration an easy choice.
Email and CRM Integrations Boost ROI
With email marketing done right returning forty dollars or more for every dollar spent, getting your email marketing wrong is an expensive proposition. The deeper your understanding of what works and what does not, the more valuable email becomes. There is no better way to deepen that knowledge and refine your email marketing than by integrating it with your CRM.
The immense amount of data on your email campaigns that can be collected and analyzed through your CRM means two things for your marketing:
You will gain a better understanding of your customer's journey and how your emails shape it. Traditional autoresponders provide raw data on things like open rate, click-through rate, bounce rate, and more. Your CRM can tell you all of that on an agent-level or even customer-by-customer basis, allowing you to turn raw data into real, valuable insight.
You will understand the value of each email better. Integrating your email connects it to the same tools you use to deliver and manage the sales process, so you will get a far clearer picture of how each email is actually contributing from a dollars and cents perspective, in turn, deepening your understanding of your revenue sources.
Deeper insight means you can better manage your campaigns, adjusting messaging as needed, swapping out failing emails for winners, and taking more control over how you move your prospects from raw leads to paying customers.
Ready for a firsthand look at how IRIS CRM's email integration can save your ISO time and money? Book a free guided demonstration now!
IRIS CRM Integrates with the Web's Most Popular Email Providers
IRIS CRM offers you the ultimate in email flexibility by enabling full two-way communication between your CRM and the web's most popular email clients. Whether your ISO uses Gmail, Outlook, or hosts your own email, IRIS CRM gives you the option of bringing it all into one centralized point of control.
Best of all, because the integration is two-way, you will always have the choice of how and where to manage your email. Any changes you make on the client-side will be reflected in the CRM, and any changes you make through IRIS CRM will be reflected in the native client.
You can read, move, delete, create, and send emails and drafts on either side, and you will never miss a beat on the other end.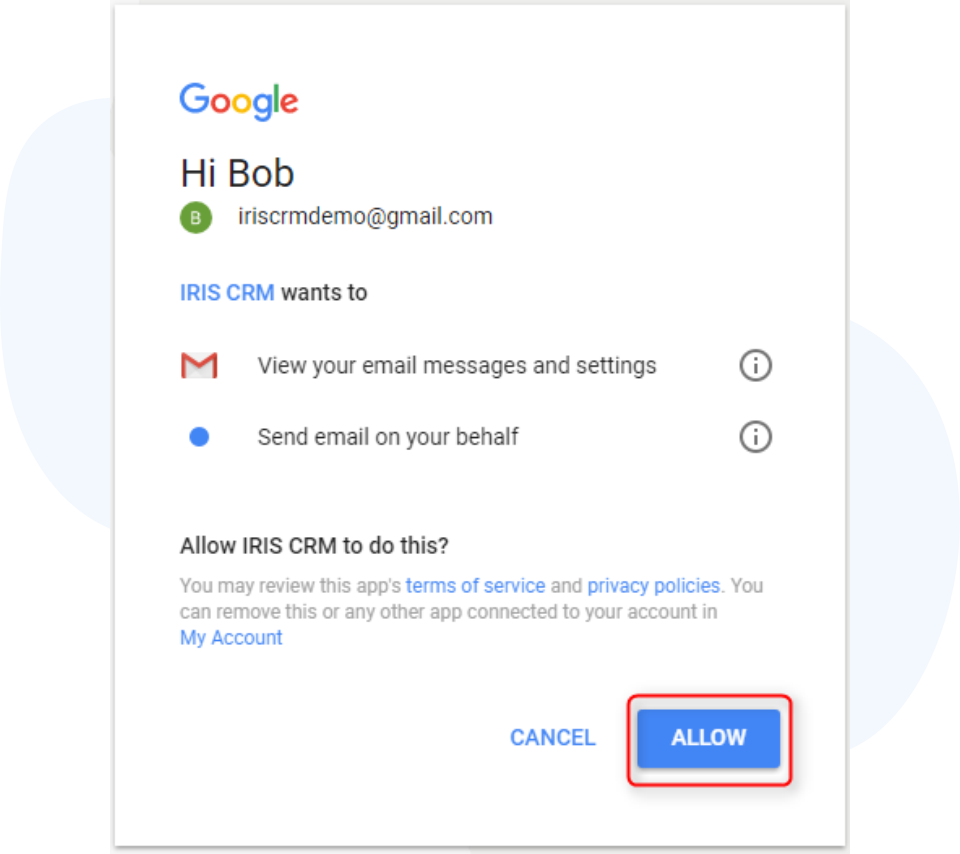 Gmail Integration
Gmail is the world's most popular email provider, and IRIS CRM makes it easy to manage your ISO's Gmail accounts from within with CRM. Some of the benefits of integrating Gmail with IRIS CRM include:
Easy Setup: Gmail can be integrated into IRIS CRM in a matter of minutes with just a few clicks, and no special technical ability is required.
Full Calendar Access: In addition to your email, once your account is integrated you can also access your Google calendar through the CRM, making scheduling faster and more convenient.
Gmail Chrome Extension: IRIS CRM's Gmail extension for Google Chrome expands the two-way communication between Gmail and the CRM to enable you to perform CRM-based tasks from the sidebar of your email account whenever you are working from the Google side. You can create and manage leads, add tasks and notes, and more, effectively turning Gmail into a mini CRM.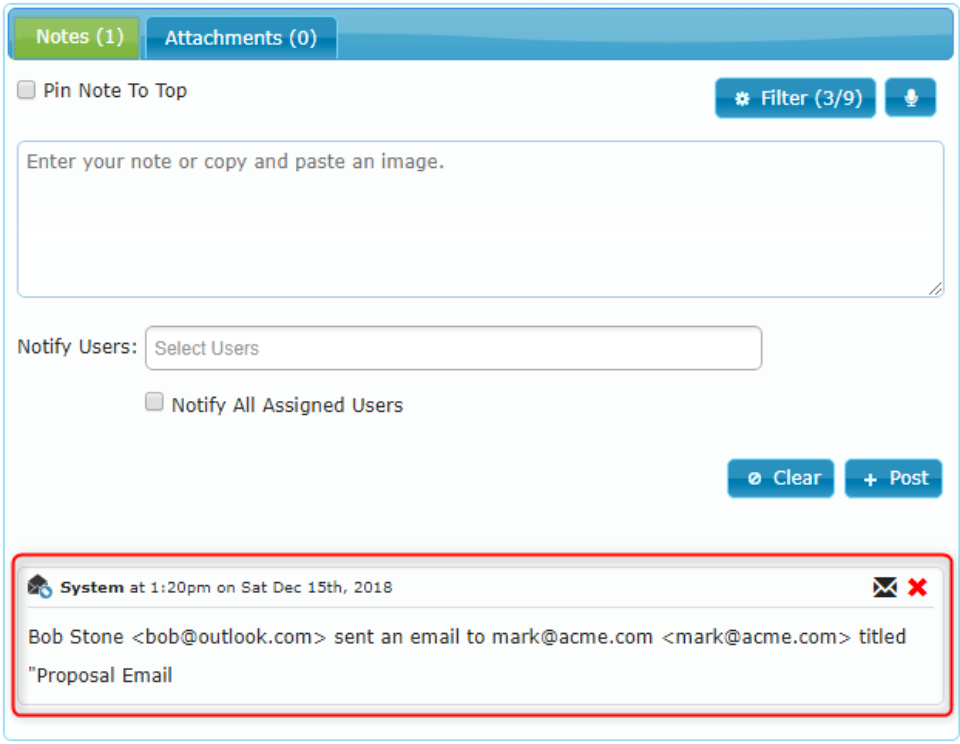 Outlook Integration
Microsoft Outlook may have fallen off in popularity with home users, but it is still widely popular among businesses. If your ISO is using Outlook, you can quickly and easily combine it with the full functionality of IRIS CRM, including:
Easy Setup: Like Gmail, integrating Outlook does not require you to be an IT genius and can be done with a few simple clicks, getting a two-way email flow established in a minute or two.
Full Calendar Access: One of the things that makes Outlook so popular for business users is the seamless integration of its native email and calendar. With IRIS CRM, you can bring that same great calendar functionality right into the system alongside your email.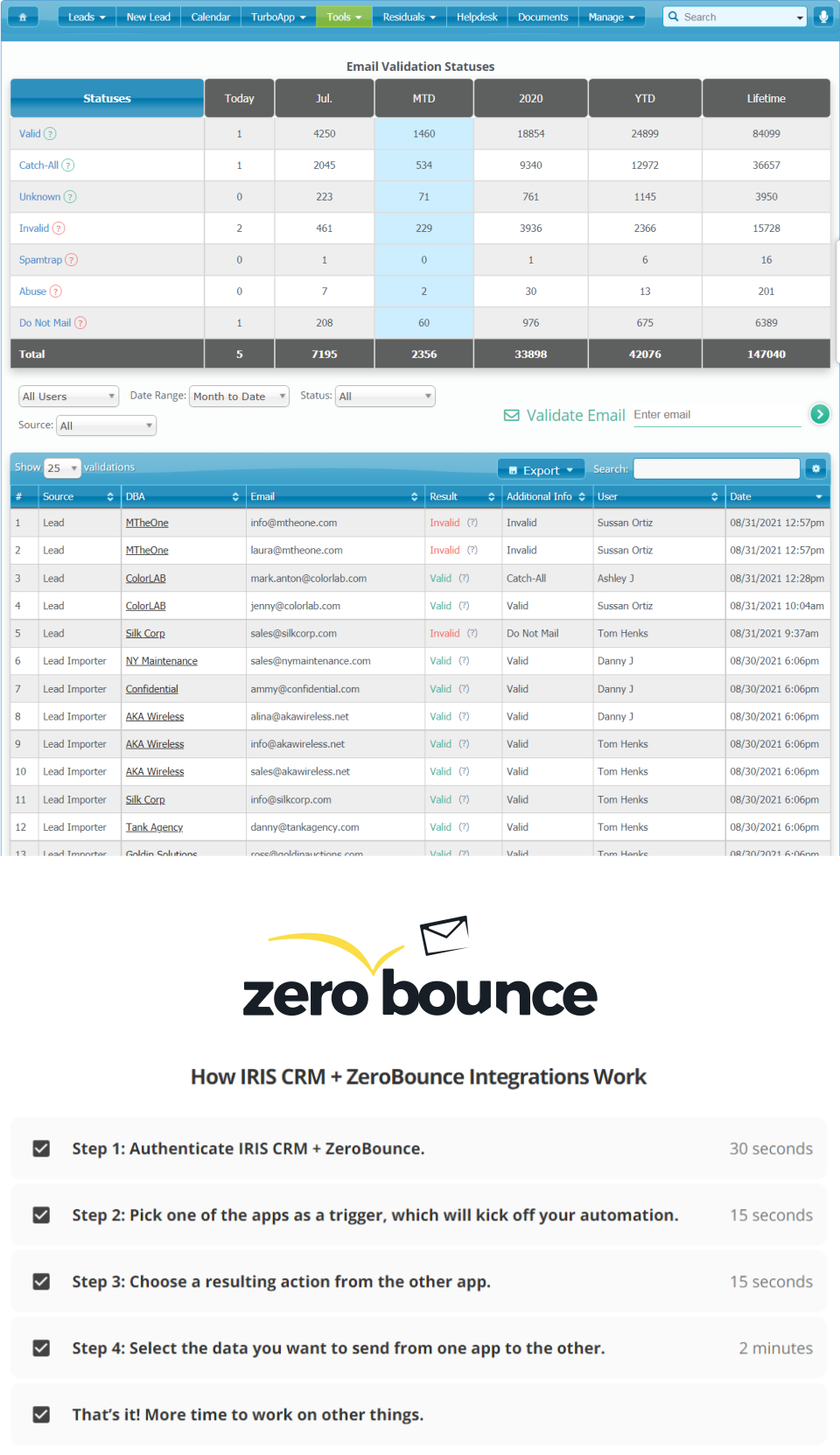 ZeroBounce Integration
Sending a marketing email is pointless if it does not reach the prospect, but getting an email through to the inbox is not as simple as just hitting send.
Email service providers are constantly looking for reasons to redirect messages to the dreaded spam folder. Providers like Google automatically filter email into the seldom-read promotions folder as well. Maximizing your email's deliverability key to maximizing your open rates and, in turn, your sales.
ZeroBounce, the web's leading email validation service, catches the problems that lead to low deliverability, ensuring your emails reach their targets more often and that your important marketing messages get read.
IRIS CRM is designed to integrate seamlessly with ZeroBounce, enabling you to send all of your outgoing emails through ZeroBounce's advanced filters. ZeroBounce and IRIS CRM provide:
Automatic List Scrubbing: ZeroBounce constantly checks your list for invalid emails and automatically deletes any it finds. Automatic List Scrubbing ensures you are only sending to real, active email addresses, keeping your delivery rates up and helping you avoid being penalized by ISP filters.
Spam Trap Detection: Spam traps are email addresses set up specifically to send every email that hits them to the spam folder. ZeroBounce checks outgoing emails against an up-to-date database of known spam traps, saving you from the devastating consequences of having even a single one on your list.
Pre-Send Validation: Plenty of email validation tools can detect issues after you have sent an email. By then, it might be too late. ZeroBounce offers pre-send validation to alert you of any potential problems before you send, enabling you to make adjustments to your email and delete problematic addresses before they can cause you any trouble.
See how easy it is to integrate Gmail, Outlook, and ZeroBounce with IRIS CRM by booking a free guided demonstration now!
IRIS CRM Email Features
On top of providing you with two-way synchronization and centralized access to your accounts, IRIS CRM comes with a full suite of advanced email creation and management features to make it faster and easier to compose great emails and track their impact on your business.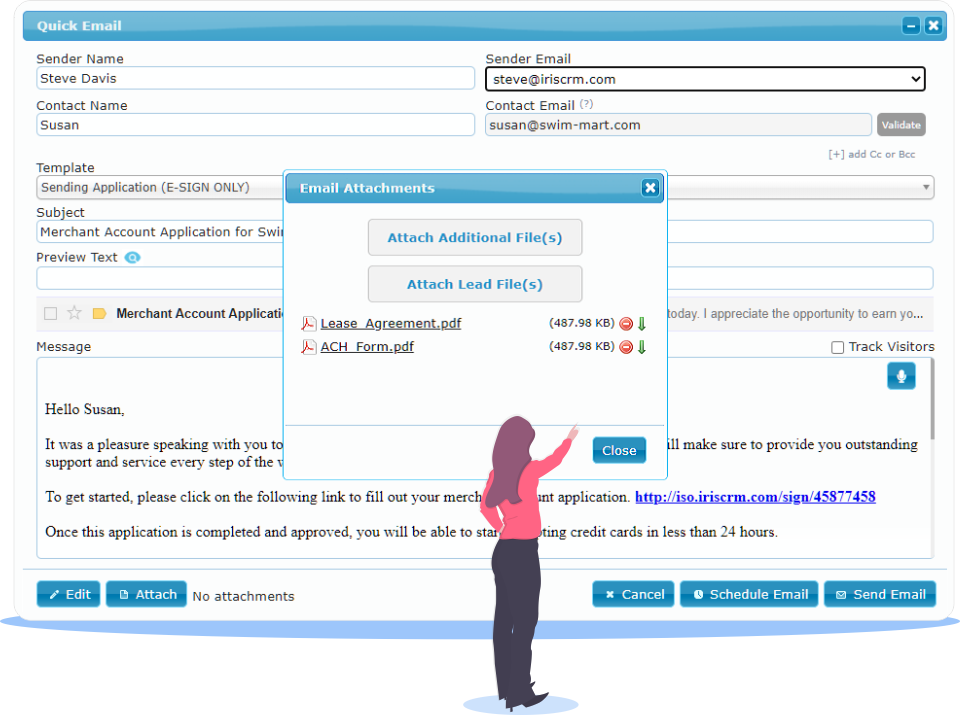 Easy Email Template Creation
IRIS CRM's built-in email templates enable your team to quickly send out pre-formatted emails, saving them the time and effort of having to draft the same types of messages over and over. Whether you are sending out promotional emails or automated system messages, IRIS CRM's templates allow messages to be created and sent in a matter of seconds, Key data like the recipient's name or account information is automatically populated by the system.
Templates can be quickly and easily created using the Email Template Customization tool in the IRIS backend, and as your library grows, you can copy and alter templates with ease. Once a template is in the system, it can be used for individual or mass emails and can be opened and edited with a single click right from within a merchant profile or group.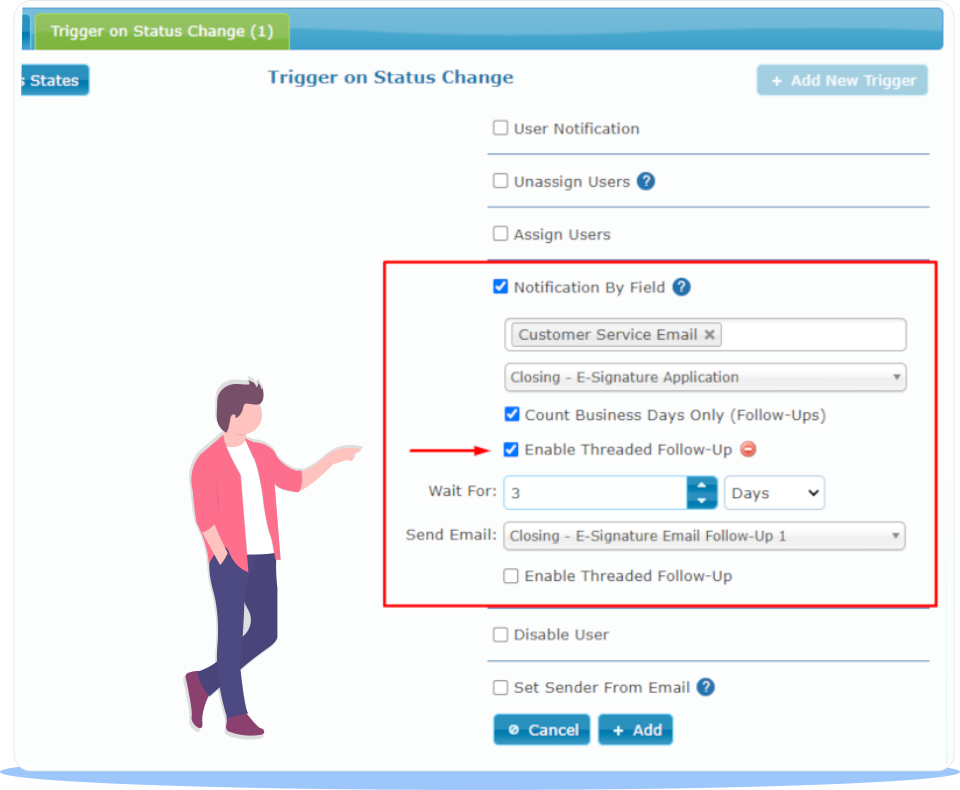 Automatic Email Triggering
One of IRIS CRM's most powerful lead management tools is its Status States – customizable statuses that can be assigned to each lead and which track and direct merchants through their journey from raw prospect to buyer. IRIS CRM also allows you to set Status Triggers – events that occur automatically whenever a lead is moved from one status to another – including emails!
With Status Triggers, you can pre-set emails to go out to your prospects at different parts of the recruitment process. For instance, you might have one email series for new leads and a different series for leads who have made initial contact. Status triggers allow you to automatically move a lead onto the second series by simply changing their status in the CRM, either manually, or using yet another status trigger, like a link click! You can also use status triggers to change the sender listed on outgoing emails, a very useful tool if your ISO uses different team members to open and close the sales process.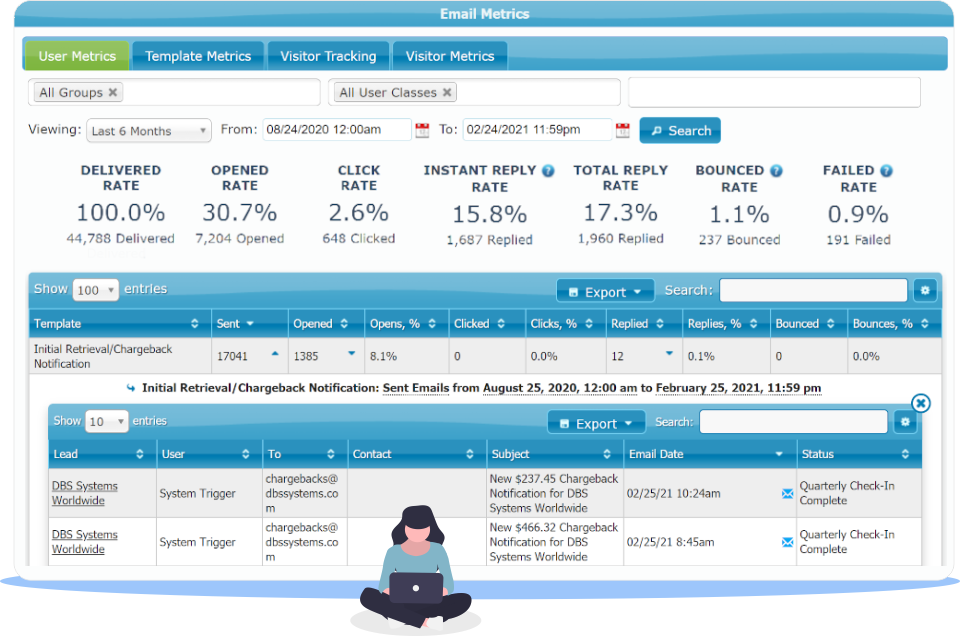 Merchant and Prospect Email Tracking
Open rates are one of the most important KPIs in email marketing, but aggregate open rates are only so useful. What if you could see not only which recipients were opening your emails, but also when? With IRIS CRM's Tracked Emails, you can!
Tracked Emails provide you with accurate intelligence on who is opening your emails, viewable on lead-by-lead and agent total levels. Better yet, IRIS CRM also provides an on-screen notification to any agents assigned to a lead in real-time right as an email is opened! Your agents can now know when prospects are engaging with your messaging, so that they can follow up more promptly and speed up the merchant acquisition process.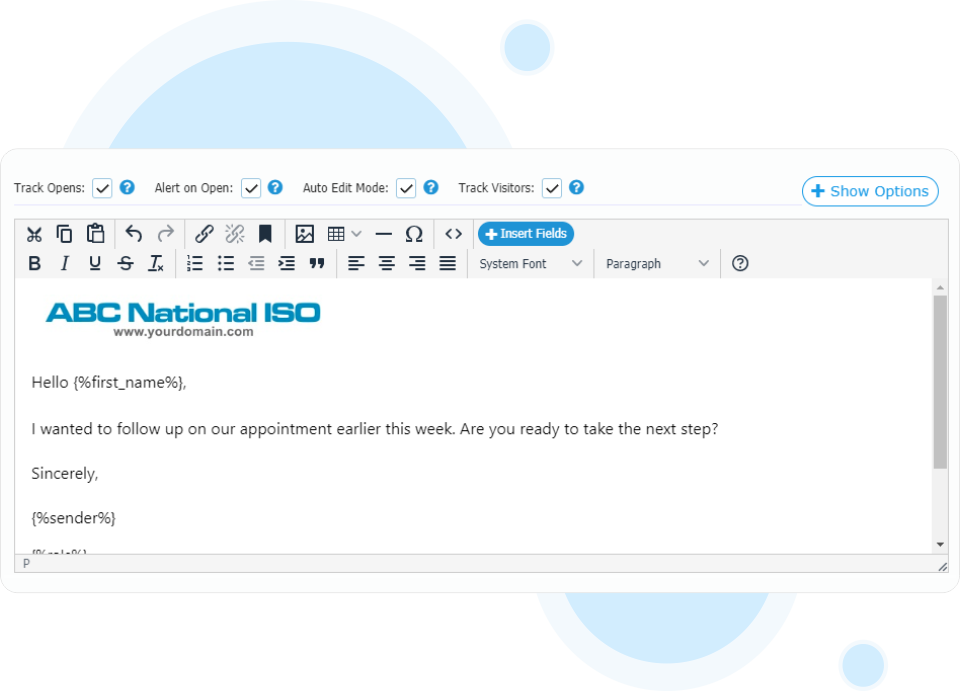 Quick Email Editing
IRIS CRM includes a user-friendly email editor to make composing custom emails and templates as easy as possible. Launching the editor is as simple as clicking the email icon beside any of the email addresses stored within a lead account. You can also launch the editor for email blasts by selecting the leads or groups you want to mail to and then clicking the mass email button.
Within the editor, you can access all of the standard composition tools included in top services like Gmail and Outlook. Templates can be quickly selected from a drop-down menu, and new custom fields can be easily added to auto-populate stored data from lead accounts. You can add custom images and attachments, perform spell checking, and do everything else you need to create great emails without ever having to leave the CRM!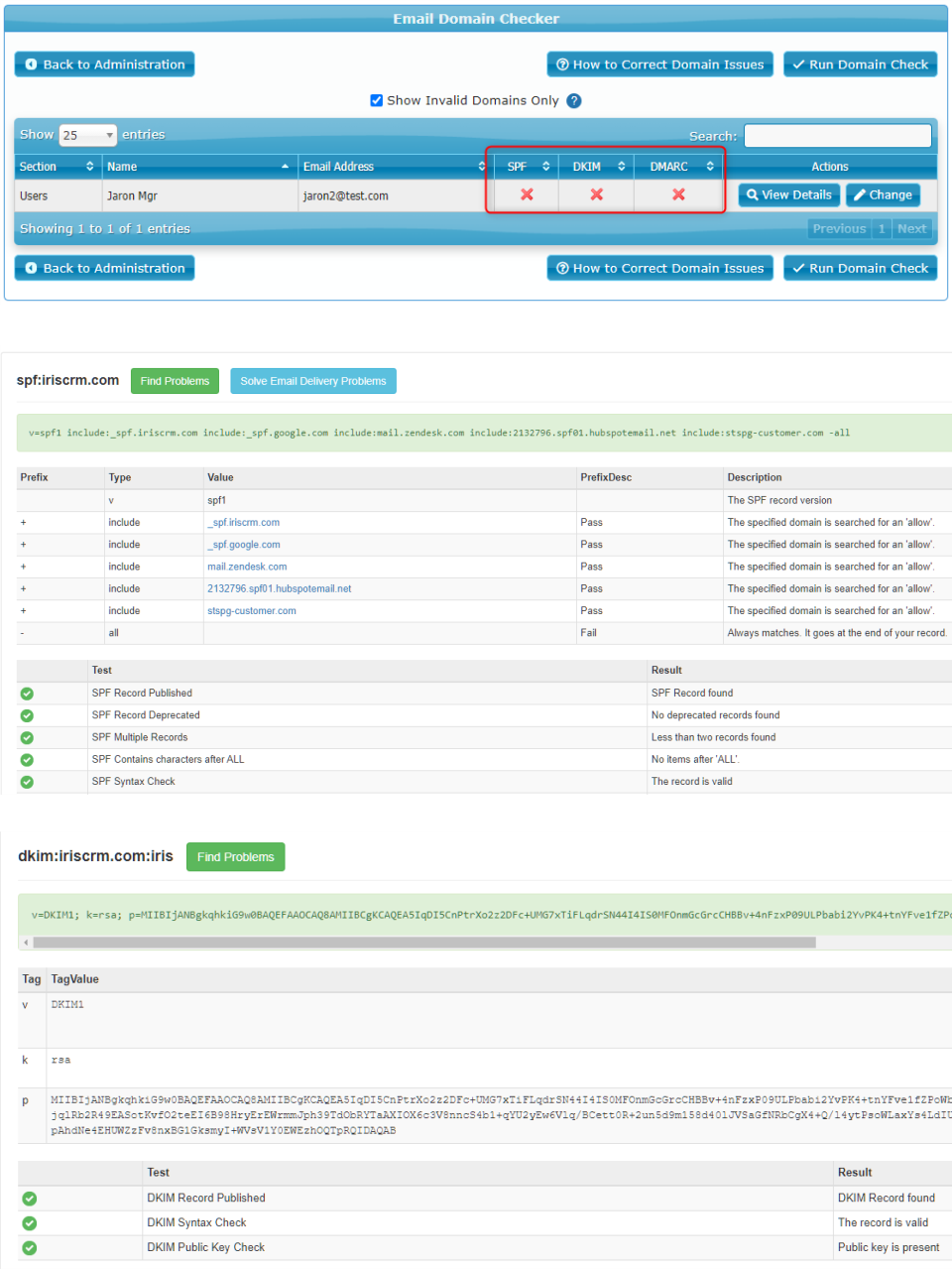 Email Domain Checker
When you send email through your CRM, your company email address is used as the sender but the message itself is technically still sent through the CRM's mail server. That can confuse the automatic spam filters at the recipient's email service provider, leading to potential spam and deliverability issues.
IRIS CRM's Email Domain Checker has been designed to eliminate that problem right at the source by enabling you to quickly and easily check which of your outgoing email addresses have active SPF, DKIM, and DMARC records.
SPF is an authentication tool that defines which mail servers are allowed to send from your domains.
DKIM is an authentication record that enables the receiver's email system to ensure a message was sent by an authorized server.
DMARC is a security protocol that uses the SPF and DKIM records to verify that an email is authentic and fully authorized by the sender.
Together, SPF, DKIM, and DMARC ensure that the email you send through the CRM can be easily authenticated by the recipient's ESP and will not end up blocked or in the spam folder.
Email Domain Checker enables you to run a quick test that clearly and instantly indicates which of your company's email addresses do not have the necessary records set up. Your domain's reputation and your overall deliverability both benefit enormously from having SPF, DKIM, and DMARC enabled, and IRIS CRM's Email Domain Checker makes it easy to ensure you are protected.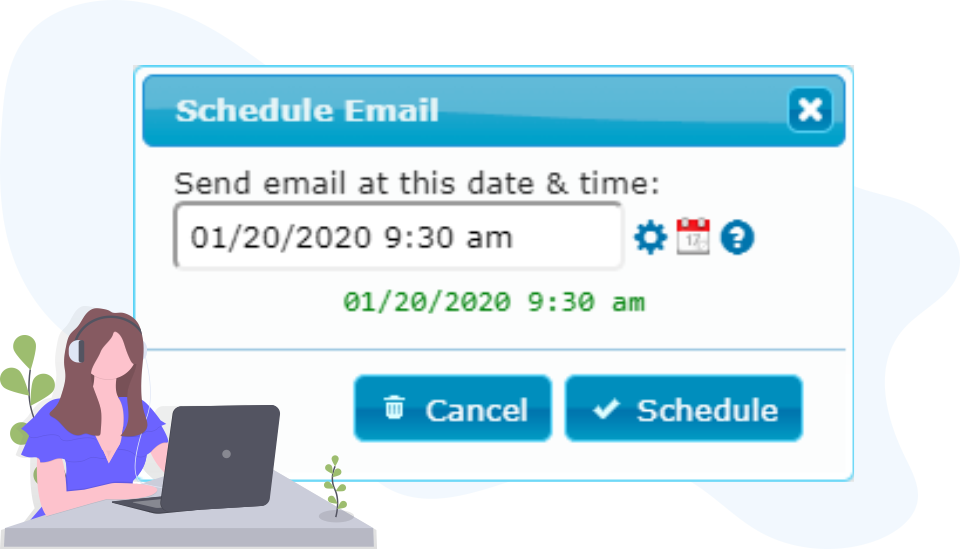 Convenient Email Scheduling
IRIS CRM's email tools allow you to draft emails when it is most convenient and deliver them when it is most effective by pre-scheduling your sends. Scheduling your email delivery is a key part of maximizing your open rates, as it enables you to take advantage of peak activity times without hassle.
For example, in some industries, a 6:00 AM email is three times more likely to generate a click than one in the late afternoon – but nobody wants to be at their desk drafting an email at 6:00 AM! With IRIS CRM, you can draft individual or mass emails when it works best for you and send them when it works best for your leads.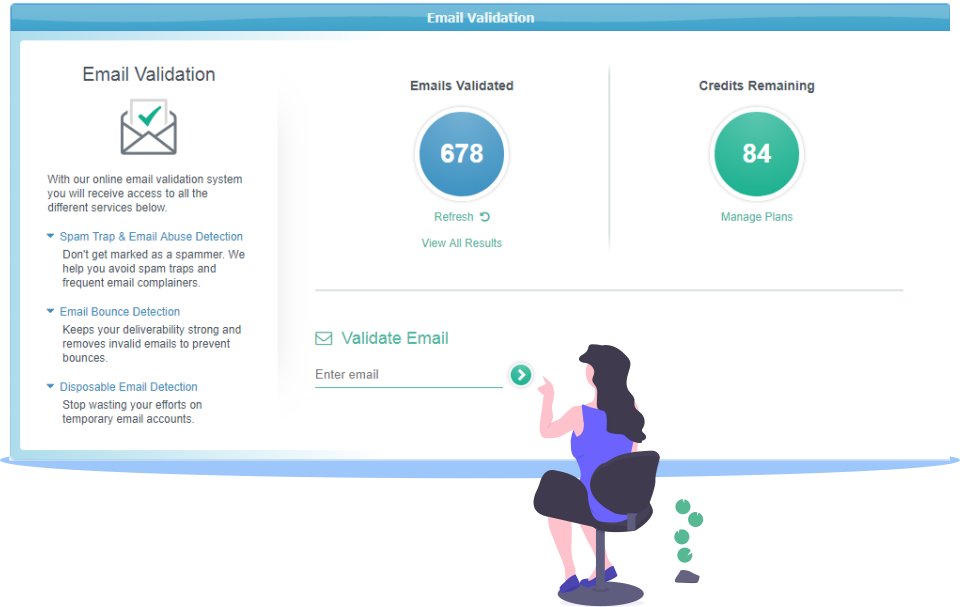 Email Address Validation
In addition to ZeroBounce integration, IRIS CRM comes with built-in email validation tools right out of the box. You can validate email addresses in three key places: the email field in an individual lead account, the recipient email line in the quick email editor, and the lead importer. In all three cases, validation is as simple as the click of a button.
IRIS CRM's built-in validation will tell you if an email address is valid, invalid, a spam trap, or uncheckable. Validation performed during lead importing can automatically scrub all emails that fail the test from your list. The result is minimized possibility of delivery failures or spam complaints and maximized confidence in your email marketing.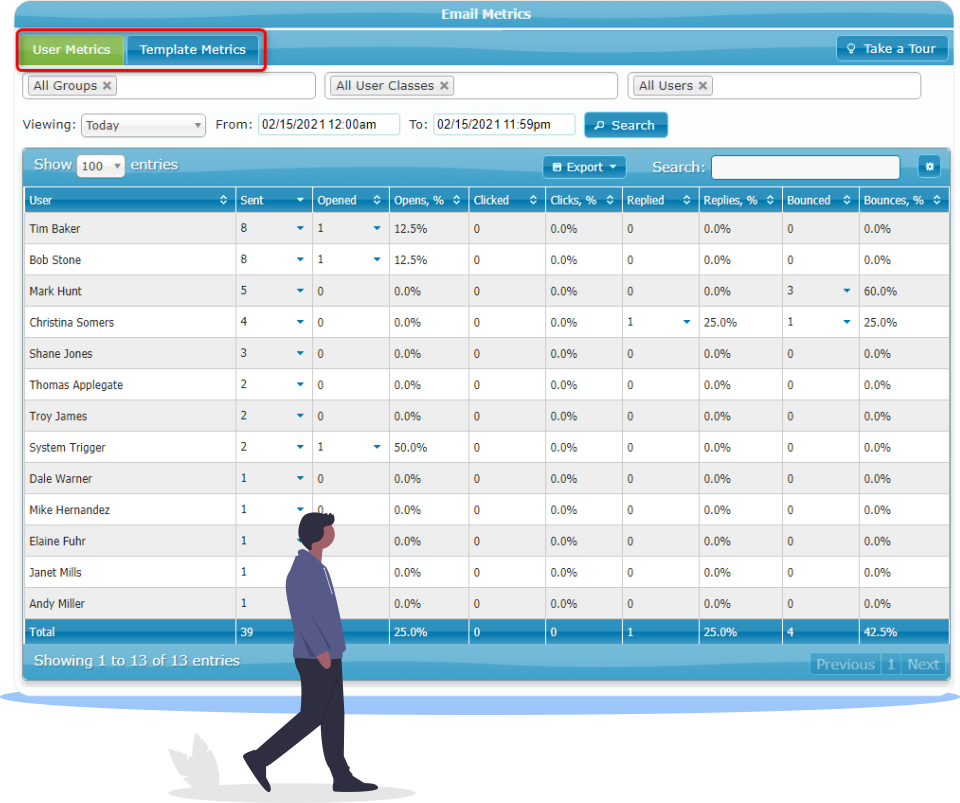 Advanced Email Performance Metrics
Knowledge is power, and IRIS CRM includes an advanced email analytics dashboard to ensure you always have complete situational awareness over the success of your campaigns. IRIS CRM's Email Metrics tab provides complete system-wide email analytics covering your internal users, your templates, and even your site visitors! The result is that you can make better decisions when creating and refining campaigns, leading to better conversion rates and higher ROIs.
The User Metrics tab provides data on your agents' email activity, including emails sent, opens, link clicks, replies, and bounces. The Template Metrics tab offers the same insights but on a template-by-template basis. IRIS CRM's built-in visitor tracking provides analytics on your visitors' interactions with your website after arriving via email, with individual lead data in the Visitor Tracking tab and aggregate data in the Visitor Metrics tab.
For a one-on-one tour of all these features and everything else IRIS CRM has to offer, book a free guided demo now!
Schedule Demo