Enable Multiple NMI Reseller Credentials in IRIS CRM
IRIS CRM is happy to announce our ability to now support multiple NMI reseller accounts as the latest improvement to the NMI and IRIS CRM integration.
You may find that as your business grows over time, whether it be from acquisitions or new processing relationships, that you have more than one set of NMI reseller credentials that each have different pricing and can't be combined. Previously, when using IRIS CRM you were limited to integrating just one of your accounts meaning you missed out on the efficiency of our NMI integration when boarding some merchants.
To satisfy the request of many clients, IRIS CRM now supports an unlimited number of top-level affiliate reseller accounts that can be configured for one-click boarding. This latest improvement will allow you to onboard merchants into multiple NMI reseller relationships through a single IRIS CRM instance.
It is now possible to benefit from all your NMI top-level affiliate accounts and manage them from a single location in your CRM. Plus, you can leverage the latest upgrades to NMI's IRIS CRM integration to configure the corresponding pricing of each account for accurate and expedient merchant boarding.
Our latest updates include additional fields, configuration of advanced merchant features, and the ability to create fully custom pricing on-the-fly. Boarding a merchant can take as little as 5 seconds thanks to IRIS CRM populating all of the necessary information directly from their lead or merchant record.
With all of your NMI top-level reseller accounts in IRIS CRM, you can guarantee that merchants are boarded to the appropriate reseller relationship to maximize your residual earnings.
How to Add Multiple NMI Reseller Credentials
Adding your other NMI reseller credentials to IRIS CRM is as easy as adding the first credentials, we'll show you how! If you're new to IRIS CRM, keep reading so see how easy it is to connect your NMI accounts. 
Start by navigating to Manage > Integrations > NMI, be sure to select the first NMI integration option that says reseller credentials.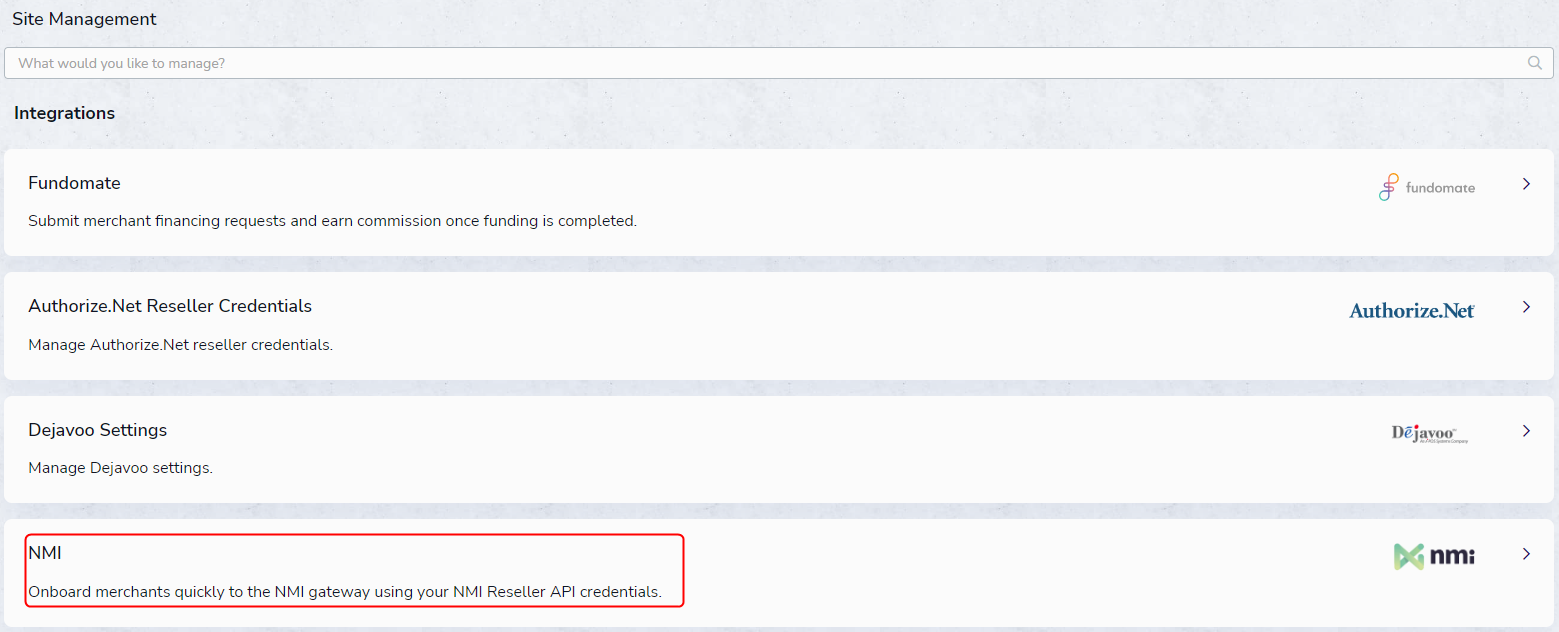 Click Add New NMI Reseller Account to connect an additional account. 

You'll be taken to a new screen to enter the credentials for the account you're linking. Name the reseller account for use in IRIS CRM, add your NMI portal URL, and paste in the secure key you created in your NMI portal. Check the Default box if you want to use this account by default when boarding new merchants to NMI.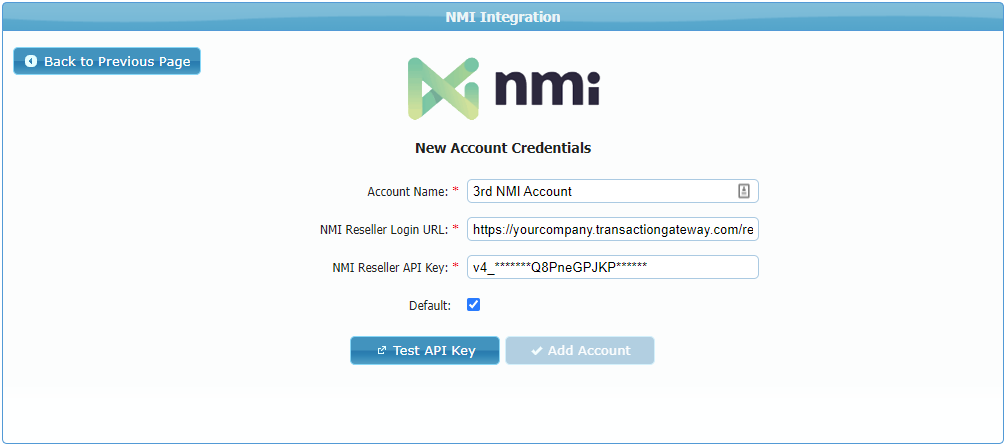 You can click Test API Key to confirm the connection between IRIS CRM and NMI. Then, click Add Account to complete the process. 
After you've added all of your NMI credentials to IRIS CRM, you can manage them back on the main NMI integration page. Select which credentials you want to manage, such as setting default pricing and advanced merchant features, from the dropdown at the top of the page.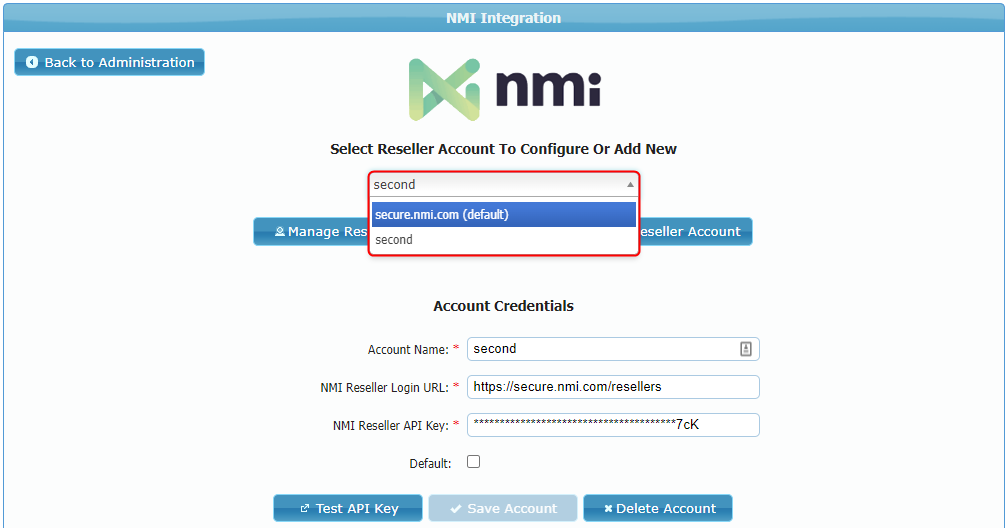 With all of your accounts added and defaults configured for each, you are now ready to take full advantage of the integration between IRIS CRM and NMI to board merchants faster than ever before with the confidence you'll receive all corresponding residuals. 
The IRIS CRM integration with NMI is one of the many payments-specific integrations and features that make it the leading payments CRM. Experience the benefits of IRIS CRM with a demo from our team to learn how your ISO, PayFac, or sponsor bank can scale its business to greater heights.