IRIS CRM E-Signature – Secure eSignature, Legal, Digital Signatures
Simplifying Your Merchant Boarding Experience
Use esignature to speed up your ISO's sales process, improve your onboarding, minimize administrative burden, and boost your residuals with IRIS CRM's built-in electronic signature function. Powered by Adobe Sign.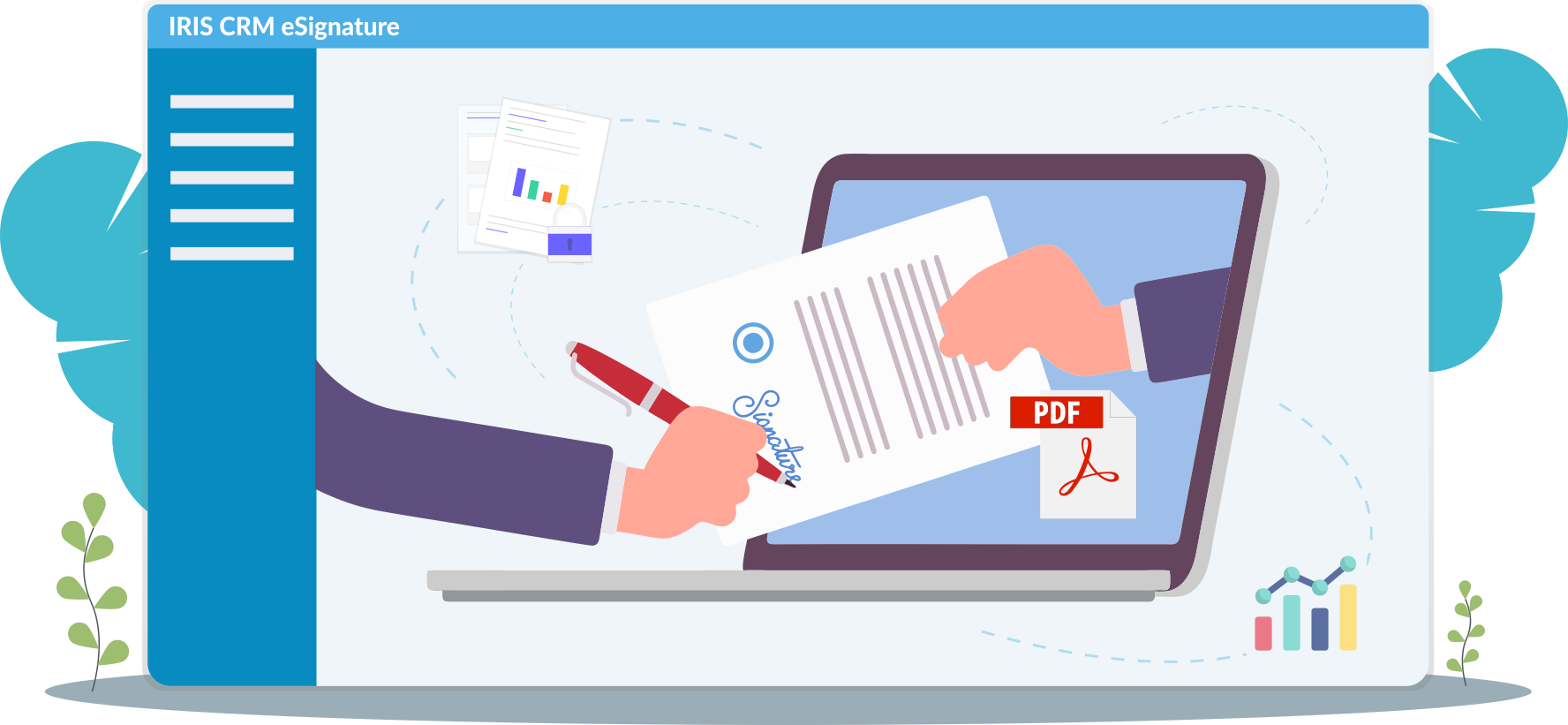 IRIS CRM esignature enables you to turn any PDF into a fully digital document that can be legally signed without the need for your merchants or staff to ever print, scan, or mail a single page!
Completed e-signature forms can be easily stored and accessed through any lead's profile within the CRM, and the data stored in digital MPAs can be used to onboard new merchants automatically with IRIS CRM's revolutionary TurboApp automated onboarding tool.
With IRIS CRM esignature, your agents can close new merchants faster, your boarding team can submit more accurate applications in minutes, and your entire ISO can break free the time, effort, space, and cost of processing, managing, storing physical paperwork.
IRIS CRM E-Signature Benefits
Speed up your sales process by eliminating physical paperwork from closing.
Offer increased convenience to your merchants by letting them fill out their MPAs and paperwork digitally.
Reduce the time it takes to onboard new merchants from 30+ minutes to just five!
Eliminate costly data entry errors and ensure successful application submissions.
Minimize your ISO's physical paperwork handling and make document storage and management cheaper and easier.
Bring all of your merchant data into a single point of control within your CRM.
Reduce the time and effort your team spends on paperwork and administration so they can spend more time on revenue-generating activities.
Click here to talk to a member of the IRIS CRM team about how e-signature can change the way your ISO approaches merchant acquisition and onboarding.
Why Your ISO Needs E-Signature
Why Your ISO Needs E-Signature
There are a variety of factors that go into your ISO's success, but the quality of your merchant acquisition and sales operations is undoubtedly the most impactful. Anything you can do to streamline and speed up the process of taking a new merchant from prospect to signed partner will help you generate a fatter, healthier residuals portfolio – the long-term driver of ISO success.
esignature is designed specifically to improve merchant acquisition by making it faster, easier, and more convenient for your agents and merchants to close deals, and by turning slow, error-prone onboarding into a process anyone can perform with unparalleled accuracy in a matter of minutes.
With IRIS CRM E-Signature, your agents get access to the tools they need to close deals faster, your prospects save significant time on their merchant processing agreements and paperwork, and your boarding team's capacity goes through the roof.
Faster recruiting, happier clients, and more successful MPA submissions – the benefit of e-signature to your monthly residuals simply can't be ignored.
How IRIS CRM E-Signature Works
How IRIS CRM E-Signature Works
IRIS CRM E-Signature enables you to accept legal, secure, digital signatures on any PDF through Adobe Sign. But esignature doesn't just allow you to accept digital signatures. It also maps all the fields from your PDF forms directly into IRIS CRM so that the data your merchants enter into their MPAs can be pulled directly into the system for use in everything from lead account population, to onboarding and beyond. The result is that your ISO can significantly minimize (or even eliminate) the need for physical paperwork, making both your staff and your customers' lives significantly easier.
With e-signature, you can map any PDF form into your CRM, easily digitizing your entire form library. Each PDF field can be assigned to pull a certain type of data into the CRM, including text, dropdown lists, and checkboxes.
Once a merchant fills out and signs an e-signature MPA or any other type of form, copies of the completed paperwork are automatically sent to your ISO and the merchant, and the completed digital form is automatically saved to the merchants lead account. That saved digital form can then be used to power IRIS CRM's automatic onboarding tools, to pass data to the merchant's lead profile, or to populate fields in custom applications.
You can also use IRIS CRM's built-in, fully customizable email templates to pre-compose your outgoing emails, enabling your agents to send out MPAs or any other type of form in a matter of a few clicks, right from within a merchant's lead profile.
Let a member of the IRIS CRM team show you how easy it is to use e-signature. Book a free guided demonstration today!
IRIS CRM E-Signature Features
Upload Unlimited PDF Forms
IRIS CRM comes with unlimited document storage built on Amazon's most secure AWS platform. That means your ISO can upload unlimited PDF templates and easily store and manage every signed form your clients send back, with no worry about ever running into storage space issues.
With IRIS CRM, document management has never been faster or easier.
Easily Map Your PDFs to CRM-Friendly Input Fields
Once your forms have been uploaded, setting them up for use with esignature is a straightforward, set-and-forget process. Once a form has been mapped, the fields within the editable PDF are linked directly to the CRM, enabling them to transfer data on everything from onboarding information to lead profiles and beyond.
IRIS CRM supports four different types of field mapping, enabling you to collect a number of types of data from esignature forms: text-to-text, dropdown-to-text, checkbox-to-checkbox, and dropdown to checkbox. That flexibility in form design enables you to collect any type of data you need while simultaneously creating more streamlined, easier to complete forms.
Accept Legally Signed Documents Without Any Need for Printing and Scanning
IRIS CRM's e-signature functionality is built on Adobe Sign, enabling your forms to be signed digitally, securely, and legally. With IRIS CRM E-Signature, your merchants will no longer have to print, physically sign, and rescan MPAs or other service agreements. That makes closing the sales process and signing new clients a faster, easier, more convenient process. It also ensures you and your clients won't have to worry about managing or storing large quantities of paper files.
Send E-Signature Agreements to Leads via Email with Ease
You can quickly and easily send your mapped e-signature forms out to leads and existing merchants in a matter of a few clicks using pre-designed email templates. Simply click on the e-sign tab in any lead's account, select the application you'd like to send, and enter the name of the primary signer or multiple signers. IRIS CRM will automatically generate the form and an email based on the chosen application, which you can then review and edit before sending. Almost all of the manual work is eliminated, so your agents can create and send applications to your prospects in a matter of minutes.
Automatically Retrieve Signed Contracts and Deliver Confirmation with Password Protection
At each step of the delivery and form completion process, you'll receive automatic notifications to keep you in the loop on the merchant's progress.
Once an application has been completed and digitally signed, an email automatically goes out to both the merchant and your ISO containing a copy of the signed agreement.
You can choose whether those confirmations are password-protected, ensuring your clients' data will always enjoy the highest levels of security.
The signed application is also automatically tied to the merchant's lead account under the attachments tab, completely automating the document management process.
Supercharge the Merchant Onboarding Process with TurboApp
IRIS CRM E-Signature enables you to unlock the full power of TurboApp – IRIS CRM's proprietary merchant onboarding system. With TurboApp, you can retrieve signed, fully completed merchant processing agreements, and let IRIS CRM automatically pull the application data into a custom configured boarding portal that integrates directly with the world's leading payment processors.
The result is that almost all of the manual data transfer associated with onboarding is eliminated, taking boarding from a 30+ minute process for trained employees to something anyone on your staff can do in as little as five minutes.
That automation, combined with TurboApp's validation of the merchant's information, also greatly minimizes the chances of errors slipping through, making the entire boarding process significantly more accurate in addition to significantly faster.
Learn more about TurboApp and IRIS CRM's ability to streamline your merchant onboarding.
Specify Read-Only, Editable, and Required Fields to Ensure Form Accuracy
Getting accurate information is the key to a streamlined boarding process and a high-quality lead database. With IRIS CRM E-Signature, you can ensure the integrity of the data returned in your applications and forms by specifying which sections are read-only, which sections are optional, and which sections are mandatory. That means you'll never have to worry about retrieving a form that is missing information you can't do without, or with customer input in areas you didn't intend it to be.
Enable Supplemental Forms to be Easily Included in Outgoing Emails
IRIS CRM enables you to upload supplemental forms, either in e-signature or standard formats, that can be assigned to individual users and added to outgoing application emails in a matter of seconds. Supplemental forms allow your agents to quickly choose which additional forms to attach to an application from an easy to use drop-down menu that automatically configures itself based on the type of application being sent.
Quickly Edit E-Signature Applications When Processors Change Requirements
Processors occasionally update their application requirements, and your forms need to be flexible enough to keep up with those changes. IRIS CRM E-Signature allows you to quickly copy the PDF field mapping from your old forms to your new, updated ones, ensuring that you'll never have to rebuild a form completely from scratch. That saves an enormous amount of time and ensures that you can get your updated application forms online immediately, ensuring effectively zero downtime or interruption to your ISO's merchant acquisition and boarding operations.
Ready to check out e-signature, TurboApp, and the full suite of sales and productivity features IRIS CRM offers your ISO? Click here to book a guided demonstration of the platform or start your no-commitment free trial today!
Ready to check out e-signature, TurboApp, and the full suite of sales and productivity features IRIS CRM offers your ISO?
Click here to book a guided demonstration of the platform or start your no-commitment free trial today!
Schedule Demo