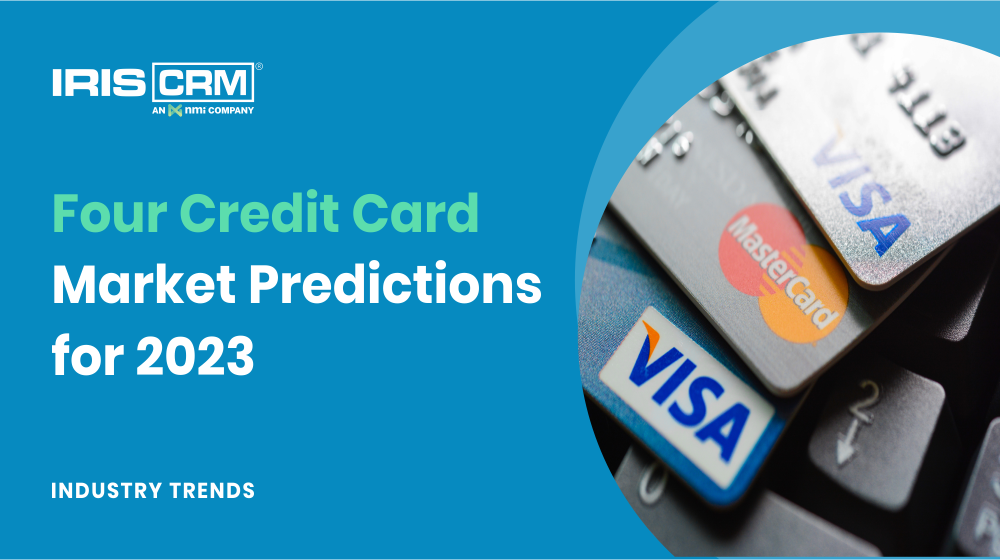 Four Credit Card Market Predictions for 2023
2022 was an interesting year for the credit card industry. Painful economic conditions like rapid inflation and rising interest rates saw many of the positive trends observed over the course of the COVID-19 pandemic start to reverse. Now, with many of those economic conditions set to persist into 2023, the industry is getting ready for a year that will be defined by changing consumer needs, even stiffer competition than normal, and rapidly rising debt levels. With all that in mind, the following are four credit card market predictions that card associations, acquirers, processors, and ISOs are likely to see unfold throughout 2023. 
Consumers Will Lean Towards the Best Flexible Rewards Programs
According to the Federal Reserve Bank of Dallas, in 2022, real wages – the measure of how much a worker can actually buy with their paycheck – hit 25-year lows. While wages are rising, they can't keep up with inflation, and that trend is likely to continue into 2023. With everything from travel to entertainment to daily necessities becoming significantly more expensive, rewards programs will become a more important differentiator for consumers and, in turn, an important opportunity for card issuers. 
The key factors will be finding ways to maintain point values and maximize flexibility. That may be easier said than done with costs rising, but the companies that manage to offer the best rewards programs with the widest possible set of useful redemptions may just be the winners of 2023. 
Competition from Buy Now, Pay Later Will Stiffen
Buy Now, Pay Later, or BNPL, enjoyed significant growth over the course of the pandemic, and the economic conditions facing consumers in 2023 may be ideal for pushing adoption even further. 
BNPL offers consumers an instant loan at the point of sale that is then paid back in four installments at zero percent interest, known as the "Pay in 4" model. The benefits of BNPL to both consumers and businesses are obvious – consumers can purchase more upfront without feeling like they're taking on debt thanks to the interest-free payments. Unsurprisingly, growth exploded during the pandemic, when shutdowns, temporary layoffs, and rising costs from supply chain disruptions made money tight for a huge swath of the population. According to a 2022 report from the Consumer Financial Protection Bureau, the use of BNPL to purchase everyday necessities grew by a whopping 434% in 2021. 
With 2023 set to be another tight year, BNPL is likely to continue to grow as consumers look for ways to stretch their dollars and avoid potentially costly interest payments. Credit card companies looking to stave off the attack will need to find ways to offer consumers similar convenience, like post-purchase installment plans – a relatively new credit card enhancement that feels like BNPL thanks to a fixed payment schedule, but still represents a profitable transaction driver for card issuers. 
The Crypto Crash will Make Crypto Rewards Cards DOA
Cryptocurrencies and blockchain innovations like NFTs saw significant growth throughout the pandemic, and, like everyone else, credit card companies got caught up in fear of missing out (FOMO). Crypto rewards cards like the BlockFi Rewards Visa Signature card promised to reward users with "cash" back in their choice of several cryptocurrencies. Visa also had debit card agreements in place with large exchanges like Crypto.com and FTX. 
Unfortunately, as of December 2023, both BlockFi and FTX are bankrupt, the latter in spectacular fashion that sent a tidal wave throughout the ecosystem, sent coin values tumbling, and became a global news item. But FTX and BlockFi were just the latest in a series of bankruptcies in an incredibly difficult 2022.
With crypto markets entering 2023 near two-year-lows and with the fraud-riddled FTX saga undermining the promise of transparency, the year ahead is likely to be one in which crypto's trust problem gets worse. As a result, remaining partnerships between credit card companies and cryptocurrency exchanges are likely to be unfruitful as all but the most dedicated users turn away from the market and new user growth stagnates. With the full impacts of the high-profile bankruptcies of late 2022 still yet to unravel, the big card companies may decide that hitching their brands to such a volatile ecosystem may not be worth it at all. 
Risk Will Increase as Inflation Drives Consumer Debt Higher and Higher
In Q4 2019, total credit card debt in the U.S. was 927 billion dollars – an all-time high. By Q1 2021, consumers had chipped that number down to $770 billion, a 17% reduction thanks largely to accelerated debt repayment while people were hunkered down at home throughout the pandemic. But, just a year and a half later, in Q3 2022, American credit card debt is right back up to $925 billion. According to the Federal Reserve Bank of New York, the 13% increase between Q2 2021 and Q2 2022 was the largest increase in cumulative credit card debt in over two decades. 
In short, consumers are using their credit cards to offset shortfalls caused by rapid inflation, and debt is rising at an alarming rate. 
Delinquency rates are already on the rise again after hitting a 30-year low in mid-2021. Another year of difficult economic conditions is likely to see credit card debt shatter the previous high from 2019, which would undoubtedly see the upward trend in delinquency rates accelerate. While delinquencies are unlikely to return to the 5%+ levels seen during the fallout of the Great Recession, how high they go will depend entirely on how far into 2023 the pain of high inflation and high interest rates continues. 
About IRIS CRM:
IRIS CRM is the payments industry's top customer resource management platform. It offers ISOs and payment facilitators a complete suite of tools designed to make selling credit card processing faster, easier, and more profitable. From advanced sales tools, to near-instantaneous merchant onboarding, to automated residual calculations, and beyond, IRIS CRM has been designed from the ground up with the industry-specific needs of ISOs and PayFacs in mind. 
To find out more about everything IRIS CRM can do for your company, schedule a free guided demonstration of the platform today.