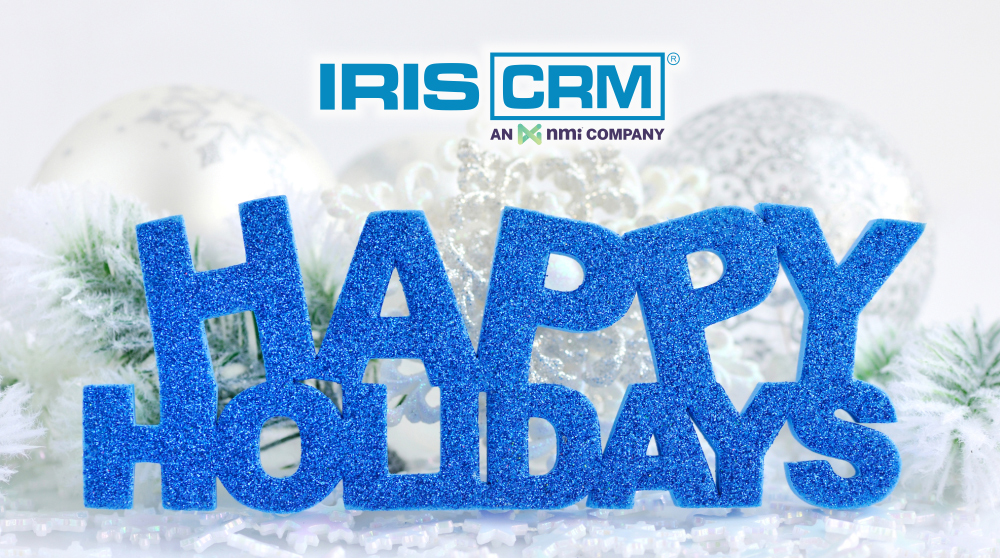 Happy Holidays from the IRIS CRM Team!
It's been a big, eventful year for the payments industry's top CRM.
The holiday season is finally upon us and 2022 is quickly drawing to a close. The whole IRIS CRM team would like to wish all of our customers, partners, and the entire payments industry a joyous holiday season and a prosperous new year ahead. We'd also like to thank you for making 2022 such a successful and memorable year, in which our platform and team continued to grow, and we celebrated a number of significant milestones and events. 
2022 IRIS CRM Highlights
A New Family: IRIS CRM Joins NMI
The year started off with a bang as we officially announced our acquisition by NMI on January 18th. Joining the NMI family was an easy choice, thanks to our perfectly matched cultures and mutual vision for what payment processing and merchant services should be. Now, as part of NMI's full commerce enablement platform, IRIS CRM functions as the nerve center of the industry's most complete payments solution, providing flexible, frictionless processing, gateway, and value-added services to ISOs, PayFacs, ISVs, and banks. 
Another Year of Constant Improvement: New IRIS CRM Features
While January gave us a new parent company (and some snazzy new socks! Thanks, NMI!), it was business as usual for the IRIS CRM development team, who, like every year, never stopped taking in user feedback and turning it into valuable new features. 
Just a few of the exciting new features we added to the CRM in 2022 include:
Instant signups with zero-code web forms:

IRIS CRM's new web form builder enables frictionless merchant signup forms to be added to ISO and PayFac websites with no coding required. Merchants can now fill out an application online, press submit, and be instantly approved. 

Seamless automatic underwriting with Agreement Express:

In May, we announced our new integration with Agreement Express ScanXpress, the industry's most powerful automated underwriting tool. IRIS CRM users can send merchants into underwriting directly from the CRM and receive a fully scored, in-depth risk assessment in minutes. In December,

Agreement Express became the newest member of the NMI family

, pushing the capabilities of full commerce enablement even further. 

New, improved user interface:

Launching our new, modern user interface was a huge accomplishment for the team in 2022. With a brand new ReactJS design that had been in development for well over a year, the new UI was created to make navigating and using IRIS CRM faster and easier (not to mention more attractive) than ever before. 
Bigger and Better: IRIS University at Transact '22
ETA Transact is always a great show, but Transact '22 was our biggest one yet. IRIS University sprawled across an eighth of the convention floor at Mandalay Bay in Las Vegas, making us by far the biggest exhibitor. IRIS CRM President Dimitri Akhrin and Product Lead Jaron Ruckman delivered three days of education to existing and prospective clients, while our sales, product, and support leaders fielded questions at the booth. If you couldn't make it out to IRIS University at Transact '22, worry not – you can watch the whole thing online. We hope to see you at ETA Transact '23 in Atlanta!
So Long, Dimitri! A Farewell to Our Founder
December 9th marked the last day for IRIS CRM founder and President Dimitri Akhrin, who is moving on to enjoy some hard-earned rest, relaxation, and time with his family after twelve years as the lodestar guiding the vision, execution, and culture at IRIS CRM. While we're sad to see him go, we're also excited to see what lies ahead, and we have no doubt that no matter what he does next, Dimitri will bring the same entrepreneurial spirit, leadership excellence, and deep dedication to his team that we've all appreciated so much at IRIS CRM. Thanks for everything, Dimitri!
See you in 2023!
Once again, we'd like to wish happy holidays to all our customers, partners, advisors, friends, and families, and we'll see you all in 2023 for what we're certain will prove to be an even bigger year for IRIS CRM and NMI!