Hiding and Disabling Statements for Merchant Users
Take your merchant portal to the next level of customization with our newest improvement.  We are happy to announce that the visibility of the Statements tab for Merchant Users is now fully customizable.  Whether you would like your merchants to see Statements or not, access can now be controlled in seconds.
You are now in even more control of the merchant experience in your merchant portal with this update which reduces confusion for merchants who could previously see the Statements tab, but were unable to download the statements that were displayed. You can now completely hide the tab from the merchant portal to reduce the number of questions asked by merchants about statements in order to focus on providing your core services. 
Customization and control over the merchant experience are major benefits of the IRIS CRM merchant portal. Choose which Profile information to show merchants, including the customer service information they should use to contact your organization, their PCI compliance status, and allow them to share documents with your team. 
In addition to Profile tabs, you have the ability to provide merchants with documents for their reference to create a knowledge base so they can attempt to solve issues prior to contacting your support team, such as POS hardware guides. Plus, merchants can access the Helpdesk to submit tickets and see tickets you've made visible to them. 
Putting all of these tools at the merchant's disposal allows your organization to tailor the ideal merchant experience that best fits your organization's workflows to help both you and your merchants grow.
IRIS CRM Integrated Processor Statements
Whether you're working with 1 or 10 processors, IRIS CRM brings together all of the essential payment processing information for ISOs, agents, and merchants — including statements. IRIS CRM has integrated monthly PDF statements for a variety of processors and super-ISOs that are pulled into your merchant records every month. 
Curious about which processors we have integrated statements for? Check out the comprehensive list below:
Aurora –  First Data and TSYS

Clearent

Elavon

Fiserv CardConnect – Omaha, North, and TSYS

Fiserv First Data – Canada, North, and Omaha

FIS Worldpay (Vantiv)

Merchant Industry

Priority Payment Systems – First Data & TSYS

SignaPay

TriSource

TSYS – Direct and Indirect
Statement Download Permission Update
In order to enable or disable the Statement Download permission for Merchant users, navigate to the user class settings by going to Manage > Administration > User Classes. User Classes can be found at the bottom of Quick Access or by going to the User & Groups section.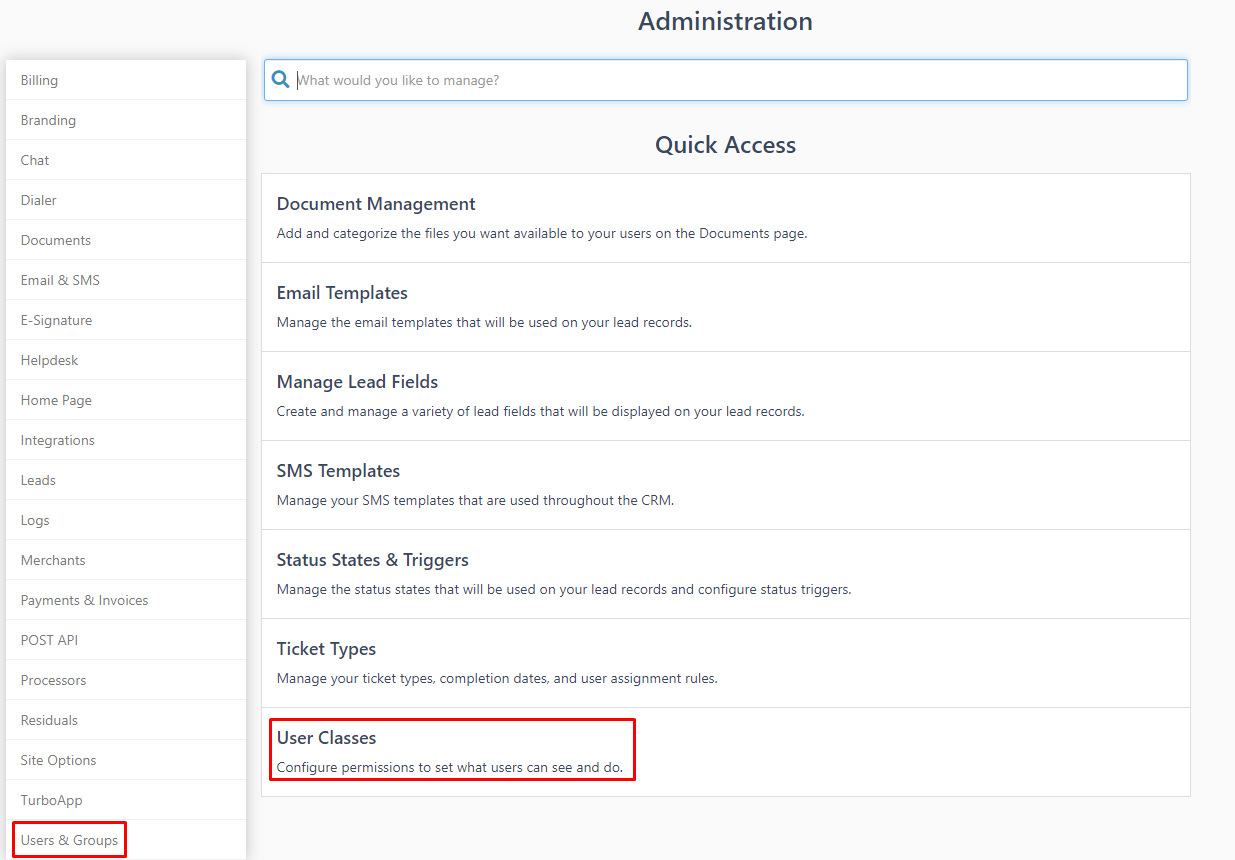 Click Permissions for the Merchant user class, or whichever user class you want to control the display of the Statements tab for. 

Enabled
When the Statement Download permission is Enabled (actively selected), Merchant users will be able to see the Statements tab in your private-labeled merchant portal as well as download the available statements – if there are any.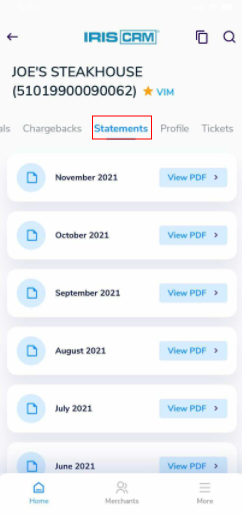 Disabled
When the Statement Download permission is Disabled (deselected), the Statements tab will no longer be visible to the Merchant user when they log in to your private-labeled merchant portal. Prior to this update, users were unable to download the statements when they clicked them, but they were still able to see the Statements Tab and the list of available statements.