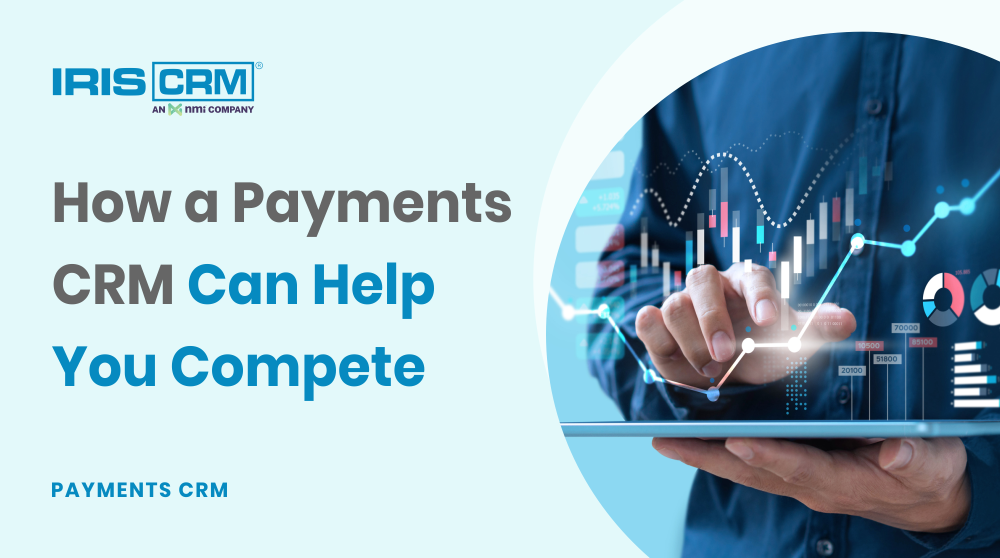 How a Payments CRM Can Help You Compete in a Tightening Market in 2023
Payments is an extremely competitive game at the best of times. But, with 2023 shaping up to be a tough year for the economy, the payments industry is likely to see some stagnation in growth, and ISOs and PayFacs may find themselves competing for a piece of a potentially shrinking pie. The good news is that, with the right payment technology, such as a Payments CRM, and the right services on offer, your company has the chance to turn a tough 2023 into a major opportunity, thriving while your competition is struggling and setting yourself up to grow explosively when the economy recovers in 2024. 
What a Tightening Payments Market Means for ISOs and PayFacs
The key to landing new clients and continuing to grow in 2023 is recognizing how tough economic conditions impact all the players in payments downstream from your ISO or PayFac, including not only your merchants, but their customers as well. It isn't necessarily the case that there will be less business to go around, but buyers at all levels will be looking for more for their money, and finding ways to give it to them while staying profitable should be one of your company's top priorities in the year ahead. 
Merchant Expectations are Higher
Merchants already have a ton of choice in how they access payment processing and who they work with. In 2023, they're going to be pickier than ever, looking for not only access to a better slate of payment products, but also elevated customer service from whichever provider they choose to work with. It can be tempting to try to compete on price when the market is tight, and it may even be necessary. But your ISO's primary focus should be on making the quality of your service so good that your merchants can't ignore it. 
Competition is Significantly Stiffer
With an increasingly critical eye for value, merchants are going to be more willing to shop around in 2023 than they may have been in the past. That means your company will likely find itself in a more competitive environment, even if you've previously enjoyed advantages like narrow specialization or regional dominance. As a result, in addition to finding ways to elevate your service and merchant experience, you need to look for any and all competitive advantages you can, no matter how narrow. Something as simple as tweaking the way you generate leads could pay huge dividends.
Retention is More Important Than Ever
Everyone in business knows it's significantly more expensive to land a new client than to keep an existing one. With that in mind, a key to maximizing your ISO's growth during 2023 will be minimizing customer turnover. ISOs that aren't prepared for a more difficult competitive environment could see their churn rate spike, so make a point to put an emphasis on keeping your existing merchants happy, so they stick around. 
How a Payments CRM Can Help Offset a Harsh Competitive Environment
A payments CRM is the ideal tool to help you work and compete smarter at a time when your rivals are scrambling. A good CRM, used to its full potential, offers improvements in efficiency and work quality that could be the difference between stagnation and growth, covering areas ranging from lead management to the sales process to cost management and beyond. 
Improved Lead Management
At their core, all CRMs are sales tools built around customer data. The right payments CRM enables you to significantly improve your lead collection and the efficiency of your sales funnel through better customer data management. As an example, IRIS CRM makes it possible to automatically collect leads from a variety of sources, pulling them into the system and creating a new lead account with no manual intervention required. Once a lead account has been created, the system automatically records every touch with the lead going forward and makes all collected data fast and easy to access. The system can also automatically categorize leads as they take certain actions and move through the sales process. The result is a fuller funnel and fewer good leads slipping through the cracks – two crucial aspects of efficient competition. 
A More Personalized Sales Process and Elevated Merchant Experience
Easier access to more complete customer data doesn't just move leads through the funnel quickly; it also significantly improves an agent's ability to deliver a high-quality, personalized sales experience to the merchant. Because agents can access all the stored data on each prospect in seconds, they can prepare for sales calls and meetings better and refresh themselves on the kinds of small details that make a prospect feel like they're the only prospect. A system like IRIS CRM can also provide agents with information on which website pages a lead has visited – even prior to the first phone call – helping minimize the time it takes to work out a merchant's needs and making it possible to nail the first impression like never before. 
Increased Efficiency and Reduced Costs
CRMs use advanced automation to speed up or even eliminate the most repetitive and time-consuming tasks your staff handle on a daily basis. In addition to automating lead collection and management, a system like IRIS CRM offers huge efficiency boosts at every level of your organization. Just a few of the ways it does that include:
Reducing the time it takes to onboard a new merchant

from 30+ minutes to less than five, or in some cases even a single click. 

Enabling agents to add payment gateways and value-added services to new and existing merchant accounts in just a few clicks. 

Centralizing all communications and document management to minimize the number of platforms each employee has to juggle. 

Speeding up and improving sales calling with a built-in power dialer. 
With a payments CRM, smaller teams can do more with less, keeping costs down while enabling you to compete with bigger ISOs, 
Faster Identification of Upsell and Cross-Sell Opportunities
The benefits of deeper and more easily accessible customer data don't just stop at leads. The ability to closely track, monitor, and manage each merchant as they sell also ensures that customer service staff and sales agents understand the needs of existing clients as they change over time – opening up more opportunities to generate new revenue from existing customers. For example, IRIS CRM's dispute monitoring system can help agents identify merchants struggling with chargebacks and friendly fraud, who may then be ideal candidates to upgrade with a value-added service like advanced fraud protection. 
With an uncertain year ahead, there has never been a better time to adopt a payments-specific CRM and all the competitive advantages that come along with one. IRIS CRM is the payments industry's premier customer resource management platform, offering not only a powerful sales platform, but a full suite of industry-specific tools to revolutionize your merchant onboarding and residuals management, as well. 
For a firsthand look at everything the industry's top payments CRM has to offer your ISO or PayFac, schedule a free guided demonstration of IRIS CRM today.