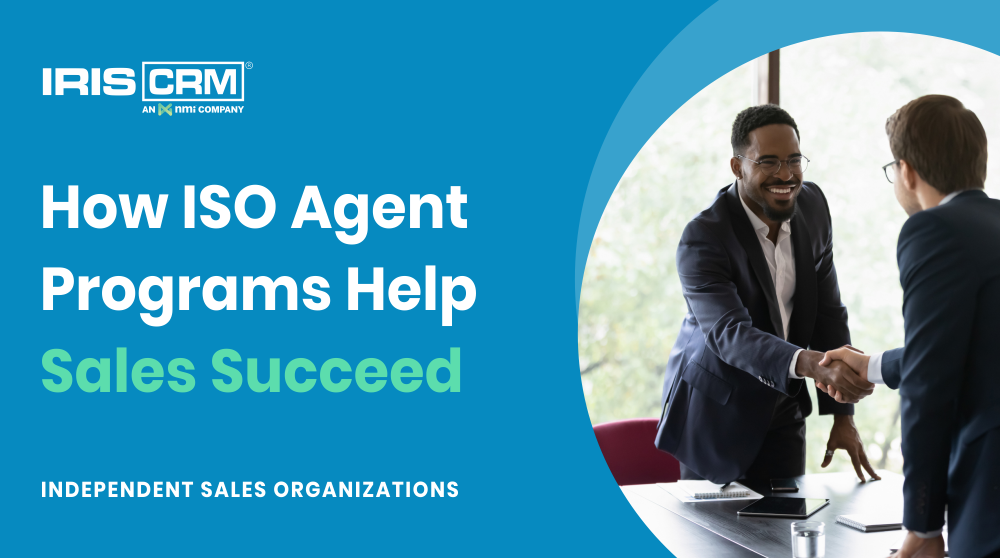 How ISO Agent Programs Help Sales Professionals Succeed in Payments
ISO agent programs help pair talented salespeople with independent sales organizations (ISOs) looking for help recruiting new merchants. They're just one method of entry into the merchant services space, but they offer some notable benefits to independent agents, including simplicity, structure, security, and more. The following is a brief rundown of what ISO agent programs are and why they might be an ideal choice for independent sales professionals in the payments space. 
What is an ISO Agent?
ISO agents, also known as independent agents or occasionally as "unregistered ISOs," are the sales professionals that perform the bulk of the recruiting and sales process on behalf of ISOs. Registered ISOs generally hire independent agents on contract, either directly or through open partnership programs. Just like the ISO they work for, the agent earns residuals on the transactions processed by any merchants they bring in, for the lifetime of that processing relationship. 
What is an ISO Agent Program?
ISO agent programs are a recruiting system used by certain ISOs to find independent sales people looking to work on their behalf. 
Different ISOs hire in different ways. Some use a more traditional process involving posting ads, selecting candidates to consider from a pile of resumes, conducting interview rounds, and so on. ISO agent programs aim to streamline that process, making it as fast and easy as possible for agents to find new work opportunities and sign up to start selling.  
A good ISO agent program provides obvious benefits to an independent sales organization. Reducing friction in the recruiting and hiring process saves them time and money. And since most agents work on commission, ISOs can afford to take on as many agents as they can get a hold of – including brand new ones – because they only pay if an agent brings in business.
How ISO Agent Programs Enable Success
ISO agent programs aren't just good for ISOs. They also offer real benefits to new and experienced agents alike, including faster access to new work opportunities, well-defined partnership structures, and, in some cases, valuable tools that can make their jobs easier. As a result, depending on the agent, partnering with an ISO through an agent program may be a better choice than looking for opportunities through job ads or referral introductions. 
ISO Agent Programs Offer Easy Access to Partners
First and foremost, ISO agent programs make it as easy as possible for independent agents to get started selling. Experienced agents with years or potentially decades of experience and a long track record of success are in high demand in the payments industry. Those agents don't need to look for opportunities because ISOs are seeking them out. But less experienced agents or outside salespeople moving into payments from a different industry generally have to make their own opportunities and seek out partnerships. A good ISO agent program often makes that as easy as filling out a form online, waiting for a callback, and signing a contract. 
ISO Agent Programs Offer Well-Defined Structure
The payments space is complicated, and an independent agent's relationship with an ISO has the potential to be complicated, as well. In some cases, ISO agents negotiate the terms of their contracts on an individual basis or even on a merchant-by-merchant basis. The most successful and experienced agents have a great deal of leverage that can make that additional complexity very worthwhile for them. But, for less experienced agents, the more simple, straightforward, and easy-to-understand a partnership is, the better. In those cases, ISO agent programs really stand out. 
ISO agent programs are often designed to be highly structured and standardized in order to make the recruitment process faster and easier for everyone involved. Agents signing up agree to a set of standardized terms that clearly define their residuals, the timelines for disbursements, potential bonuses that can be earned, and more. There is no need for an agent to worry about negotiating terms because everything is set and laid out for them. Instead, they can get started selling and earning as quickly as possible. 
ISO Agent Programs Offer Stability
One big benefit of ISO agent programs is that they're generally run by larger ISOs for whom designing and managing such a program is worthwhile. That means agents signing up through a program are likely to gain the stability that comes from working with a large, well-established partner. Not only does that help ensure the agent that the merchants they bring in will always have access to top-notch service, but it may also help close deals if the ISO has a well-known reputation. 
ISO Agent Programs May Offer Sales Enablement Tools
Large, well-structured ISO agent programs often provide ISO sales tools to help agents sell merchant services more efficiently. The tools available through a program can have a huge impact on an agent's ability to earn, making sales enablement an important factor when selecting which program to work with. 
One example of a sales enablement tool that can change the game for independent agents is customer resource management (CRM) software. An ISO offering CRM access provides agents with an invaluable force multiplier, enabling each agent to work with more leads, improve the quality of the sales process, shorten the time it takes to close deals, and, in turn, earn more. 
For example, IRIS CRM, the payments industry's top customer resource management system, offers agents a full suite of sales and productivity tools, including:
Automated lead collection to keep the top of the sales funnel full

Automated lead categorization and management to ensure fewer good leads slip through the cracks

Access to the most thorough data possible on each lead in a matter of seconds

Automated and pre-scheduled follow-ups to keep lines of communication open over time

A built-in power dialer to make sales calling more efficient

Integrated email, scheduling, and SMS messaging to enable agents to handle the entire sales process from one place

Advanced web analytics that show which pages and products individual leads are most interested in, shortening needs discovery
And much more. 
Agents can also sign up for IRIS CRM directly in cases where a customer resource management tool isn't available through their ISO partner. IRIS CRM's unique billing structure makes it one of the most affordable and flexible CRMs available and ensures an agent's sales tools will always be ready to grow alongside their business. 
To find out more about how IRIS CRM can make it faster and easier to sell merchant services and improve ISO agent programs, click here to schedule a guided demonstration today.