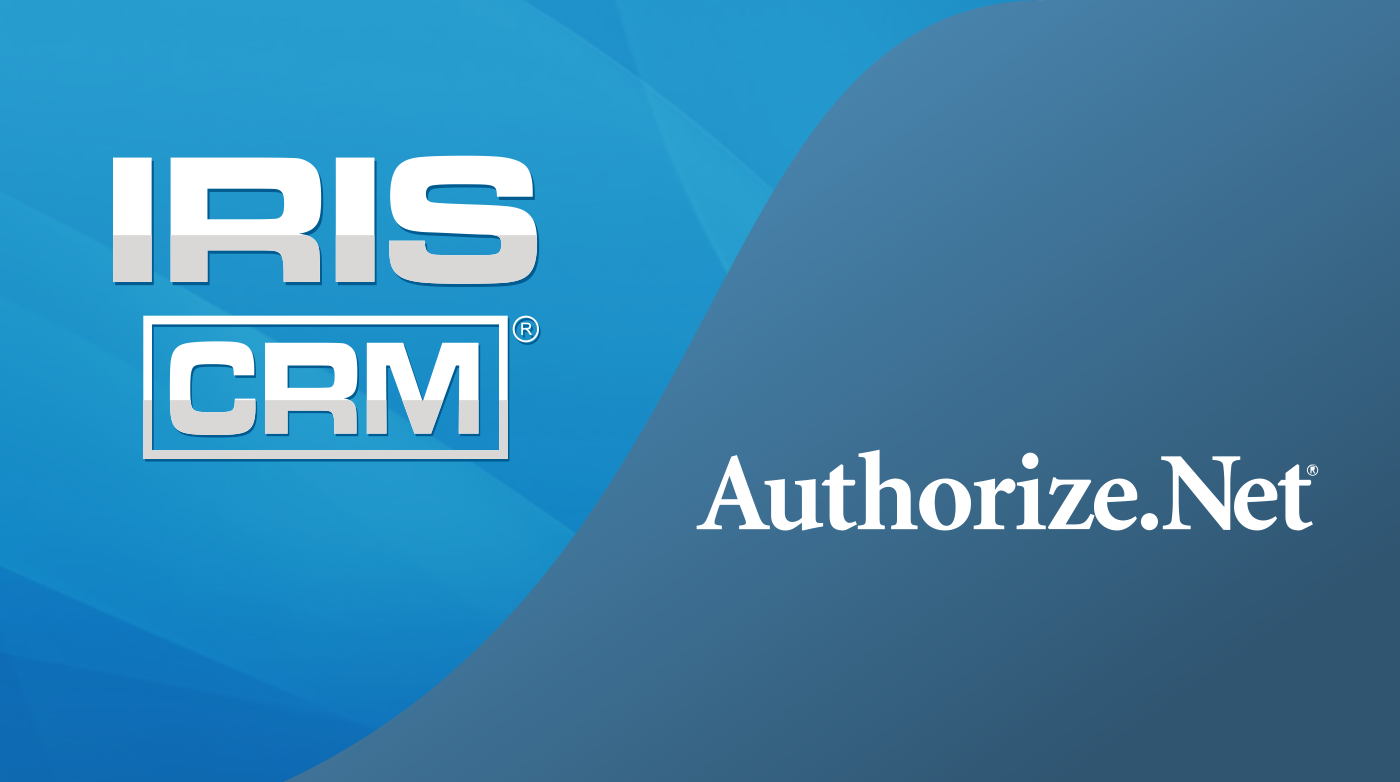 How to Start Reselling Authorize.net Gateway Services with IRIS CRM
Most people in the merchant services industry are very familiar with Authorize.Net. The popular gateway provider has been providing quality service to the marketplace since 1996, driving billions of transactions to processing networks in the years since.
Merchants are also likely to be familiar with Authorize.Net as one of the most established brands in the gateway space, making Authorize.Net a valuable partner for your ISO. ISOs can grow monthly residuals by reselling Authorize.Net's powerful gateway services, in addition to their value-added features.
With Authorize.Net, merchants receive a variety of valuable features to take their electronic payment processing to the next level. Merchants can accept all major card types, including Visa, Mastercard, Discover, American Express, and JCB. They can even accept popular digital wallets including Apple Pay, Chase Pay, and Visa SRC, making it more convenient than ever for customers to purchase their goods and services.
Beyond just electronic payments, Authorize.Net also provides benefits for merchants' in-store payment solutions. When combined with EMV-compliant payment hardware, Authorize.Net provides the ability for merchants to accept swipe and tap payments as well. 
In addition to these powerful features, Authorize.Net also offers value-added features that your ISO can re-sell to provide even more value for merchants and more residuals for your ISO.
Grow Your Residuals with Authorize.Net
Every merchant needs gateway services to do business. The question is not whether they are going to need gateway services, but rather whether they are buying gateway services through another provider, or through your ISO.
IRIS CRM provides a fast, efficient way to onboard merchants to Authorize.Net, which makes offering Authorize.Net services to grow your residual portfolio easier than ever. IRIS CRM's Authorize.Net merchant boarding integration enables ISOs to onboard merchants using Authorize.Net gateway services to Chase Paymentech, Elavon, First Data Nashville, First Data Omaha, Global Payments, and TSYS. 
The benefits of offering Authorize.Net gateway services to your merchants are significant. First, your customers will be spending their money with you, rather than a third-party provider. 
If you're not providing gateway services through your ISO, it can actually make your sales process more difficult as well. Merchants will need to connect and engage with a gateway service provider before they can start selling — which means you'll have to wait even longer to start generating residuals from that merchant.
By reducing the friction of seeking out a secondary provider for gateway services, you can speed the growth of your residuals portfolio and make your merchants happier at the same time.
Once you are set up to re-sell Authorize.Net gateway services, you can set the monthly and per-transaction prices — effectively turning Authorize.Net's powerful gateway services into a new source of residuals beyond your transaction processing fees.
Beyond the monthly and per-transaction prices, ISOs can also re-sell Authorize.Net's value-added features. These include eCheck Processing, Advanced Fraud Filtering, Customer Information Manager, Automated Recurring Billing, Account Updater, and Custom Invoicing.
3 Steps to Reselling Authorize.Net Services with IRIS CRM
To start reselling Authorize.Net services to your merchants, head to the IRIS CRM Helpdesk and launch a new Authorize.Net boarding ticket. If you have a specific merchant in mind that you'd like to onboard, navigate to the merchant's account dashboard, and click on the "tickets" tab. Either way you choose, onboarding new merchants to Authorize.Net can be done in a minute or less with IRIS CRM's powerful automated data entry solutions. 
Step 1: Verify Merchant Information
The first step is to verify the merchant's vital information. Luckily for you, IRIS CRM automatically imports up to 17 fields of this key information which means you can review the information, make any updates that are needed, and proceed to the next step. If you'd like, you can also add a reference number at this stage.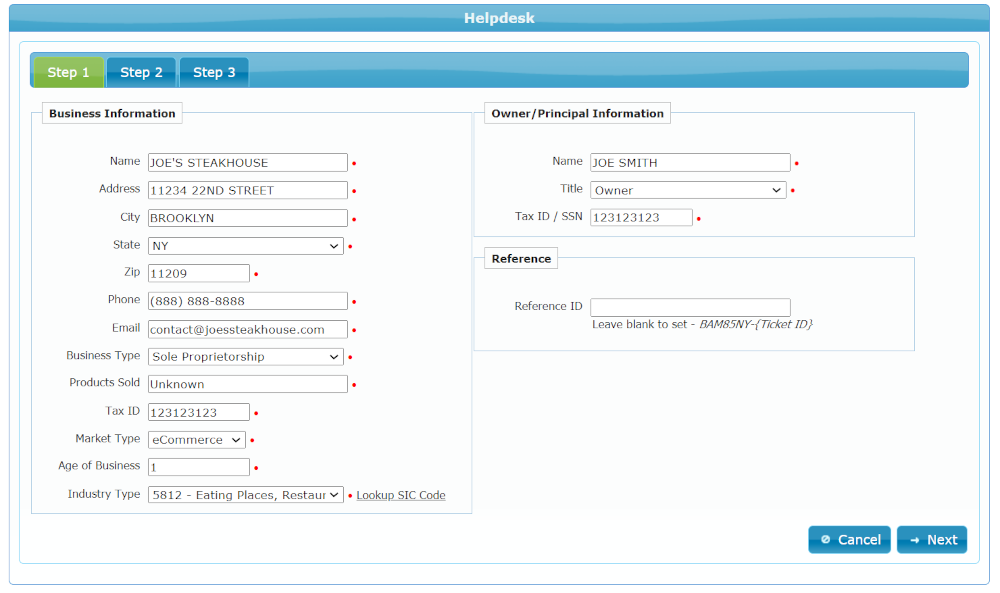 Step 2: Select Payment Methods and Processor Information
The next step is payment methods, during which you select the services for your new merchant. Beyond credit card payments (which are selected as a default), you can select "eCheck.net" payments as well to give merchants even more flexibility.
Next, you can select the Authorize.Net value-added services that you'd like to resell to merchants including advanced fraud detection, automated recurring billing, and the Authorize.Net Customer Information Manager.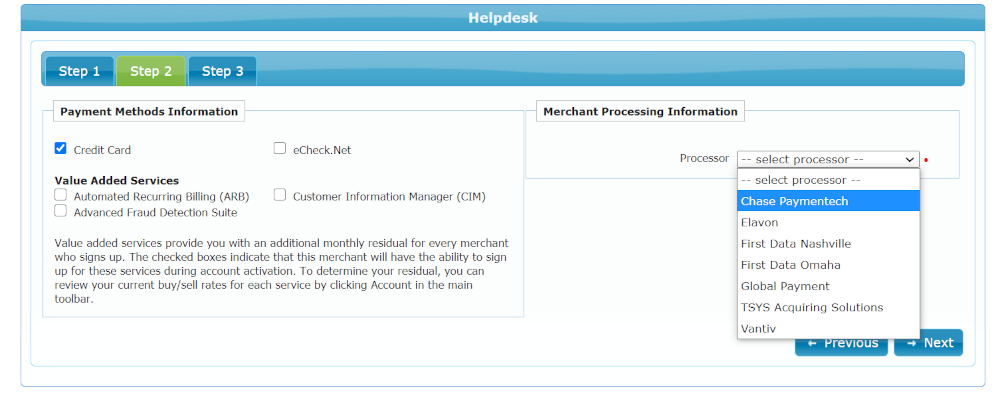 Step 3: Setting Your Pricing
You've reached the final step, and all that is left to go is setting your pricing for Authorize.Net gateway services and any value-added features that you've selected for the merchant. First, make sure that IRIS CRM imported your merchant's banking information correctly. Once you've confirmed this information, you can start setting the fees for your merchant's new Authorize.Net services. 
The fees that you can set include monthly, per-transaction, and per-batch fees for each service that your merchant has selected. In this step, you can clearly see your margins for each service and value-added feature to ensure that you are 100% on top of your business.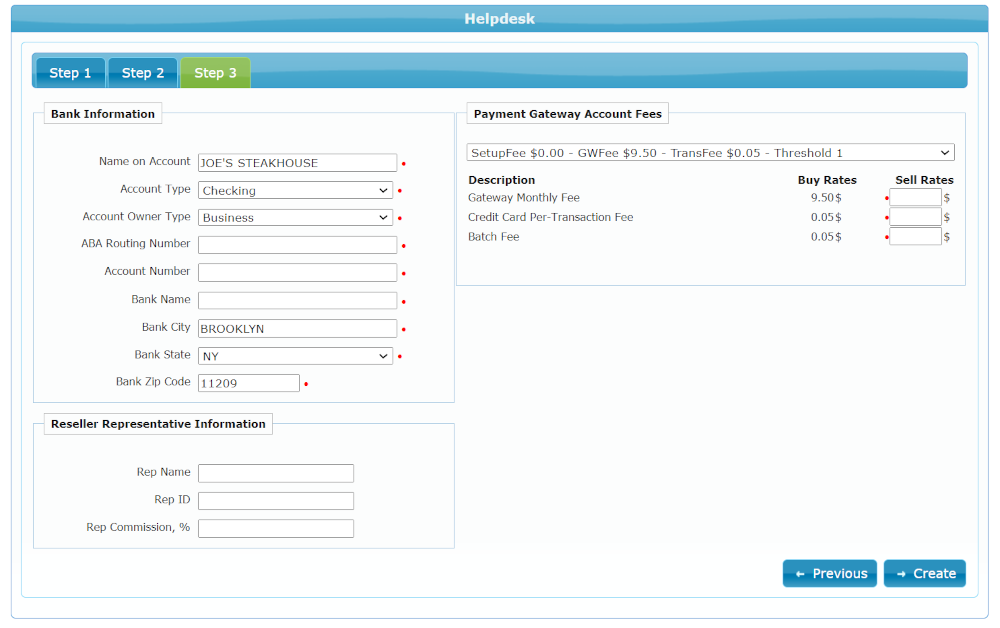 Beyond the pricing, this stage is also where you can add any representatives that worked on the account and set their commissions for the services you're setting the merchant up with. Once you're satisfied with the pricing settings, click "create" and your merchant can start using Authorize.Net's powerful services and features right away. 
This also means that you can take a merchant from deciding they want to use Authorize.Net to producing residuals for your business in minutes, instead of hours or days! 
Book a free guided demonstration of IRIS CRM's Authorize.Net boarding integration today to see for yourself exactly how fast and convenient onboarding merchants to Authorize.Net becomes with the power of IRIS CRM.