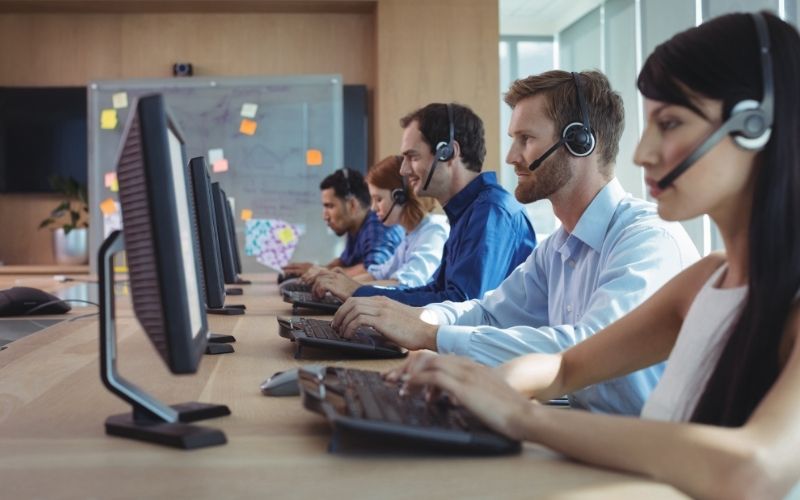 IRIS CRM Call Center Software Features and Benefits
IRIS CRM — the payments industry's number one customer resource management (CRM) platform — is known for its wide set of sales and productivity features, one of which is an integrated call center that provides all the functionality of a leading power dialer while connecting with and enhancing the CRM more seamlessly than any competing third-party integration can. 
The call center itself is extremely feature-rich, with tools designed to enhance productivity, improve answer rates, better inform managers, create new training opportunities, and much more. The following is an overview of just some of IRIS CRM's call center features, what they do, and how they benefit sales organizations like yours. 
Call Center Uses Cloud-Based Calling
IRIS CRM's call center is completely cloud-based, requiring nothing more than a computer, a headset, and an internet connection. The call center does everything a traditional enterprise phone system can and much more, and all the features are delivered seamlessly over the web, right through the CRM. 
Benefit: Going with a cloud-based call center means you'll never have to spend another cent on the expensive hardware that traditional enterprise phone systems rely on. No specialized hardware also means no specialized maintenance, and VOIP calling is also significantly more cost-effective than plans on hardwired landlines. IRIS CRM's cloud-based call center will save you money across all of your calling operations while expanding the number of calling tools you have available. 
Call Center Automatic Dialing
IRIS CRM's call center allows agents to build their daily calling lists into one or more queues that the system can work through automatically, without the need to ever dial a number manually. In addition to queues and automatic dialing, agents can also launch calls with a single click from within any lead account in the CRM. 
Benefit: Manual dialing is time-consuming and completely unnecessary. IRIS CRM's call center enables agents to spend less time pressing buttons and more time on calls with prospects, leading to more closes and more revenue. Eliminating repetitive manual dialing also reduces the repetitive mental strain on agents, creating a healthier work environment and lower turnover. 
One-Click Voicemail Drop
When a call fails to connect, IRIS CRM's call center allows agents to select a prerecorded message and leave it for the recipient with a single click. When one-click voicemail drop is activated, the call center moves the agent on to the next call while keeping the previous line open in the background so the system can leave the prerecorded message without interfering with overall call flow.
Benefit: Every second spent waiting for the beep is a second wasted, yet agents often have no choice but to sit through long welcome messages in order to salvage an unconnected call. IRIS CRM's call center allows important messages to be delivered without a single second of delay, ensuring agents work as efficiently as possible regardless of whether a prospect picks up or not. More time on calls means more prospects contacted each shift — a key driver of success in sales calling. 
Local Presence for Your Call Center
Local presence allows agents to select their outbound phone number from a list of fully-owned numbers available in the call center. Agents can select the number that best matches the geographical area of the prospect they're calling, and then any calls made while that number is selected will display it on the recipient's call display screen. Agents can also buy new numbers as needed from right inside the call center backend, ensuring they'll never be forced to dial from a static number, no matter where a prospect may be.  
Benefit: Seeing an unfamiliar number on call display sets off alarm bells and often results in calls being ignored. As a result, many sales organizations see their answer rates gutted whenever out-of-area prospects are being called. Local presence allows agents to match their number to their prospects, ensuring a familiar number always comes up on call display and boosting answer rates by as much as 60%. 
Advanced Call Center Metrics
The seamless integration of IRIS CRM's call center with the rest of its CRM features allows users to access advanced calling metrics through the IRIS CRM reporting dashboard. User-level metrics include caller, receiver, time of call, call duration, recordings, leads, call direction, and call outcome. 
At the group level, users can access data on dials, voicemail drops, inbound and outbound connects, inbound and outbound talk time, wait time, and wait time percentage. The reporting interface can be customized to maximize clarity, and custom data ranges can be set to ensure the needed data can be easily accessed. 
Benefit: As the old saying goes, you can't manage what you can't measure. IRIS CRM's advanced call center metrics provide managers with the insight they need to track the success of calling operations, identify areas for improvement at the group and user level, identify top performers, and maintain a higher level of overall awareness on how long-term plans are panning out in real-time. 
Listen-In, Whisper, and Barge Functionality
IRIS CRM offers a number of features designed to allow managers to perform real-time monitoring and training of agents on calls. The call center's listen-in feature allows managers to enter any live call silently to evaluate the agent's performance and regulatory compliance. Whisper allows managers to speak to the agent mid-call without the recipient hearing — an outstanding real-time training tool. Barge allows managers to enter a call on both sides, addressing the recipient as well as the agent when intervention or additional assistance is needed. 
Benefit: Real-time monitoring and intervention tools are exceptionally beneficial to employee sales training. In addition to call recording and the call center's advanced analytics, they give managers deep insight into how each agent is performing. But, beyond the raw numbers, the ability to listen to calls in real-time also allows managers to get a sense of an agent's confidence and style so that specific strengths and weaknesses can be identified. Personalized training regimens can then be developed to help each agent reach their maximum potential, maximizing company revenue in the process.
There is arguably no more powerful sales tool than a CRM platform integrated with a good cloud-based power dialer, and IRIS CRM's built-in call center offers a level of integration unmatched by any of our competitors. To find out more about the call center, its many sales, productivity, and management features, and everything it can do for your sales organization, schedule a free guided demonstration of IRIS CRM today.