IRIS CRM Dispute Responder
We are pleased to announce the release of the Dispute Responder—IRIS CRM's revolutionary new solution that offers complete, end-to-end dispute management.
The Dispute Responder ensures that your merchants will always be alerted the instant a new dispute is entered with Fiserv so that no merchant will ever again lose a case because they failed to receive the notification, or received it so late there wasn't time to put together a compelling response. 
Dispute Responder also makes filing response significantly faster and easier, providing both the ISO and the merchant with all of the information necessary to compile evidence and begin a response on day zero, from a single dashboard, in a matter of a few clicks. 
The result is more disputes won, more revenue recouped, happier, more loyal merchants, and the healthier residuals that come along with that.
And best of all, the revolutionary new Dispute Responder is already included in your ISO's IRIS CRM subscription!
Let's take a look at some of the exciting features and benefits of the Dispute Responder.
Instant Notifications and Automatic Follow-ups
Whenever a new dispute or retrieval is entered into Fiserv's system, the Dispute Responder will automatically send an instant notification to the ISO and the merchant, both logged in the CRM and via email.
Unless the response has already been filed, automatic follow-ups will also go out on day one and day three of the response window.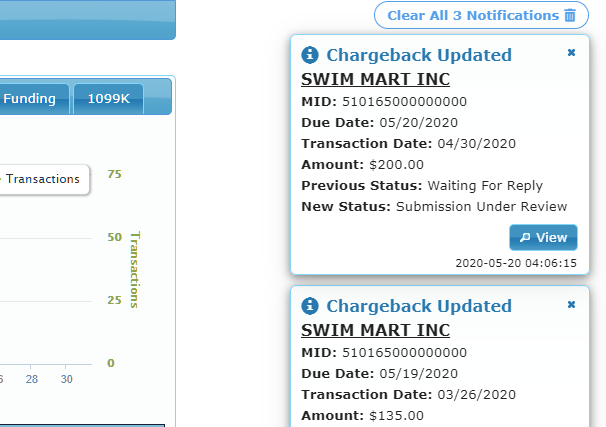 With the Dispute Responder, no merchant will ever again have to worry about failure to receive notice or a shortened response window due to slow snail-mail notifications. 
Highly Detailed Integrated Notifications
When the Dispute Responder sends out a dispute notification, it includes a wide variety of important information, providing the ISO and merchant with a clear picture of the situation immediately, at a glance.
The notification email includes:
Merchant ID

Business name

Response due date

Case number

Transaction date

Type (chargeback, retrieval)

Amount disputed

Total transaction amount

Card number (last four digits)

Reason

Dispute status

Attached messages (if applicable)
Not only does the Dispute Responder ensure that ISOs and merchants are immediately made aware of new disputes, but it also provides every piece of key information needed to get started on a response, right from the first notification. 
Easy, Paperless Electronic Response
The Dispute Responder provides a reply button alongside each new dispute, enabling the merchant (or the ISO) to get started on their electronic response with a single click.
Clicking that button opens a pop-up window that provides the user with everything they need to fully file their response without ever having to leave the screen.
The system generates an easy-to-use checklist of available evidence types based on the reason code for the chargeback.
It also provides an editable text field enabling the user to write out a custom message for inclusion with their submission.
Finally, users can simply upload electronic copies of any evidence they want to include in their response and then submit the response. 
It's that simple – a complete chargeback response, performed from a single screen!
Reduction in Workload on Dispute Managers or Departments
Disputes are a reality of doing business, especially for high-volume sellers.
As a result, most high-volume merchants will have an employee dedicated to handling chargebacks at the very least, if not an entire department.
Because the Dispute Responder ensures immediate notification and makes the response and management process so easy, it both reduces the number of employees needed to cover dispute management and makes the process faster, easier, and less tedious for the reduced staff handling the responses. 
Full Reporting for ISOs
On the ISO-side of the system, the Dispute Responder provides complete information on each and every chargeback an enabled Fiserv merchant has dealt with, across the ISO's entire Fiserv portfolio.
ISOs can easily view all incoming disputes for all Fiserv merchants, sortable using custom date ranges and custom groups.
Not only does that enable your ISO to stay on top of disputes to protect your own interests, but it also helps you to identify high-chargeback-volume merchants that might either need your assistance or simply be more trouble than they're worth.  
New Service Options for ISOs
Because the Dispute Responder instantly notifies both the ISO and the merchant, ISOs are constantly in the loop regarding all new chargeback and retrieval requests for their enabled Fiserv merchants.
That means ISOs that choose to can offer to handle the response process on behalf of the merchant, opening up a potential new service offering and a new stream of revenue. 
Access to Historical Documentation
With the Dispute Responder, you can easily access complete documentation and information on previously submitted, decided, and expired disputes in a matter of a few clicks.
Each dispute is laid out clearly in a chronological format, and a simple click on the "Details" button beside any prior dispute brings up instant access to copies of all relevant documentation, both electronic and scanned hard copies.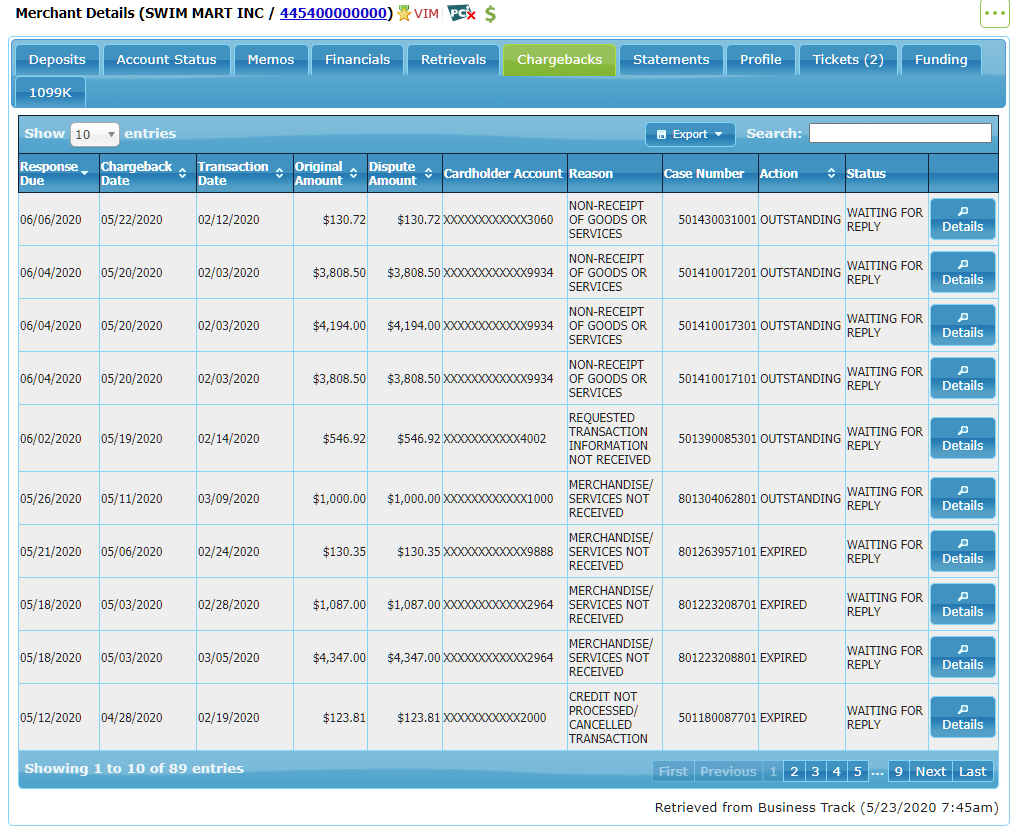 Easy Export for External Use
The Dispute Responder makes it simple to export any desired dispute resolution history in XLS or CSV format.
That makes it easy to process documentation and history in preparation for use with outside accounting software like Quickbooks, or for any other desired purposes. 
To learn more about how the Dispute Responder can revolutionize your ISO's dispute management process, book a guided demonstration today!
More exciting updates are on the way so stay tuned!
---
For sales tips and the latest electronic payment news check out the daily IRIS CRM Daily Bulletin and for the latest product updates and company news please join our newsletter.