IRIS CRM July 2022 New Features
The IRIS CRM team is off to a busy start to the summer with numerous new features that make life easier, especially for administrators, including a couple of TSYS FSP specific features.  Clients can look forward to saving more time when managing their site and additional settings for tailoring the behavior of IRIS CRM to each of their unique workflows. 
In this update, learn how you can further customize web forms and ticket attachment behavior, save time on user imports, manage your TSYS hierarchy and see custom fees, as well as set up multiple SSO connections. There's a little something for everyone, so make sure you read on to see how you can further improve your organization's efficiency with IRIS CRM.
Web Forms Group Assignment on Links
Our latest addition to our new Zero-Code Web Form Builder is default group and user assignment per link. This allows you to combine a default value template with a group and auto assigned users to provide referral partners and agents with unique links, preventing the need to recreate the same form for each of your unique workflows. 

Ticket Attachment Update
We have implemented new settings to control which files that are attached to helpdesk tickets get linked to their associated lead record, thanks to client feedback after the initial attachment linking was released. To configure them, go to file labels in site administration or add "/manage/filelabels" to your site's URL.
There are three new settings options for linking ticket attachments to leads based on their file label. First, the existing behavior, where all files of this type will automatically be added to the lead record — with the added option of selecting which lead attachments tab it is added to. 
The second option puts the power to link attachments in the hands of the user working the ticket by prompting them to link the ticket's attachments or not, as well as which lead attachments tab they are added to when marking the ticket as resolved. The user can select all, or a specific subset of attachments, to link and they will only be prompted to choose for files with labels that are set to prompt the user.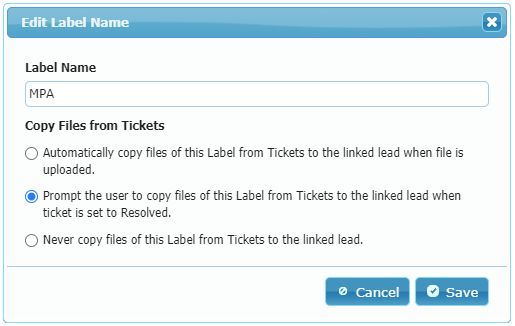 The third option is not to allow attachments with the specific file label to be linked to the lead at all, ever. This option is beneficial for informational documents or empty files you are sending to be reviewed/filled out so there isn't generic or useless blank documents on lead records. 

Custom Pricing Fields in Merchant Reporting
TSYS FSP and First Data North ISOs can access custom pricing fields in the merchant overview page ("/merchant") to view all merchant data in one place. On the merchant table, the fields can now be selected and displayed in their own column. The data comes from the Pricing Information section on the merchant record's Account Status tab.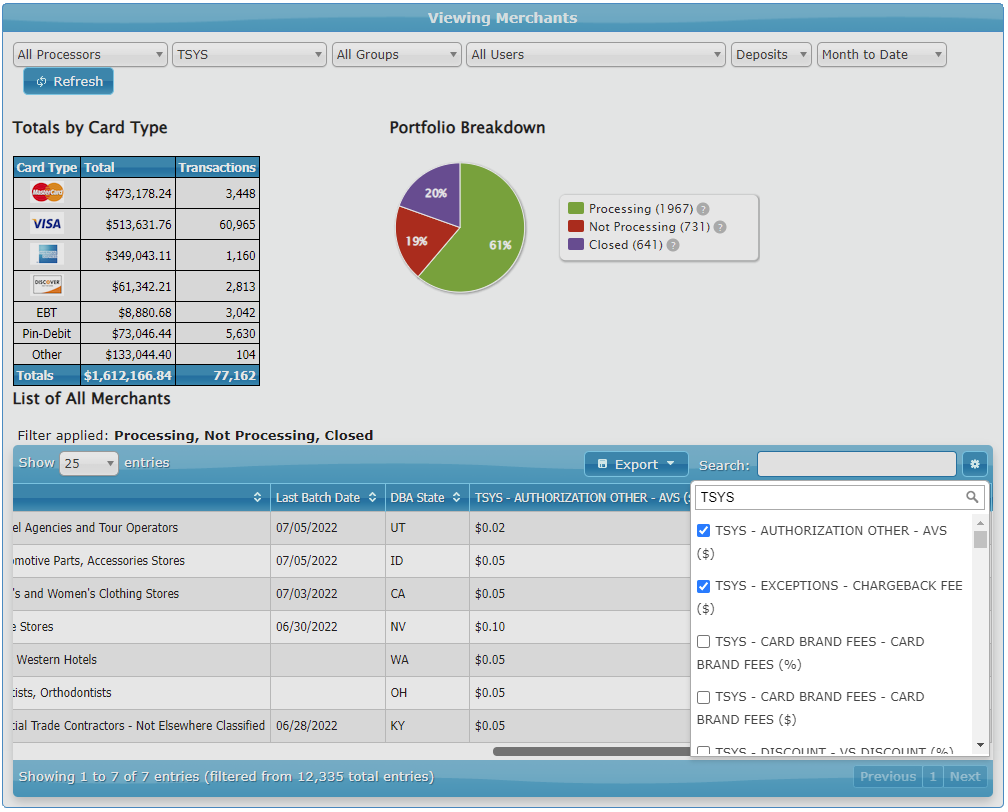 TSYS Hierarchy Admin Page
TSYS FSP ISOs are now able to manage their hierarchy with a new, dedicated administration page to add, import, and edit associations. Prior to this, there was limited functionality to do this via default values in TurboApp. 
With the new administration page, you have more control and can easily import associations rather than doing all of them manually. We've also made it easier to update the TurboApp defaults to use either Association or Bank defaults to save time and streamline hierarchy management.
To access the hierarchy admin page, add "/manage/tsys/hierarchy" to the end of your IRIS CRM URL.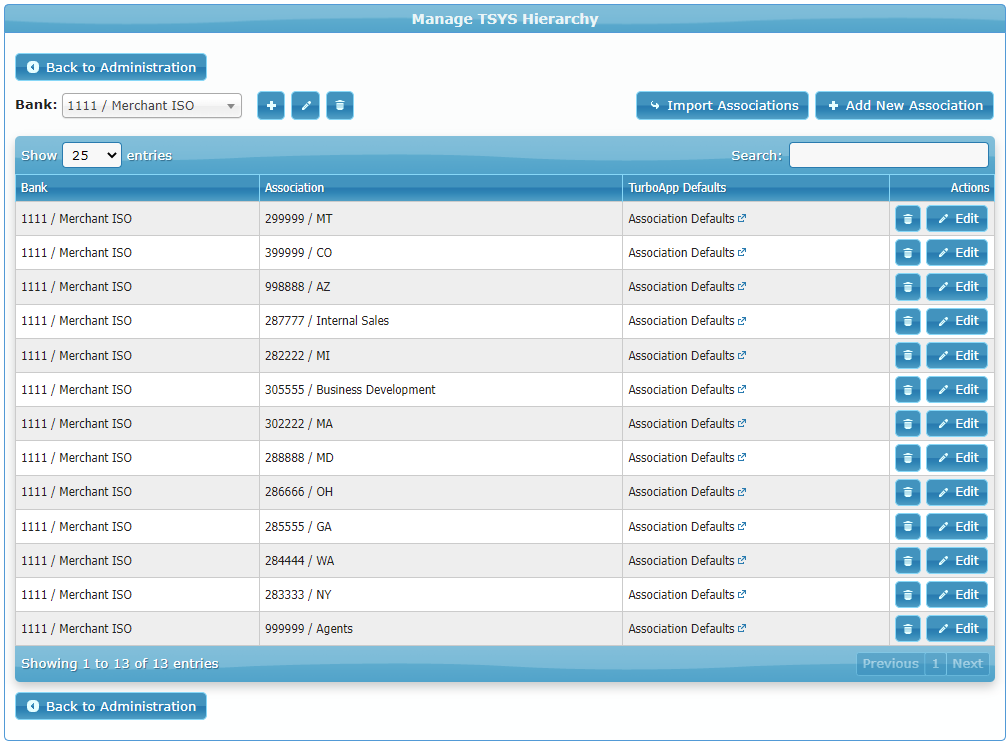 Set User Class and Group During Multiple User Import
When adding multiple users via the setup wizard ("/setup") or spreadsheet import, the ability to set the user class and group has been added. By enabling group and user class it's even easier to mass add users and skip updating individual user settings after the initial import.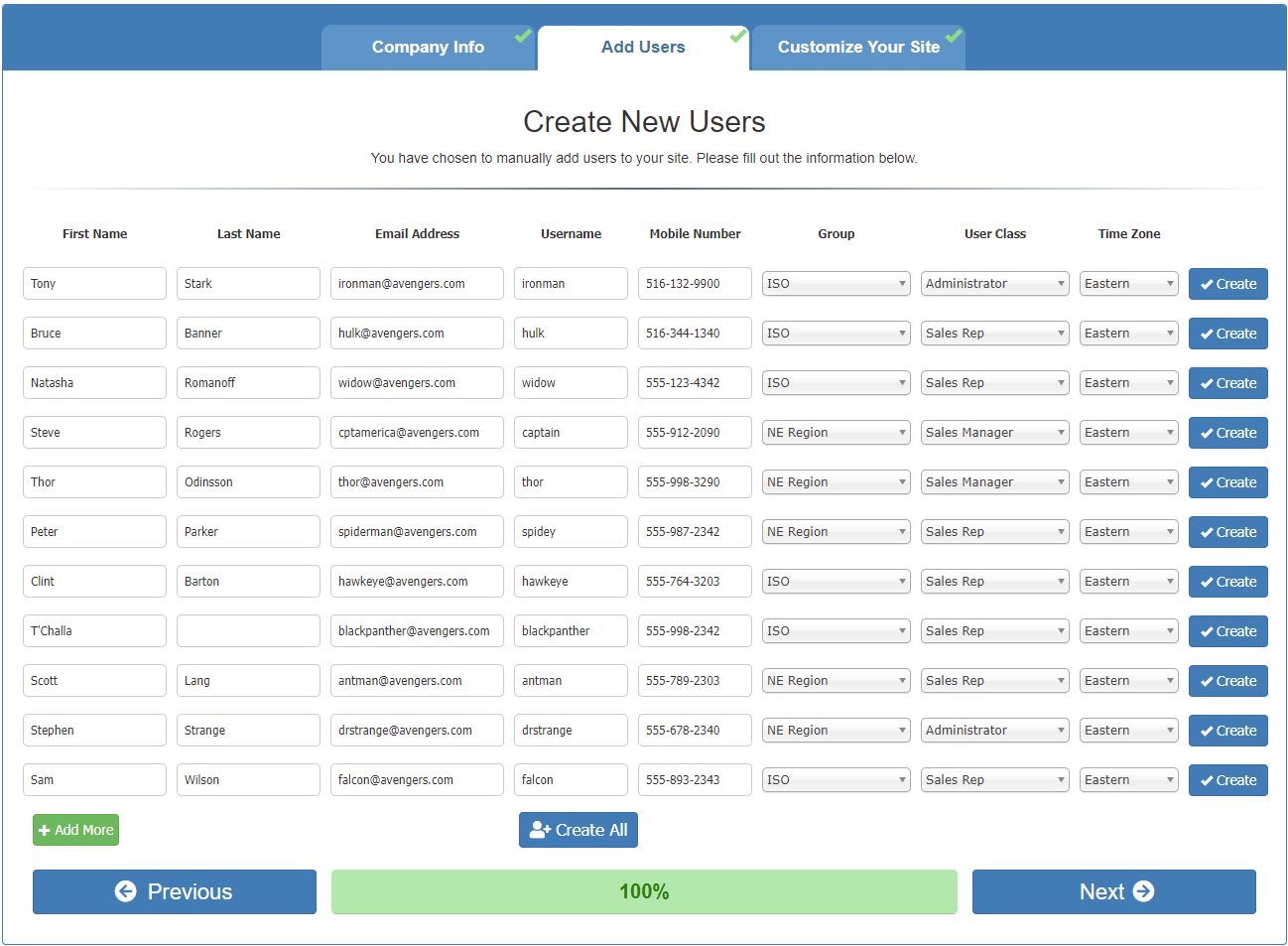 Multiple SSO Connections
IRIS CRM's single sign-on (SSO) functionality has been expanded to allow for more than one connection. In addition to configuring more than one SSO connection, we've added a setting to force users to use SSO as their login method to ensure adherence to your security policies. Limiting sign-in to SSO can be set per group, user class, or individual user. Use multiple SSO connections and require its use to tailor IRIS CRM login to business units, departments, groups, or security requirements for maximum effectiveness. Single sign-on can be configured in site administration or by adding "/manage/sso" the end of your site's URL.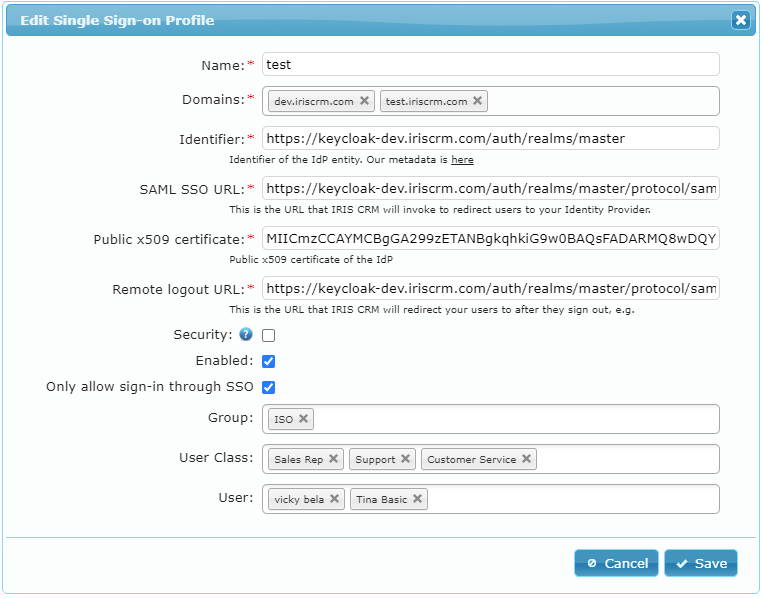 From TSYS FSP ISOs to Retail ISOs to Payment Facilitators to Sponsor Banks and everywhere in between, IRIS CRM offers the essential payments-specific functionality that your merchant services business needs to scale. If you're not already a client, schedule a demo with our team so you can see all of the tools IRIS CRM offers, all included in our unlimited user pricing model!