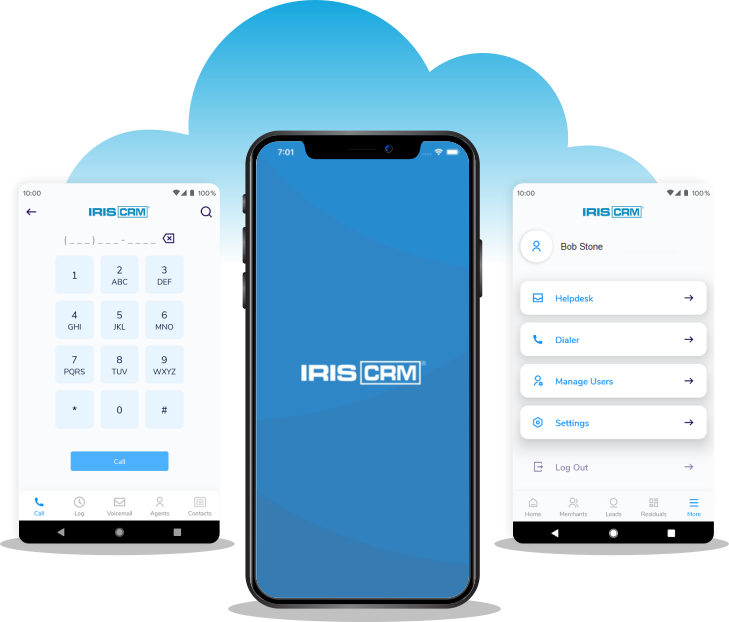 IRIS CRM Mobile App: Manage Your ISO from Anywhere
IRIS CRM offers your ISO the ability to compete better in a tight payments industry by improving lead management and sales, merchant onboarding, residuals management, decision making, merchant service, and much more. But, unlike many CRMs, improving operations with IRIS CRM doesn't tie your agents, managers, and operations staff to their desks, thanks to the full-featured  IRIS CRM mobile app. Whether your staff uses iOS or Android devices, they'll be able to tap into the full power of IRIS CRM any time, anywhere. The following is a quick overview of the five primary tabs in the app and some of the features available within each to help your agents do their jobs better both in the office and the field. 
Mobile App Home Tab:
The home tab of the IRIS CRM mobile app is all about giving you the high-level information you need to gain an instantaneous picture of your business, at a glance. It's broken down into three sub-tabs you can toggle between for a complete high-level view of your ISO's operations. 
Top Performers:

This tab shows your overall volume and transaction totals for the month broken down by card type and your ten best merchants across your entire portfolio, including their monthly gross sales and transaction totals. 

Portfolio Totals:

An at-a-glance view of your ISO's lifetime processing totals broken down across Visa, Mastercard, Amex, and Discover, presented in a neatly organized table displaying sales volume and transaction totals. 

Approvals:

View the month's approved account activity in a simple and easy-to-read bar graph indicating how many merchant accounts are processing, not processing, and have been closed. 
Mobile App Merchants Tab:
The merchants tab is where you go for a deeper dive into the performance of your merchants. When you land on the tab, you'll be able to scroll through each of your merchants, in order of monthly gross processing amount, with each merchant's widget displaying their MID, monthly gross sales, transactions, processor, industry, activity status, and "very-important merchant" status. 
You can also filter the displayed results by processor, industry, last batch start time, last batch end time, activity status, and VIM status, enabling you to quickly cut through the information you aren't looking for to find the exact information you need. Once you've found the merchant you're looking for, clicking on their widget brings up a complete merchant profile, including their deposits, account status, memos, financials, disputes, statements, and more. 
The merchants tab is fully filterable and is an ideal tool for staff in the field that need to reference key data about a given merchant for sales, service, or support reasons. It puts the full power of IRIS CRM's merchant tracking in your team's hands no matter where they are. 
Mobile App Leads Tab:
The Leads tab brings IRIS CRM's robust lead management features to your agents' and managers' mobile devices. It starts with a list of all of your lead categories. Clicking a category opens a dropdown containing each lead currently holding that classification. Each lead's summary displays their name, the rep assigned to them, their elapsed time at their current status, the last update date and time, and the last task. 
Clicking any lead's summary brings up their full lead profile. From the full lead profile, users can access:
Business Information: DBA, contact information, legal information, and more.

Financial Profile: Merchant type, SIC code, bank information, sales breakdown, and risk assessment. 

Owner: Full collected information on each individual owner. 

Pricing: Packages, discount rates, transaction fees, service fees, and processing flags. 

Equipment: Full details on terminals being used, purchase prices, lease/rental status, and more.

E-Apps: Stored electronic applications across all processors. 

Attachments: All files attached to a lead's account in the CRM. 

Notes: All historical notes attached to the lead's account by agents throughout the sales process.  
Mobile App Residuals Tab:
The residuals tab enables fast and easy referencing of key residuals data at the portfolio-wide, processor, and merchant levels. Upon opening, the tab displays your ISO's total lifetime residuals as well as the lifetime volume, transactions, ISO net, and agent net for each of your processors. Clicking on any processor brings up each merchant onboarded to them with full merchant residual information, including volume, transactions, income, expenses, ISO net, BPS, agent split, and agent net. 
Residuals are the lifeblood of your ISO, and the IRIS CRM mobile app makes keeping track of them easier than ever, ensuring you always have the business intelligence you need to make great decisions no more than a few taps away. 
Mobile App More Tab:
The More tab gives you instant access to a variety of other IRIS CRM features, including the ability to:
Create, view, and resolve support tickets through the system's built-in helpdesk. 

Access IRIS CRM's industry-leading power dialer, including the ability to make VOIP calls, access call logs, monitor agent status and performance, access contacts, and more. 

Add, remove, and manage users based on account-level permissions. 

Set and manage account-wide notifications for everything from calendar events to emails to help tickets to application submissions and beyond. 
IRIS CRM's mobile app untethers the benefits of customer resource management from the office and puts them at your team's fingertips whether they're working from home, presenting at a client's office, out for lunch, or anywhere else great merchant sales, service, and support might occur. 
To find out more about everything IRIS CRM offers, including its mobile app, schedule a free guided demonstration of the full platform today.