IRIS CRM Q4 Mobile Application Enhancements and Easy Download Link
We're excited to announce the addition of several new features for IRIS CRM's mobile app! 
IRIS CRM's recently updated mobile app is a powerful on-the-go solution for ISO administrators, sales agents, and merchants. 
Sales agents are often on the move, so it's important that they are able to access and update key information from the field without needing any additional equipment beyond their mobile device. ISOs and agents can access merchant data, lead data, residuals, the Helpdesk, and their phone system through IRIS CRM's mobile app directly from their phone or mobile device.
Merchants can also gain the benefits of IRIS CRM on-the-go. Merchants can access a tailored view of the app with daily reporting for all transaction types. They can also set up notifications for deposits and disputes and manage their accounts all in one place from both desktop and mobile.
We have now developed 3 powerful new features to make IRIS CRM's mobile app even more effective. Read on for a summary of the new features, and you can conveniently download IRIS CRM's app on the App Store and Google Play via the following links:
IRIS CRM Mobile App Notifications
Our clients requested real-time and interactive notifications so we delivered.  IRIS CRM's app for iOS and Android devices now enables your whole team with additional flexibility while on-the-go. Mobile app notifications are sent through IRIS CRM's mobile app, bringing the power of real-time updates to phones and tablets with our latest iOS and Android enhancements!
The content for mobile and desktop notifications is essentially the same, but now IRIS CRM provides the ability to designate the preferred delivery method for each individual notification which choices ranging from email, pop-up, and/or mobile app notification. These recent enhancements reflect our continued dedication to providing a flexible Merchant Services CRM designed for the payments industry that is easily customizable to your specific organization's needs across the vast set of features and functionality in IRIS.
Want to see when Helpdesk tickets are resolved on your phone, but not on your browser? Flip a switch and you're all set.  Prefer to get an email when you miss a phone call, but not on your mobile device? You can do that too!
The customization options are designed for flexibility, making it incredibly easy for you to create a tailored CRM experience that fits your specific needs. Every ISO is a bit different, and our team works hard every single day to provide a variety of customization options for every ISO using IRIS CRM.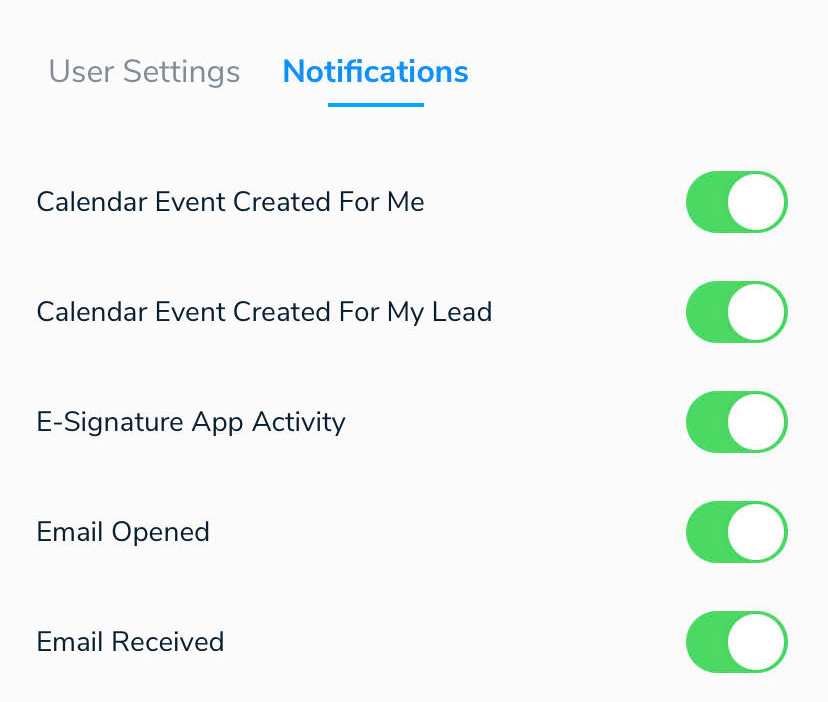 Customers can even select their mobile-specific notification settings right in the app, all without needing to touch their computer. 
Mobile notifications can include updates about calendar events created for me, calendar events created for my lead, e-signature app activity, emails opened, emails received, Helpdesk tickets commented, Helpdesk tickets created, Helpdesk tickets resolved, lead files uploaded, lead import status changes, lead notes added, leads received from API, lead statuses changed, merchants linked, phone calls missed, residuals reports published, SMS received, visitors tracked, and voicemails received.
E-Signature on Mobile
We're proud to extend the benefits of e-signature into IRIS CRM's mobile app! Now sales reps can manage even more of the process while they are on-the-go. They can even generate and send ready-to-sign merchant application PDFs right from a phone, tablet, or laptop!
Say a sales rep is at a merchant that is interested in signing up. In the past, the sales rep could take down their information, head back to the office, and input the lead data into their CRM. Then they would be able to produce a contract for e-signing and send it to the merchant from their computer.
With IRIS CRM's mobile app, that process can be managed entirely on-the-go without skipping a beat when a merchant is ready to move forward with your ISO's services saving your team from unnecessary back-and-forths.  Sales representatives can add merchant information into the system, then generate a PDF application with pre-filled information right on their phones! 
Then it's just a few clicks in the app to select a document template and the electronic signature contract will be ready to be e-signed and automatically incorporated into the CRM within seconds! What once could take hours now takes minutes, or even seconds thanks to this innovative new mobile app feature.
Sales Rep Info
IRIS CRM's mobile app users can now view the sales rep(s) associated with any merchant in their CRM, directly from IRIS CRM's mobile app. No more wondering about which sales rep is assigned to a given merchant, or wondering how the residuals split is set. Now, all you need to do is open your phone, look up your merchant, click the small blue icon in the top right and this information is available right at your fingertips.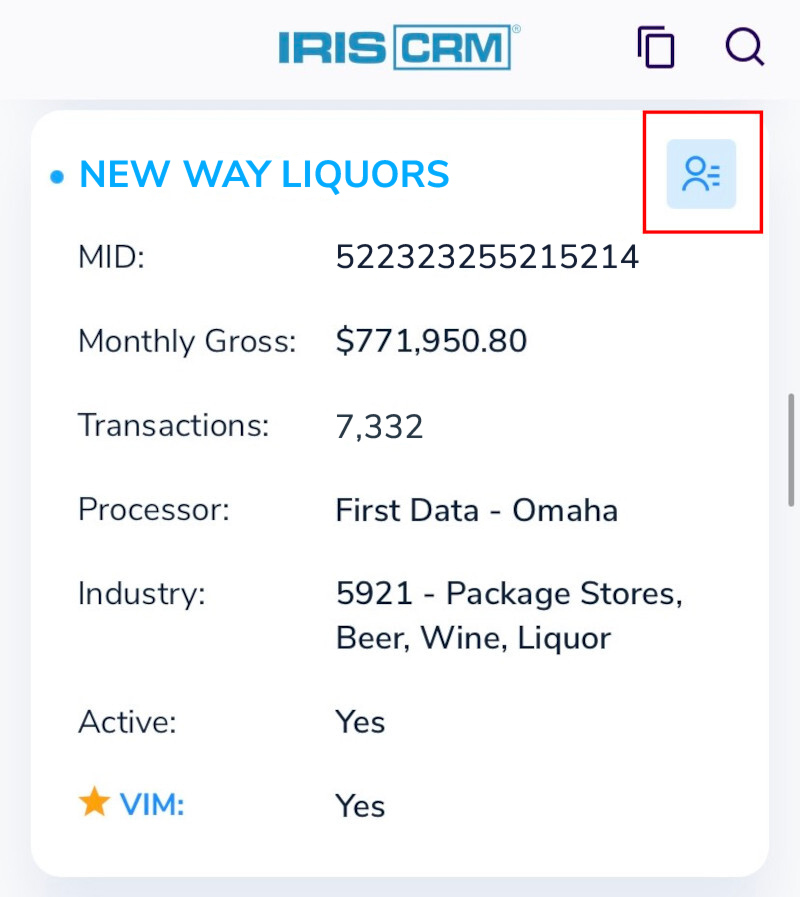 Always know which sales reps are assigned to any merchant, right from your phone or mobile device! View vital information from associated parties to help you deliver superior customer support by display associated users' names, user classes, and the residual split for each sales rep assigned to a specific merchant.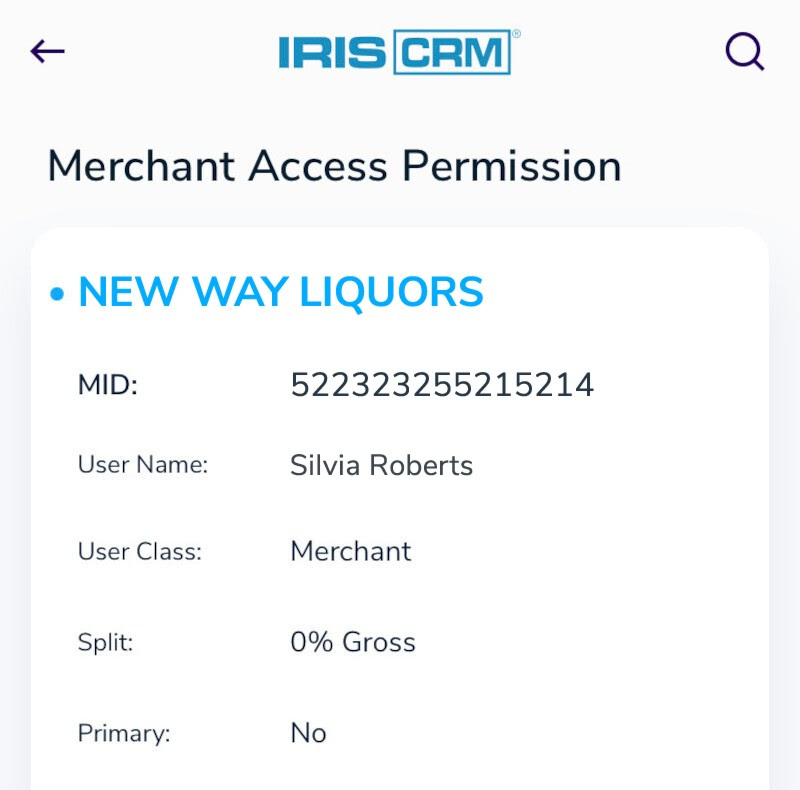 We've also added one extra function to make life just a bit easier for everyone using IRIS CRM. A new link for downloading IRIS CRM's mobile app is available right in your CRM, so sales agents, administrators, and merchants can easily access the link and download the app without any additional effort!
When administrators, sales agents, merchants, or any other relevant user enters your CRM, they will see a link for downloading IRIS CRM's mobile app right under their name located in the upper right-hand corner called "Get Mobile App". IRIS CRM will provide a QR code to be used for quickly downloading IRIS CRM's mobile application via the app store of your Android or Apple device.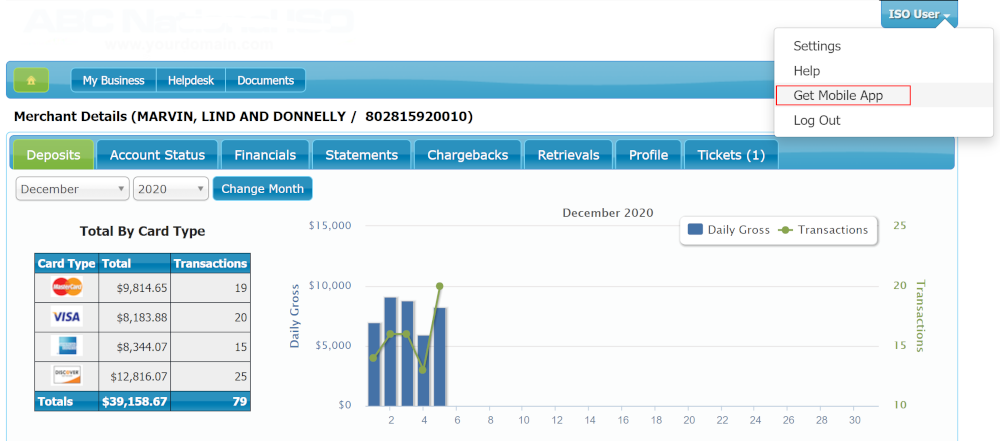 Simply scan the QR code with your device of choice and you'll be automatically redirected to the respective mobile app stores for easy downloading!
That's it! Now all of your sales agents and administrators can easily download and start using IRIS CRM's mobile app to drive success for your ISO. 
Stay tuned for more updates coming soon, and schedule a free guided demonstration today to see how IRIS CRM will supercharge your ISO!