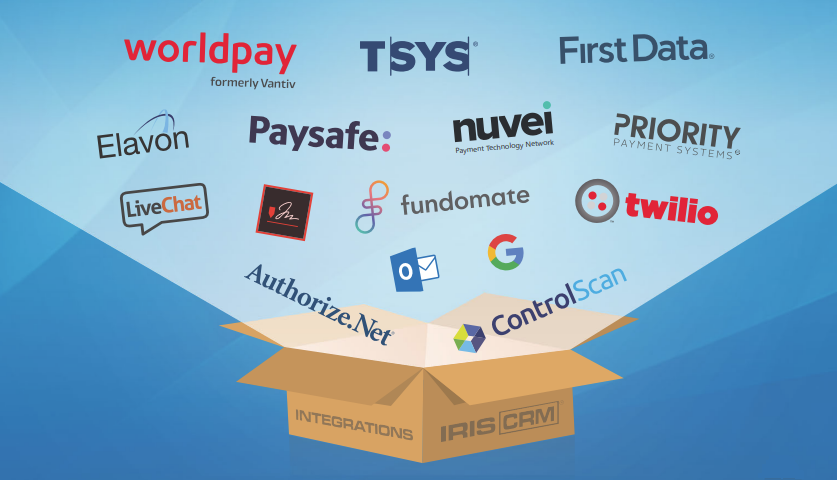 IRIS CRM – The Best Integrations in the Payments Industry
IRIS CRM is the payments industry's top CRM thanks to an unparalleled set of core features that enable independent sales organizations (ISOs) to streamline their operations, work smarter, and save time and money. But a big part of what makes IRIS CRM so popular is how it connects with other top platforms in the payments industry and beyond, extending the reach of the CRM to everything from payment processors to thousands of third-party software applications. The following is a crash course in some of IRIS CRM's more notable CRM integrations and how they provide significant value to ISOs. 
Payment Processor Integrations
IRIS CRM integrates with some of the industry's largest and most popular payment processors. Processor integration enables independent sales organizations to perform a number of key tasks within IRIS CRM, including accessing reporting, managing residuals, and onboarding new merchants. 
IRIS CRM ISOs can access all of their processor reports through a single, unified reporting dashboard, without the need to wrangle data from disparate sources. ISOs can also access automatic residual split calculations as soon as their monthly residuals numbers hit the CRM each month, eliminating the need to comb over reports and manually calculate payouts. Finally, ISOs working with certain processors can use IRIS CRM's TurboApp boarding tool to onboard new merchants in as little as five minutes, with almost no manual data entry required. 
Just some of the ever-growing list of processors IRIS CRM integrates with include:
Global Payments / TSYS

FIS Worldpay

Fiserv First Data

Elavon

Paysafe 
…and more. 
Payment Gateway Integrations
Payment gateways are mission-critical tools for ecommerce merchants, acting as the bridge between a store's checkout system and the merchant's payment processor. Traditionally, merchants have purchased their processing services from an ISO and their gateway services directly from a third-party provider, but that's unnecessarily complex and leaves money on the table. IRIS CRM's seamless integration with top gateway providers allows ISOs to resell gateway services and board merchants directly through the CRM. Reselling gateways and value-added services not only makes the merchant's life easier, it instantaneously opens up a valuable new source of monthly revenues for ISOs – a true win-win. 
IRIS CRM enables gateway resales by integrating with:
Authorize.Net

USAePay

NMI
Underwriting Integrations
Wholesale ISOs take on responsibility for underwriting in exchange for a larger slice of the pie, and that opens them up to additional risk and liability. A thorough, consistent underwriting process is the key to mitigating that risk and maintaining profitability, but the complex and time-consuming nature of due diligence means that the process often falls short of the ideal. To enable wholesale ISOs to perform deep and consistent due diligence on each and every merchant, IRIS CRM has partnered with Conformance Technologies to integrate their PreComm Toolkit automated underwriting tool. 
With IRIS CRM and Conformance Technologies, ISOs can run due diligence directly through the CRM, automatically performing 70 or more checks on everything from government and law enforcement databases to computer vision analysis of Google Maps. The result is that underwriting no longer represents a time-consuming headache, and risk can be managed and mitigated properly each and every time a new merchant is onboarded. 
Communication Integrations
In addition to centralizing lead management, reporting, residuals, and boarding, IRIS CRM also centralizes communications, creating a true one-stop point of control for all an ISO's daily business. IRIS CRM integrates directly with Gmail and Outlook to allow two-way syncing between both email accounts and calendars. ISOs can also integrate self-hosted email through their own web hosting services.
IRIS CRM also offers a built-in chat system that provides many of the same features as top team collaboration tools like Slack and Microsoft Teams, facilitating easier internal communication and helping ISOs break down information solos. 
Finally, IRIS CRM's built-in power dialer is integrated seamlessly with all areas of the CRM, and provides all the features and benefits of a full cloud-based dialer, with none of the expensive hardware or maintenance cost of traditional enterprise phone systems. IRIS CRM users can even send and receive text messages without ever having to leave the platform. 
Additional Third-Party Software Applications
To round out IRIS CRM's industry-leading set of integrations, users can also connect the CRM to a number of third-party applications, offering extended functionality, enhanced centralization, and more time saved. Just a few of IRIS CRM's most popular third-party software integrations include Adobe eSign, the Articulate suite of elearning tools, CareerBuilder, ZipRecruiter, Live Chat, and more. 
Better yet, IRIS CRM also partners with Zapier to enable ISOs to integrate the CRM with thousands of popular applications, ranging from Microsoft Office 365 to leading accounting software, to project management tools, and beyond. With IRIS CRM's Zapier integration, there is almost no limit to how the CRM can be used to build better, faster, easier workflows. 
To find out more about IRIS CRM's full list of integrations and how they help your ISO work smarter and save more time, schedule a free guided demonstration of IRIS CRM today!