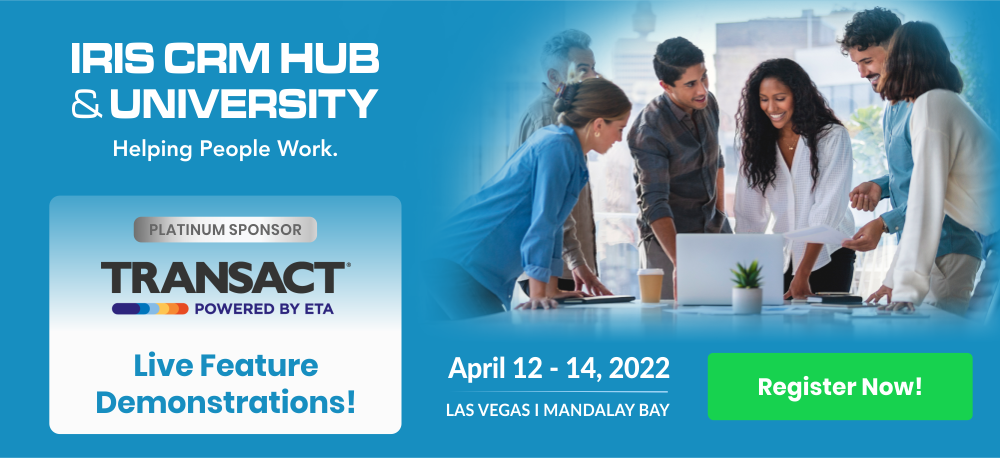 IRIS University – Unlock the Full Potential of IRIS CRM at TRANSACT '22
IRIS CRM is the payments industry's leading customer resource management system, and one of the reasons it's so popular is that it does a lot for independent sales organizations and payment facilitators. But, because IRIS CRM does so much, even our most experienced users can almost certainly find ways to unlock even more value from the system. To help our customers extract as much value as possible from their IRIS CRM installations, we're hosting IRIS University – an in-depth training and demo program covering everything IRIS CRM can do for ISOs and PayFacs during TRANSACT 2022 in Las Vegas.
IRIS University Will Cover:
IRIS CRM's new user interface

Direct-to-processor onboarding

No-code web form generation

Onboarding gateway customers

Beating chargebacks with Dispute Responder

Automatic residual calculations

Secure lead data and document sharing

Risk identification and reporting tools 

Lead flow and administration

Email and SMS communications

Improving support with the IRIS CRM helpdesk

The future of IRIS CRM
Click here to register for IRIS University now!
What is IRIS University?
IRIS University is a two-and-a-half day series of educational seminars, live feature demonstrations, and discussions designed to help existing platform users learn how to do more with IRIS CRM. Hosted by IRIS CRM President Dimitri Akhrin and Product Lead Jaron Ruckman, IRIS University will take place from April 12th to April 14th at ETA Transact 2022 in Las Vegas, NV – the digital payments industry's biggest annual event. 
Each of the four sessions at IRIS University will provide insight into a specific area of IRIS CRM, ranging from core features like TurboApp to the brand new user interface to new features being rolled out, the future of the platform, and more. Topics have been chosen specifically to ensure every IRIS CRM customer will walk away with new insights and strategies to take the existing value IRIS CRM provides them to the next level.
IRIS University Topics Include:
IRIS CRM's New React-Based User Interface
Since late 2021, IRIS CRM has been beta testing a brand new user interface that will soon be available to all customers. The new interface is built with React – arguably the most effective UI library available today. The new interface is designed specifically to make navigating and using IRIS CRM faster and easier than ever for both new and experienced users alike. However, considering so many of our customers have spent years with the old interface, an introduction is in order! Dimitri will walk IRIS University attendees through the ins and outs of the new user interface and reinforce the learning in subsequent sessions. 
Boarding Direct-to-Processor with TurboApp
TurboApp has long been one of the most valuable tools IRIS CRM offers ISOs, enabling a faster, more accurate boarding process that can be performed in as little as five minutes. In this session, Dimitri will demo the TurboApp boarding process, including a brand new, even faster direct-to-processor boarding feature that allows ISOs to send eSigned MPAs directly to TSYS the second a merchant completes them, without the need for a middle manual review step before submission.
Building Merchant Application Landing Pages with No Code Required
Keeping the top of the sales funnel full and making it as easy as possible for interested merchants to apply are two keys to driving consistent growth. To help ISOs effectively and affordably capture more applicants, IRIS CRM now includes a landing page builder that enables users to create online application pages with high conversion rates – all with zero coding or technical knowledge required. By learning to use the landing page builder, IRIS University attendees can shorten their sales processes in cases where a merchant is ready to apply right away. 
Click here to reserve your spot at IRIS University now!
Onboarding Gateway Customers
IRIS CRM is known for enabling ISOs to board merchants to payment processors in as little as five minutes. Expanding on that functionality, IRIS CRM also allows ISOs to board merchants to payment gateway services through a number of the industry's top gateway providers. CRM-based gateway onboarding makes reselling gateway services exceptionally efficient, opening up new revenue streams with little to no additional work. In addition to providing a demo of general gateway onboarding, Dimitri will also host a session focusing specifically on onboarding and features for NMI, the industry's top gateway provider and IRIS CRM's new parent company. 
Beating Chargebacks with Dispute Responder
IRIS CRM Dispute Responder makes fighting and beating chargebacks simple, fast, and easy. By maximizing the time merchants and ISOs have to react to disputes and taking the mystery out of filing an effective response, Dispute Responder ensures no chargeback is ever lost unnecessarily. Dimitri will walk IRIS University attendees through all Dispute Responder's features, including automatic notifications, checklist-based evidence collection, online submission, and monitoring and analytics. 
Automating Residual Calculations
One of IRIS CRM's most popular and useful features is its suite of residuals management tools. By pulling an ISO's residuals data each month and automatically applying agent splits, IRIS CRM provides residuals calculations that are accurate to the penny without the need for managers to spend any time combing through reports or crunching numbers. IRIS CRM also now offers a brand new fee verification tool that automatically audits residuals statements to identify cases where unexpected buy rate variations are costing an ISO money. By saving ISOs significant time and plugging leaks in profitability, IRIS CRM's residuals management tools bring a lot of value to the table. IRIS CRM Data Analyst Mohamad Kassim will host a session on the ins and outs of these extremely important features. 
Click here to sign up for a spot at IRIS University now.
Sharing Lead Data and Documents with Other IRIS CRM Clients
One of IRIS CRM's new features is the ability for ISOs to securely share lead and customer data across multiple CRM client sites – a powerful feature that helps large ISOs running multiple CRM installations and also opens up new revenue sharing opportunities for ISOs of all sizes. IRIS University attendees will learn how easy it is to set up new send and receive connections across multiple IRIS CRM sites, creating a frictionless pipeline for the sharing of merchant data and documents. 
Identifying Risky Merchants with Risk Reporting and Alerts
IRIS CRM now offers a reporting feature that helps ISOs identify the riskiest merchants in their portfolios. IRIS CRM's Risk Reporting analyzes each merchant in an ISO's portfolio and presents data on their total returns, total chargebacks, the ratios of each to overall sales, merchant SIC, and more. Like all IRIS CRM reporting tools, reports are fully configurable and easily sortable, and provide ISOs with the business intelligence and key context they need to easily determine which merchants represent the highest risk before problems arise. 
Getting the Most from IRIS CRM's Lead Management Tools
CRM is all about using customer data to improve everything from relationships to the sales process to ongoing service and beyond. IRIS CRM offers a full suite of lead collection and management tools designed to make it as easy as possible for users to collect, manage, and utilize the lead and customer data that makes the entire system tick. Jaron will host two demonstrations of the full capability of IRIS CRM's lead management tools. The first covers lead flow – the way leads enter, evolve, and move through the system. The second covers lead administration – the many ways IRIS CRM ISOs can use fields, tabs, statuses, and files to better organize and understand their lead databases.
Elevating Service and Support with IRIS CRM's Integrated Merchant Helpdesk
In an industry as competitive as payment processing, keeping merchants happy and providing unparalleled service are keys to maintaining a healthy portfolio. IRIS CRM comes with a built-in customer helpdesk designed specifically to improve merchant support, enabling frictionless two-way communication, better issue management, and faster case resolutions. Jaron will walk IRIS University attendees through the helpdesk system to demonstrate how its tools can help ISOs provide better support and keep merchants happy, loyal, and generating residuals. 
Managing Email and SMS Communications Through the CRM
One of IRIS CRM's primary goals is to allow users to stop jumping between platforms and do more from a single, centralized point of control. A big part of that is the integrated communications suite that enables users to manage both email and SMS communications from within the CRM. Jaron will demonstrate to IRIS University attendees how easy it is to integrate Gmail, Outlook, or privately hosted email into IRIS CRM and how the system's SMS tools can make everything from follow-ups to appointment scheduling easier. 
The Future of IRIS CRM
Long-time IRIS CRM users know that constant growth and new utility are the norms, and the IRIS team never stops building in response to customer feedback. Between that constant development and IRIS CRM's new place as part of the NMI family, some big things are coming down the pipe. But, to find out what they are, you'll have to attend Dimitri's closing talk on the exciting things to come as part of IRIS CRM's future roadmap. 
Ready to secure your spot at IRIS University at ETA Transact 2022? Click here to sign up now.
Reserve Your Spot at IRIS University for Free
We're rapidly approaching ETA Transact 2022, and while there are still spots available for IRIS University, attendance is limited. Luckily, signing up for IRIS University is completely free and only takes a few seconds. Just fill out the form below and let us know what aspects of IRIS CRM you're most interested in learning about. We'll get back to you shortly with everything you need to know about attending IRIS University and learning to unlock the full power of your CRM. 
We look forward to seeing you there!