Mitigate New Merchant Risk in Seconds with IRIS CRM's Conformance Technology Integration
Save up to 90 minutes per application and make sure each merchant is thoroughly vetted by letting IRIS CRM and Conformance Technologies handle the due diligence process automatically in as little as 45 seconds.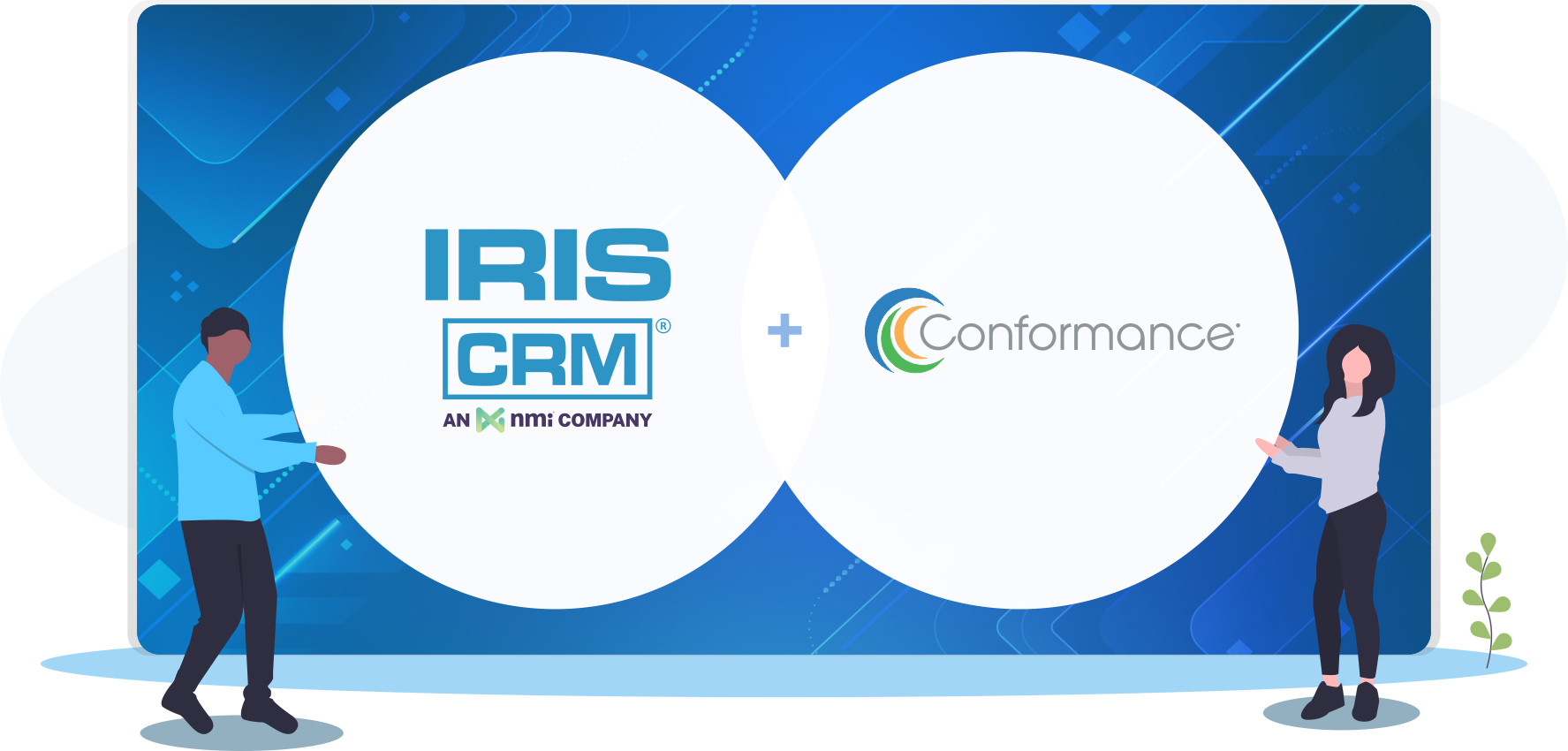 IRIS CRM is proud to announce a revolutionary new integration with Conformance Technologies and their PreComm ToolKit™ risk assessment and monitoring tool.
With this new integration, wholesale ISOs can now handle every aspect of their merchant relationships – from initial prospecting, to underwriting and due diligence, to boarding and ongoing service and support – all through IRIS CRM.
There is no more powerful combination of tools and no more capable end-to-end solution available anywhere else in the payments industry.
With IRIS CRM and Conformance Technologies, your wholesale ISO can completely automate risk assessment and monitoring. As a result, you'll be able to cut down the time it takes to perform risk assessments on new merchants from 90 minutes or more to as little as 45 seconds.
But you won't just work faster, with IRIS CRM and Conformance Technologies, you'll also enjoy better, more consistent risk analysis based on a much deeper pool of data, enabling you to make the best possible underwriting decisions for each and every new merchant.
Just a few of the many features available to you through IRIS CRM's new integration with Conformance Technologies PreComm ToolKit include: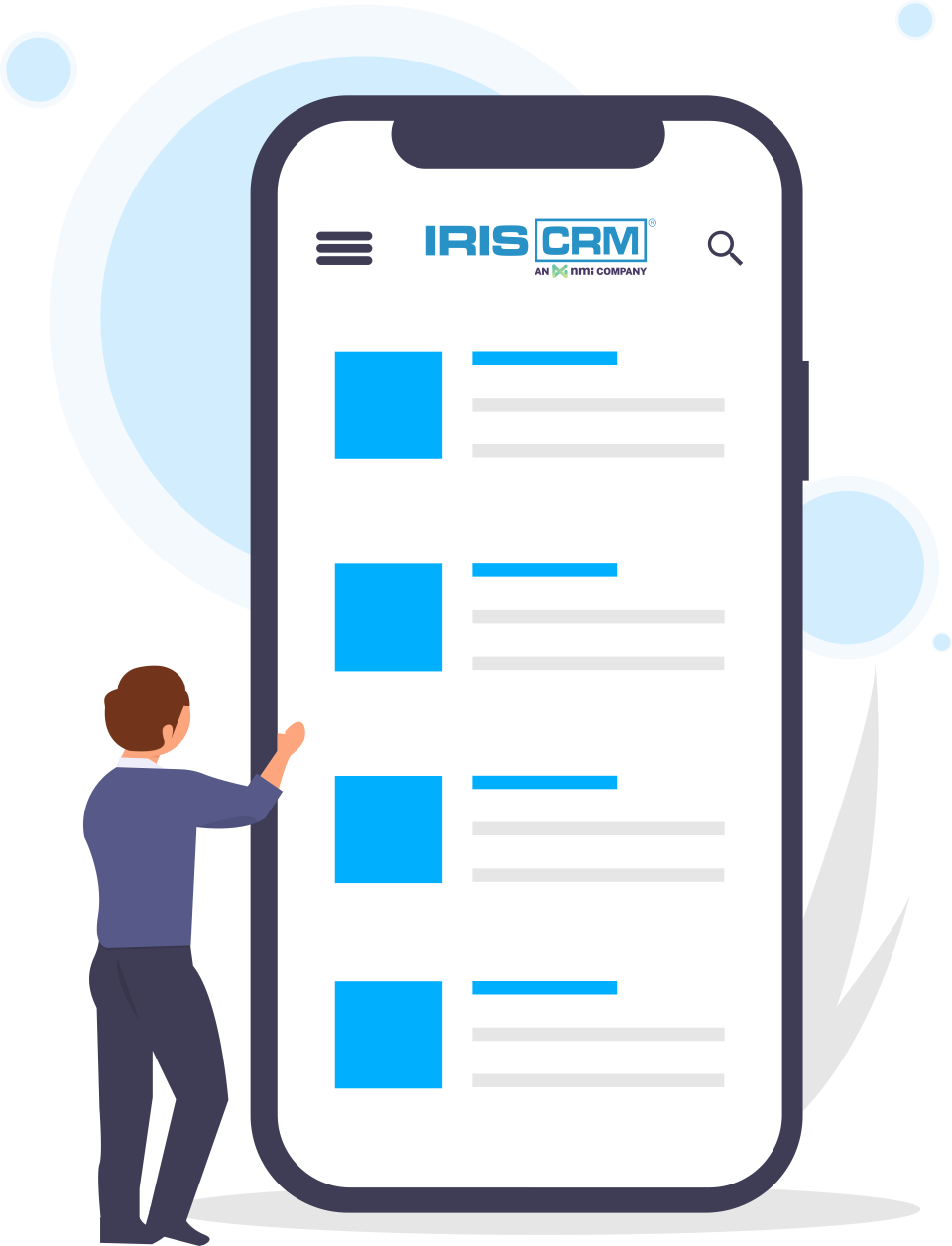 Fully automated new merchant checks.
Complete customization of checks and scans with 70+ data points available.
User-definable reporting presets.
Fully automated website screenshot capture.
Smart site content scanning with InConRadar™.
Law enforcement-caliber TransUnion TLO scanning.
Customized ongoing assessment scheduling.
…and much more.
With IRIS CRM and Conformance Technologies, your underwriting operations will be faster, cheaper and easier thanks to full integration with the CRM software you already use for your prospecting, sales, onboarding and support.
Click here to book your guided demonstration and see firsthand how IRIS CRM and Conformance Technologies will change underwriting, risk assessment and merchant onboarding forever.
What Is Conformance Technologies PreComm ToolKit?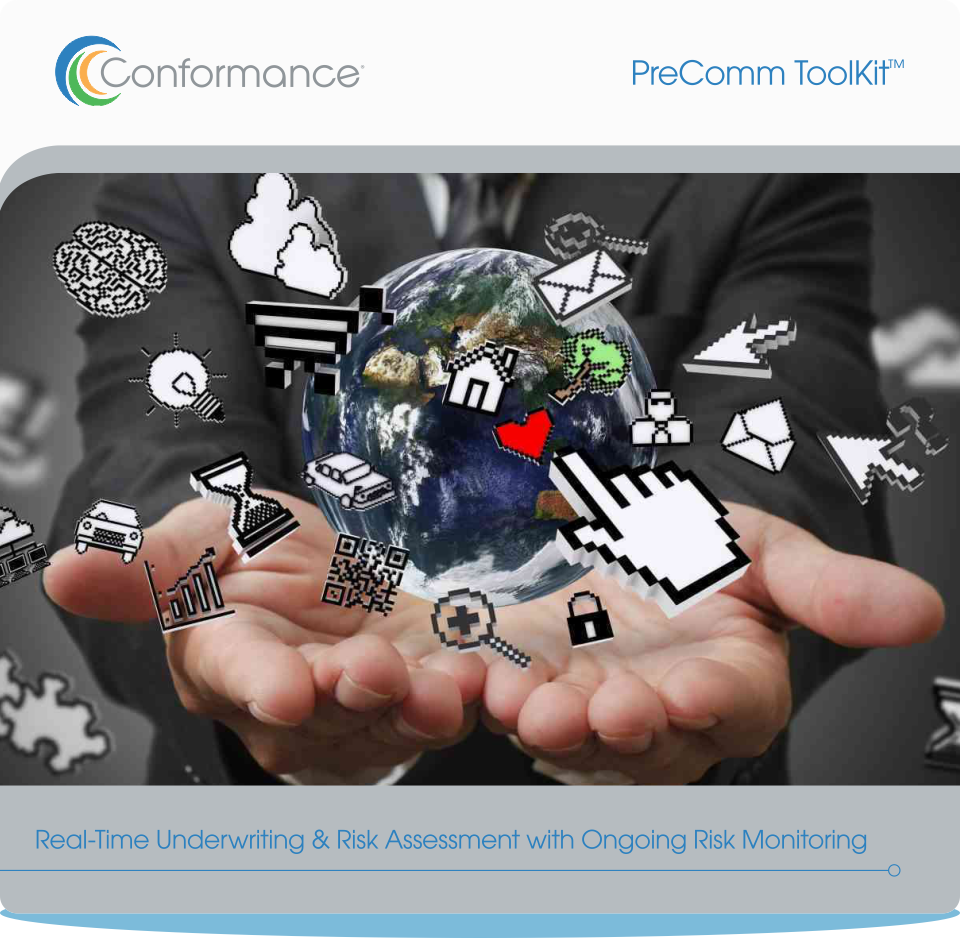 What Is Conformance Technologies
PreComm ToolKit?
PreComm ToolKit is a new, patent-pending system from Conformance Technologies that streamlines and automates underwriting, risk assessment and risk monitoring. It takes a process that traditionally eats up hours of your team's time and condenses it into a matter of seconds, while simultaneously making it more accurate and more consistent.
It does that by automatically pulling over 70 of the most important data points on new and existing merchants and presenting them in a single, clean report for decisioning. Instant access to reliable and clearly presented data intelligence enables you to make better pricing and acceptance decisions in record time.
Now, IRIS CRM has partnered with Conformance Technologies to integrate PreComm ToolKit directly into our industry-leading platform. With this enhancement, IRIS CRM is not only the ultimate tool for sales, onboarding and productivity, but for risk assessment and monitoring as well.
Why the Combination of IRIS CRM and Conformance Technologies – the Industry's Most Powerful Partnership – Is So Important for Your ISO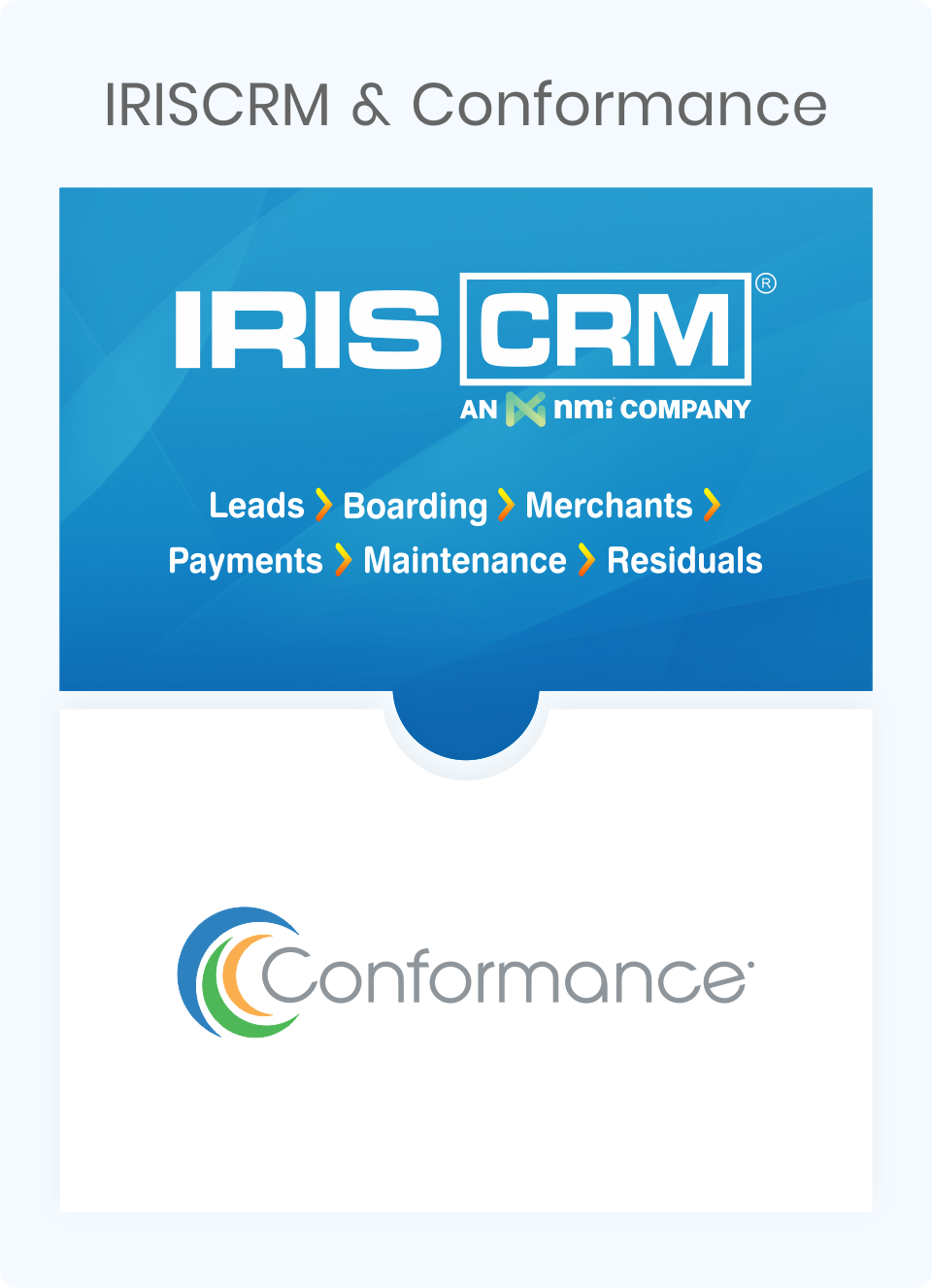 Why the Combination of IRIS CRM and Conformance Technologies – the Industry's Most Powerful Partnership – Is So Important for Your ISO
Risk is a very real – and potentially very costly – part of the payment processing industry. If you're a wholesale independent sales organization, mitigating risk by performing thorough background checks on new applicants is a huge part of your responsibility.
Unfortunately, it's also a highly involved process. Just gathering the data necessary to do a thorough background check can easily take 90 minutes – and that doesn't even count the time it takes to analyze it and make decisions.
As a result, most ISOs fall into one of two categories:
1) ISOs who spend an enormous amount of time and money running checks on merchants to meet underwriting and conformance responsibilities.
2) ISOs who perform cursory or incomplete checks – or in some cases, no checks at all – to avoid the time and expense associated with due diligence.
Neither represent ideal situations. ISOs are wasting resources by performing merchant background checks manually, which is an incredibly inefficient way to work, or ISOs are saving time and money, but only by accepting an enormous amount of risk, both for themselves and their payment processing partners.
IRIS CRM's partnership with Conformance Technologies solves both problems by reducing the due diligence process from 90 minutes or more to a matter of minutes, or even seconds.
By integrating Conformance Technologies' PreComm ToolKit directly with IRIS CRM, a full background check and risk mitigation report can be run on a new merchant in as little as 45 seconds, directly from within your CRM. That report contains as many as 70 or more of the most important risk assessment data points, presented in a simple, easy-to-read, color-coded format that makes the go-or-no-go decision on new merchant applications faster and easier than ever.
The result is ISOs who previously went the distance on their risk and underwriting tasks can reclaim lost time and significantly reduce costs, and ISOs who have previously avoided thorough due diligence can start ensuring each and every new merchant is properly vetted.
This enhanced, consistent and accurate risk assessment means you'll be able to make faster, better decisions about which merchants to work with and how much to charge them. And with the system's continuous monitoring and easy reassessment scheduling, you'll also be able to make better ongoing pricing decisions as each merchant's risk level trends up or down.
Finally, the new IRIS CRM and PreComm ToolKit integration also means your ISO will never again need to worry about the potentially severe consequences of accidentally passing risk on to your processing partners or banks. And because
banks and payment processors know and trust the Conformance Technologies brand
, your merchants will be more likely to get the green lite faster when your partners know they've been verified by PreComm ToolKit.
That kind of peace of mind can't be overvalued, and with IRIS CRM and Conformance Technologies, it becomes a completely automatic part of new merchant onboarding.
Cost-effective, consistent and automated underwriting – that's what the integration of IRIS CRM and Conformance Technologies' PreComm ToolKit is all about.
Click here to schedule a guided demonstration of IRIS CRM's revolutionary
Conformance Technologies integration.
How IRIS CRM and Conformance Technologies PreComm ToolKit Work Together
IRIS CRM's integration of PreComm ToolKit is seamless, and makes performing the entire risk assessment process from within your CRM fast and easy. Going from manual risk assessments to automatic CRM-based reporting and decision-making is as easy as four simple steps!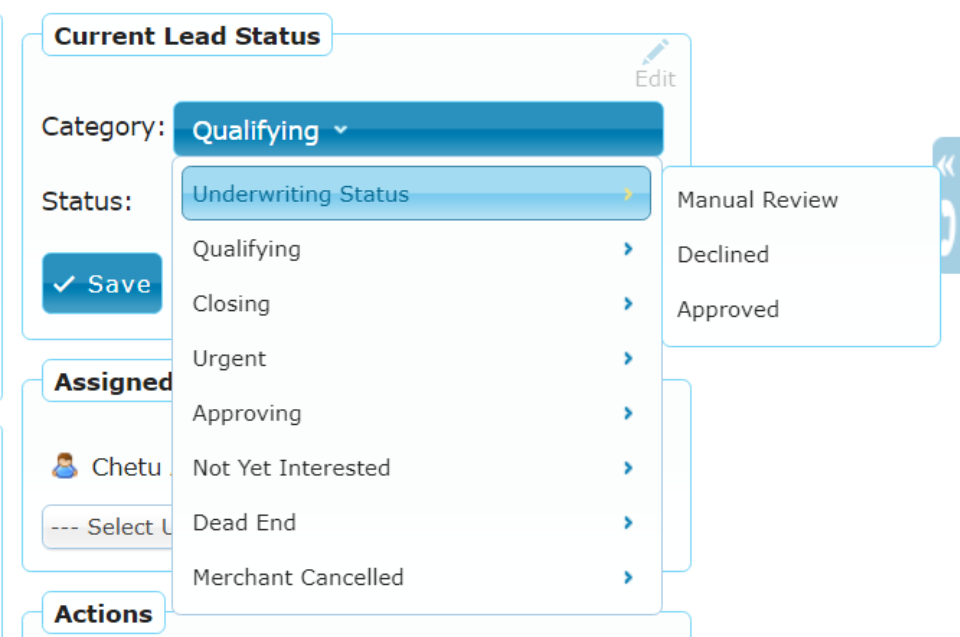 Determine When You Want Your Risk Assessments to Occur
The first step is to get PreComm ToolKit setup in IRIS CRM, and that means deciding when you want the risk assessment process to begin.
PreComm ToolKit assessments are fully automated and are triggered when your leads are assigned a status of your choice. For instance, you could set up your CRM so that once a new merchant submits their e-signed digital MPA, IRIS CRM automatically moves them into "underwriting" status, which then automatically launches the PreComm ToolKit assessment. But that's just one example. It's totally up to you, and the IRIS CRM and Conformance Technologies team will customize your integration to trigger the risk assessment process at any stage you choose.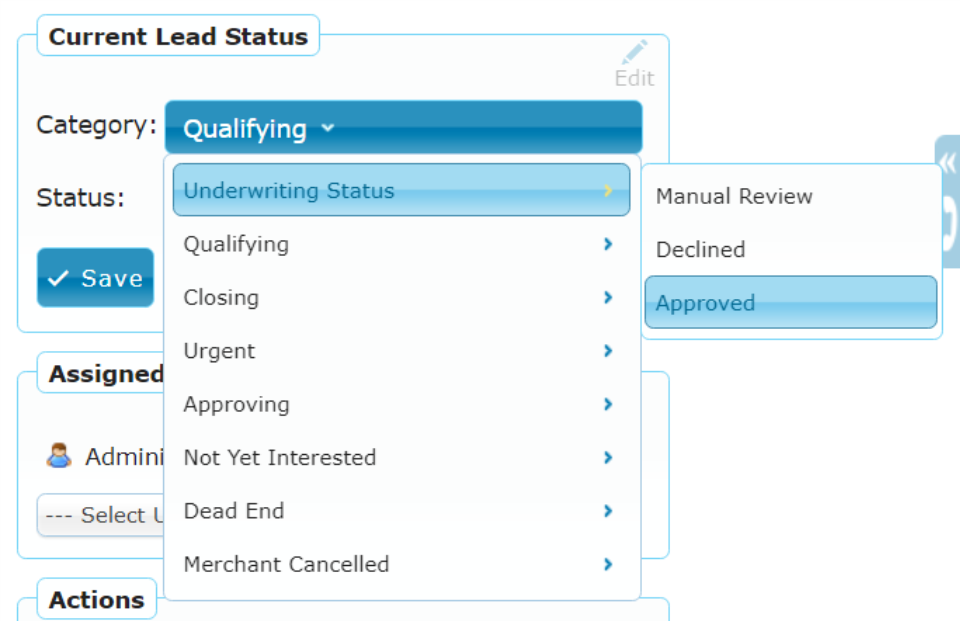 Let IRIS Automatically Launch the PreComm ToolKit Assessment
Once a lead enters your preselected underwriting status, IRIS CRM will automatically pass the necessary information directly and securely to Conformance Technologies cloud-based system.
Because IRIS CRM stores all of your merchants' key information in their lead accounts, and because IRIS CRM uses fully digitized MPAs, there is zero need for you to manually transfer or enter data. The system will simply pull the inputs PreComm ToolKit needs straight from your stored merchant data, much like it does with new TurboApp applications.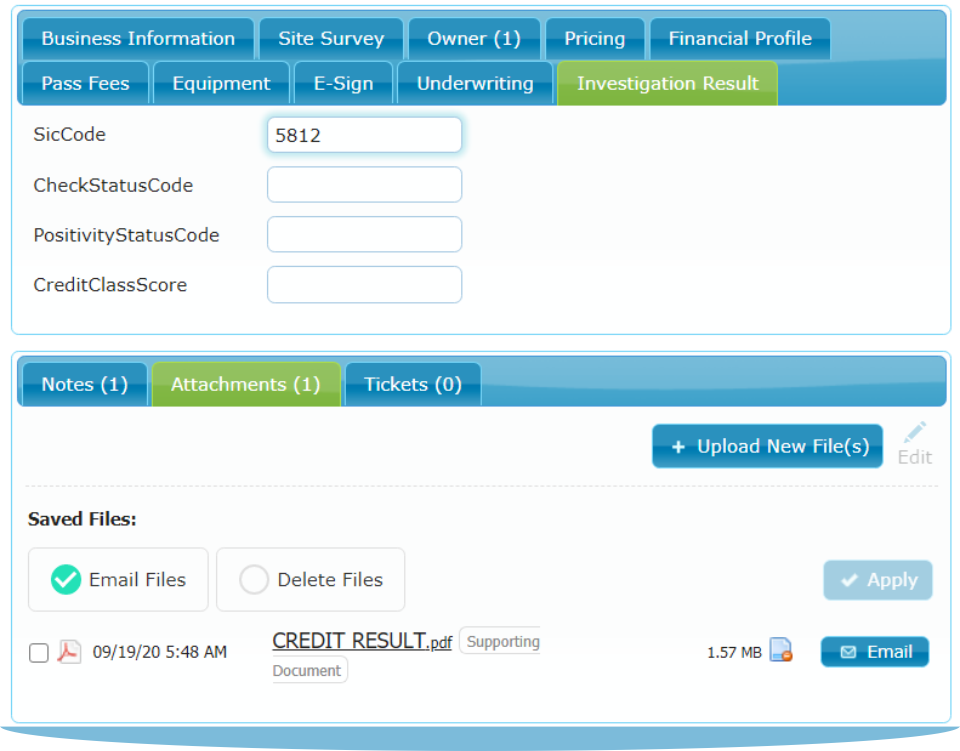 Access the Results of Your Assessment Directly Through IRIS CRM
Once your PreComm checks have been initiated, the results of those checks will be automatically passed back into IRIS CRM and displayed for you directly on-screen in the merchant profile's underwriting tab. You never have to leave the system – with IRIS CRM's Conformance Technologies integration, you'll have a truly one-stop solution for wholesale merchant boarding and management.
You also have complete control over what you see. We understand that not all ISOs want or need to see the results of every check PreComm ToolKit can perform – especially since there are roughly 70 data points you can access!
With that in mind, we've made it easy for you to get the information you need and only the information you need by making checks fully configurable. You can manually select which individual checks are performed one by one, choose from a pre-saved profile, or just set a default and let the system run the same checks every time. It's totally up to you.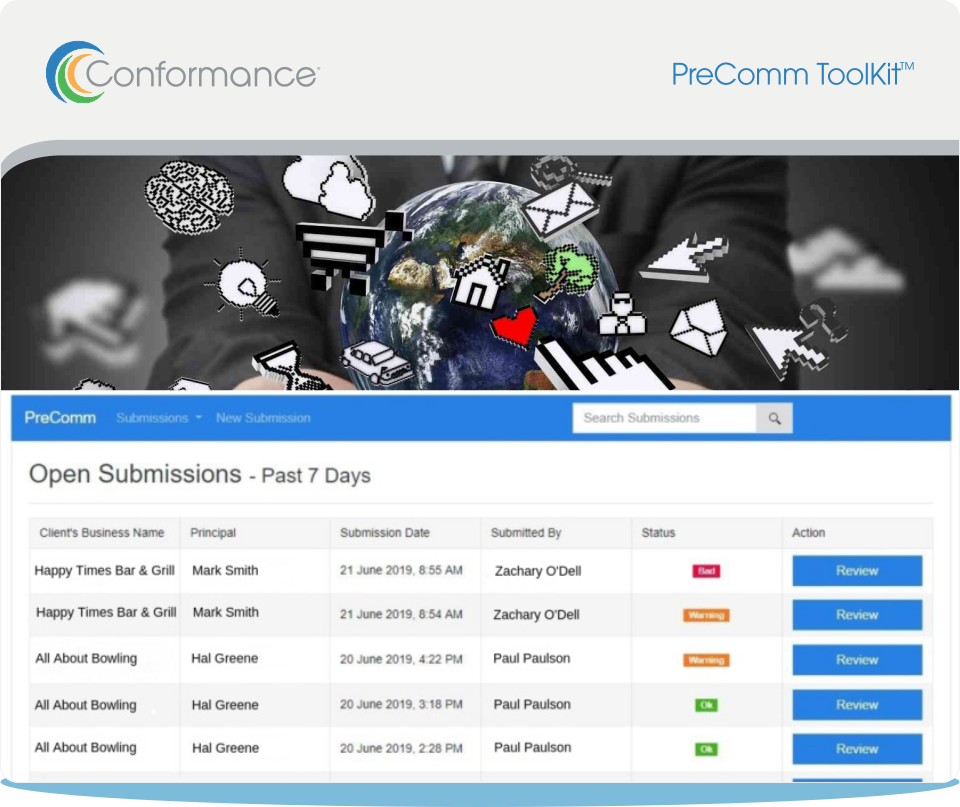 You can also choose which check results are passed back into IRIS CRM. For example, you might want PreComm to run a detailed check for trigger words on a merchant's website. But from a decision-making standpoint, you might only need the system to give you a pass or fail indication based on an otherwise large set of results. You can choose to have your PreComm integration give you an immediate on-screen indication of whether or not the merchant passed that check, but keep the full detailed report on all triggers found kept separate for future reference if, and only if, you eventually need it
That control ensures that you'll never find yourself swimming through a sea of unwanted or confusing data when trying to make a decision. Instead, IRIS CRM will provide you with a clean, clear report with only the information you want and need to make the best underwriting decisions possible.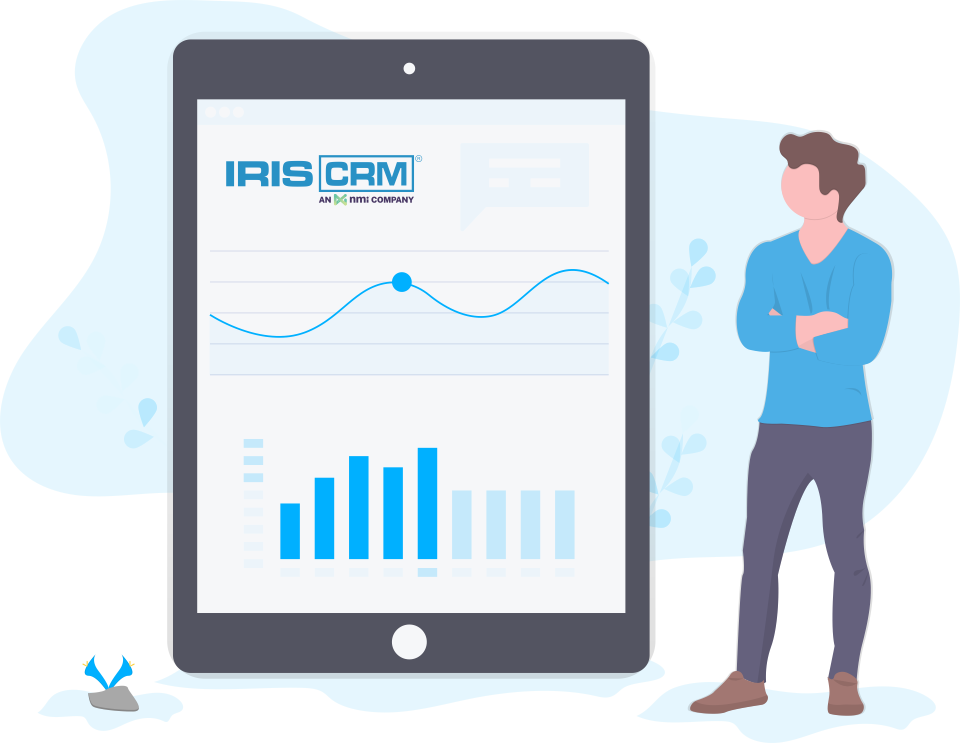 Make the Right Decision, Every Time
With the data you need and only the data you need clearly displayed, you can quickly make the right decision on whether or not to accept a merchant, what level of risk they represent, and what kind of pricing they should receive. And because you can set your PreComm ToolKit integration to rerun the checks in any interval you choose, you can consistently checkup on merchants as their risk profiles evolve over time. That enables you to ensure your pricing is always in line with a merchant's current risk, and not just the risk they represented a year or more in the past.
Integrated Conformance Technology Features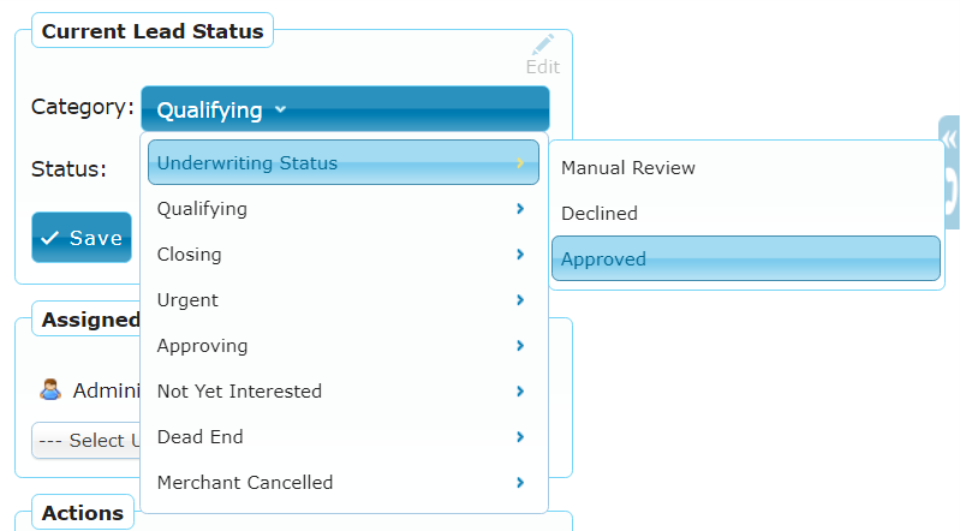 Automated Merchant Checks
Your PreComm ToolKit checks will be performed automatically every time a lead moves into your predetermined underwriting status in IRIS CRM. That means you'll never have to worry about spending hours digging up data and doing manual analysis. IRIS CRM and PreComm ToolKit will perform all necessary checks in the background the second a lead is ready for underwriting.
Once you're ready, just open up the underwriting tab in the relevant lead's account, and all the results will be there waiting for you. You'll get a custom summary of check results right on-page, and any relevant attachments like screenshots or full PDF reports will be automatically available in the lead's attachments area.
There is no more efficient or effective way to handle underwriting and risk analysis!
Automatic Import of Key
Merchant Information
Because IRIS CRM fully integrates all of its productivity tools, the existing merchant data you have stored in a lead's account, as well as the data stored in the lead's digital MPA, are all tied directly into the system's PreComm ToolKit integration.
That means you'll never have to worry about manually filling in fields like a merchant's vital info, their MCC, or any of the other information Conformance Technologies needs to run a thorough check. IRIS CRM will automatically pass all of that information to PreComm ToolKit for you.
The system can even make intelligent decisions in instances where there may be multiple results with the same name. For instance, if you run a check of Yelp reviews and there are multiple results for a merchant's business name, the system will analyze the listings and automatically select the one with the highest-confidence-level match based on the search criteria.
Customizable Checks
PreComm ToolKit can pull all of the most important data necessary for thorough due diligence. But we also understand that you don't necessarily need every check done in every instance. In order to ensure you get only the data you need, you have the option to customize which checks are done on a case-by-case basis.
Using a series of simple checkboxes, you can quickly and easily configure the tool to run or ignore checks on:
Merchant TIN (including OFAC results and over 40 various lists covering everything from the FBI database to the Iran Sanctions list and beyond)
Mastercard MATCH
TransUnion Credit Report
TransUnion Identity Verification
Conformance Technologies InConRadar
Screenshooter
Dun & Bradstreet Summary Report
TransUnion TLO
Google Street View
Yelp Reviews
Better Business Bureau Reporting (Coming Soon)
Domain and IP-Address Checks (Coming Soon)
If you'd like to run everything, just keep all the boxes checked!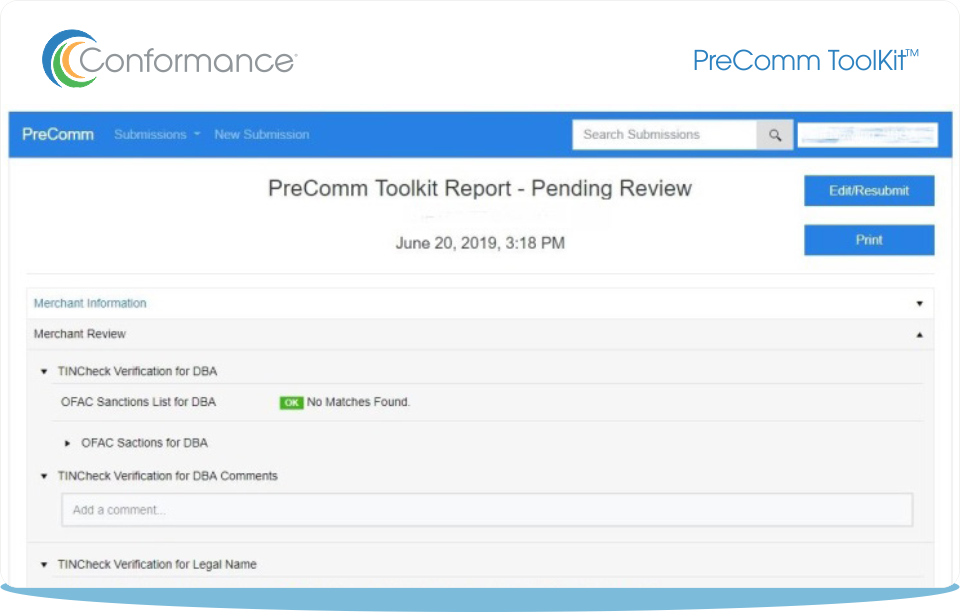 User-Defined Reporting Profiles
Because various types of merchants require different checks to be done, you can easily save check configurations in user-definable profiles. You can then simply select a relevant profile for in one click rather than manually configuring checks for each new merchant.
For example, you may want Yelp reviews and Google Street View to be scanned for service businesses, like restaurants, but not for large B2B merchants. Ensuring each type of merchant gets the right scan is as simple as creating separate scanning profiles and telling the system which to use!
Automatic Website Screenshot Capture
Capturing website screenshots is an important part of the due diligence process, especially for ecommerce merchants. But manually capturing a website, page-by-page, screenshot-by-screenshot is a long, inefficient and mind-numbing process. Luckily, with PreComm ToolKit, you'll never have to suffer through it again.
PreComm ToolKit includes Conformance Technologies' Screenshooter, a proprietary tool that automatically generates hi-res screen captures of every single page on your target merchant's website. What's captured is compiled into an easily scrollable PDF and zipped to allow access to individual screenshots at any time.
When you run your PreComm ToolKit checks through IRIS CRM, you can choose to have those compiled screencaps automatically uploaded and stored in the merchant's lead account for easy reference through the CRM, or you can opt to have them kept on the Conformance Technologies website, where you can access them at any time through your account.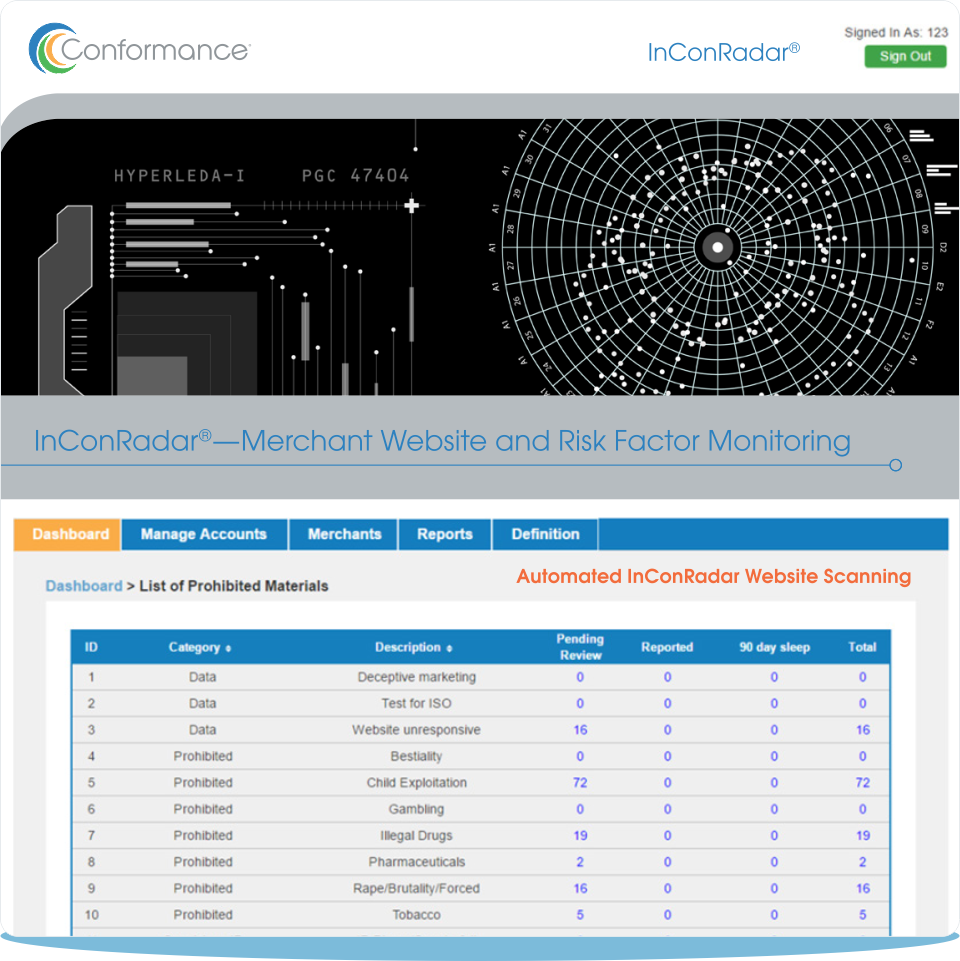 Smart Trigger-Word Scanning with InConRadar
Conformance Technologies' InConRadar tool scans your merchants' websites 24/7 to identify problems, potential risks and breaches of your service agreement before they have a chance to cause significant harm.
But while most scanning tools just use static wordlists – an ineffective solution with enormous potential for missed hits and false positives – InConRadar uses smart scanning to continuously learn and adapt. It uses search engine optimization data to find new connections and relationships, and to seek out new terms that aren't on the static lists – even misspellings and slang terms so new that most people don't know about them.
InConRadar's smart scanning also minimizes false positives to ensure that your merchants aren't being flagged for terms that could be a problem in some contexts, but aren't in the context of their normal businesses. The result is laser-targeted scanning that ensures no problem-merchant ever slips through the cracks while leaving merchants who follow the rules to do their business as usual.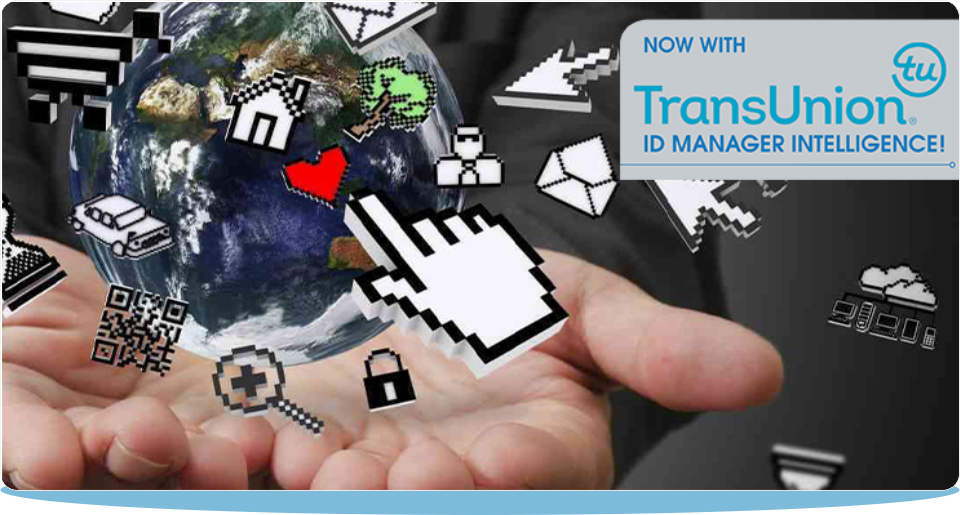 Law-Enforcement-Quality Background Data
PreComm ToolKit checks include TransUnion TLO – a system originally built for law enforcement with access to over 10,000 valuable data points. In the case of your new-merchant due diligence, PreComm ToolKit uses TLO to check for things like outstanding liens or additional businesses co-residing at the same address.
TransUnion TLO adds one more layer of significant depth to PreComm ToolKit in the effort to ensure that your risk analysis and monitoring scans find the data that truly matters rather than just the superficial results that generally turn up in manual scans.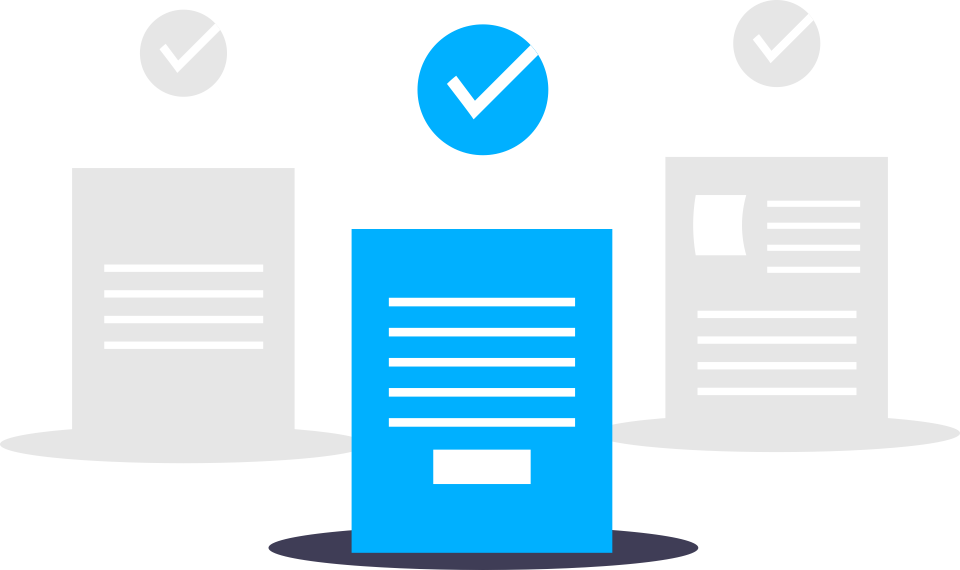 CBD-Specific Checks
The CBD industry represents a unique set of opportunities and challenges, as well as a very unique online landscape. There are very strict limitations on how CBD can be sold, and PreComm ToolKit offers you the ability to identify merchants as CBD sellers in order to enable additional checks for things like illegal packaging and product types. That ensures that your ISO can deal with CBD merchants successfully without worrying about the risk of those merchants crossing potentially costly lines.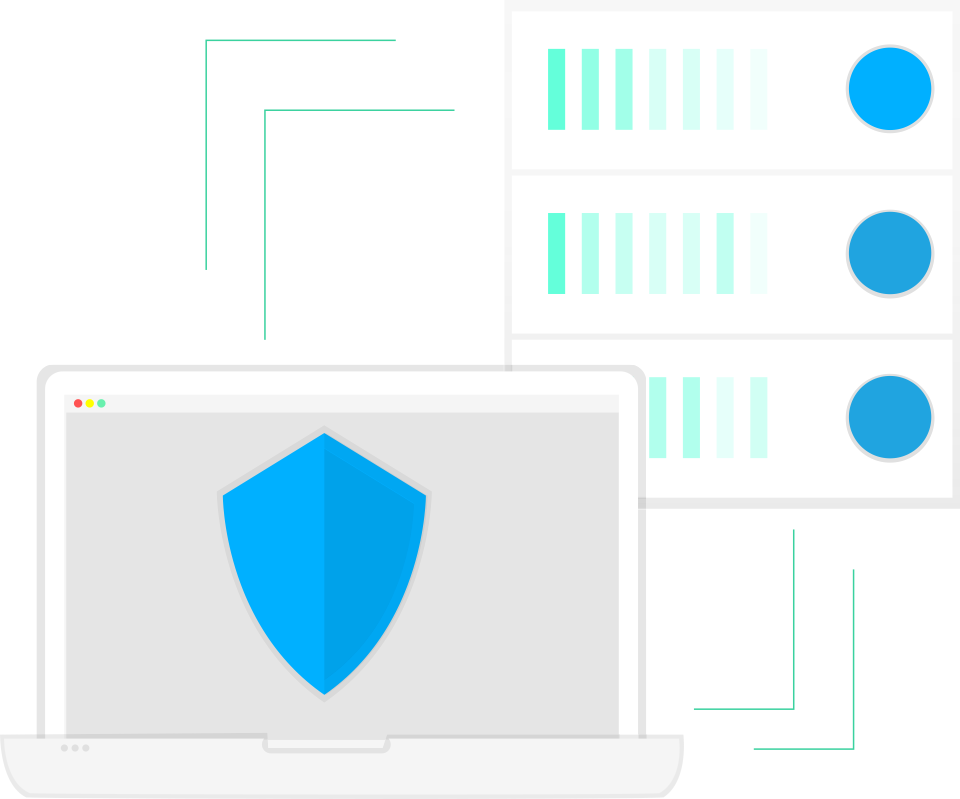 Configurable Scheduling
Risk is not a static factor or a one-time issue. When you sign a new merchant, their risk profile changes and evolves over time alongside their growth and operations. If you're not constantly on your toes, you could easily miss new risk factors that emerge over time, and the consequences of that breakdown in vigilance could be significant.
IRIS CRM and Conformance Technologies treat risk as an evolving connection between underwriting and your ongoing relationship with your merchants. As a result, your PreComm ToolKit integration gives you the ability to set scans to occur at any frequency you like.
This ensures three things:
1) You'll always be in full compliance with your bank and processing partners' minimum standards.
2) You can customize your scanning and assessments to occur more frequently for merchants you identify as higher risk and less frequently for high-trust merchants.
3) You'll always be aware of evolving risk profiles, enabling you to make the best possible decisions about pricing and, in some cases, whether or not to do business with a merchant at all.
Ready to see IRIS CRM and Conformance Technologies PreComm ToolKit in action for yourself? Click here now to schedule a free guided demonstration.
Frequently Asked Questions
Do I need to be an existing Conformance Technologies customer to use PreComm ToolKit with IRIS CRM?
Yes, to access PreComm ToolKit through IRIS CRM, you'll need to be an existing customer of both services. But once you have accounts with both service providers, integrating the two is fast and easy. Contact us today for more information on how to get started with one or both!
Is it difficult to set up PreComm ToolKit with IRIS CRM?
No, setting up IRIS CRM to automatically perform PreComm ToolKit scans is extremely easy, and requires very little effort on your end. That's because both the IRIS CRM and Conformance Technologies teams are at your disposal to handle most of the integration for you. Once you're ready to move your underwriting operations into IRIS CRM, Conformance Technologies will customize your CRM integration to ensure that your scanning and reporting meet your ISO's needs exactly.
To find out more about the setup process, contact us today.
Where is my reporting data stored?
That's totally up to you! PreComm ToolKit has the capability of generating an enormous amount of data, and we understand that you might not need to see all of it when making your underwriting decisions. As a result, IRIS CRM gives you the option of seeing simple pass or no-pass results on-screen when your checks are completed and keeping the mass of data that drives those results separate. You can choose to have the full reports generated by PreComm ToolKit automatically saved to the relevant IRIS CRM lead account in the attachments area, or you can choose to keep it stored on the Conformance Technologies site for later access.
You can also choose to have it included directly in your on-screen results if you so desire. That level of custom configuration is offered to you at no extra charge as part of the integration and partnership between IRIS CRM and Conformance Technologies.
Schedule Demo