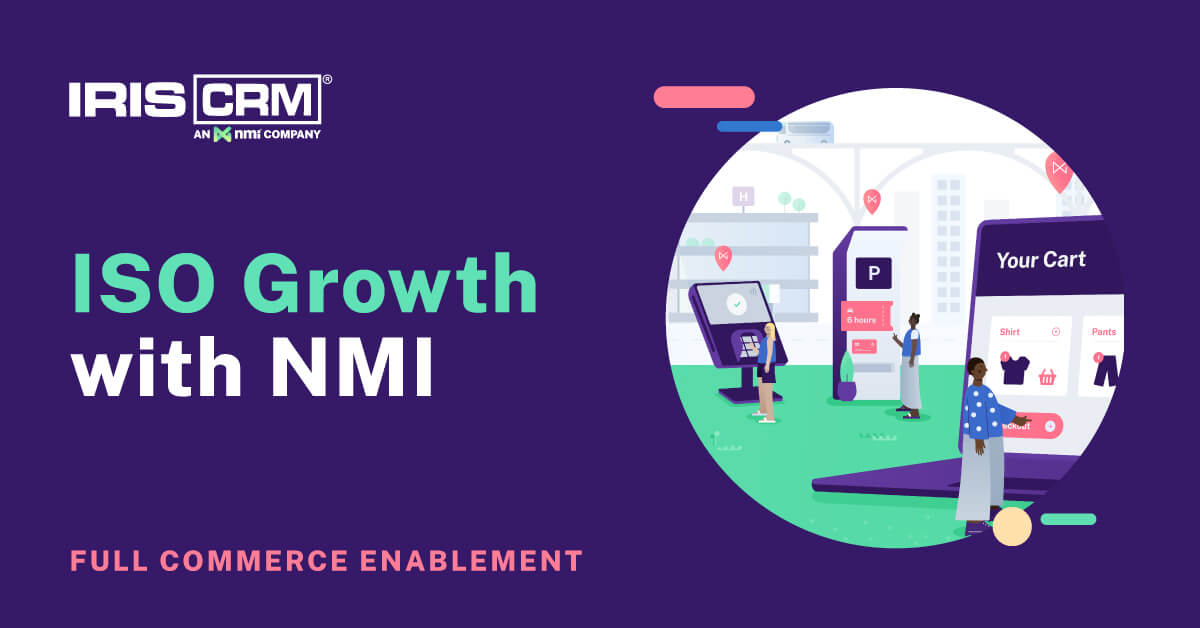 ISO Growth with NMI: Reach More Merchants. Serve More MIDs. Maximize Profits.
IRIS CRM users are highly familiar with how the system's suite of payments-specific sales and productivity tools can change the way an ISO does business and drive explosive growth. But, if your ISO is looking to take growth and profitability to an even higher level, integrating IRIS CRM with the full line of commerce enablement tools from NMI is unquestionably the best way to do it. 
NMI has been powering payments for over 20 years, and today offers a turnkey payment solution designed to empower your ISO from the first touch with a potential merchant through ongoing delivery of payment services and everything in between. 
As of January 2022, IRIS CRM is part of NMI's payments ecosystem, and users now enjoy unprecedented integration between IRIS CRM and NMI's full suite of products and services. The following is a quick rundown of just some of the ways NMI's solutions can help ISOs like yours serve more MIDs, squeeze more profit from each merchant, minimize costs, and maximize portfolio growth.
IRIS CRM and NMI's Full Commerce Enablement Solution
IRIS CRM is one part of NMI's full commerce enablement platform – the most complete and ISO-friendly merchant services solution available today. Along with IRIS CRM, full commerce enablement currently encompasses two other areas: the NMI payment gateway, and Agreement Express automated underwriting. Together, these solutions provide ISOs with everything they need to take a merchant from a fresh lead all the way through underwriting, onboarding, processing, and ongoing customer service. 
While all three pillars of full commerce enablement – IRIS CRM, the NMI gateway, and Agreement Express – are exceptional solutions on their own, combined, they represent an unprecedented system that enables your ISO to access more merchants and sign more MIDs, offer a wider variety of services, boost your profitability, and maximize your portfolio growth. 
How NMI Helps Your ISO Grow and Thrive
The full list of benefits NMI offers is too long to list in a single article, but there are some key points that drive home what partnering with NMI is all about: flexibility, affordability, scalability, and profitability. The following are just some of the ways NMI's payment solutions can offer your ISO each. 
Serve More MIDS with a More Complete Service Offering
Competition for merchants is tight, and the ISO that grows is the one that can offer merchants a more tailored set of services and top quality support at competitive rates. Because NMI's full commerce enablement platform offers a complete set of merchant services all in one place, it enables your ISO to build more customized solutions, laser-targeted to the needs of each merchant. That gives you a competitive advantage that can't be overvalued in an ever-tightening payments space. And, because NMI's platform offers unmatched flexibility and scalability, as the number of MIDs you serve grows, so will the value you gain from the system.
Access Over 200 Payment Processors
NMI gives you frictionless, one-stop access to over 200 payment processors. That means two things: first, you'll be able to pair your merchants with the right services for their needs. And, second, it'll be more likely you'll be able to place even riskier merchants with a processor, ensuring the time and money you spend nurturing leads results in signed, onboarded, revenue-producing MIDs as often as possible.  
Between the NMI gateway's seamless integration with all 200+ processing partners and IRIS CRM's TurboApp automated onboarding system, NMI full commerce enablement makes it easier than ever to both find merchants the services they need and onboard them to those services in a matter of minutes. 
Resell Industry-Best Omnichannel Payment Solutions
NMI offers the most trusted and flexible gateway solution in the payments industry. It powers complete omnichannel commerce, including in-store, ecommerce, mobile, and unattended self-service payments. Combined with its unparalleled number of processor integrations, the NMI gateway ensures that you'll always be able to meet a merchant's unique needs, no matter how or where they're selling. That's a major advantage that not only makes your sales process more efficient, but also helps your ISO stand out over more limited, rigid competitors like Stripe and Square. 
Benefit from an Entire Marketplace of Value-Added Services
As an NMI partner, you have access to an entire suite of value-added services you can offer merchants a la carte alongside their processing. Onboarding a merchant to new add-ons can be done in a matter of minutes or even seconds, offering your ISO a way to unlock new revenue opportunities without adding any friction to your operations. 
Minimize the Costs of Risk Management with Automated Underwriting
One of the best ways to maximize profits is to minimize the time and costs associated with your most resource-intensive tasks. Merchant underwriting is unquestionably one of the most important processes wholesale ISOs perform, but it's also one of the the longest, slowest, and most expensive. But, with NMI, it doesn't have to be. 
NMI's full commerce offering includes the option to integrate Agreement Express automated underwriting – a game-changing solution that cuts the merchant underwriting process down from days or weeks to hours or even minutes. Automated underwriting with NMI and AEX will reduce your ISO's backlog, streamline your team size and underwriting costs, and, most importantly, ensure every merchant goes through a thorough, consistent risk assessment, minimizing the costs of potential fraud. 
White Label Everything to Put Your Brand Out Front
NMI exists to empower your business, and we know how important it is that your end merchants interact with your brand, not ours. That's why all the tools that make up NMI's full commerce offering are fully white label. Whenever you interact with a merchant using an NMI technology, you can rest assured that the positive experiences that follow will directly benefit your brand and reinforce customer loyalty to your ISO. 
Enjoy the Convenience and Cost Benefits of Turnkey Payment Solutions
The unmatched flexibility of NMI's full commerce enablement platform means that you get a payments solution that is both custom tailored to your ISO's needs and turnkey. As a result, despite its powerful nature, integrating NMI with your ISO's existing tech stack is fast, easy, and painless. It makes the build vs. buy decision an easy one, because NMI's expansive suite of payments tools provide the exact solutions you need to to grow and thrive without the high costs of in-house development and maintenance. 
Plan for Your ISO's Future Success
Many businesses make plans for the challenges associated with failure, but not as many plan ahead for the challenges associated with major success. NMI's systems are designed to scale with your ISO as you grow, no matter how quickly that growth comes. That means partnering with NMI is not only a bet on your ISO's present and short-term success, but on your long-term success as well. With NMI, you can rest assured that when rapid, explosive growth hits, you'll already have access to the flexible, scalable systems necessary to manage that growth without any frustrating businesses interruptions. 
Pair IRIS CRM with NMI's Full Commerce Offering
IRIS CRM is just one part of NMI's full commerce enablement stack. And while each part of NMI's full commerce solution – the NMI gateway, IRIS CRM, and Agreement Express – can be used individually, together they represent the most powerful one-stop merchant services solution available today. 
Best of all, the seamless interoperability means that integrating the three services can be done with ease, unlocking the full potential of each and creating an end-to-end payments system that improves all aspects of your ISO's operations, driving explosive growth in MIDs and profitability. 
The IRIS CRM-NMI Integration
IRIS CRM offers sales and productivity tools that make it faster and easier to drive growth, recruit merchants, and onboard them to new payments services – including NMI's gateway and value add-ons. 
Signing up merchants to gateway and value-added services can be done in a matter of seconds whenever new merchants are onboarded using IRIS CRM TurboApp – the fastest, most streamlined merchant boarding solution ever. NMI services can also be added to existing merchant accounts in minutes using IRIS CRM's built-in ticketing system. 
IRIS CRM also integrates seamlessly with Agreement Express, allowing you to run your entire underwriting process from within the CRM. You can send a merchant to underwriting, get back a fully scored report and recommendation from Agreement Express, and board the merchant to payment processing, gateway, and value-added services, all in less time than it takes your competitors to handle any single one of those tasks. 
See the Future of Merchant Services in Action
If you're ready for a firsthand look at how NMI's full commerce offerings can help your ISO maximize growth and profitability, reach out to a member of the team or schedule a free guided demonstration now.