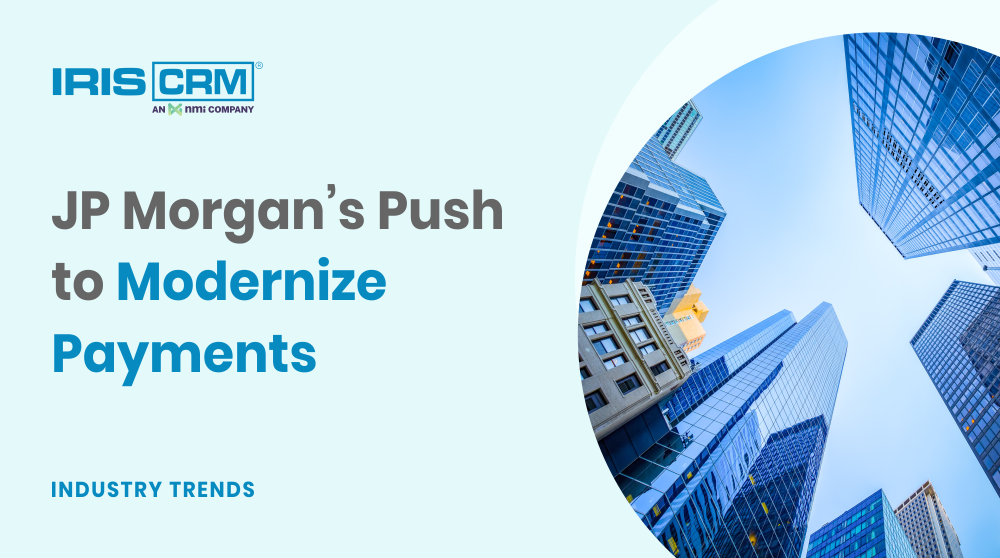 JP Morgan's Push to Modernize Payments Signals an Incoming Industry Trend
While cash was once king, today, the payments space is technology driven. And, like all tech spaces, it's changing incredibly rapidly, with new innovations and options hitting the market at an unrelenting pace. Keeping up with rapid change requires a high level of agility, and, in many ways, the payments industry is beginning to favor smaller, more flexible acquirers that can quickly and efficiently adopt new technologies and react to changing merchant needs in real-time.
To close the gap with those kinds of hyper-agile competitors, JP Morgan Chase has begun a push to modernize its payments business through the acquisition of Renovite, a cloud-based payments technology company. The banking giant's move reflects a shift in the industry away from segmented merchant services and toward holistic payment solutions that offer merchants more convenience and simplicity. But the growing demand for more complete merchant services doesn't just impact big banks – it impacts every level of the industry, including independent sales organizations (ISOs) and payment facilitators (PayFacs), who also need to be ready to offer merchants more. 
JP Morgan Chase is Modernizing Payments Through Strategic Acquisitions
In September 2022, JP Morgan Chase announced that it had inked a deal to acquire Renovite Technologies Inc. Renovite produces a suite of cloud-native payment technologies covering everything from credit card processing to system testing to authorization, authentication, and security. The goal of the acquisition is to help JP Morgan modernize its offerings to better compete with smaller, more vertically integrated payments companies. 
"Clients are looking for not just card acquiring, but also value-added services as well," Max Neukirchen, JP Morgan Chase's head of payments and commerce solutions, told American Banker. "So all of the tasks associated with payments, such as fraud prevention, tokenization and checkout experience, are all part of that." 
The move enables JP Morgan Chase to bring decades-old payments tech up to date – a key step in its push to expand its payment business globally and pull market share away from one-stop competitors like PayPal and Stripe.
Big Companies Are Looking to Close the Gap with More Agile FinTech Innovators
JP Morgan's acquisition of Renovite demonstrates a couple of important trends in the industry. The first is that payments technology is evolving extremely rapidly, with new options like digital wallets, mobile payments, and peer-to-peer payments becoming more and more popular among consumers. The second is that large banks are losing ground to smaller, more adaptable companies that can innovate and get new payment products to market faster while also making the merchant experience more frictionless. 
JP Morgan's push to expand its product offerings mirrors similar acquisitions from companies like NMI, a leading global payments company specializing in gateways, which acquired IRIS CRM earlier in the year to increase the value it can offer its ISO and PayFac clients through its full commerce enablement platform. 
In both cases, the acquisitions demonstrate the fact that big players in the space are recognizing the importance of greater vertical integration and the more streamlined, convenient experience it offers to clients, be they end merchants or smaller acquirers like ISOs. 
Merchants are Demanding the Convenience of All-in-One Payment Processing Solutions
The driving force behind the shift in the industry is a growing expectation among merchants for payment processing to be frictionless and effectively invisible in the background of their operations. Third-party processors like PayPal, Stripe, and Square have long offered highly streamlined signups, flexible payment options,  and extremely fast time-to-processing. What they couldn't offer was competitive transaction fees. Today, new payments technology companies are bringing the convenience, centralization, and flexibility of PayPal to traditional merchant accounts, bridging the gap and creating elevated client experiences without the elevated transaction fees. 
In an industry as competitive and saturated as payments, merchants have an enormous amount of choice in who they partner with for processing. Companies failing to offer complete merchant solutions quickly find themselves facing two major problems: first, they're uncompetitive, leaving them in the unenviable position of potentially having to cut their rates in order to maintain market share. Second, they fail to leverage the revenue generation opportunities associated with value-added merchant services – a problem JP Morgan Chase's Global Head of Payments called out in its 2022 Investor Day. 
ISOs and PayFacs Need to Be Ready to Offer More Complete, One-Stop Service
The demand from merchants for more streamlined service filters up through the industry. Merchants still prefer to work with a smaller acquirer, but they expect a greater range of options, which means ISOs and PayFacs need to have those options available. That, in turn, means expanding partnerships beyond just the typical relationships with processors that have dominated the industry for decades. 
One fast, easy way for ISOs and PayFacs to expand options and increase value is to resell gateway services. Payment gateways are mission-critical tools for all merchants regardless of what channel they sell through, and becoming a reseller enables ISOs and PayFacs to bundle not only gateways, but also any value-added services a gateway provider may offer, as well. The result is a more complete solution for the end merchant and a set of new revenue streams for the acquirer. 
All-in-one solutions like NMI's full commerce enablement platform take things a step further, providing ISOs and PayFacs with a complete set of processing, gateway, and add-on services to sell, all under a single umbrella, while also providing an industry-leading customer resource management system through IRIS CRM to handle the operational side. Not only do ISOs get access to a full, centralized suite of services to offer clients, but the CRM access also provides a centralized platform to manage all aspects of the payments business, enabling everything from recruiting and acquisition, to onboarding, to underwriting, to service and support, to residuals management to be handled through a single, user-friendly piece of software. 
IRIS CRM and NMI can help your ISO or PayFac streamline your business, expand your service offerings, and open up new revenue streams to ensure you'll always be at the cutting edge of merchant demand. To find out more about everything IRIS CRM and NMI Full Commerce Enablement have to offer, reach out to a member of the team or schedule a free guided demonstration today.