Merchant Reporting Integration for Unified Payments ISOs
IRIS CRM has added yet another reporting integration to automate your portfolio management.  We are thrilled to announce that our Unified Payments reporting integration is now live!
For ISOs working with Unified Payments, having reporting data populated directly to your IRIS CRM site is now possible. All you have to do is contact Unified Payments for data sharing credentials and provide them to IRIS CRM's Support Team to enable the integration. 
Once the datasource is configured by the IRIS CRM team, all of the important merchant information you care about will be shown for your Unified Payments merchants. This includes Deposits, Batches, Account Status Information, Memos, Retrievals, Chargebacks, and Monthly PDF Statements. 
With Unified Payments reporting data in IRIS CRM you are able to view the performance of your entire portfolio plus the specifics of your Unified Payments portfolio, all in one place. Each merchant's data is automatically populated in your CRM so you don't have to navigate between systems and stress about the accuracy of the data since we are pulling it straight from Unified Payments' system. Ultimately, this saves users time and maximizes the efficiency of their workflows.
How to Enable the Unified Payments Integration with IRIS CRM
Getting started with the new reporting integration for Unified Payments is easy, all you need to do is contact Unified Payments for data sharing credentials and provide them to the IRIS CRM Support Team who will configure the settings in your site. Once completed, your Unified Payments data will be automatically populated in IRIS CRM. 
Step 1: Contact Unified Payments for SFTP Credentials
First, you'll need to reach out to Unified Payments and inform them that you would like to enable data sharing with IRIS CRM. Once you submit your request, they will configure data sharing and provide credentials for IRIS CRM to access your data. 
Step 2: Contact IRIS CRM Support to Enable Unified Payments 
Once you receive credentials from Unified Payments, submit a request to the IRIS CRM Support Team with the credentials included. From there, Support will take care of configuring your site to retrieve the merchant reporting data from Unified Payments. 
Step 3: Automatically Start Receiving Merchant Data
The merchant reporting integration with Unified Payments includes all of the most important merchant data including Deposits, Batches, Account Status Information, Retrievals, Chargebacks, and monthly PDF statements. Aside from monthly statements, the data is updated daily so you and your merchants have the most recent information available. 
Unified Payments Reporting Data
Batches
You and your merchants can view all of the transactions processed by the merchant over the specified time range from the Batches tab. Batches show the gross revenue generated by the merchant prior to any fees being deducted by the processor.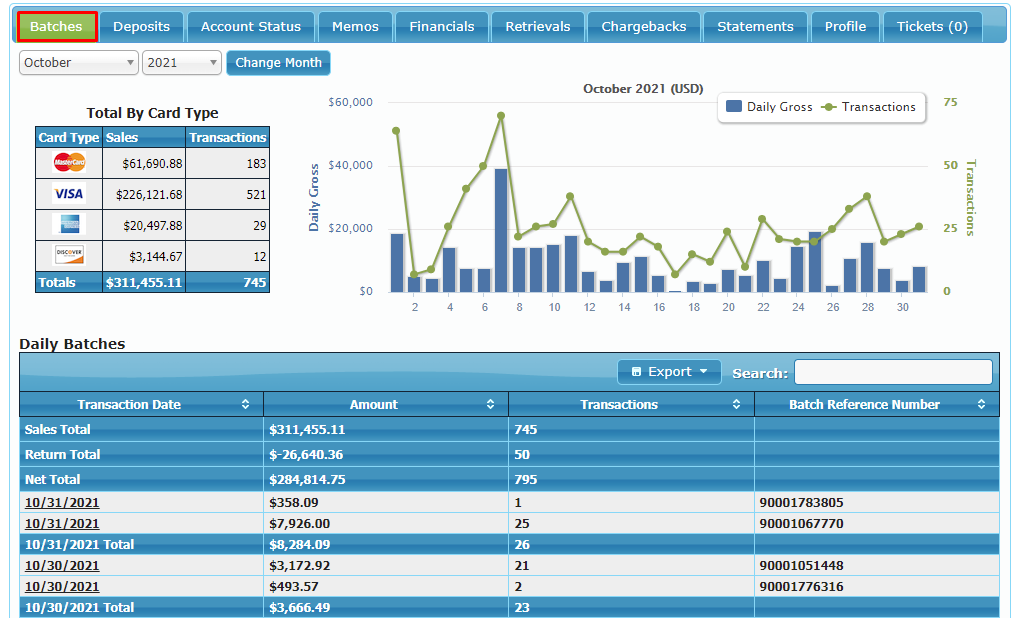 Deposits
The Deposits tab gives users and merchants insight into the actual amount deposited into the merchant's bank account after fees have been taken out.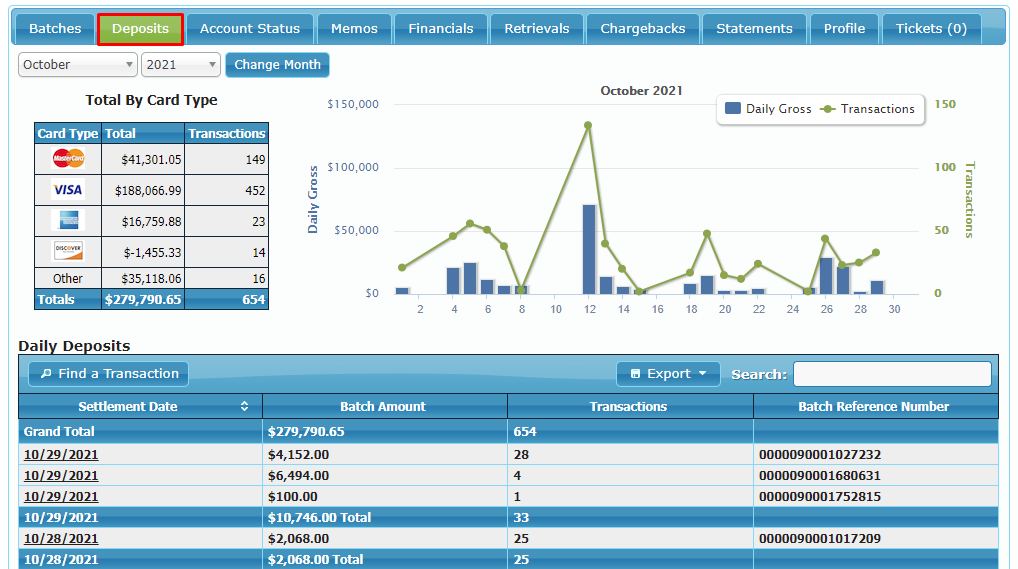 Account Status
The Account Status tab is populated with important account information about the merchant that comes directly from Unified Payments. Here, you can see the most accurate and up-to-date merchant information without having to go to another site. The account information includes General Information about the business, Owner, Processing, Card Type, and Settlement information. 
General Information: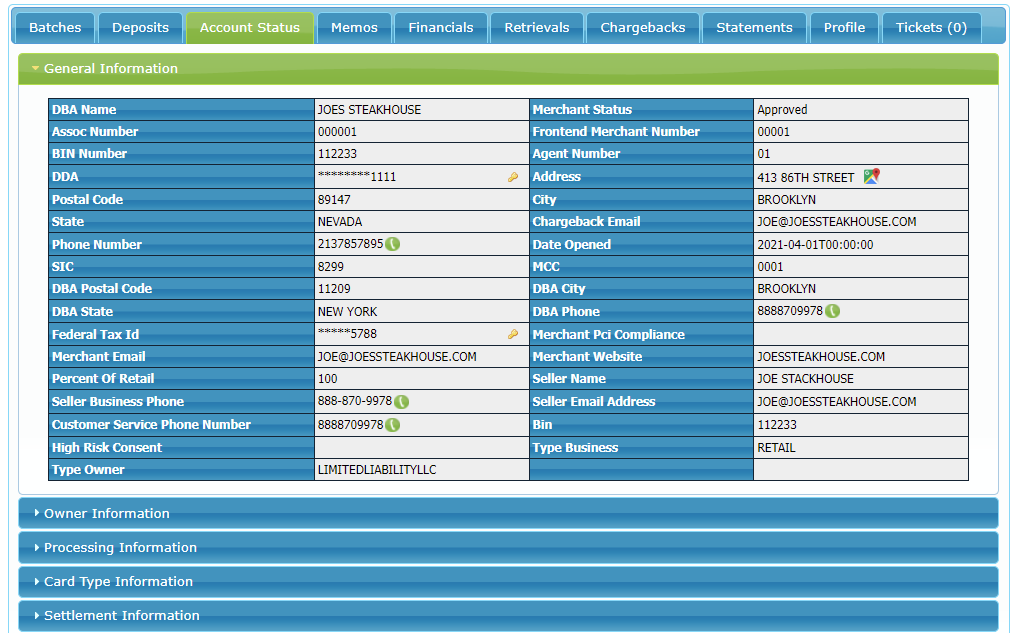 Owner Information:

Processing Information:

Card Type Information:

Settlement Information:

Memos
In the Memos tab, you can view all of the memos left on the merchant's account which provides the context you need while reviewing their account:

Retrievals
IRIS CRM will pull all of the merchant's latest retrievals so you and your merchants can stay on top of them:

Chargebacks
Never miss a chargeback with the latest disputes filed against merchants shown directly in IRIS CRM. The Chargebacks tab shows all of a merchant's chargebacks, including key chargeback information such as the Chargeback Date, Reason, and Type. This data will help you and your merchant ensure a response is submitted on time in order to win more disputes.

Statements
Each month, a PDF of the merchant's processing statement will be added to the Statements tab. You can control merchant access to this tab, including the ability to download their statements directly from your merchant portal or hide the tab completely:

Not a client? Learn how IRIS CRM's wide range of payments-specific integrations can help you grow your portfolio by scheduling a demo with our team!