New Enhancement: Capture Attachments During the E-Signature Process
IRIS CRM has released a new enhancement to our e-signature feature, adding the ability to Capture Attachments During the E-Signature Process which will allow ISOs and ISVs to further tailor onboarding workflows for increased efficiency.
In the past, attachments required to open a merchant account would have to be submitted outside of the merchant e-signature process. IRIS CRM clients can now enable merchants to upload attachments during the e-signature process, and they can make attaching selected documents required or optional before merchants can submit their applications.
Clients can now also choose whether to append the uploaded attachments to the final signed PDF application file, automatically capture the merchant-uploaded attachments directly into the lead, or both. If capturing the attachments directly into the lead is selected, clients can also control how the files are labeled when attached to the lead in IRIS CRM to ensure that sensitive files are properly labeled and in alignment with any security restrictions and their CRM workflow.
How It Works
Enabling Attachment Uploads in E-Signature Applications
To enable attachment uploads in your e-signature applications, you can add named fields to your applications which merchants can use to upload documents during the e-signature process.
For example, you can add fields for merchants to upload void checks, business licenses, government identification, and more. Here is an example of a PDF application that has been set up with attachment fields to allow the merchant to upload a bank letter/voided check, driver's license, 3 months of statements, and 2 years of tax returns: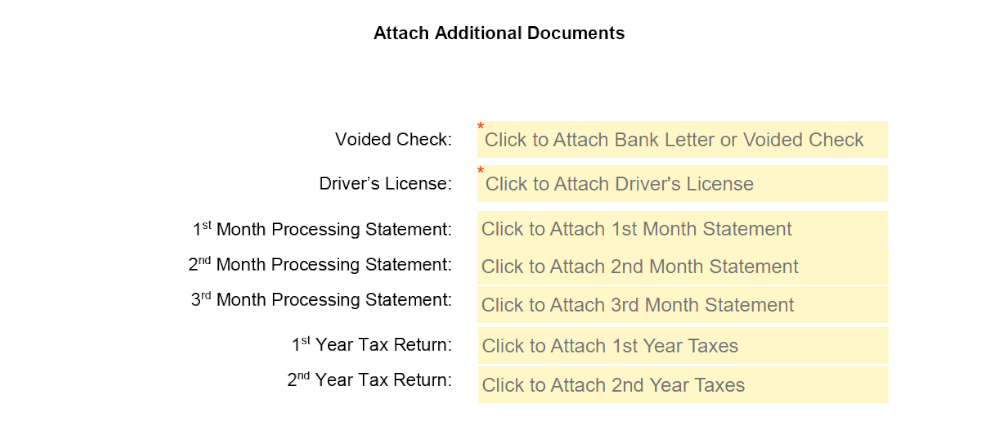 These fields can be set as required, so merchants must add the necessary documentation before submitting their e-signed application, or optional. To make the attachment fields mandatory, select the fields in Adobe Acrobat and right-click to open the fields' properties popup. Next, select the "required" checkbox and save your changes. The final step involves uploading the new PDF to your applications in IRIS CRM.
Learn how to enable attachment uploads in your e-signature applications via our Knowledge Base article.
Merchant Document Upload Process
When a merchant clicks to start the e-sign process via email, they will now see the fields you added and can upload their files while e-signing as a single process: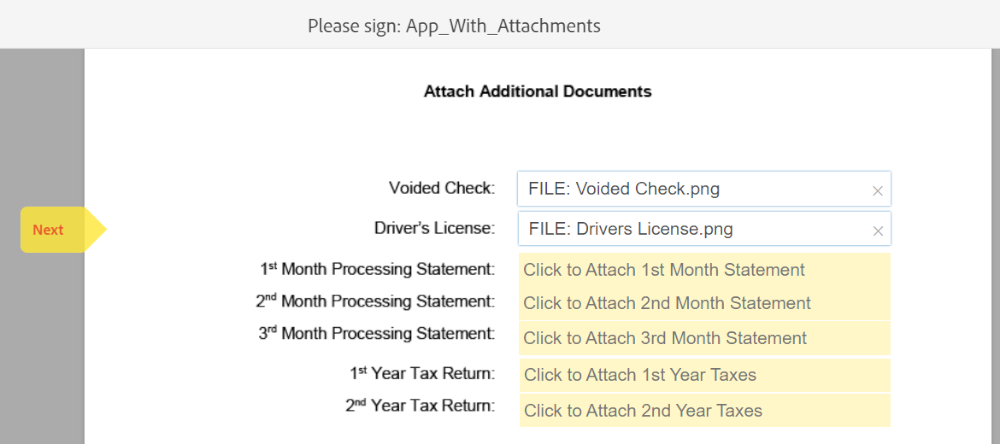 The attachments will be appended directly to the PDF and attached to the lead in IRIS CRM by default. The combined PDF document with the appended attachments will then be sent to both the signing merchant and attached along with the individual labeled files to the lead.
For example, here is a combined PDF with the list of attached documents and the appended attachments below: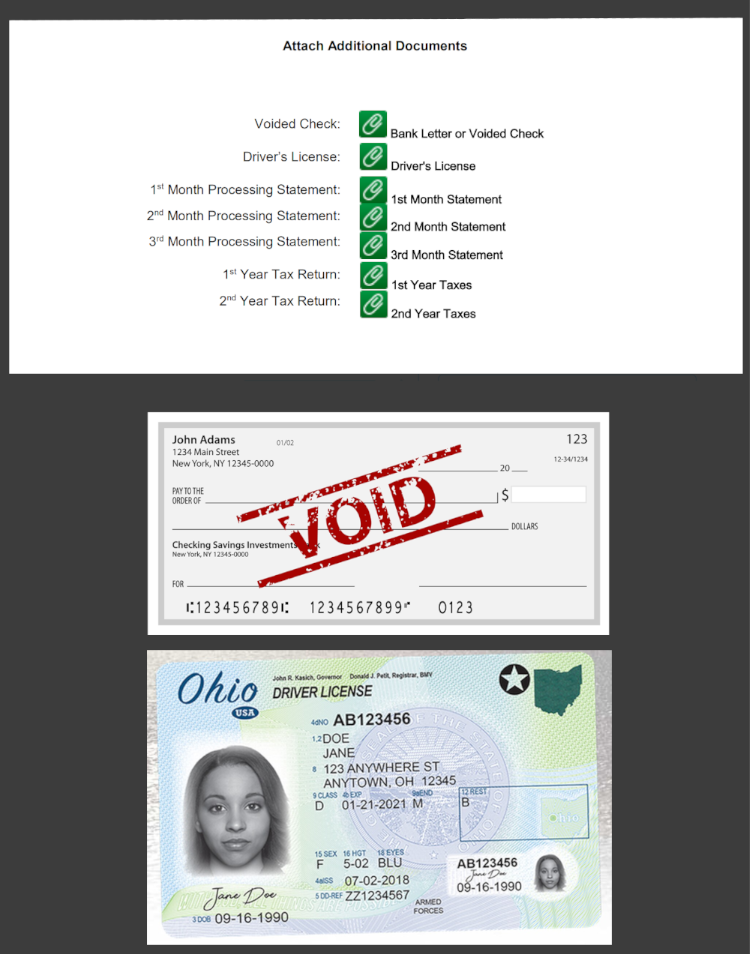 Here is an example of what the saved attachments look like when they are captured into the lead file and labeled: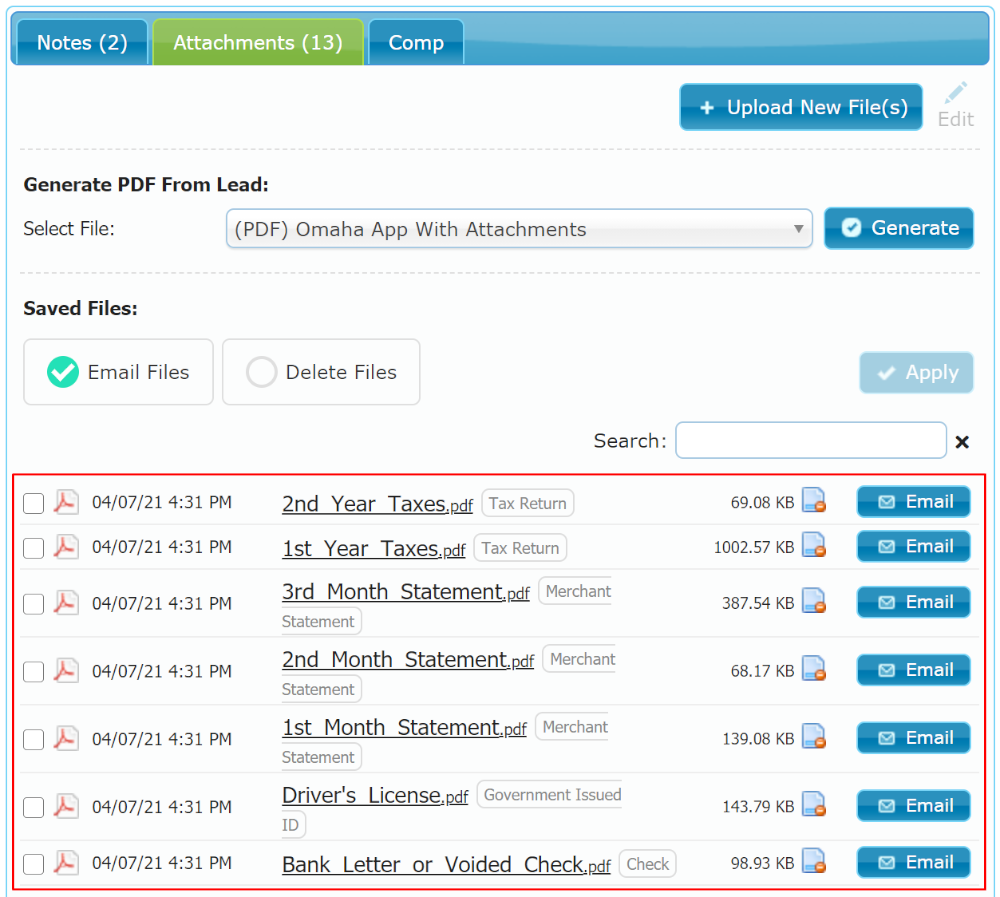 You can also customize the attachment settings to fit your specific workflow by following the steps below.
Managing File Upload Options
You can customize the behavior for capturing attachments submitted through each of your applications containing attachment-related fields via the following three-step process.
Step 1: Navigate to Manage Applications
Head to Manage > Administration, then click E-Signature in the left-hand navigation panel. Select Import PDFs and you will arrive at the Manage Applications page.
Step 2: Edit Application Attachment Settings
Find the application you would like to customize the default attachment behavior for and click Attachments:

Now you will see the Application Attachments popup, which is where you can select your preferred attachment behavior for the e-sign application:

Options include:
Embed submitted documents in final PDF & attach documents to lead

Embed submitted documents in final PDF

Attach submitted documents to lead
If you select to attach documents to the lead, a new option for choosing how to label the files will appear: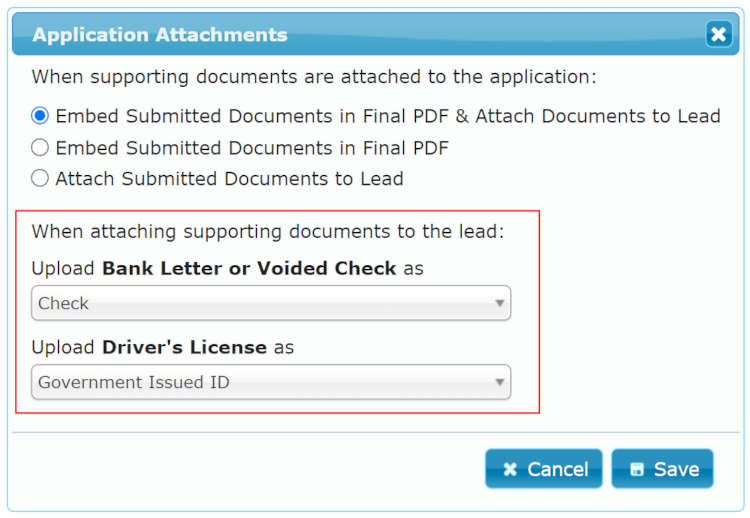 Select your preferred labels for the attachment files in IRIS CRM then click Save to complete the process. Adding proper labels here is crucial as certain labels for sensitive files will include security restrictions based on your IRIS CRM settings.
Step 3: Repeat for Any Additional Adobe Sign Applications
Finally, complete the same steps for any additional applications you would like to update. Currently, the default setting is to append the attachments directly to the resulting PDF and the lead in IRIS CRM. Ensure that any applications that you'd like to change from this default are updated, then click Save for each.
Now, all of your applications will have customized settings to append attachments directly to the PDF, directly to the lead, or both depending on your preferred workflow.
We hope you enjoy the ability to Capture Attachments During E-Signature Process! For more information, check out the Knowledge Base article or reach out to our support team. To gain the full view of what IRIS CRM has to offer for ISOs and ISVs, schedule your free guided demonstration today!