New Enhancement: Group Options in Domain & Logo Settings
Your favorite Merchant Services CRM has just received a new enhancement—the ability to manage Group Options on the Manage Site Domains page.
The Manage Site Domains page allows ISOs to enable access to the CRM site from multiple domains.
For example, by configuring your DNS and CRM settings you can have your users access the <yourdomain>.iriscrm.com subdomain, from a different domain such as portal.yourdomain.com, and provide for a more seamless experience for the users.
As an example, here is a screenshot of the Manage Site Domains page with a single domain enabled:

You can use the Add New Domain & Logo button on the page to set up additional domains for your CRM site.
For each domain that you add, you can upload a different logo to be displayed in the site's header section.
With the latest update, you can now also control which logo will be displayed to the user in cases where a user's primary group is also set up with a logo (which can be different from the logo saved in the domain settings).
Additionally, you can now apply the domain settings only to specific user groups if needed.
Here is a screenshot of the updated Domain & Logo settings popup with the new group options: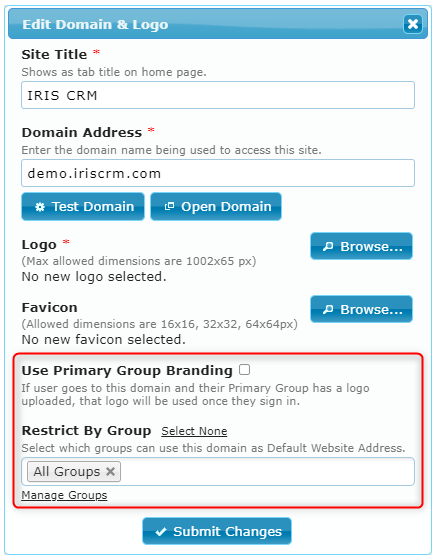 If you select the Use Primary Group Branding checkbox in the popup, the user will see their primary group logo when they log into the custom domain.
If the user's primary group was not set up with a logo image though, then the main logo uploaded in the domain settings is shown instead.
By default, all new domains are available to all user groups, but if needed, you can restrict the domain to only specific user groups by selecting those groups in the Restrict By Group field.
After you select such groups, all other remaining groups will no longer be able to set the current domain as the Default Website Address in their group settings.
We hope you enjoy using the new enhancements.
Stay tuned for more updates coming soon!
---
For sales tips and the latest electronic payment news check out the daily IRIS CRM Daily Bulletin and for the latest product updates and company news please join our newsletter.