New Enhancement: Terminal Management & Deactivation For TSYS Wholesale ISOs
We're very happy to announce a new enhancement to IRIS CRM's TSYS Wholesale integration, which enables TSYS Wholesale ISOs to close TSYS equipment terminals directly in IRIS CRM!
IRIS CRM's TSYS Wholesale integration comes with the ability to add and manage TSYS equipment and VARs on demand. Now, TSYS Wholesale ISOs can also close TSYS equipment for merchants right from within their IRIS CRM site. 
The process is simple and provides TSYS Wholesale ISOs with a more streamlined, unified TSYS equipment management experience. ISO teams will no longer have to leave IRIS CRM and navigate to TSYS Express to manage and deactivate equipment!
How It Works
Step 1: TSYS Merchant Page
To start, find the merchant that has TSYS equipment that you are seeking to close and open their merchant page. 
Once you are on the merchant's page in your TSYS Wholesale ISO's IRIS CRM site, click on the Account Status Tab, then click Equipment: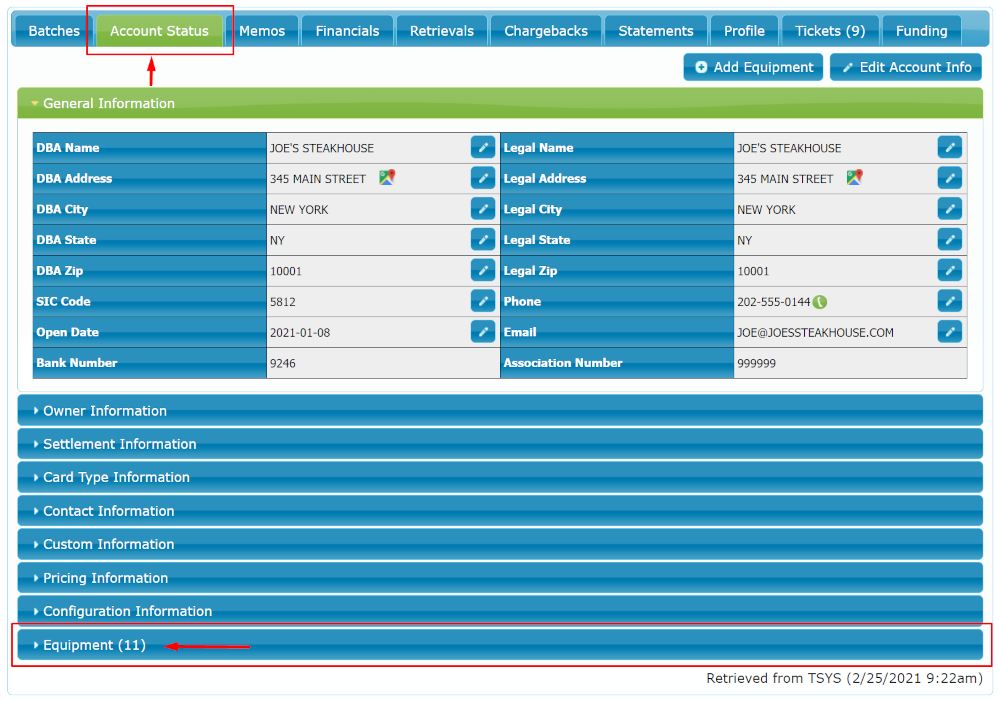 Step 2: Edit Equipment Status
You will now see a list of all equipment for the selected merchant. A column will be visible to the left of Actions titled Status. Here, you will see a notification if the TSYS equipment is Open or Closed:

Clicking on the toggle icon to the right of the equipment status will take you directly to the Helpdesk.
A new ticket will be automatically opened of the TSYS – Update Equipment Status (Auto) type.
Step 3: Add Helpdesk Ticket
The final step is clicking Add Ticket: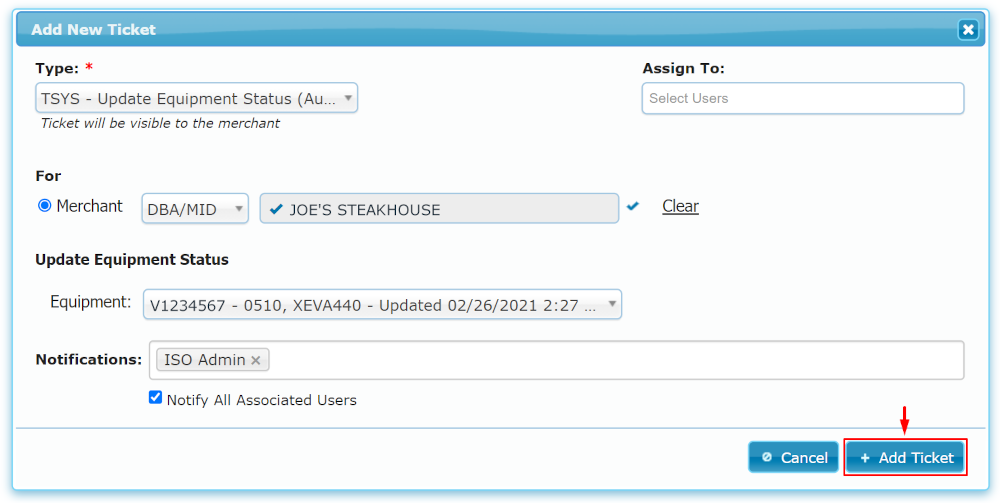 This will submit the request to TSYS to close the specific piece of equipment, and the process is automatically completed without having to go into TSYS Express!
You can verify that the equipment has been successfully closed by re-navigating to the Equipment section of the Account Status tab. The specific equipment you closed should now be labeled as Closed in the Status column.
We hope this new feature provides a lot of value for TSYS Wholesale ISOs, in addition to IRIS CRM's suite of powerful tools tailored to the specific needs of ISOs. If you'd like to see IRIS CRM's industry-leading software in action, schedule your free guided demonstration today!