New Enhancement: Volume and Average Ticket in Portfolio Activity for Non-Integrated Processors
IRIS CRM's powerful Portfolio Activity monitoring feature has now been enhanced to increase accuracy and give clients a more accurate view of retention and growth by adding the volume and average ticket for non-integrated processors.
Portfolio Activity provides a quick view of how much business you anticipate to add or lose for a given time frame. With this data, you can make sure that your revenue is growing over time and if it isn't, you can take actions to drive new business growth. 
It's important to have all of your merchant data in Portfolio Activity so you can ensure your portfolio is growing with speed. In the past, this data was not automatically incorporated into Portfolio Activity for merchants onboarded outside of TurboApp to non-integrated processors. With the new enhancement, volume and average ticket data for non-integrated processors is now included in the Portfolio Activity page, ensuring that you have a clear view of how much business is coming in or heading out each month, or for any given time frame of your choice – whether a merchant was boarded through TurboApp or directly to a non-integrated processor.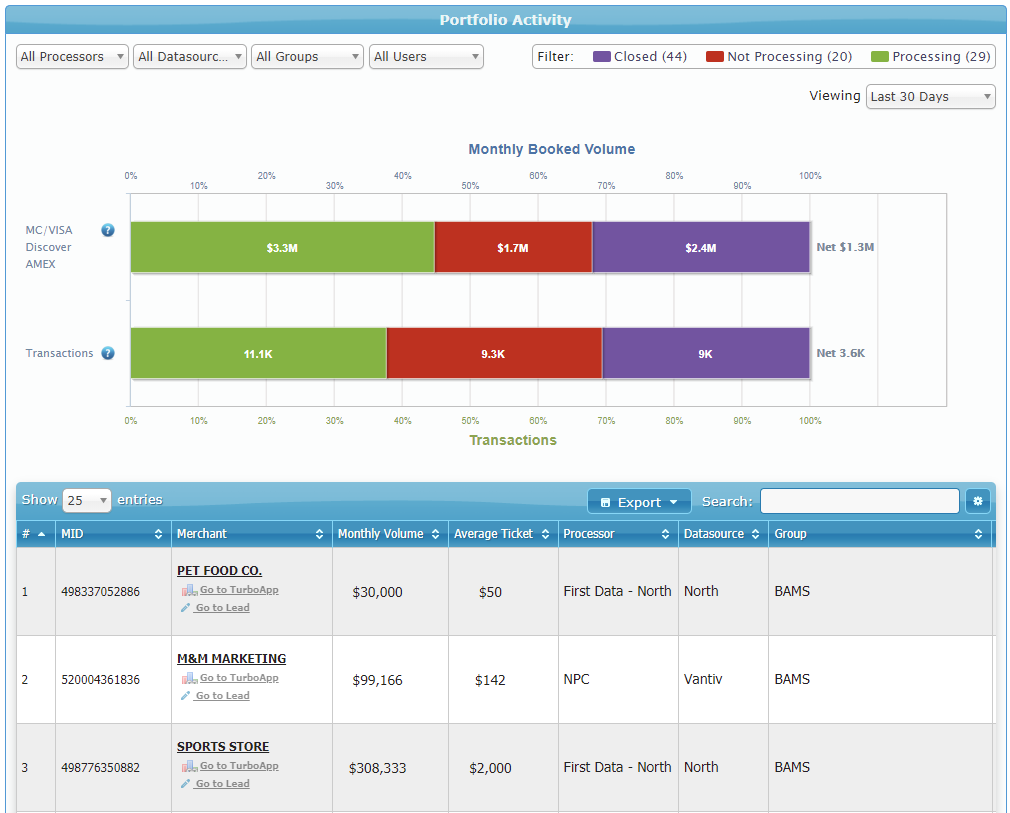 The volume and average ticket data now automatically carries through the lifecycle from lead to merchant for non-integrated processors, serving as "north star metrics" for the merchant's performance over time that is easily accessible via Portfolio Activity. Portfolio Activity is more accurate because it now automatically includes merchants onboarded outside of TurboApp, as well as those boarded within TurboApp.
The new enhancement will be a huge benefit and add a ton of value to the Portfolio Activity feature, especially for ISOs boarding merchants to processors that are not integrated with IRIS CRM yet.
How It Works
Monthly Volume and Average Ticket
The Portfolio Activity page consists of a table containing merchants onboarded or closed during the specified time period. The table includes MID, Merchant DBA, Monthly Volume, Average Ticket, and the Processor. Links in the Merchant column will take you directly to TurboApp (if applicable) or the Lead page.
Prior to this new enhancement, Monthly Volume and Average Ticket would be listed as $0 for merchants that were not imported through TurboApp. The data was editable, but required manual data entry to incorporate monthly volume and average ticket data for any merchant boarded to non-integrated processors:

Now, this data is automatically incorporated via the associated lead page to ensure that your Portfolio Activity reporting contains monthly volume and average ticket for all merchants. 
If the monthly volume and average ticket still appear as $0 in your reporting, this means that the associated lead does not contain the monthly volume and average ticket data. This can happen if a merchant was boarded to a processor that IRIS CRM has a reporting integration with, but not yet a merchant onboarding integration. In this case, you can manually add the data – provided you have user permissions to edit leads, the new data entered into Portfolio Activity will carry over back into the lead to ensure data consistency throughout your CRM.
Lead Field History
Each change made to the lead data will be tracked and timestamped, so no need to worry about users changing data they should not have. It's easy to see exactly who changed any lead data via the Field History for any given lead:

Filtering Portfolio Activity Data
Filtering by Processing, Not Processing, and Closed is also available at the top of the Portfolio Activity page. This enables additional optimizations that make the page even more valuable for IRIS CRM clients.
Filtering by Processing will showcase merchants that were approved in the selected date range and started processing, which are shown in green in the Portfolio Activity graph. A high number of Processing merchants means your business has grown significantly over the given time frame, and you can get an estimate of their monthly volume and average ticket via the graph.
By highlighting merchants that are Not Processing, you can see how many merchants were approved but have not yet started processing. If this number is high, you may need to improve your deployment process to ensure merchants begin processing as soon as possible. 
The number of Closed merchants, shown in purple, indicates merchants that closed in the selected date range.
Merchant Dates
You can also view dates for when a merchant started or stopped processing on the right side of the Portfolio Activity table for a granular view on each specific merchant:

To learn more about IRIS CRM's Portfolio Activity Monitoring, check out our blog post: Featured Functionality: Portfolio Activity Monitoring! 
Ready to see IRIS CRM in action? Request your no-risk guided demonstration with our expert team today!