New Enhancement: Workflows for Start Processing and Closed Merchants
Streamlined workflows are at the core of IRIS CRM's value for ISOs and ISVs, enabling faster, more convenient ways to accomplish daily tasks and accelerate growth. IRIS CRM's latest enhancement furthers this mission by providing ISOs with improved workflows for when merchants start processing or close!
Maintaining data accuracy is absolutely crucial in a CRM. Without accurate CRM data, all of the automated and streamlined features in the world will never be able to provide maximum value. With the new enhanced workflows for merchants that start processing or close, lead data accuracy will be instantly improved for every IRIS CRM client. Even better, the new enhancement will reduce the amount of manual work needed to maintain accurate data throughout the lifecycle from a lead to a merchant.
How It Works
The new enhanced workflows cover two common instances in which lead data can become inaccurate within a merchant services CRM – as merchants start processing and proceed from lead to active merchant, and when merchants close:
Merchant Starts Processing Enhanced Workflow
Now, you can use the Groups feature in IRIS CRM to designate the status for a lead to enter once their linked merchant begins processing. Prior to this new enhancement, in order to maintain lead data accuracy, a team member would have to manually go in and set the associated lead to the desired status to prevent the lead from remaining in its previous status.
Setting a status to change to when merchants begin processing ensures that your lead reporting identifies which approvals have not started processing, automatically increasing your lead reporting accuracy.
To edit the status for a lead that starts processing, head to IRIS CRM's Group Settings page. You can set this status individually for each group that you have created in IRIS CRM by following these steps: 
Step 1: Navigate to Manage Groups
First, you'll need to head to Manage > Administration, then type in "Group" via the search bar at the top or click Users & Groups in the left navigation panel. Next, click Manage Groups and you'll arrive at the Manage Groups page where you can edit group settings.
Step 2: Edit Group Settings
Now, you'll edit the group settings to incorporate lead statuses for when merchants start processing. Click
Edit
at the right side of the page for your selected group and you'll see the
Group Settings
page for that specific group:

The setting is listed as Merchant Started Processing Lead Status for each group and allows you to select from a list of your lead statuses. You can also click the icon next to the tooltip to edit your Status States via the Status States Customization page:

Step 3: Save Settings and Apply to Additional Groups (Optional)
Click Save Group at the bottom of the Group Settings page to save the settings: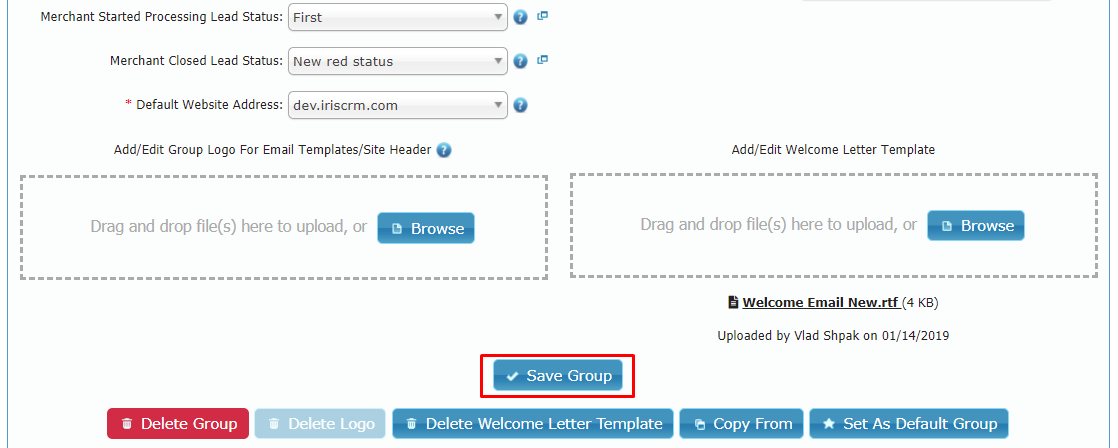 When you click Save Group, your CRM will first save your new settings, then ask if you'd like to apply these settings to other groups via the Copy Group Settings to Additional Groups popup: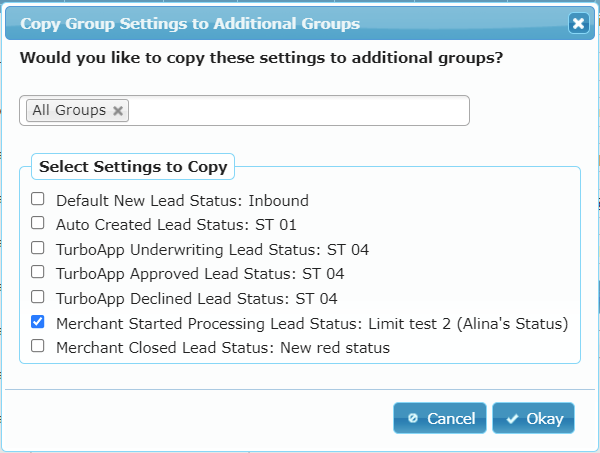 If you would like to apply this specific setting to additional groups, simply select the desired groups to update at the top of the popup and select the Merchant Processing Lead Status checkbox to apply just this setting to the selected groups. You can also select multiple settings to apply to the groups as needed. If you don't want to update other groups' status settings, click Cancel.
Merchant Closed Enhanced Workflow
There are multiple ways that a merchant can be set as closed in IRIS CRM. When a processor shows a merchant as closed via their data feed, IRIS CRM automatically sets the merchant as closed within your CRM system.
Alternatively, a user can manually set a merchant to be closed via its Manage Merchant page. You can also go to Manage > Administration > Merchants > Merchant Management and find the account(s) there and edit them to be marked as Closed. Regardless of how IRIS CRM detects a merchant to be closed, you can now have the status set automatically for the merchant's linked lead, ensuring that your lead data maintains integrity and removing the risk of leads associated with closed merchants remaining in your lead pool.
To begin setting lead statuses for your IRIS CRM groups, follow the same steps as above to navigate to the Manage Groups page. Select the group that you'd like to edit, and click the Edit button to the far right.
Step 1: Edit Group Settings
The Merchant Closed Lead Status setting is where you can set the lead status for when merchants are set to closed in your CRM. Once again, clicking the dropdown will allow you to select from any of your various Lead Statuses – in this case, select one of the statuses that you use for closed merchants to ensure that the associated lead is properly transitioned to the correct lead status each time a merchant is closed:

Step 2: Save Settings and Apply to Additional Groups (Optional)
Click Save Group at the bottom to update the settings for this group. You will be able to apply this setting and any other group settings to additional groups via the resulting Copy Group Settings to Additional Groups popup.
Once you have finished updating your Merchant Started Processing Lead Status and/or Merchant Closed Lead Status and applied the settings to any relevant groups, the process is complete.
From now on, any merchants that start processing or close will automatically have their associated lead changed to the status of your choice! You can feel confident that your lead data is more accurate and your team will have more time to focus on important revenue-generating activities with these enhanced workflows.
Interested in learning more about how IRIS CRM can help save you time and increase efficiency? Schedule your free demonstration of IRIS CRM today.