New Enhancement: Workflows for Start Processing and Closed Merchants
Automating processes, big or small, is a great way to save your organization time and ensure your data is consistent and accurate. Our latest exciting feature does just that by automating the workflows for merchants that have started processing or closed!
Rather than manually checking in on which merchants have started processing, then making updates to their linked lead's status, you can now configure IRIS CRM to automatically update the status. You can also set the status a merchant should be updated to in the event they close their account so you don't have "live" leads that are actually closed. 
By configuring these automations, your users don't have to wonder whether or not they updated a merchant's status and if they did, if they updated it correctly. This saves the time spent checking their processing status as well as ensures that merchant statuses are updated consistently across your CRM for the utmost data integrity.
How It Works
Merchant Start Processing Workflow
After a deal is closed, it may take time before the merchant starts processing at the volume you consider them to be live. Rather than requiring a user to manually go back and update the merchant's status, IRIS CRM's new workflow will save you time by automatically updating the status. To enable this automation, follow the steps below:
Step 1: Navigate to Manage Groups
First, you'll need to head to Manage > Administration, then type in "Group" via the search bar at the top or click Users & Groups in the left navigation panel. Next, click Manage Groups and you'll arrive at the Manage Groups page where you can edit group settings.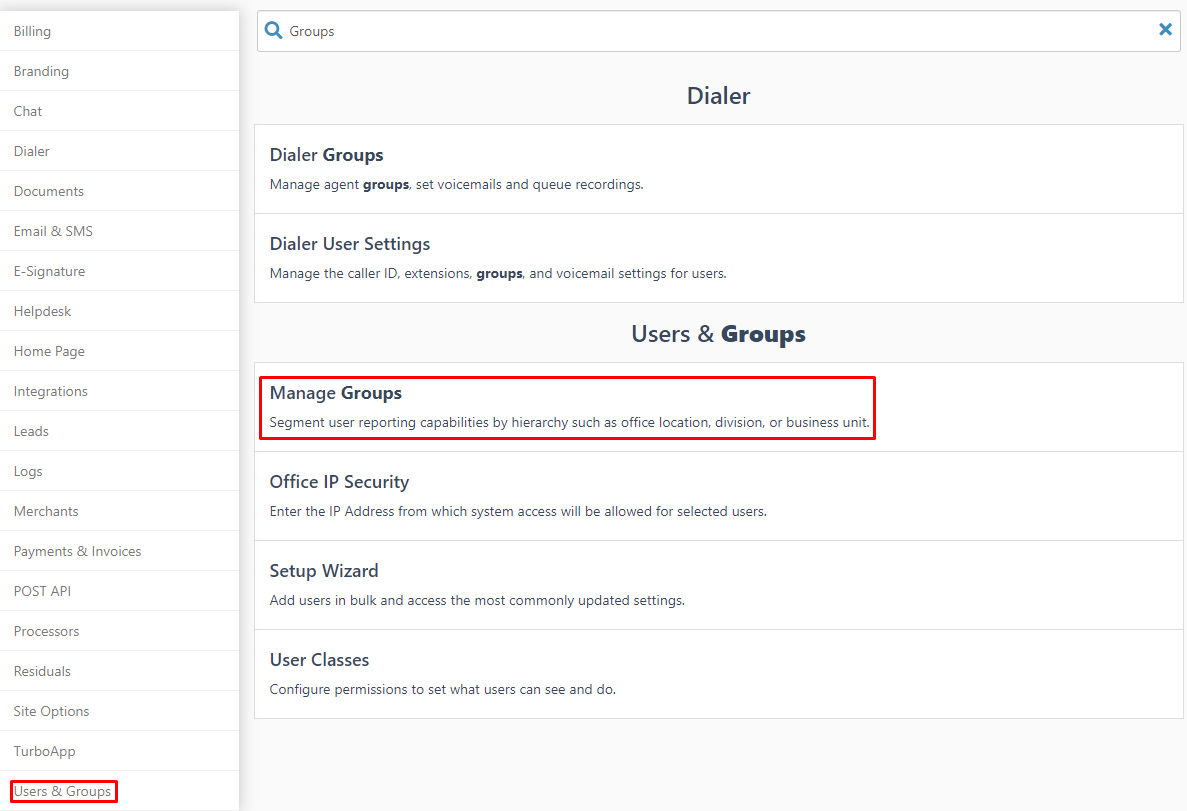 Step 2: Edit Group Settings
Now, you'll edit the group settings to incorporate lead statuses for when merchants start processing. Click Edit at the right side of the page for your selected group and you'll see the Group Settings page for that specific group:

The setting is listed as Merchant Started Processing Lead Status for each group and allows you to select from a list of your lead statuses. You can also click the icon next to the tooltip to edit your Status States via the Status States Customization page: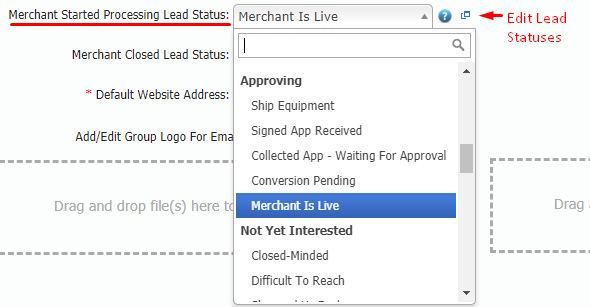 Step 3: Save Settings and Apply to Additional Groups (Optional)
Click Save Group at the bottom of the Group Settings page to save the settings: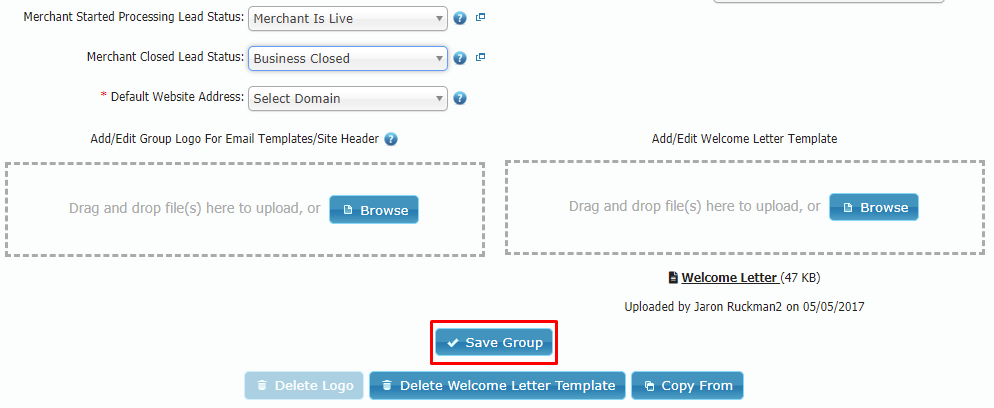 When you click Save Group, your CRM will first save your new settings, then ask if you'd like to apply these settings to other groups via the Copy Group Settings to Additional Groups popup: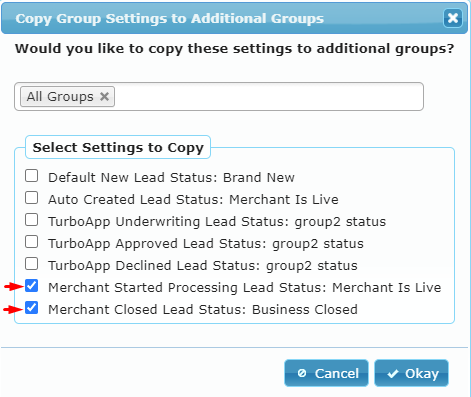 If you would like to apply this specific setting to additional groups, simply select the groups at the top of the popup and select the Merchant Processing Lead Status checkbox to apply just this setting to the selected groups. You can also select multiple settings to apply to the groups as needed. If you don't want to update other groups' status settings, click Cancel. 
Now, once new merchants hit the start processing batch threshold, their status will automatically be updated to the status you've set to indicate that they're live. 
Merchant Closed Workflow
A merchant account can be closed either manually from the merchant management page, or automatically when the processor integration indicates the merchant is closed. Regardless of how a merchant is set as closed, the new workflow will automatically update the merchant's linked lead status to keep your data up-to-date without needing manual updates. 
To configure the closed merchant status update, repeat steps 1-3 from above. When you reach step 2, you will choose the closed status in the setting below start processing called Merchant Closed Lead Status: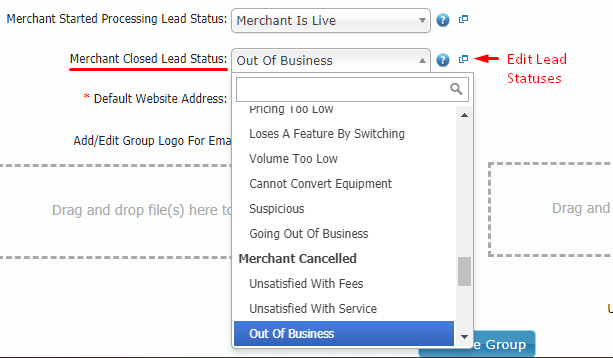 Now your CRM is configured to automatically update merchant lead statuses when they start processing or are closed to keep your records accurate and up-to-date without the need for manual investigation and updates!