New Enhancements: Helpdesk Ticket Files
Managing the Helpdesk ticket files in your favorite Merchant Services CRM has just gotten easier!
We are pleased to announce that we have released several updates to improve the way in which files are uploaded and viewed in helpdesk tickets.
Users now have the ability to select multiple files to upload to a helpdesk ticket, or to simply select files already saved on the lead.
Additionally, the Files section in the helpdesk ticket now displays all of the ticket files in one place.
This includes the files uploaded when the ticket was generated, files from ticket comments, and files received from incoming emails.
Here is the updated New Ticket dialog with the new Upload File(s) and Attach Existing File(s) buttons:
If you wish to upload multiple files to the ticket from your disk, simply click on the Upload File(s) button and select multiple files in the file selection dialog while holding down the Ctrl key (or the Command key on Mac).
If your ticket is linked to a lead, then you can also select the files that are already saved on the lead.
Simply click on the Attach Existing File(s) button and a popup window will appear which shows a list of files available on your lead.
You can now simply select the files you wish to add to the ticket and click the Add button: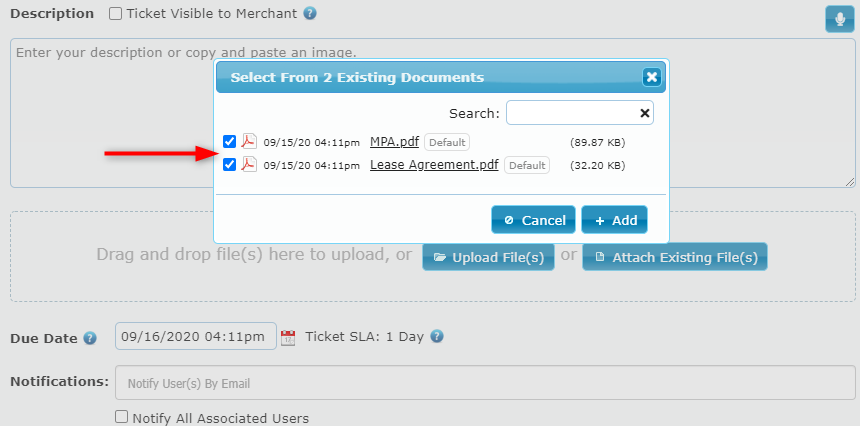 Once the ticket is created, you can continue to add files to the ticket from the comments section, where you will now find the same file upload buttons:
Note: If the lead attachments have already been added to the ticket, then such attachments will be greyed out in the lead attachment selection popup.
Finally, here is a quick screenshot of the File(s) section in the Helpdesk ticket:
Previously, the File(s) section only showed the files that were received in the ticket via an incoming email sent to the support team.
With the new update though, the File(s) section shows all of the files uploaded to the ticket regardless of their source, making it easier for users to view and manage.
We hope you enjoy using the new features.
Stay tuned for more updates coming soon!
---
For sales tips and the latest electronic payment news check out the daily IRIS CRM Daily Bulletin and for the latest product updates and company news please join our newsletter.