New Feature: Add Multiple Paya And Authorize.Net Gateways
We are pleased to announce that your favorite Merchant Services CRM now supports multiple Paya and Authorize.Net gateway setups. 

Our Paya and Authorize.Net integrations enable your business to accept online payments.  Through IRIS CRM your business will be able to create ACH transactions or accept credit card payments instantly.
More info:  Accept Payment From Clients By Credit Card & ACH Through Your CRM
Previously, clients could only have a single payment processing gateway enabled in your CRM.  With the new update, clients can add multiple gateways for different usage scenarios such as separating payment processing accounts designated for processing credits and debits through their respective configured online payment gateways.
IRIS CRM also updated the New Transaction tab on the lead which now provides the ability to select an appropriate gateway for each transaction. 
Additionally, the History tab on the lead has been updated to show transaction information processed through gateways that you've enabled. 
Let's take a closer look at enabling payment processing capabilities within your CRM step-by-step!
Enabling ACH Payments On Your Site
To enable the Paya integration for accepting ACH Payments, navigate to Manage > Administration > Integrations > Paya, and click New Gateway:

In the popup which appears, enter the name for your new gateway and the 7 digit Paya Terminal ID, and click Create: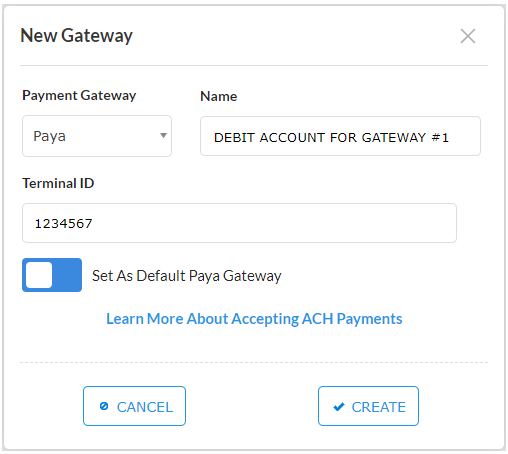 Your new enabled gateway is now shown in the Payment Gateways report where you can always edit or delete it quickly:

Note: We highly recommend that you confirm your transaction limit and create a credit and debit transaction test transaction from your new gateway to ensure that credits and debits are working properly.


For more information check out the Paya ACH Integration Guide in our knowledge base.
To add more gateways just repeat the steps above.
Enabling Authorize.Net Credit Card Acceptance
Enabling Authorize.Net as a payment gateway can be done with a few quick steps. 
First, log into Authorize.Net and retrieve your API Login ID and the Transaction and Signature Keys.
Once you have these 3 pieces of information, head over to the Payment Gateways page in your CRM by navigating to Manage > Administration > Integrations > Authorize.Net and click on the New Gateway button.
Fill in the required gateway information into the popup and click Create (you can make this new configuration the default gateway if needed):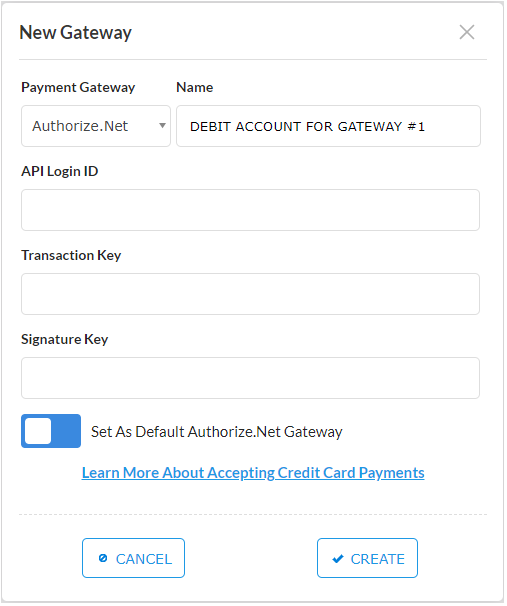 The Authorize.Net gateway is now configured and ready to accept payments online.
In the Payment Gateways configuration table you can edit or delete the gateway settings, and also update webhooks:

To add additional gateways simply follow the same steps as above.
For a complete guide on the Authorize.Net integration check out our articles on Enabling Authorize.Net For Credit Card Payments and Credit Card Profiles.
Accepting Online Payments From A Lead Or Customer Record
If multiple ACH payment gateways have been set up on your site, the New Transaction tab on the lead will show a Payment Gateway selection menu. 
Use this menu to select the appropriate gateway for each new ACH transaction: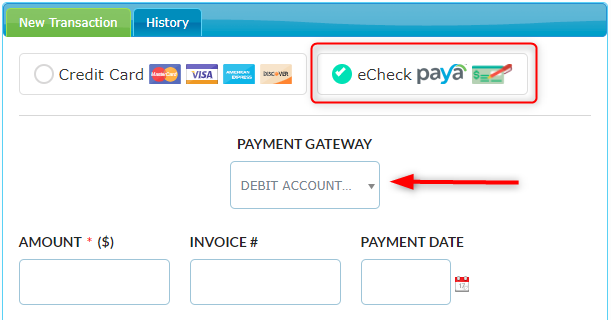 Similarly, when you are ready to accept a new credit card transaction, a list of credit card fields will be shown and your team can select the appropriate Authorize.Net gateway (if you configured multiple gateways):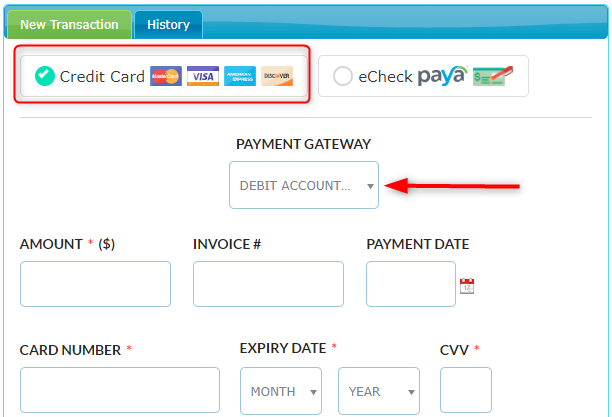 Within the History tab, you will find your transaction reporting. Each completed transaction now also includes the information on the gateway which was selected to process the transaction: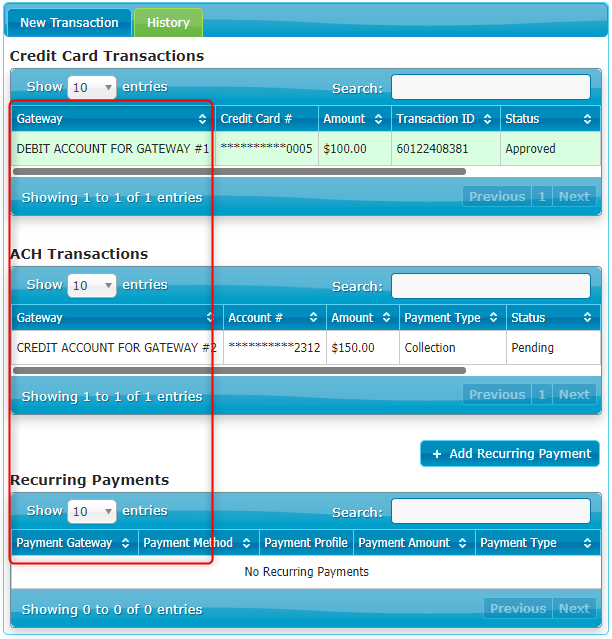 For a complete guide on how to create and manage transactions from the Lead or the Merchant Details page please see our article on Lead Payments. 
We hope you enjoy using the new feature!
Stay tuned for more updates coming soon!
---
Not Using IRIS CRM?  Let's Talk!
Join Over 200 ISOs Using IRIS CRM To Grow.
Schedule A Demo To Learn More.  Work Faster.  Work Smarter.
---
For sales tips and the latest electronic payment news check out the daily IRIS CRM Daily Bulletin and for the latest product updates and company news please join our newsletter.