New Feature: Combine Multiple Documents for Streamlined E-Signature
We're proud to share that we have added a powerful new feature to IRIS CRM's e-signature workflow – Combine Multiple Documents for E-Signature! ISOs and ISVs can now combine and stack multiple documents such as MPAs, POS agreements, lease agreements, and gateway agreements on the fly when sending documents for merchants to e-sign.
In the past, any time you needed to send an MPA and POS agreement to a merchant it would require generating and sending multiple emails and links. The new functionality is driven by enhancements to the Adobe Sign API and significantly improves IRIS CRM's streamlined e-signature process for the specific needs of sales agents, ISOs, and ISVs.
Imagine you have an application with three documents of 5 pages each. Using this new feature, the three documents will be combined into a single 15 page document that the recipient can easily navigate through by pressing next and quickly complete/sign all required fields before submission.
With the ability to combine multiple documents for e-signature, users can simply click the button next to "Send Multiple E-Sign Documents" on the E-Sign tab of a lead page, select any relevant documents that need to be sent to a merchant, order the files to their preference and generate an email with one link the merchant can use to sign all required documents at once: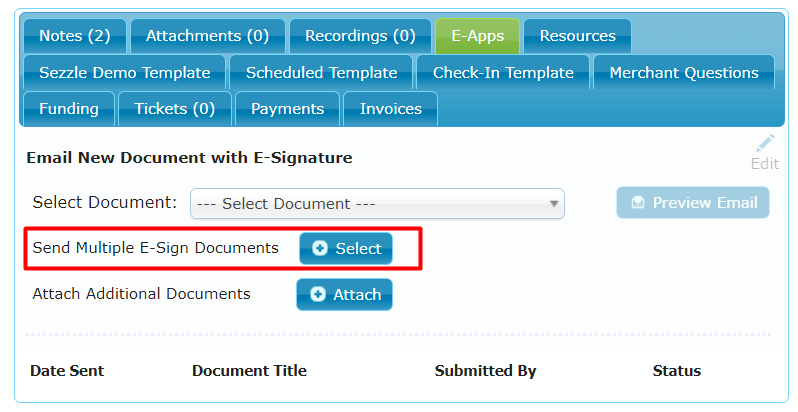 Below, you can see the popup where you can select the documents you'd like to combine: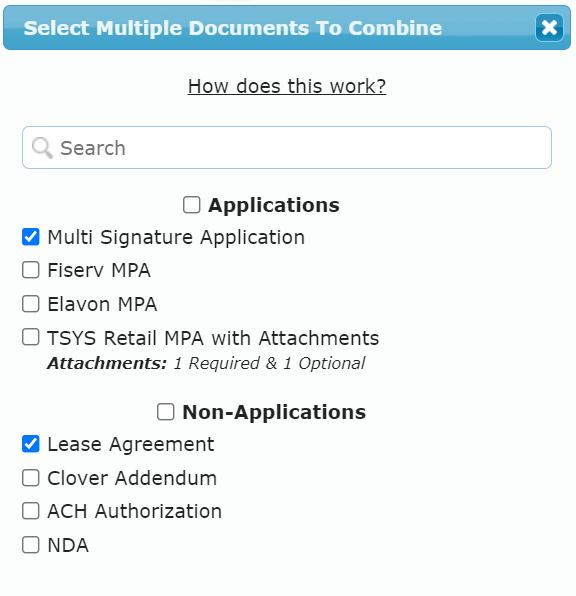 We've also added the ability to rearrange the order of the documents within a combined document, making it easy to combine multiple documents in the right order and email them to merchants to e-sign in just a few clicks! You can also remove unwanted documents from the combined PDF in the same popup. To learn more about the process for sending e-signature agreements, check out IRIS CRM's Knowledge Base article – Sending Agreements For E-Signature.
There are many relevant use cases for this feature. Any time an ISO has to send multiple documents for a merchant to sign, the ability to combine PDF documents on the fly will come in handy. As this occurs often in the merchant e-sign and onboarding process, the increased efficiency and time savings are significant.
Never again will you have to send multiple emails and files to a lead for them to sign, and by simplifying the onboarding process you'll be able to turn new merchants into revenue faster than ever before!
How It Works
Step 1: Navigate to E-Signature Tab for Any Lead
First, navigate to the e-sign tab in the lead to which you'd like to send a combined PDF for e-sign. 
Step 2: Select Documents to Add or Remove from E-Signature Application
Once you are on the e-sign tab of a lead page, click the button next to "Send Multiple E-Sign Documents":

You'll see a popup appear with options for selecting the documents you'd like to combine and send to the merchant to e-sign and submit: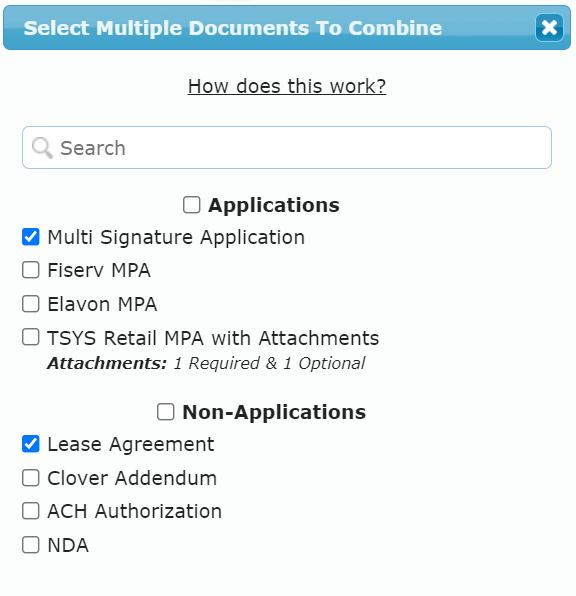 To find specific documents quickly, you can use the search bar within the popup. You can also select at the Category level via the centered checkbox at the top of each category for added efficiency.
To reorder the documents into your preferred structure, head to the Select The Document Order section further down the popup and click/drag your selected documents into the right order: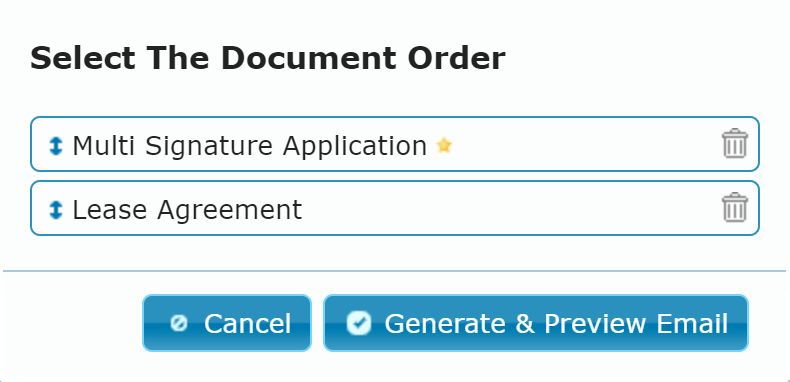 The first document serves as the basis for attachment settings on the combined PDF, like email template, signed template, signed notification, and more. Under Select the Document Order, the primary document will be marked with a yellow star.
Documents with attachment fields built-in will have the number of optional/required attachments below the document title:

Learn more about capturing attachments as part of your ISO's e-signature process: New Enhancement: Capture Attachments During the E-Signature Process.
Step 3: Generate and Preview Email
Once you've selected the right documents and determined their proper order, it's time to generate the email and preview what the merchant will see. Click Generate & Preview Email, which will generate the email with your template and a link that recipients can click to view and sign the combined e-sign PDF containing each document. 
Step 4: Confirm and Send
Finally, confirm the email preview is correct and click Send Email. 
Once the merchant e-signs the combined documents and submits them, each document will be attached to the lead as a separate file. The signed PDF with combined documents will also be attached with the primary document's file name and (Combined) added:

For more details on the new Combine Multiple Documents for Streamlined E-Signature, check out IRIS CRM's Knowledge Base.
With all individual files attached, your team can easily send signed files to the right places as soon as the merchant submits their e-signed documentation. If you need the combined document as one file, that's available too right after a merchant signs and submits.  The merchant will receive an email confirming their successfully submitted e-sign documents, along with a copy of the combined PDF and an audit trail showing each step of the e-sign process. 
Ready to learn more about all of IRIS CRM's powerful features including direct merchant boarding, residual calculations, and more? Sign up for your free guided demonstration today!