New Feature: Custom Status Colors
We're proud to announce an exciting new IRIS CRM feature, Custom Status Colors!
You can now tailor the color of your various status states and categories to make it easier for your team to prioritize lead outreach and enhance your overall lead management process. Below, we've shared several use cases as well as a how-to guide for getting started with setting your own custom status colors.
Custom Status Colors Use Cases
You can use custom status colors to designate high- or low-priority lead categories and statuses, making it easier for teams to know what leads they need to reach out to right now, and which ones still need more time to mature.
For example, you can color-code your "Urgent" category to be red, so any leads that fall within Urgent are highlighted in red and your team knows they need to prioritize them. On the My Leads page, the entire category will be shown as red to differentiate Urgent leads from your other status categories:

Custom Status Colors don't just enable you to highlight priority leads. Any of your various status categories and states can be marked with a custom color, which means the possibilities are essentially endless when it comes to using custom colors to enhance your ISO's workflow.
Say you have a status for sales that are essentially closed – you could set this status state as green to indicate that new revenue is on the way. Or if you have an underwriting status, you could highlight it in purple so your onboarding team knows to look for the purple status categories when seeking leads that are in underwriting. Within a category, you can have custom colors as well.
For example, you may have different underwriting status states within an underwriting category and now you can set custom colors to differentiate between those specific underwriting status states, as well as your overall categories:

How Does It Work?
Step 1: Status States and Triggers Page
To set custom status colors, first you need to navigate to the Status States and Triggers page. There are two ways to get there, Manage>Administration>Quick Access>Status States and Triggers, or Manage>Administration>Leads>Status States and Triggers. Once you are on the Status States and Triggers page, proceed to step 2.
Step 2: Set Your Custom Status Colors
For Status Categories
Find the category that you'd like to update with a custom color, and click Edit Status Category:

Towards the bottom of the popup will be the Status Color setting. Simply type in the desired HEX code, or use the color picker to select the color you would like to use for each Status Category: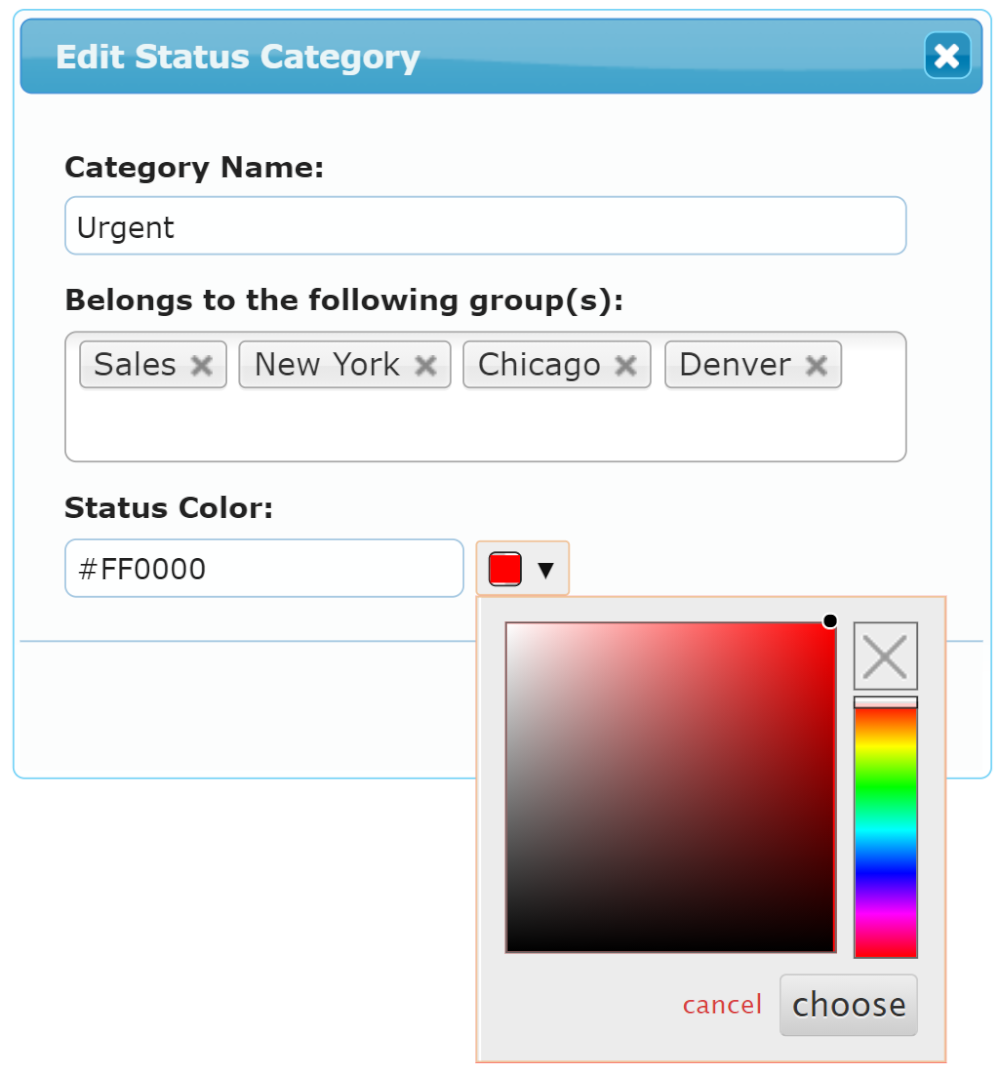 Click Save and now that status category will have the custom color on the My Leads page and on the specific lead page for any leads that fall under the category.
For Status States
If you'd like to customize the colors for specific status states within a category, click Add/Remove Statues to the far right of the status category:

This will take you to the Status State Customization page for the selected category. Next, click Edit for the status you're adding a custom color to. Set your desired Status Color, and click Save to complete the process: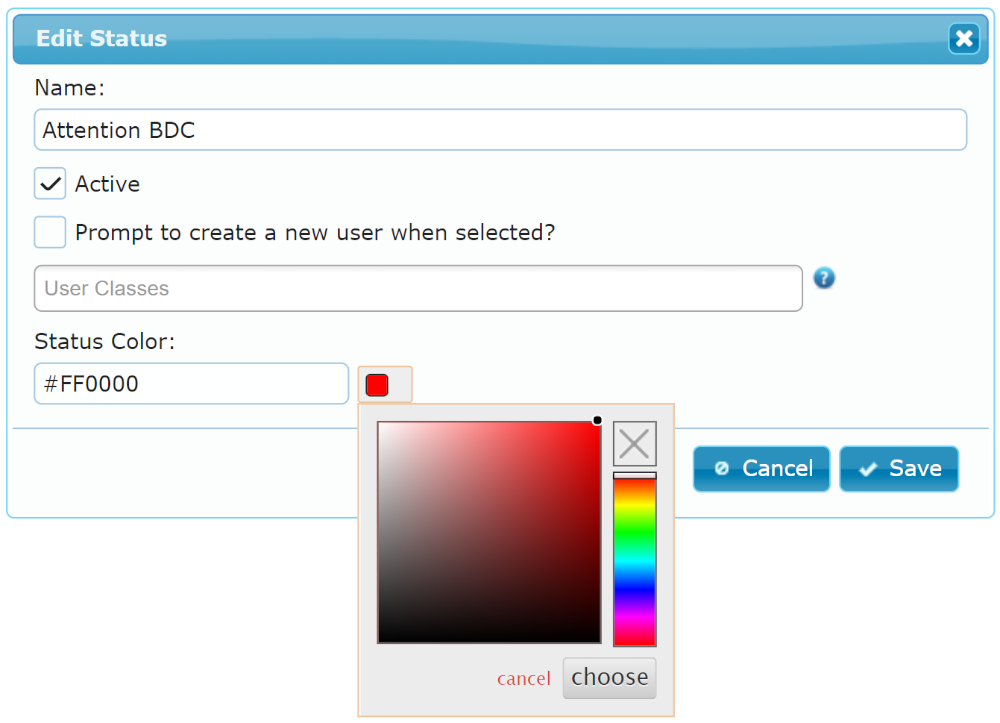 Step 3: Repeat for Any Additional Status States and Categories
Repeat these steps for any additional Status States and/or Categories to which you'd like to add a custom color, and you are all set!
You will be able to view the new custom status colors on the My Leads page as shown earlier in this post, as well as under Current Lead Status on a specific lead page: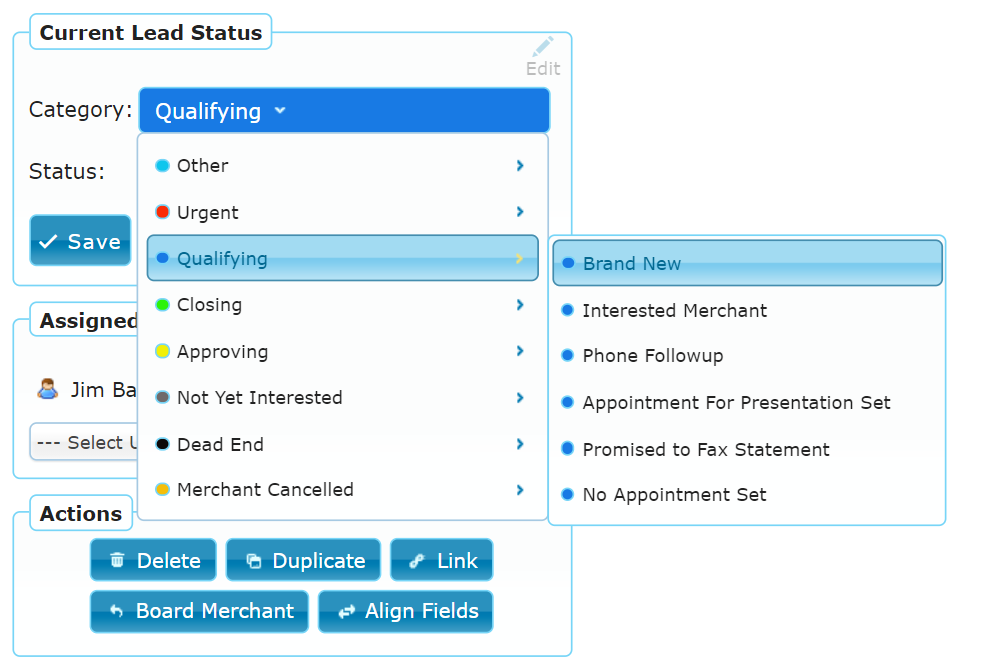 Under Current Lead Status, the category will have the color you set for the entire category, while the indicator next to the status below will have the status state color (if specified):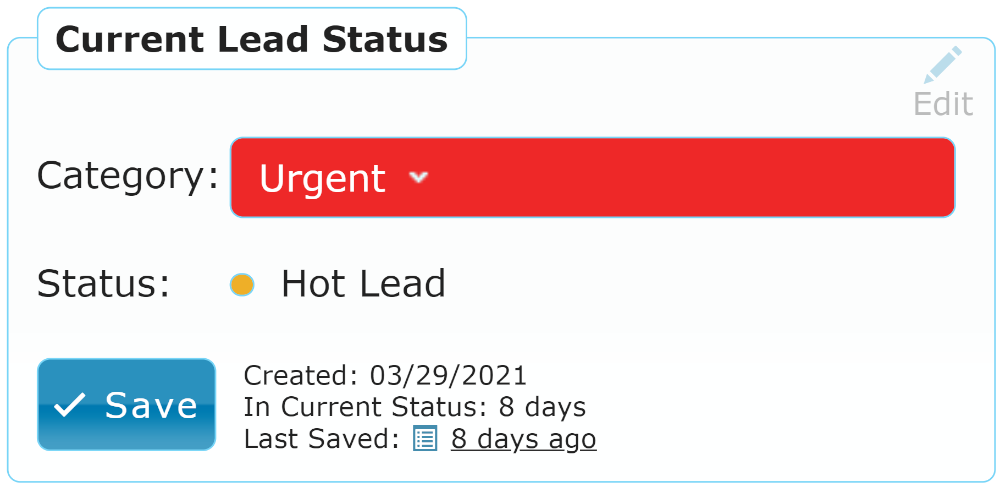 We hope you find a lot of value in IRIS CRM's Custom Status Colors feature! If you'd like to see everything IRIS CRM can do, schedule your free guided demonstration now.