New Feature: Email Deliverability Metrics
We are excited to announce another powerful tool to help ISOs improved email performance and drive business growth: Email Deliverability Metrics!
To optimize your ISO for growth, you need to understand the performance of your sales emails. Without data on how your outgoing emails are being viewed and interacted with, your sales team is losing out on valuable information that could make the difference between a successful sale and a miss.
IRIS CRM now includes high-level email deliverability metrics, located conveniently at the top of the Email Metrics page. IRIS CRM's Email Deliverability Metrics, combined with Threaded Email Sequences, empower ISO owners and teams to accurately measure sales email performance and optimize based on historical data for the best results.
IRIS CRM's Email Deliverability Metrics
IRIS CRM's Email Deliverability Metrics are located within the Email Metrics page, which you can find via Tools > Email Metrics in the top navigation bar.
At the top of the Email Metrics page, you now have a quick view of your overall email metrics by user or template, including Delivered Rate, Opened Rate, Click Rate, Instant Reply Rate, Bounced Rate, and Failure Rate. Once you are on the Email Metrics page, these metrics will be visible above the table with specific user/template data within the User Metrics, Template Metrics, and Visitor Metrics tabs:

User Metrics Tab
The User Metrics tab contains the high-level view of your email metrics, right above the table with emailing activity for users in a specified date range. Metrics included in the table are Emails Sent, Emails Opened, Links Clicked, Email Replied to, and Email Bounced: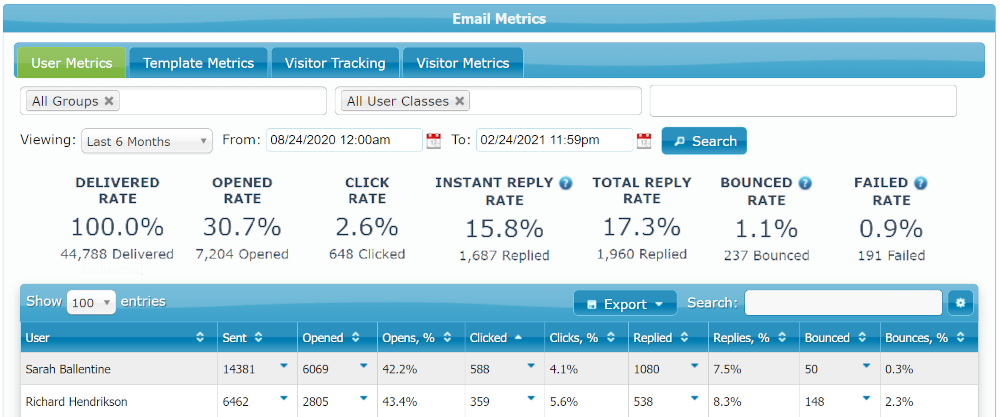 You can filter by a specified date range, group, user class, or user by typing in the user's name in the rightmost field: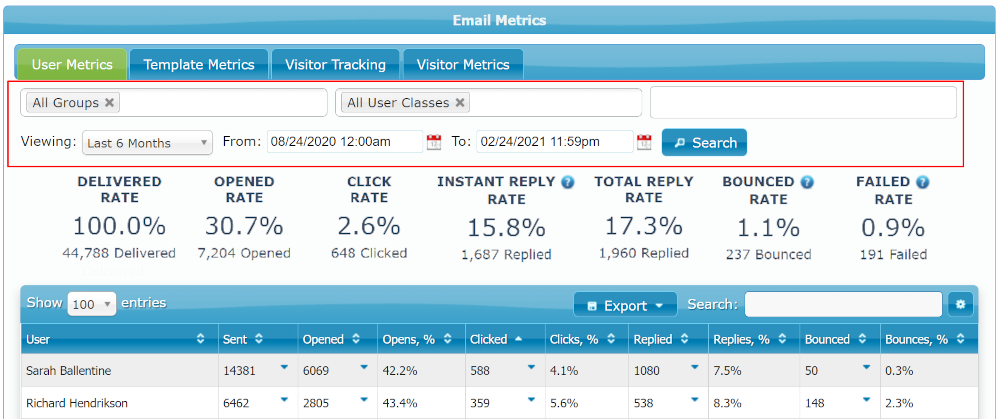 Click on the triangle icons next to certain columns in the table to get a more in-depth view of that particular user's email activity and metrics for emails that fall within that column category:

For example, clicking the arrow next to the Sent metric will show you a list with additional information about each email that the user has sent. The detailed view includes the lead to which the email was sent, the user that sent the email, the recipient's email, recipients contact name, email subject line, email date, and the status of that lead in your IRIS CRM site:
To export the data, simply click the Export button above the table and select your preferred file type. If you would like to exclude certain columns, click the gear icon to the far right and uncheck any columns to remove them from the report:

Template Metrics Tab
You can view your email metrics by template and filter by date range in the Template Metrics tab:

Clicking on the triangle icon will bring up a table that shows each specific email sent using that template:

You can also export this data and/or remove any unwanted columns via the same method used in the User Metrics tab.
With these summarized email metrics conveniently available alongside your more specific email reporting by user or template, you can optimize in a data-driven way and improve results from your sales emails over time. 
For example, say your opened rate is high for all of your email templates but not many people are clicking. Knowing this, you can work to enhance your email template call-to-actions and improve your click rate. Perhaps your bounced rate is very high for a specific period of time – this means that your list needs to be cleaned up so you are only sending emails to active email addresses. You can also view by user and pinpoint any metrics for specified sales agents or team members. 
IRIS CRM Visitor Tracking and Visitor Metrics
The Visitor Tracking and Visitor Metrics tabs complete the Email Metrics page. These tabs are related to IRIS CRM's Visitor Tracking feature, but provide additional reporting to highlight visitor activity by the user who sent the original email, or by the template that brought in the user.
Overall, IRIS CRM's Visitor Tracking feature displays information on a visitor's activity on your website after they have opened your email and clicked a link. You can set up real-time notifications that are automatically tied to the lead, providing a full-view of lead activity over time.
Visitor Tracking Tab
Within the Visitor Tracking tab on the Email Metrics page, ISOs can see a report with the following information for each visitor:
Lead name

Number of Views

Lead Contact

Lead Email

CRM User

Last Event Date/Time

Site Visit Duration

Record Creation Date/Time

If you'd like to see the pages each lead has visited and the time spent on each page, click on the triangle icon in the views column. Now you'll be able to see the specific pages that this lead has visited, and how long they spent on each page. Check out the Visitor Tracking page to learn more.
Visitor Metrics Tab
The final section of the Email Metrics page is the Visitor Metrics tab. Here, you can find aggregate visitor activity information by the user who sent the email. You can sort by User Groups, User Classes, specific users, and date range. The email delivery metrics on this page are specifically covering only emails templates that have visitor tracking enabled: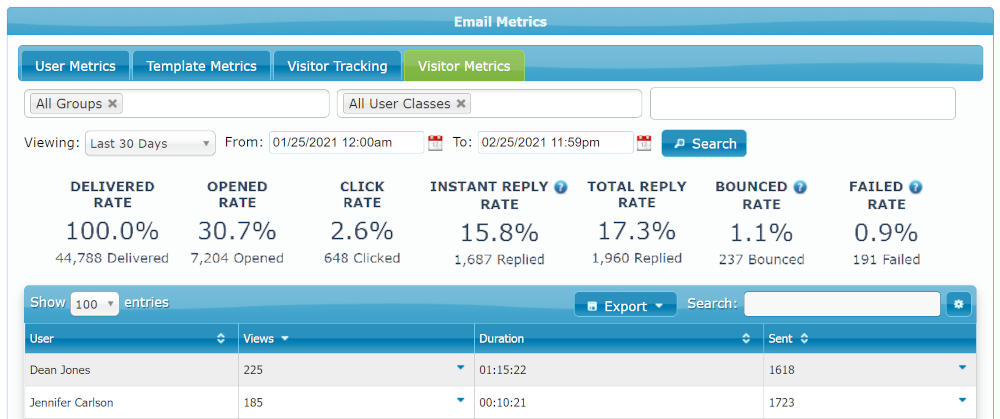 You can also dive deeper into the site views generated by a specific user's emails by clicking the triangle icon in the Views or Sent columns to access the Site Views sub-report:

Interested in learning how these IRIS CRM features can benefit your ISO? Request your free guided IRIS CRM demo today to see email deliverability metrics and all of our industry-leading features in action!