New Feature: Lock Lead Field Editing Permissions By Lead Status
IRIS CRM is excited to announce a new feature, Lead Field Editing Permissions Based on Lead Status!
Clients have long been able to segment users into user classes to restrict access to leads, merchants, and more, but this still allowed the users to make changes to a lead at any stage of the deal cycle. To avoid this, IRIS CRM clients had to unassign the user from the lead in the past – which meant the user couldn't view the lead or include it in their reporting. With the new feature, clients can control the permissions for modifying lead data based on a lead's current status state, without having to unassign users or otherwise change their access.
Essentially, this means you can "lock" your leads for specific user classes after leads transition further into the deal process, ensuring lead data integrity throughout the deal cycle. For example, once a lead enters a status of "Application Received: Ready to Board" it is crucial that pricing and financial data not be modified by the sales team. Any changes would conflict with the signed MPA and lead to confusion between the lead record and the boarded account. To address this, you can set the Ready to Board status to not allow editing by the Sales Rep and Sales Manager user classes. Those users will still have access to the lead but not be able to change any field info or properties (status, campaign, source, and group).
The status editing restriction feature is status-specific, so restricting one status will not automatically restrict those listed after it. In the previous example, locking leads for the Sales Representative user class in the Ready to Board status does not prevent sales from making lead edits once the lead is in the Merchant is Live status. Status-specific restrictions ensure that you can control which specific statuses are editable by certain user classes, without being overly restrictive throughout your deal cycle.
Note: Restricted user classes will not be able to save any lead data edits, but they will be able to do the following for a lead:
Send email
Send SMS
Call with Dialer
Assign/Unassign Users
Add notes, files, events, proposals, call recordings, and tickets
How It Works
Step 1: Navigate to Status States Customization
Log in to your IRIS CRM site, then select Manage > Administration > Status States and Triggers. Status States and Triggers may be located in your quick access, or you can find it under the Leads category on the left sidebar: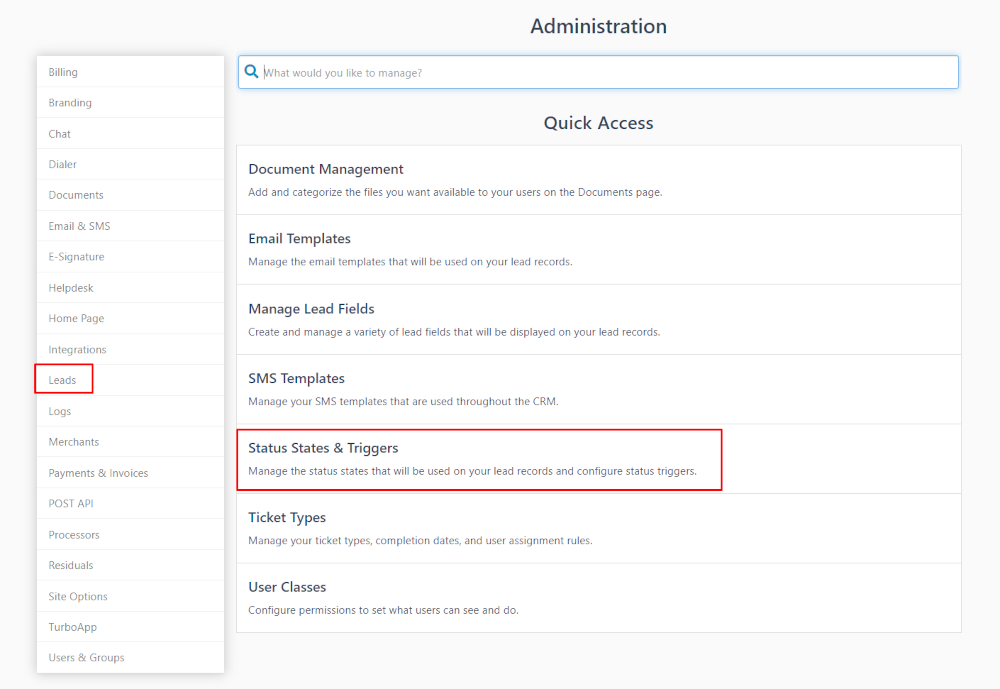 Step 2: Add/Remove Statuses 
Now that you are in the Status States Customization section, select the Current Status Category containing the status state you would like to restrict access to and click Add/Remove Statuses:

Next, click the Edit button to the far right:

Step 3: Select User Classes and Save
In the Edit Status  pop up, click the check box next to Disable lead editing  for these user classes: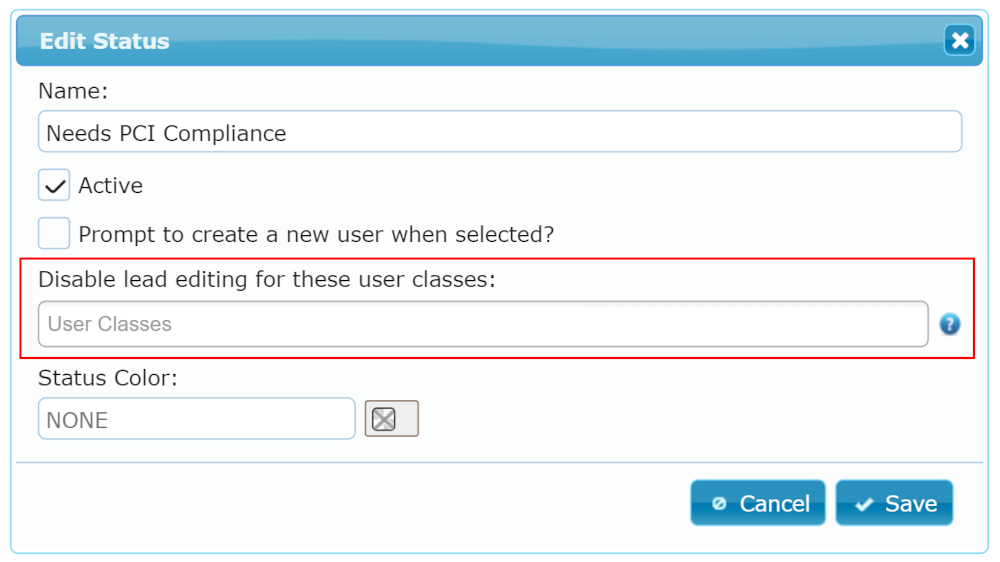 Once the box is checked, simply add the classes whose access you are seeking to restrict for this specific lead status: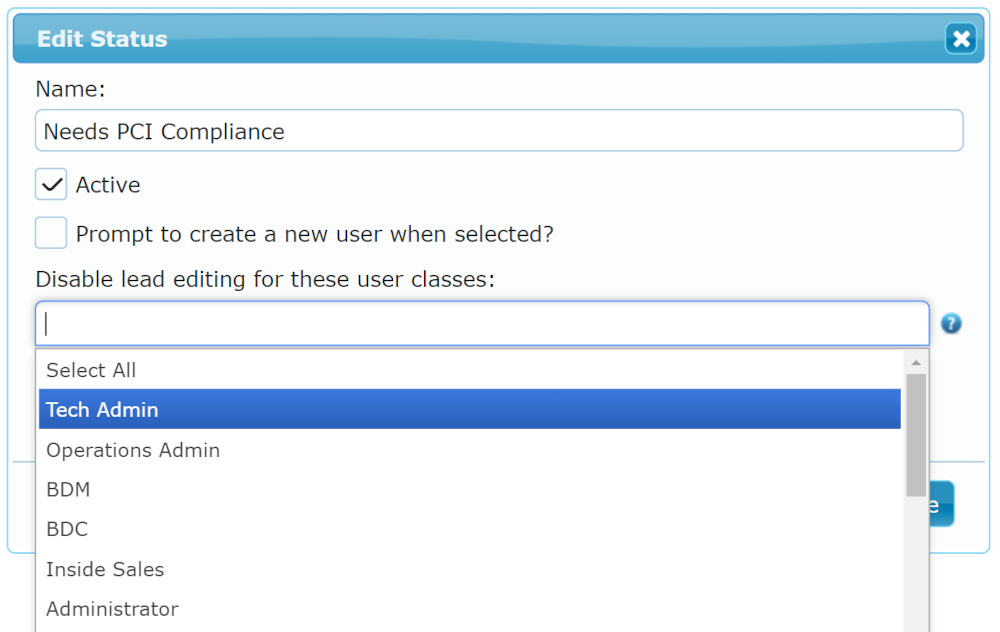 Click Save and users within the classes you selected will no longer be able to edit and save lead information for all leads falling under the status state you selected: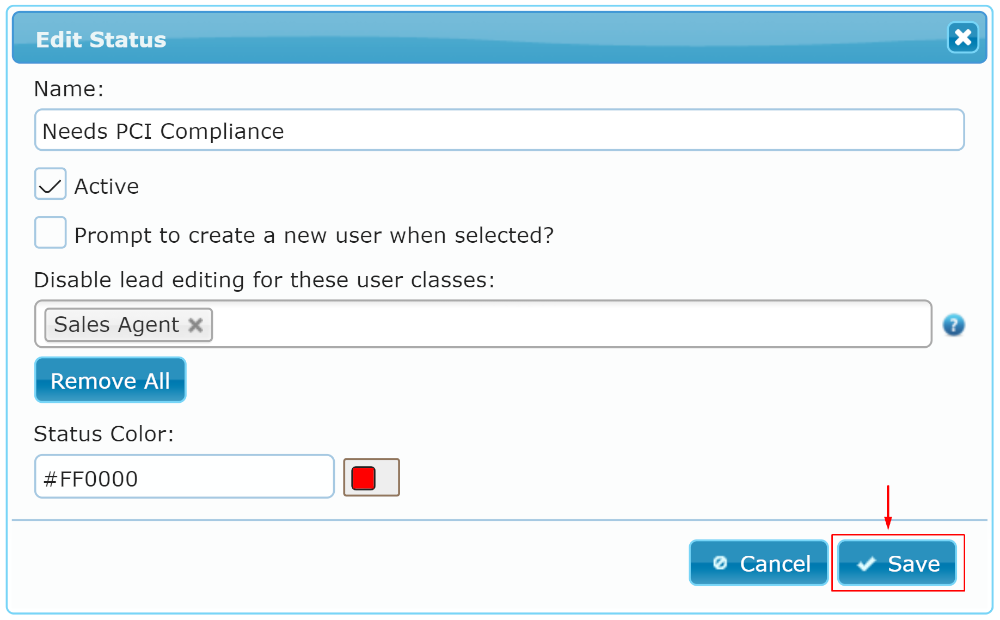 To learn more about IRIS CRM's industry-leading solutions, request your free guided demonstration today.