New Feature: Risk Reporting
Losing revenue to returns and chargebacks is not only a risk to your merchants, but your merchant services business as well. They are an inevitable part of running a business, but minimizing them is crucial to your bottom line. IRIS CRM's new Risk Reporting helps you identify sources of risk in order to mitigate the impact they will have on both yours and your merchants' business. 
Risk Reporting calculates several key risk indicators on a per merchant level in order to identify risky accounts in your portfolio. You can now view which merchants have a large number of total returns and chargebacks as well as a high dollar value. As you know, just because a merchant has a higher number of returns or chargebacks doesn't necessarily mean they pose a higher risk than a business with fewer, it may come with the territory if the business has higher overall sales every month. 
To handle this and provide the best risk analysis tools, we've also added return and chargeback ratios to compare against merchants total monthly volume and transactions. With this information, merchants who generate a high percentage of returns and chargebacks can be identified in order to provide solutions that reduce their ratios and increase both of your retained earnings. 
Not only does Risk Reporting provide aggregate numbers and ratios to help you identify risk, but helpful contextual information, as well, such as the SIC code – some industries have higher ratios than others – approval and start processing date, the processor, and their average ticket amount. 
Get into the specifics of your Risk Reporting using filters to view cross sections of your portfolio that may be more likely to have high return or chargeback ratios. You can filter based on the Processor, Group, User, SIC code, and Date Range based on your organization's unique needs when it comes to risk analysis.  
IRIS CRM's Risk Reporting helps ISOs, agents, and sponsor banks further analyze and manage their portfolios in one system to maximize their efficiency in order to scale their business. Clients who leverage one or more of our numerous reporting integrations are able to get the most out of the new Risk Reporting as they will automatically have all of their data at their fingertips. 
If you're not already using IRIS CRM to automate your boarding and reporting to manage your merchant services business, schedule time with our team to learn how IRIS CRM can help you grow your business. 
Reduce Risk with Advanced Risk Reporting
Administrators can find the new Risk Reporting at the bottom of the Tools dropdown of the main menu. you can also access it by adding /report/risk to the end of your site's URL, e.g . iriscrm.com/report/risk.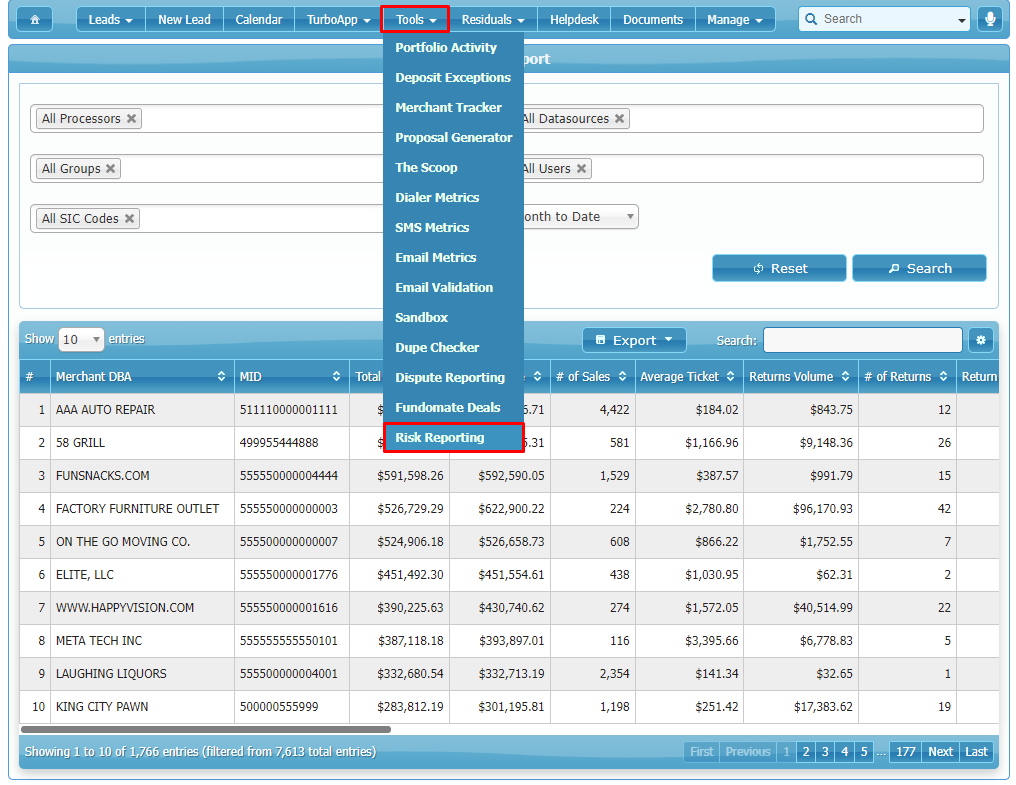 Filter Options
Risk Reporting defaults to showing all merchants for the month-to-date. Users are able to make this more specific and update the date range using the filters at the top of the page. The filter options include Processor, Datasource, Group, User, and SIC codes. 
The date filter has preset date ranges which include Month-to-Date, Last 30 Days, Last 6 Months, Year-to-Date, and Last 12 Months, as well as a Date Range option where the user can set a custom date range. 

Key Definitions
Below are a few of the important metrics shown in the Risk Report along with their definitions. For any of the ratios, you can see how they are calculated by hovering over their tooltip in the header of the table as a quick and easy reference. 
Total Volume

: The total dollar value of transactions for the selected period.

Sales Volume

: The total dollar value of transactions for the selected period, less processor fees. 

Average Ticket

: Total Volume / # of Sales

Return Volume Ratio

: Returns Volume / Sales Volume for the selected period.

Return # Ratio

: # of Returns / # of Sales for the selected period. 

Chargeback Volume Ratio

: Chargebacks Volume / Sales Volume in the previou calendar month (or shifted by a month if date range is greater than a month).

Chargeback # Ratio: # of Chargebacks / # of Sales in the previous calendar month (or shifted by a month if date range is greater than a month).
Returns Risk Reporting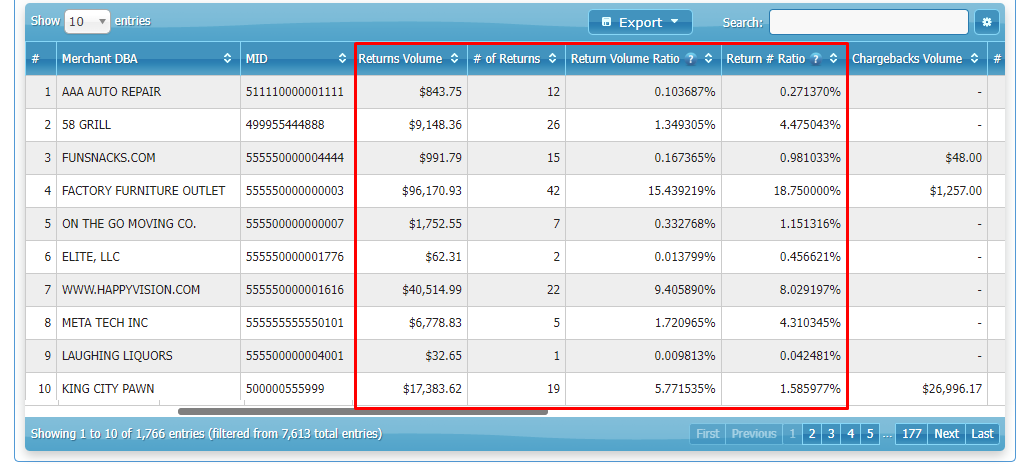 Chargeback Risk Reporting