New Feature: Set Default Helpdesk Ticket Priorities
We're proud to share an exciting new feature for your favorite Merchant Services CRM – the ability to set default ticket priorities!
One of the most important things for ISOs is the ability to quickly respond to merchants when they are in need of assistance. By providing timely service and solutions, merchants are far more likely to continue to work with your ISO – and to be very satisfied with the service they are receiving.
This new feature empowers ISOs to respond to Helpdesk tickets from merchants more quickly than ever. ISO administrators can now set defaults for all sorts of ticket types. Every time a new ticket of that type is created, the priority will be set correctly right from the start with no manual update needed!
By helping your merchants receive faster service, you're helping to grow your ISO business at the same time. That's the power of IRIS CRM in action. But this feature doesn't only help your merchants and with growing your ISO – it makes life easier for your admins as well.
Any ticket type that your admins are constantly setting to the same priority can now be set to a default priority (Low, Medium, or Rush), saving them valuable time for every ticket they submit. Administrators may also set the ticket to the wrong priority or forget to set a priority when setting the priority manually for each ticket.
Set Default Priority for All Ticket Types
A great example of this new feature in action can be seen when a merchant submits a deposit inquiry. This is an important request and the merchant likely expects a prompt response. 
Every ISO should be prioritizing tickets of this type first. By setting the ticket type to default to Rush your administrators know immediately that they need to address this ticket. The lower priority tickets can wait. This can apply for any ticket type that needs to be the same priority level every time – no need to update the priority manually each time.
Read on to learn more about how the feature works and how you can start taking advantage of it today.
How It Works
Navigate to Manage -> Administration in IRIS CRM to set the urgency level for any of your ticket types. Then click Helpdesk in the navigation bar on the left and select Ticket Types:

Follow these two simple steps to set the default priority for all of your new and existing ticket types. 
Step 1:
Find the ticket type you'd like to update from the list containing all of your ticket types and click Edit. This will open up a new section where you'll be able to update the default priority for all tickets of that selected type.
You can also add a default priority setting for all new tickets as well. Click  either of the Add New Ticket Type buttons to open up the Edit Type module: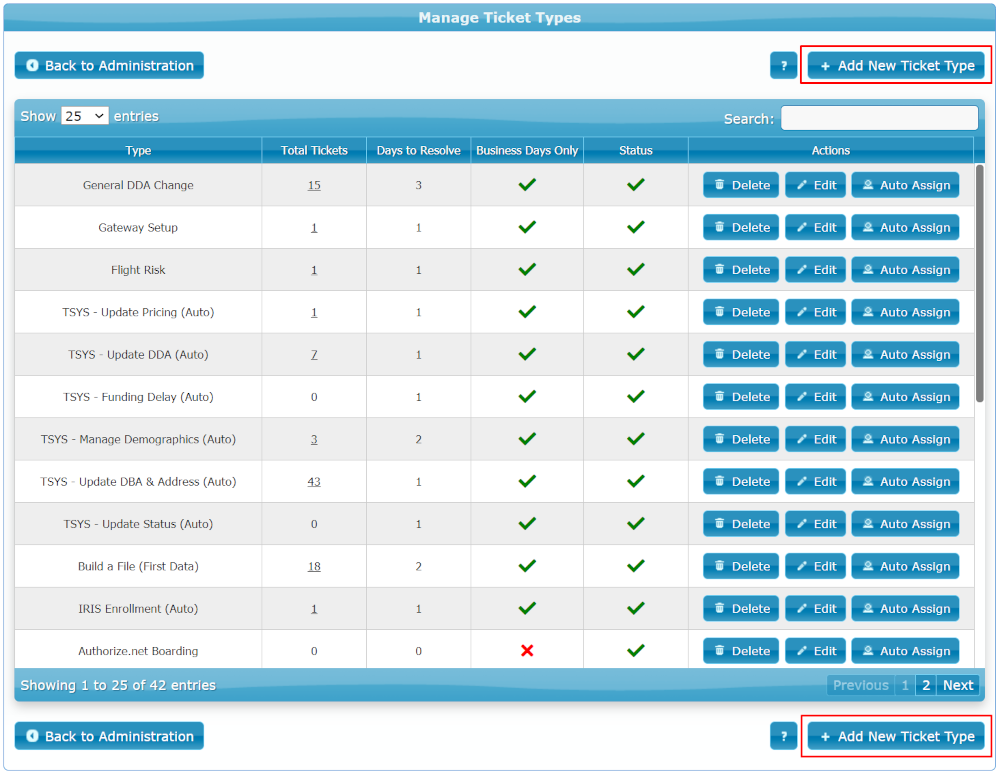 Step 2:
In the top left corner of the Edit Type module you'll see a Default Priority drop-down menu. Select the default priority from the Normal, Medium, or Rush options then click Update at the bottom of the module: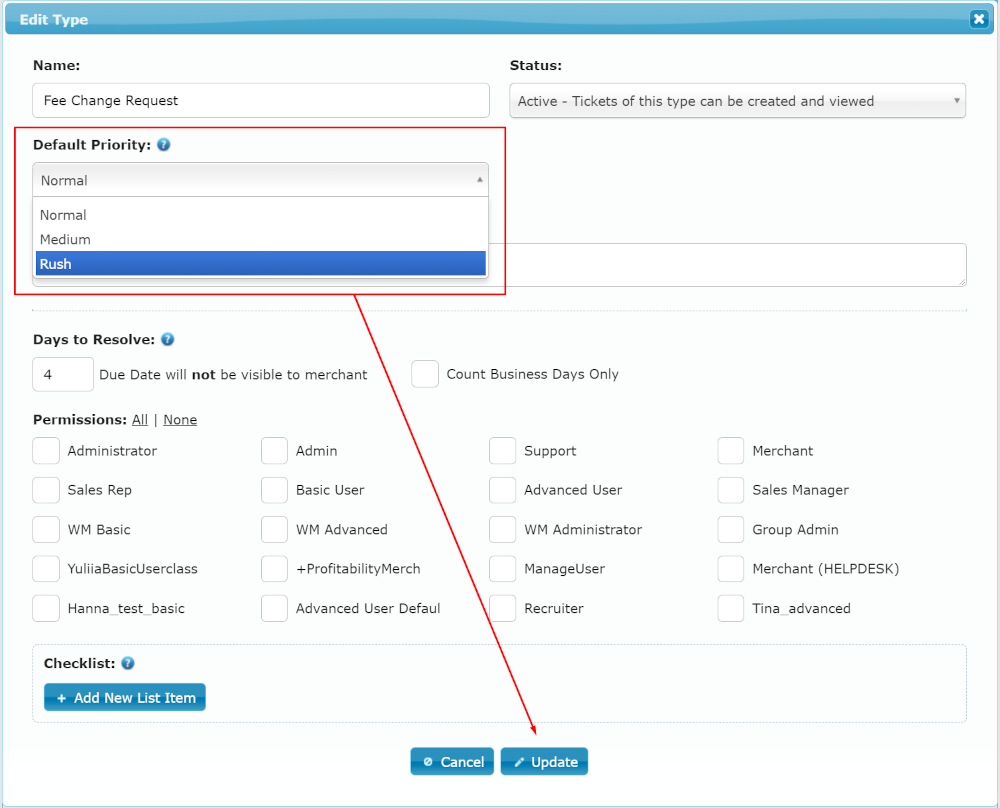 Now all future tickets of this type that your team creates will be set to the new priority by default.
Our priority is always the success of your ISO and the benefits that we enable you to provide for merchants. By consistently optimizing and improving the product based on customer feedback, IRIS CRM gets more and more effective at helping ISOs to grow every single day.
We hope you enjoy the benefits of this new enhancement to our industry-leading CRM solution. Stay tuned for more updates coming soon!
If you'd like to learn more about IRIS CRM, schedule a free guided demonstration today.