New Feature: Shape IRIS CRM's Roadmap by Voting on Feature Requests and Bug Fixes
We are super excited to share that your favorite Merchant Services CRM now comes with a built-in feedback tool! CRM users can now share their feedback with the IRIS CRM team and other users by sending feature requests or bug reports right from the CRM.
We encourage users to use the new feedback tool to freely communicate their wishes or issues found while working in the CRM and help improve the CRM for all users.
Do you have an idea about a new feature you would like to see added to the CRM?
Are you struggling with a specific feature that you think should work in a better way?
Share your thoughts by simply opening the feedback widget in the CRM and adding a quick post that other users can vote and comment on.
The more users comment and vote on a feature, the better the chances are the feature will be implemented by the IRIS CRM team sooner!
The IRIS CRM team monitors the user feedback constantly in its efforts to continually improve the CRM and enable users to operate more easily and efficiently.
Without further ado, let's jump in and see how you can begin to use this exciting new feature today!
Enabling The Feedback Widget
To enable users to send feedback, you will need to enable the LiveChat with CRM Support permission for the appropriate user classes.

Important: Note that the posts published in the feedback widget are public posts and visible to users outside of your organization.
Therefore please make sure that you do not post any sensitive data or screenshots in your feedback.
If you've encountered an issue that is not suitable for posting in the public feedback widget, please contact IRIS CRM support directly by sending an email to support@iriscrm.com.
Sending Feedback
Once the LiveChat permission is enabled, you can send your feedback by simply clicking on the Give Feeback… option under your username in the top-right corner: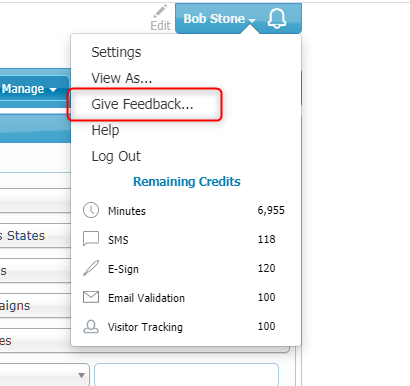 A popup window now appears where you can post your feedback.
You can also use the popup to view, comment, and vote on feedbacks posted by other CRM users: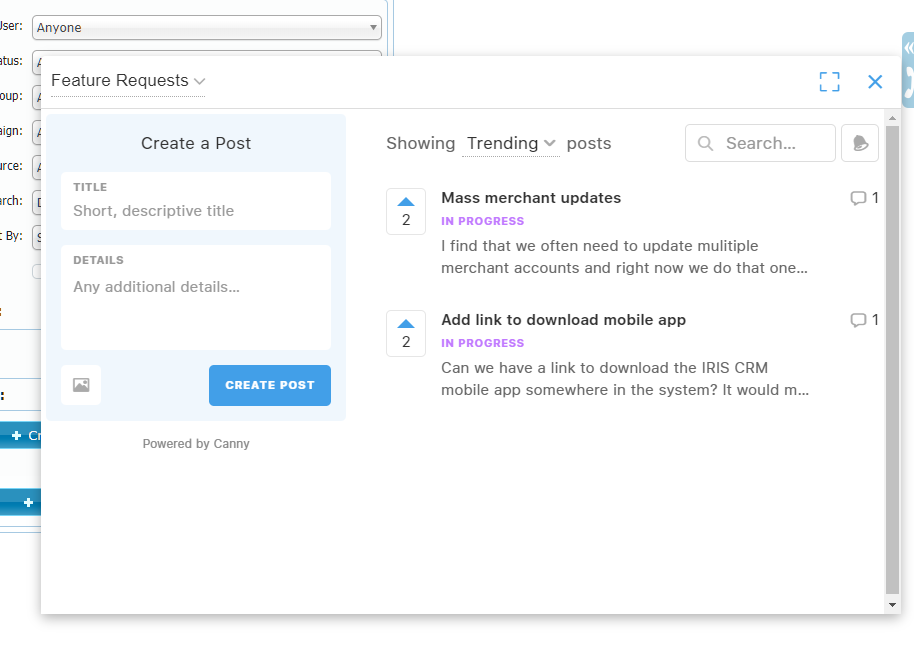 Feature Requests or Bug Report
Use the menu in the top-left corner to switch between feature requests or bug report views: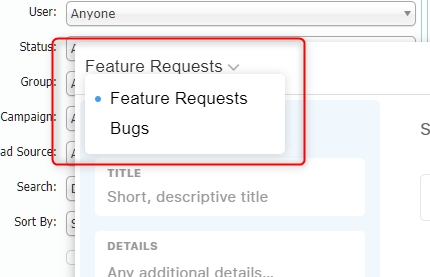 You can also filter the posts further by selecting one of the available post categories: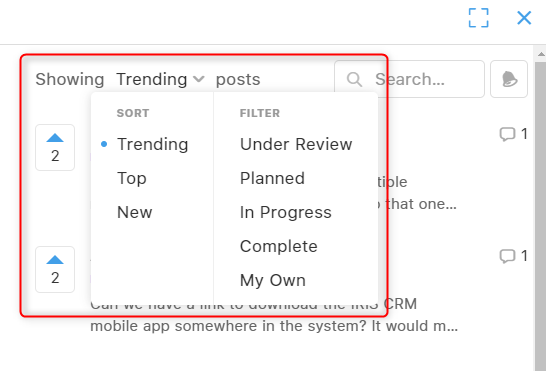 To create your own new post, simply enter the title and a short description of the feature you're requesting (or a bug you're reporting) and click Create Post: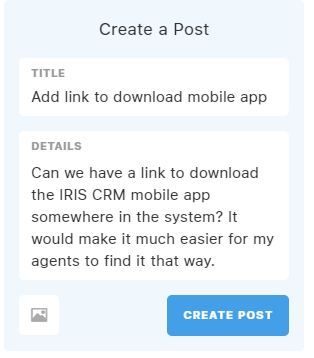 You can also copy/paste images into the Details box, or click on the image icon to select an image from your disk.
Once your feedback is posted, other users will be able to vote on it and post comments: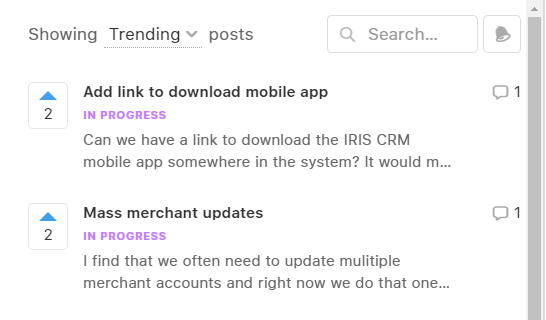 To view more detail on a post or to add your own comments simply click on the post, and it will be opened in the widget: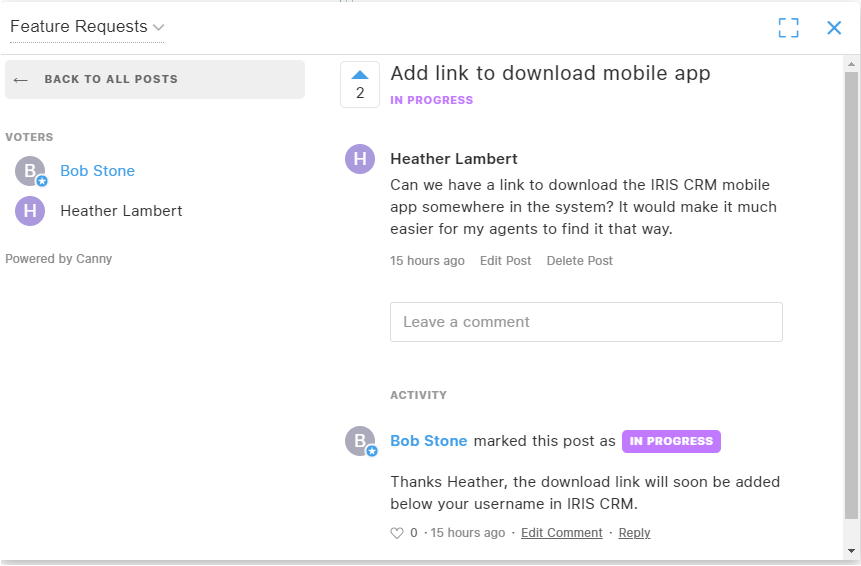 Suggested Posts
Note that as you start typing the title in a new post, the feedback widget automatically shows suggested posts: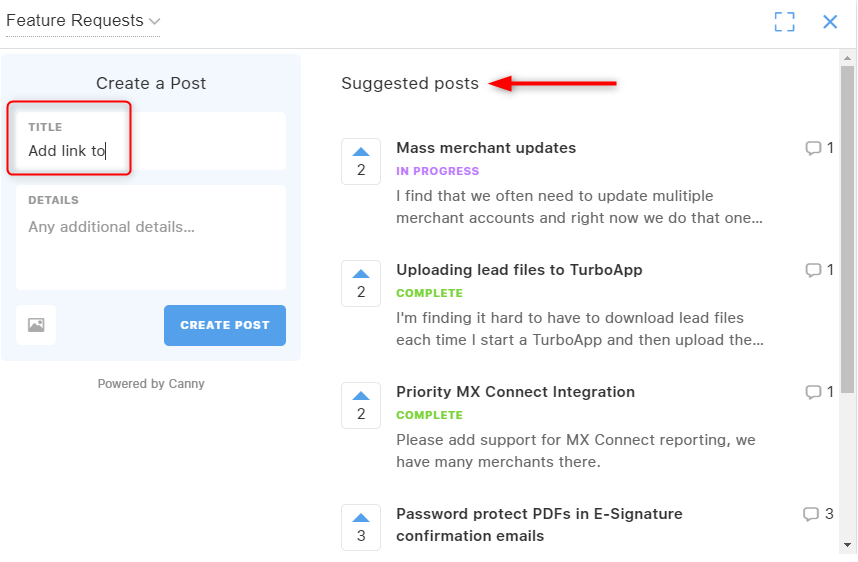 You can review the suggested posts in case your question was already asked by another user (so you can avoid creating a duplicate topic).
If you're question or feedback has already been raised by a different user, feel free to post your comments under that topic or simply upvote it.
Feature Requests & Issue Tracking
The feedback system syncs automatically with IRIS CRM's internal issue tracking system.
This allows you to be notified automatically when a new feature you suggested in a post or voted on is implemented (or when a bug is fixed).
Based on the current status of an issue in IRIS CRM issue tracking system, a feedback widget post may be tagged with one of the following statuses:
Open
Under Review
Planned
In Progress
Complete
Closed
Once the IRIS CRM team resolves an internal issue, the posts linked to that issue change automatically to the Complete status, and the users who voted for the post will receive a notification.
The notifications can be viewed by clicking on the bell icon in the top-right corner: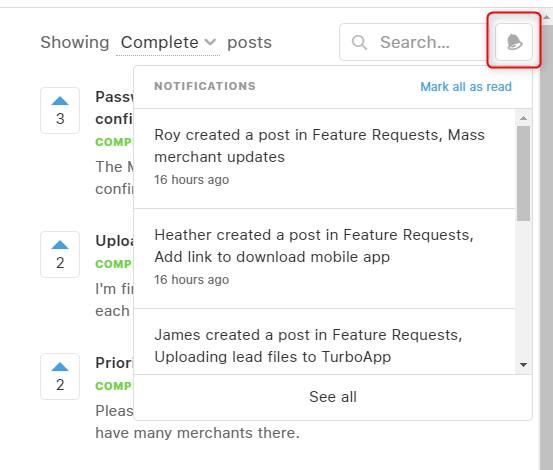 Feature requests and bug reports can also be viewed on IRIS CRM's feedback page at https://feedback.iriscrm.com/
And there you are!
We look forward to your thoughts and suggestions, as well as starting a more closely-knit community of IRIS CRM users.
Stay tuned for more updates coming soon!
---
For sales tips and the latest electronic payment news check out the daily IRIS CRM Daily Bulletin and for the latest product updates and company news please join our newsletter.