New Paysafe Reporting and TSYS Backend Boarding Integrations
IRIS CRM is thrilled to announce new Paysafe Reporting and TSYS Backend Boarding Integrations! ISOs can now connect their Paysafe merchants, both Fiserv and TSYS, to IRIS CRM to receive daily reporting data and account information. Our Paysafe boarding integration has also been improved to allow ISOs to select TSYS as the backend when boarding merchants. 
The new merchant reporting integration with Paysafe comes in addition to our existing Paysafe residuals reporting integration for both Fiserv and TSYS merchants. Now, all of the data you need, no matter the backend processor, is available when working with Paysafe so you can do everything from IRIS CRM.
Paysafe merchants will now have daily reporting for deposits,  chargebacks, and retrievals. Under the merchant's Account Status tab, all of their key core account data such as Status, Open Date, MCC, last four of Owner Tax ID,  Discount Method, Sponsor Bank, Clearing Platform, and Billing Program is populated straight from Paysafe.
In addition to comprehensive reporting from Paysafe for both Fiserv and TSYS, our boarding integration now includes TSYS as a backend option when boarding. The new integration works seamlessly with iAccess to board merchants directly to TSYS from your IRIS CRM site. This is yet another way IRIS CRM streamlines workflows in order to save your organization time and money. 
To learn how you can leverage IRIS CRM's Paysafe integrations, schedule a demo with our team today!
Paysafe Reporting Integration
In order to enable the Paysafe reporting integration for IRIS CRM,  Paysafe Partners will need to reach out to Paysafe Partner Support in order to complete an addendum for external reporting tools and enable the data feed. After Paysafe completes their process, reach out to the IRIS CRM Support Team to configure the processor settings within your IRIS CRM site to begin receiving merchant reporting data. 
Continue reading to see which data is included in the Paysafe Reporting Integration and examples of how it's displayed.
Deposits
The Deposits tab shows the merchant's total monthly and daily volume and transactions as well as their batches. The month can be changed from the current month to a previous month so see their historical volume.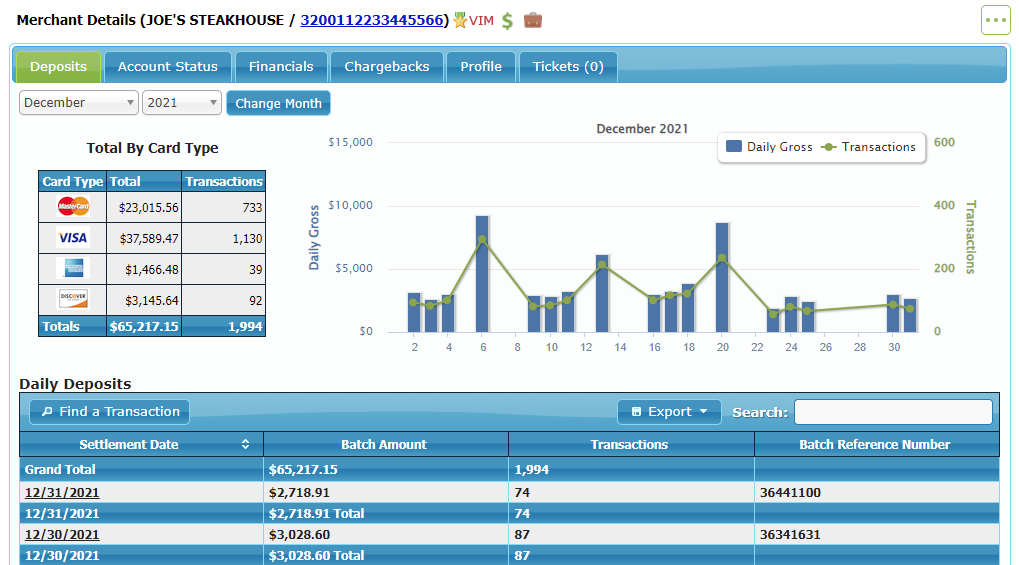 Account Status
The merchant Account Status tab displays General and Processing account information for that specific merchant as IRIS CRM receives it from Paysafe.The merchant account data is updated with any changes on a daily basis when we receive Paysafe's reporting file. 

You can find the processor used for the given merchant by expanding the Processing Information tab and looking at the Clearing Platform field:

Financials
Similar to other IRIS CRM integrations, the Financials tab displays the monthly volume and transactions for the current period as well as the trailing 12 periods. The monthly volume for Paysafe merchants will be tracked in the Financials tab as well in order for merchants to view their monthly change in volume over the past year.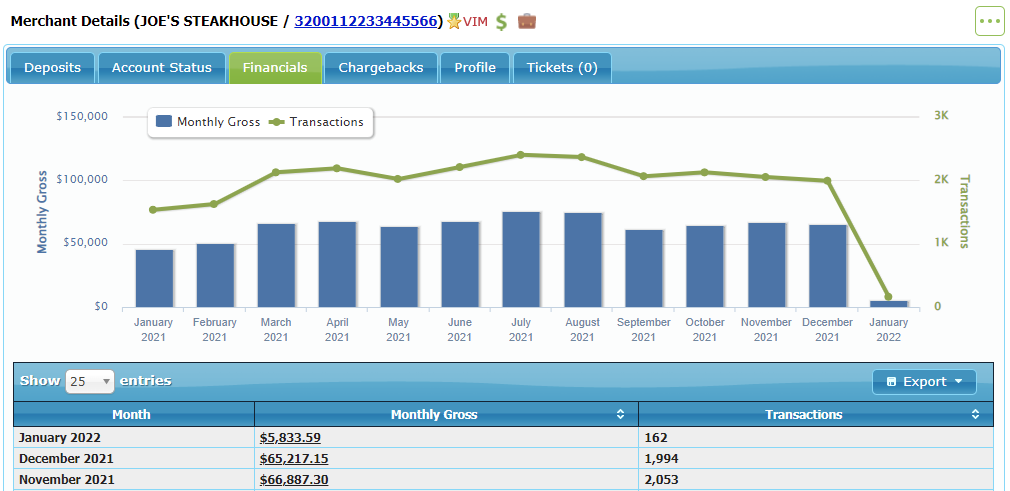 Chargebacks
The new reporting integration for Paysafe in IRIS CRM includes chargeback reporting. All of a merchant's chargebacks are tracked in the Chargebacks tab of the merchant details page. In order to see only unique chargebacks, select the Show only initial records checkbox at the top of the table. 

IRIS CRM's Paysafe chargeback reporting includes Chargeback Date, Transaction Date, Dispute Amount, Original Amount, ARN, Reason code, Type, Cardholder Account, Card Type, Transaction ID, and Family ID. 
TSYS Backend for Paysafe Boarding
Once you reach the Corporate Information step in the TurboApp boarding process for a Paysafe application, you may see the new Backend field at the end of the 2nd section titled Location Information. Displaying the Backend field is determined by the package that was selected when creating the new application. Here you can select TSYS if it's a valid option for the package.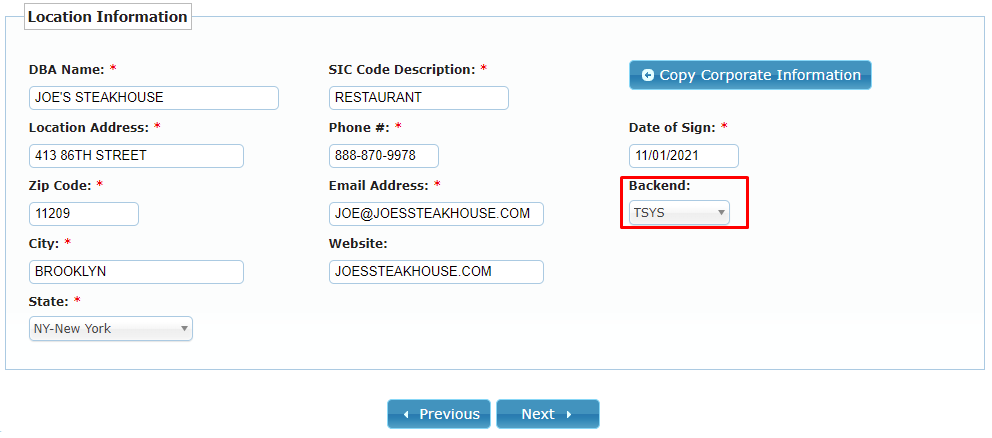 We're excited to offer even more functionality for our Paysafe integrations to clients. Contact our Sales Team if you're not already a client to learn about Payafe and our other boarding and reporting integrations.