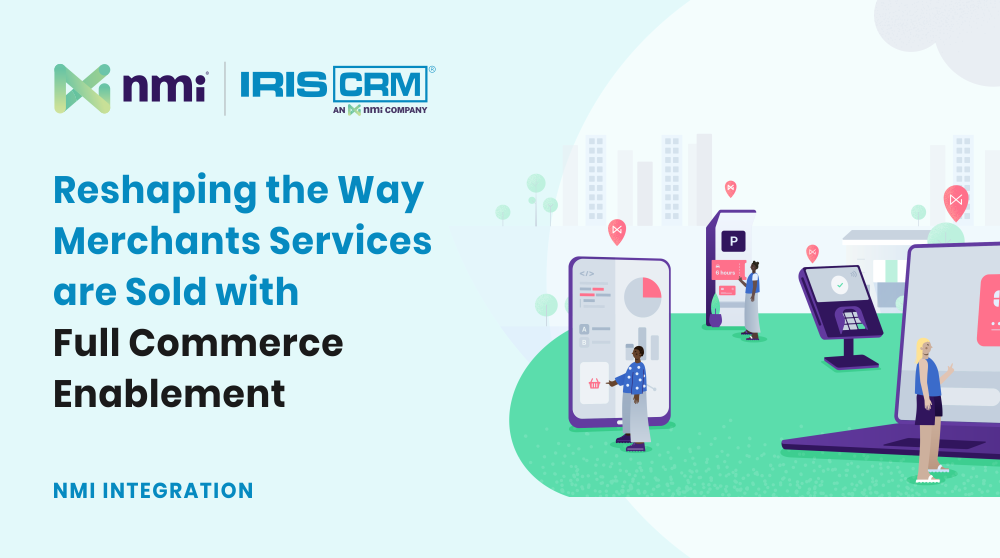 NMI and IRIS CRM: Reshaping the Way Merchants Services are Sold with Full Commerce Enablement
The payments industry is tough, complex, and a challenge to compete in, but, when it comes to reselling merchant services, it doesn't necessarily have to be. That's the vision shared by both NMI and IRIS CRM – two leading payments tech companies that have spent years finding ways to make it faster, easier, and more profitable for ISOs and PayFacs to thrive. 
With the two companies' missions so closely aligned, it only made sense to join forces, and in early 2022, NMI acquired IRIS CRM. Now, NMI and IRIS CRM offer a one-stop solution that enables your ISO or PayFac to centralize every aspect of the merchant lifecycle, significantly speed up time-to-processing, reduce wasted time and resources, and supercharge your residuals. 
Who is NMI?
If you've been selling for years – especially online – you may recognize NMI as one of the industry leaders in payment gateway solutions. Today, the company's offerings go far beyond just gateways, and NMI is leading the industry in a transition to what it calls "Full Commerce Enablement" – a seamless, vertically integrated set of service offerings that covers the entire merchant lifecycle and offers ISOs and PayFacs everything their merchants need to handle payments, all from a single source. 
From ecommerce to card-present brick and mortar checkouts to unattended systems like a parking garage or vending machine, NMI makes it possible for ISOs and PayFacs to offer merchants complete, omnichannel payment solutions with unparalleled value and simplicity.
Who is IRIS CRM?
For over a decade, IRIS CRM has provided the payments industry's top customer resource management system to ISOs and PayFacs of all sizes. Every aspect of IRIS CRM has been specifically designed to address the unique sales, service, and support challenges faced by merchant services providers every day. From advanced sales tools to automated merchant onboarding to instantaneous residuals calculations to organization-wide productivity tools and beyond, IRIS CRM is a force multiplier that enables even small ISOs and PayFacs to work smarter, save time, and out-compete the field in an extremely difficult industry. 
Greater than the Sum of Its Parts
In 2022, NMI completed its acquisition of IRIS CRM – a natural fit for the company's never-ending mission to eliminate as much complexity and friction from the merchant services space as possible. NMI and IRIS CRM users can now manage all aspects of their merchant services – including processing, gateway sales, and more – directly through the CRM. That integration offers ISOs and payment facilitators arguably the most powerful one-stop payment reseller solution the industry has ever seen.
How NMI and IRIS CRM's Integration Changes the Merchant Services Game
Together, NMI and IRIS CRM offer ISOs and PayFacs a more comprehensive set of sales, service, and support tools than has ever been available in one place before. Acquisition, underwriting, onboarding, tech enablement, ongoing service, merchant support, and payouts can now all be handled through the NMI-IRIS CRM integration – the most complete merchant services solution available. 
Centralizing all aspects of your ISOs business into a single, powerful system offers a wide variety of benefits to both you and your merchants – from making merchant recruiting easier, to reducing the most time-consuming tasks to a matter of minutes or even seconds, to plugging profitability leaks, to making your merchants lives simpler, and far beyond. 
How NMI and IRIS CRM Full Commerce Enablement Benefits Your ISO or Payment Facilitator
As an ISO or PayFac, NMI and IRIS CRM enable you to handle all the most important aspects of your operations through a single point of control – your CRM. By putting a user-friendly, data-driven, and fully integrated tool at the center of not just your sales, but your entire company, you'll see significant improvements in everything from the complexity of your operations to your agents' close rates to your cost management and more. 
NMI and IRIS CRM Streamline the Entire Merchant Lifecycle
First and foremost, Full Commerce Enablement with NMI and IRIS CRM is all about making it simpler and easier to manage the full lifecycle of your merchants – from first contact through to the very last transaction – including:
Merchant Recruiting

Merchant Underwriting

Merchant Onboarding

Merchant Technology Setup

Ongoing Merchant Payment Processing 

Ongoing Merchant Support
Recruiting: IRIS CRM is a sales system at heart. Its full suite of lead generation and management tools is designed to help you collect more leads and more valuable data from those leads, storing it all in an easy-to-manage, easy-to-access, centralized repository. Having more leads filling the top of the funnel and more information on each one ensures your independent agents will be able to understand merchant needs more clearly, address objections more quickly, tailor solutions more individually, and provide a more personalized sales process. The result is more closed deals and, in turn, higher residuals. 
Underwriting: If you're a wholesale ISO or PayFac, you know what a challenge underwriting can be. At best, it's thorough but extremely time-consuming. At worst, it's inconsistent and full of holes, exposing your company to unnecessary risk. With NMI and IRIS CRM, you can run complete, consistent, and accurate automated underwriting in seconds thanks to the system's integration with top third-party tools like Agreement Express.
Onboarding: Once a merchant is ready to be set up with processing services, NMI and IRIS CRM again offer the fastest, most convenient solution possible. You can onboard a new merchant to both payment processing and gateway services in five minutes or less with IRIS CRM's systems, including the TurboApp automated onboarding tool – a huge improvement over the 30 minutes or more boarding traditionally takes. Better still, low risk merchants can be onboarded instantaneously with a single click using web-based MPAs. 
Technology Enablement: Whether your new merchant needs an online gateway, a contactless payment terminal or POS, or an unattended payment system, NMI offers the hardware and software integrations necessary to meet their needs. With over 150 ecommerce processor connections and dozens of hardware options across all the top processors in the U.S. and Europe, NMI Full Commerce Enablement ensures you'll always be able to set your merchants up with the right technology. 
Processing: Once your new merchants are up and running, you can access complete data on their transaction processing and your ISO's residuals using IRIS CRM's built-in reporting tools. Faster access to more streamlined merchant and processor data enables you to make better business decisions and keep better track of your merchants, making it easier to identify top performers and merchants that need a little help to reach their full potential. 
Support: When your merchants inevitably need help, you can ensure more effective solutions and quicker resolutions using the private-label merchant portal and helpdesk included in IRIS CRM. Merchants can quickly and easily create support tickets day or night, which are automatically assigned to one of your specialists and tracked every step of the way through the CRM, ensuring no issue ever slips through the cracks. 
NMI and IRIS CRM Open Up New Revenue Opportunities
Effectively all merchants need payment processing and, regardless of whether they sell in-store or online, they need some type of payment gateway, as well. The million dollar question is, why just sell one or the other? NMI Full Commerce Enablement opens up new revenue opportunities for your ISO by enabling you to resell NMI gateway services in addition to payment processing while adding effectively zero work to the sales and boarding process. You can also resell all of NMI's many value-added services, opening up even more recurring revenue opportunities. With NMI and IRIS CRM, you can sell your merchants everything they need, all in one place, supercharging your monthly earnings while simultaneously making their lives easier. 
NMI and IRIS CRM Offer More Flexibility
One of the beauties of NMI Full Commerce Enablement with IRIS CRM is that it offers your company the flexibility and choice both you and your merchants need to succeed. On the merchant end, NMI's wide variety of processing services, payments technology, and value-added features enable you to create custom tailored solutions for your clients that are ready to grow and change alongside their businesses. On your end, working with NMI provides you with the tools and products to have more say over how your ISO operates, including the option to embrace the emerging PayFac model with NMI's Payment Facilitator Enablement systems. IRIS CRM is also designed specifically for growth, with no limits on users, leads, or stored data, ensuring you'll never have to worry about running into technology walls as you expand. 
NMI and IRIS CRM Elevate Experience Delivery
In an industry as competitive as payments, it isn't just what you offer merchants that matters, but how you offer it. Merchants have an enormous amount of choice, and they won't hesitate to choose the ISO or payment facilitator that they feel offers not only the best value, but the best experience, as well. With NMI Full Commerce Enablement, you can elevate the customer experience every step of the way. NMI and IRIS CRM enable you to provide a simpler, more personalized sales experience and unparalleled personal support while making the merchant's life easier by offering processing and gateway services all at once. It's a streamlined experience the competition just can't match, and one that merchants notice and appreciate. 
How NMI and IRIS CRM Full Commerce Enablement Benefits Your Merchants
NMI and IRIS CRM provide an enormous amount of value to your ISO, but Full Commerce Enablement also offers some significant benefits to your end merchants, as well. By enabling you to simplify your merchants' operations and take more work off their plate, NMI Full Commerce Enablement helps you pass more value down the chain, stand out in a crowded field, compete better, and earn more. 
NMI and IRIS CRM Simplify Startup and Tech Adoption
Your merchants' top priority is getting the doors open so they can start selling. Everything that happens leading up to that point is just a necessary nuisance. Anything you can do to get merchants processing faster and simplify the process they have to go through to get there represents big value to potential customers. Working with NMI enables you to get your merchants the processing products they need and the payments technology they need through a single source, in less time. In turn, merchants will view working with your company as a way to reduce the amount of time they have to spend thinking about the logistics of their business so they can spend more time thinking about the purpose of their business – selling. 
NMI and IRIS CRM Simplify Billing
Your merchants need both processing and payments technology, but what they don't need is two or more separate bills to manage each month. NMI Full Commerce Enablement allows you to offer your merchants their processing services, their online gateway services, and their payments hardware all on one, single, easy-to-understand monthly statement. Simplifying your merchants' billing helps simplify their finances and reduces the amount of time they have to spend on the books each month. 
NMI and IRIS CRM Simplify Support
Like all business technology users, your merchants will occasionally need support to keep their systems running smoothly. That's exceptionally important when it comes to payments tech because a system on the fritz means inconvenience for your merchants' customers at best, and potentially no payments at all at worst. Because NMI Full Commerce Enablement bundles everything your merchants need in one place, it minimizes the number of different support sources they have to juggle. With IRIS CRM's built-in merchant portal, your merchants can access the support they need in a fast, efficient, and reliable manner. As the ISO, you'll also benefit from similar centralization, ensuring any time a merchant comes to you with a tough issue, NMI's unparalleled support team will be ready to back you up.  
Take Your ISO or PayFac to the Next Level with NMI and IRIS CRM Full Commerce Enablement
If you're ready to find out more about the full array of benefits NMI, IRIS CRM, and Full Commerce Enablement can offer your company, we'd love to talk to you. Feel free to reach out to the NMI or IRIS CRM teams with any questions or, better yet, get a first-hand look by scheduling a free guided demonstration of the platform today.