NMI Boarding is Better Together with IRIS CRM
After months of hard work and collaboration the NMI and IRIS CRM teams are proud to announce significant updates to the NMI payment gateway boarding integration.
You are now able to use the power of the merchant data from your CRM in combination with the full suite of NMI boarding settings to make IRIS CRM your centralized boarding tool to reduce the time to processing for new accounts. 
With NMI's processor agnostic approach and numerous direct-to-processor boarding integrations from IRIS CRM's TurboApp, a merchant is able to go from signing to processor approval to gateway approval and actively processing faster than ever before. 
Not only is our boarding integration with NMI comprehensive, but it is also efficient and easy to use. Thanks to the new configuration settings, IRIS CRM does most of the work for you by pre-populating the merchant's information and NMI pricing, fees, and defaults. All your users have to do is review the information, select the appropriate affiliate plan, and processor, fill in any missing data from the merchant record, and submit. 
Once submitted, users receive confirmation the merchant was submitted to NMI and all of the details are tracked within your CRM. All of the information entered is sent directly to your NMI Affiliate Portal and can be further managed from there.
NMI – IRIS CRM Payment Gateway Boarding Integration
New NMI Boarding Features
Previously, IRIS CRM's integration with NMI for boarding new merchants was just the helpdesk boarding ticket and the only configuration was inputting API credentials to connect the two systems. Now we have added additional fields to the boarding ticket as well as thorough configuration settings to update default values, pricing, and fees right from IRIS CRM.
To manage the new configuration settings, navigate to Manage > Integrations > NMI (reseller). 
Merchant Required Fields
When configuring your NMI settings in IRIS CRM, you can now set which customer data will be required by default for the transactions they process. All of the options you would normally see in your Affiliate Portal can be selected including name, address, driver's license, SSN, and CVV requirements.

Default Sub-Affiliate Plans, Fees, and Services
One of the most exciting new updates to the NMI boarding integration is setting an existing sub-affiliate plan, including its associated fees, as the default to use when boarding a new merchant. Additionally, you can select the default services to include such as invoicing, iSpyFraud, mobile payments, and more.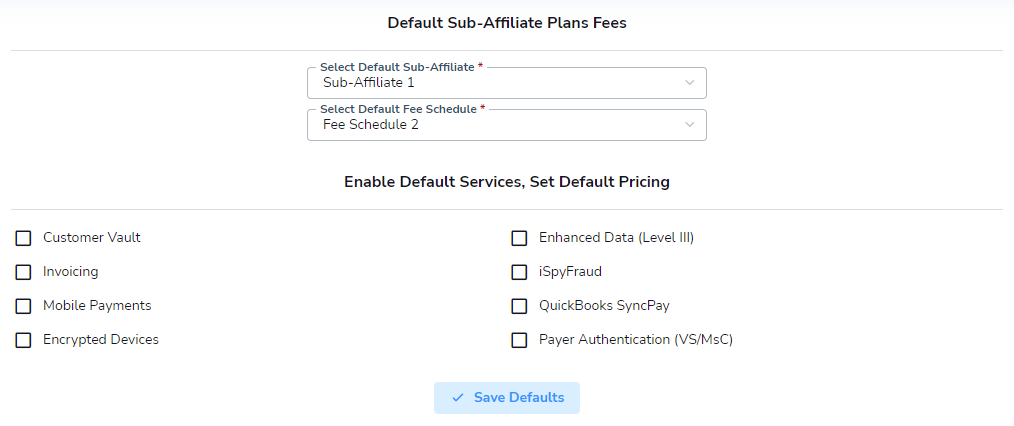 If your existing plans and fee schedules don't align with your needs, you can create a custom fee schedule right from IRIS CRM instead to be used as the default.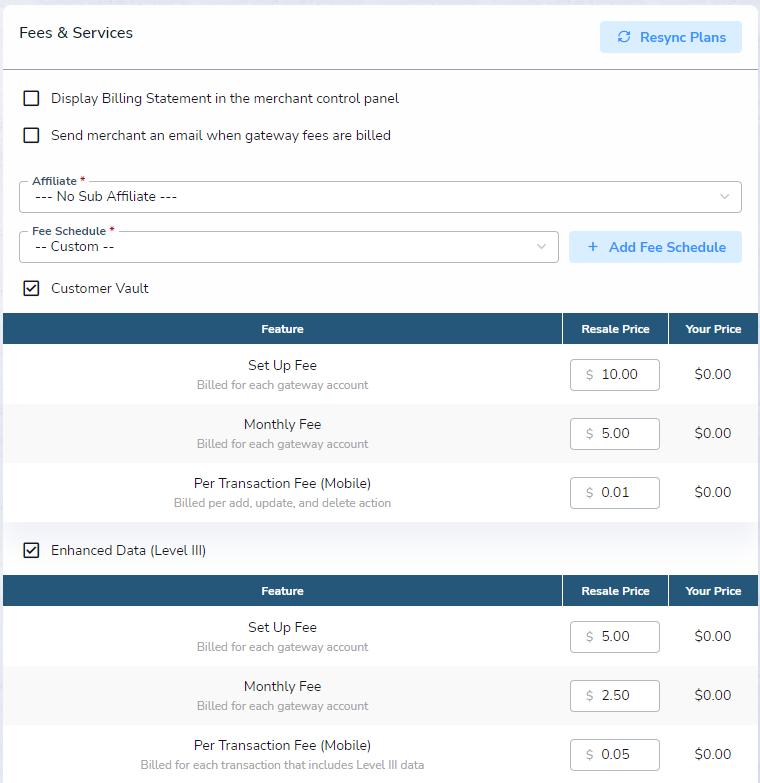 Advanced Merchant Features
Once you've configured all of your NMI gateway settings, you'll be ready to board more merchants faster using our NMI – Create Gateway Account helpdesk ticket, where you'll notice several new fields that were added per client feedback.
The list of features is too extensive to list in detail as we've included all of the gateway and transaction specific features offered by NMI to give you full control of your boarding experience.
Boarding Ticket Updates
Once you've configured all of your NMI gateway settings, you'll be ready to board more merchants, faster using our NMI – Create Gateway Account helpdesk ticket where you'll notice several new fields that were added per client feedback. 
The first new field is the merchant's website: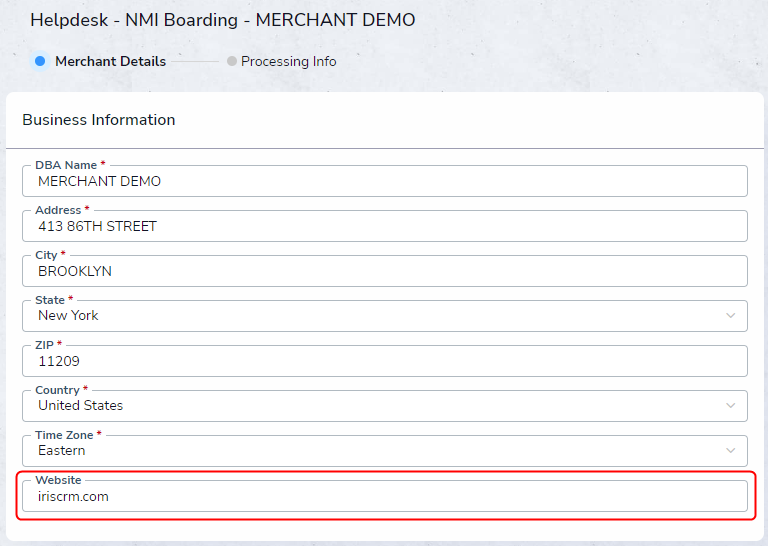 Next, we've added the checkbox for the max monthly volume and transaction amounts to "Include all payment types within these limits", just as you see it in your NMI Affiliate Portal.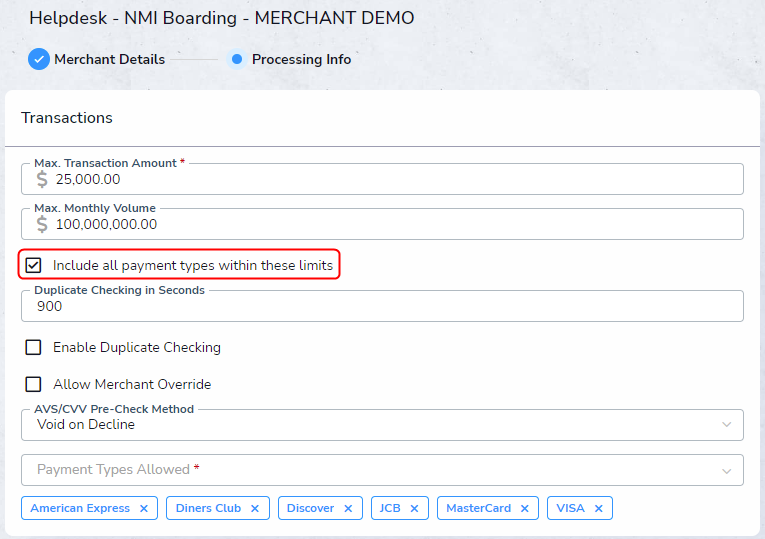 In the Fees & Services section is where you'll be able to choose the sub-affiliate plan and fee schedule, which will update the fees accordingly in the Merchant Processing section.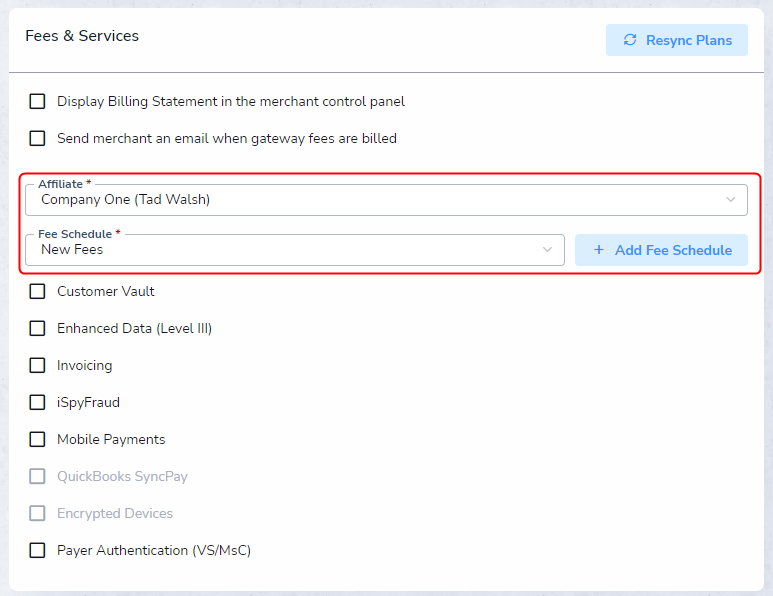 If you need to update the fees for the merchant being boarded, you don't have to waste time updating or creating a new fee schedule in your NMI portal; simply click Add Fee Schedule to create custom merchant pricing right from the boarding ticket in IRIS CRM.

When boarding merchants to TSYS, you now have a field to enter the Payment Descriptor.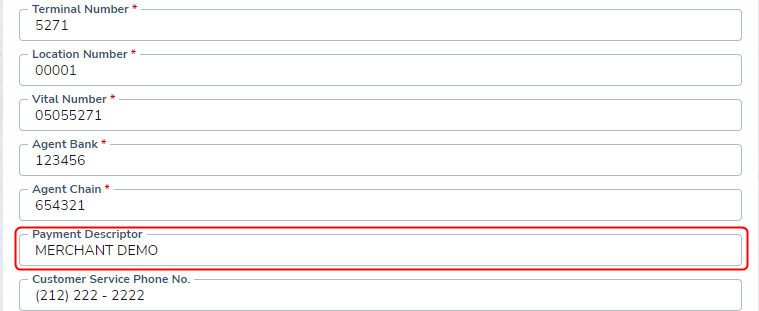 For more information on configuring and using IRIS CRM's NMI payment gateway boarding integration, review our knowledge base article. 
NMI and IRIS CRM Continue to be Better together
IRIS CRM is not stopping here with our improvements to our NMI payment gateway boarding and reducing time to processing for merchants. IRIS CRM is continuing to establish itself as the central boarding platform for clients. 
Looking forward, we are working to add gateway boarding directly from TurboApp, so merchants are boarded to the processor and NMI simultaneously, eliminating the need to circle back for gateway boarding after processor boarding.
Furthermore, it will eventually be possible to add sub-affiliates from IRIS CRM's administration page so you can manage all of your NMI payment gateway settings directly from your CRM instead of switching between systems.