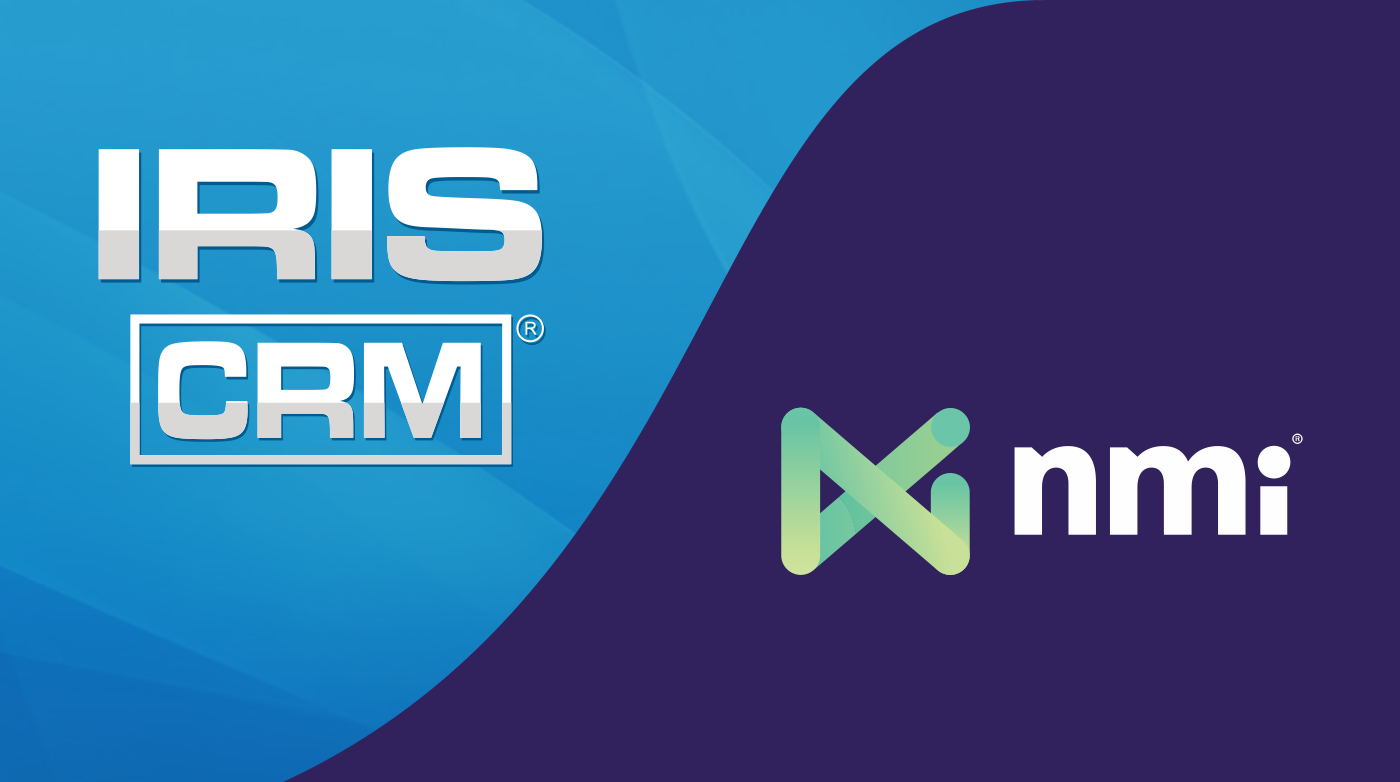 NMI Full Commerce Integration – IRIS CRM's New Super Power
IRIS CRM and NMI have teamed up to offer ISOs a full commerce enablement solution that makes it easier than ever to open up new revenue streams, improve service offerings, and gain an advantage over the competition. 
IRIS CRM offers integrated boarding capability for NMI's full line of gateway products and value-added services, enabling ISOs to resell payment gateways to merchants while adding only seconds to the overall onboarding process. 
This expansion of IRIS CRM's core capabilities comes at no cost to users, and helps ISOs expand beyond just payment processing to offer more complete solutions, a more streamlined experience, and a time-to-processing more in line with the industry's top third-party processors. 
Why NMI and IRIS CRM is Such a Powerful Combination
IRIS CRM was already the payments industry's top customer resource management platform, and NMI was already the most advanced gateway service provider. Together, the two companies represent full commerce enablement – a single, vertically-integrated solution that is more than the sum of the two parts and allows ISOs to compete better with one-stop providers like Stripe and PayPal while still maintaining the edge on transaction fees that make traditional merchant accounts so popular.
In an industry as competitive as payments, competing successfully depends heavily on finding ways to do more with less – specifically, finding ways to offer a better service experience for merchants without increasing costs. Full commerce enablement with IRIS CRM and NMI is the ultimate solution to that problem, enabling ISOs to offer merchants more utility and better service while simultaneously streamlining operations. 
What the IRIS CRM and NMI Full Commerce Integration Can Do for ISOs
IRIS CRM's NMI integration is all about taking the system's existing boarding and merchant management features and expanding them to extend the same fast, easy processes to payment gateways. By seamlessly adding NMI gateway services to the overall boarding process, IRIS CRM helps ISOs open up brand new revenue streams, offer merchants a higher level of service, and make gateway onboarding frictionless and even instantaneous. 
Open Up New Revenue Streams
The most important thing NMI integration does for ISOs is provide new cross-selling opportunities when onboarding merchants. Most merchants need gateway services, but traditionally, they've purchased them directly from gateway providers. With IRIS CRM's NMI integration, ISOs can instead resell gateway services directly to merchants at the same time they're signing them up for payment processing, earning an additional monthly residual they otherwise wouldn't have had. And because it's so easy to do, the marginal cost of gaining the add-on sale is almost zero. 
Reseller ISOs can also sign merchants up for any of NMI's value-added services, including electronic invoicing, secure customer data storage, Quickbooks integration, and much more. Overall, reselling NMI services through IRIS CRM represents a potentially significant increase in the residuals generated by each merchant with very little additional work. 
Offer More Complete Merchant Services
Offering merchants more options doesn't just benefit ISOs. One-stop service is increasingly important to merchants, making NMI gateway resales a way to generate additional competitive advantage. The fewer vendors a merchant has to work with, the fewer relationships they need to maintain and the stronger each can be, the less complex their service and support experience will be, the easier to manage their bills will be, and the easier their lives will be in general.
Allowing merchants to simplify their technology sourcing and, in turn, their businesses, allows them to focus less on managing their technology stack and more on doing what they want to be doing – serving their customers, generating revenue, and pursuing growth. 
Board to Gateway Services in an Instant
IRIS CRM's TurboApp automated boarding tool enables ISOs to add gateway services with a few clicks during the new merchant onboarding process. Users can select which NMI services to add, either individually or with preset packages, and pricing can be configured automatically or customized for each merchant in seconds. Users can also easily add gateway services to existing merchants using IRIS CRM's built-in ticketing system. 
TurboApp has been saving ISOs time for years – cutting the boarding process down from 30 minutes or more to five or less. Now, with IRIS CRM's new one-click boarding and web-based applications, low-risk merchants can even be onboarded to payment processing and NMI gateway services instantaneously. 
Getting Started is Extremely Easy
Reselling NMI services through IRIS CRM is as easy as setting up an NMI reseller account and filling in a few quick fields in the CRM. By simply entering their reseller URL, API key, username, and password into IRIS CRM's NMI integration dashboard, ISOs can begin boarding merchants to NMI immediately. 
To find out more about how easy it is to set up NMI resales and board new merchants to NMI services, reach out to a member of the team, or, for a first-hand look, schedule a free guided demonstration of IRIS CRM today.